In December 2017, Nike dropped two cross training shoes that were updated versions of their current models. These updated cross training models included the Nike Metcon 4 and the Nike DSX Flyknit 2. The Nike DSX Flyknit 2 was released on December 1st, while the Metcon 4 officially dropped December 19th.
To the unknowing eye, it can be tough to differentiate between the two, but there are a fair amount of differences. In this article, we're going to take a deep dive look into the Nike Metcon 4 and the Nike DSX Flyknit 2. We'll look at what makes these shoes similar, along with the in-depth differences you may not be able to find so easily to assist you in finding your best cross training shoes.
Nike DSX Flyknit 2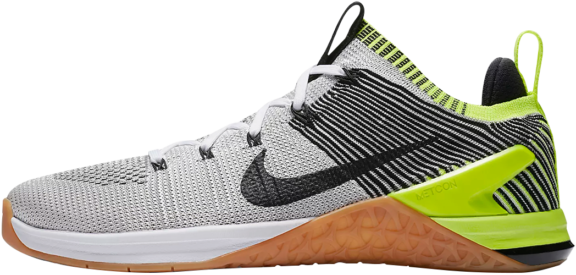 A cross-training shoe that utilizes classic Nike Metcon attributes and ties them with Nike's signature Flyknit material.
Nike Metcon 4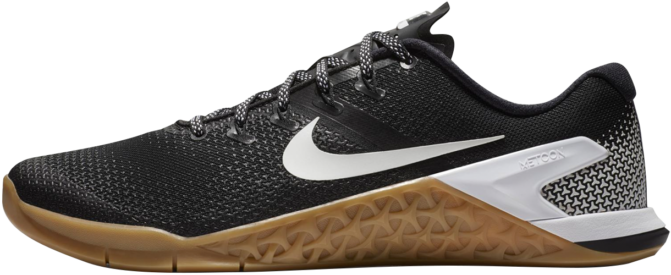 One of the most stable cross-training shoes with a solid outsole, TPU layered heel, and mesh outer construction.
Construction
Nike Metcon 4
The construction of the Nike Metcon 4 is one way it differentiates itself from the DSX Flyknit 2. For starters, the outer shoe material on the Metcon 4 is sandwich mesh and uses Nike's Flywire, which is a slightly stiffer material compared to Nike's Flyknit material. There's less of a stretch in the Flywire, so it feels a tad more stiff (relatively speaking).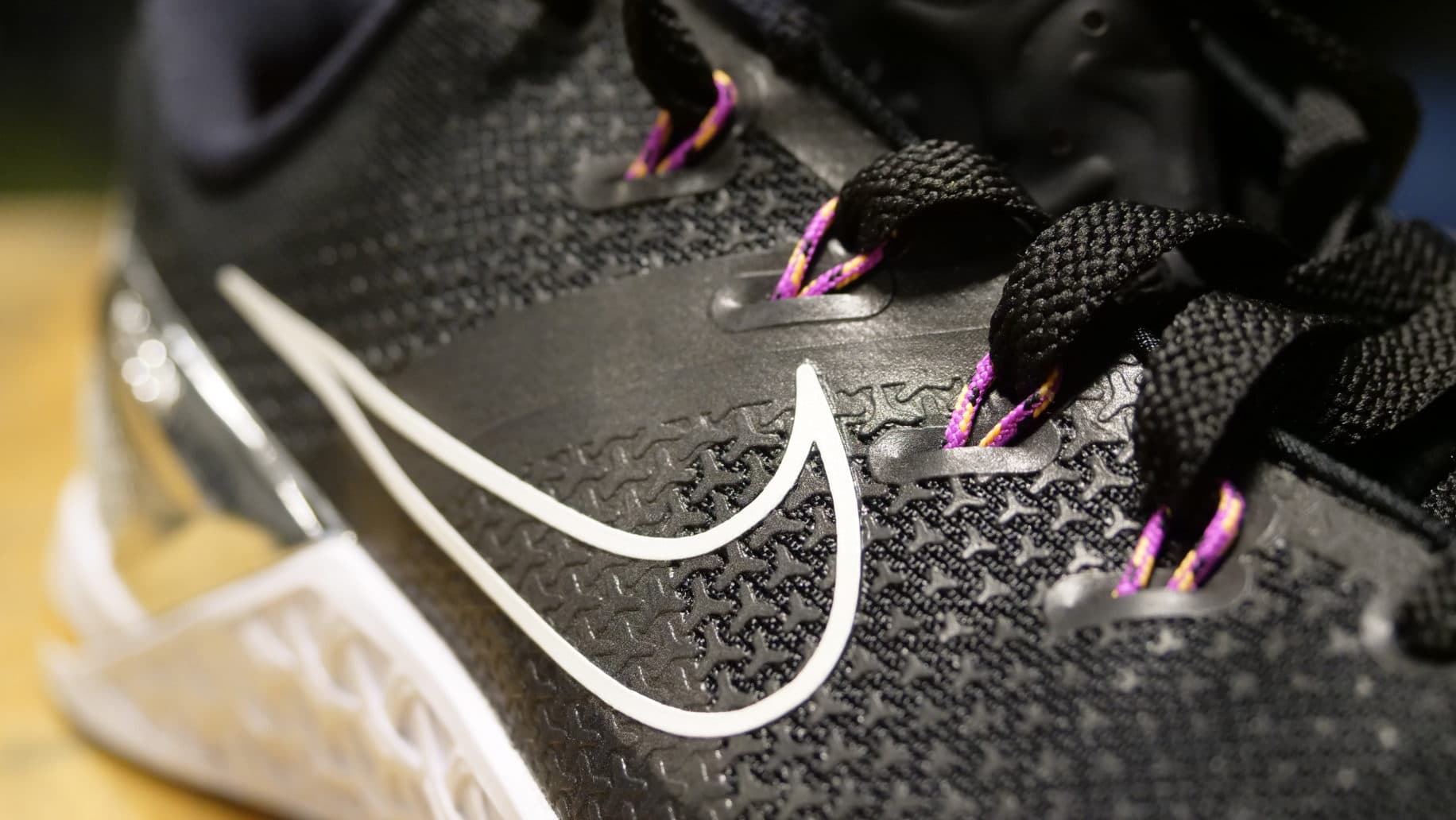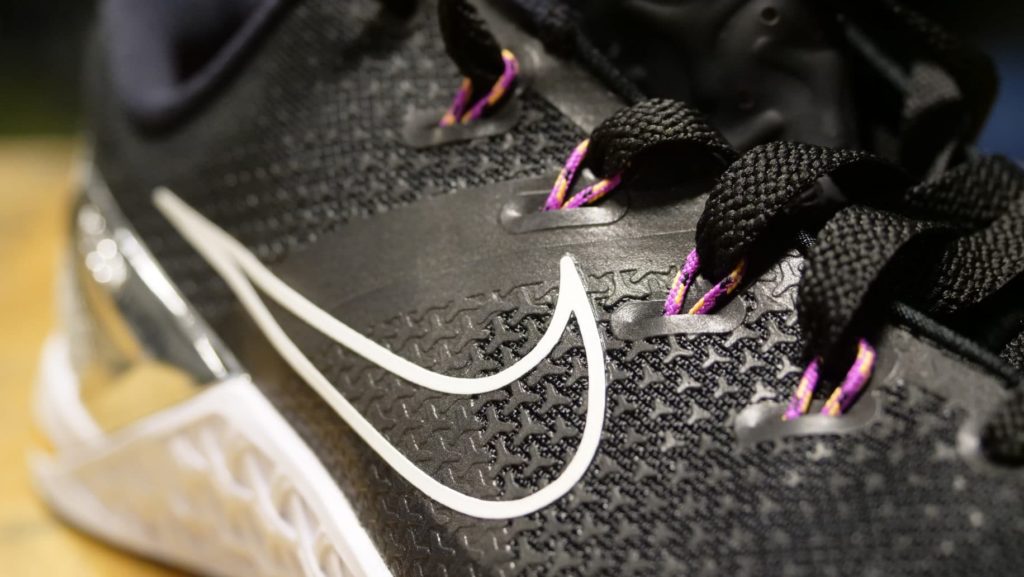 There's a 4mm offset in the sole, so a strength athlete will feel stable in this shoe. The tongue is a lightweight leather material, which is lightweight and breathable. Towards the heel, there's a plastic heel cup to provide additional heel support. On the forefoot, there's a sticky rubber, and that's said to provide extra grip on multiple surfaces.
Nike Metcon DSX Flyknit 2
Similar to the Nike Metcon 4, the DSX Flyknit 2 also uses Flywire material, but more towards the front of the shoe. The mid-foot and heel is composed of Nike's Flyknit and it's a little more stretchy in feeling, it's almost sock-like. In addition, the Flyknit material is much more thin and breathable compared to the Nike Metcon 4. Also, it should be noted that the heel in the DSX Flyknit 2 has extra padding that sits slightly separate from the rest of the shoe.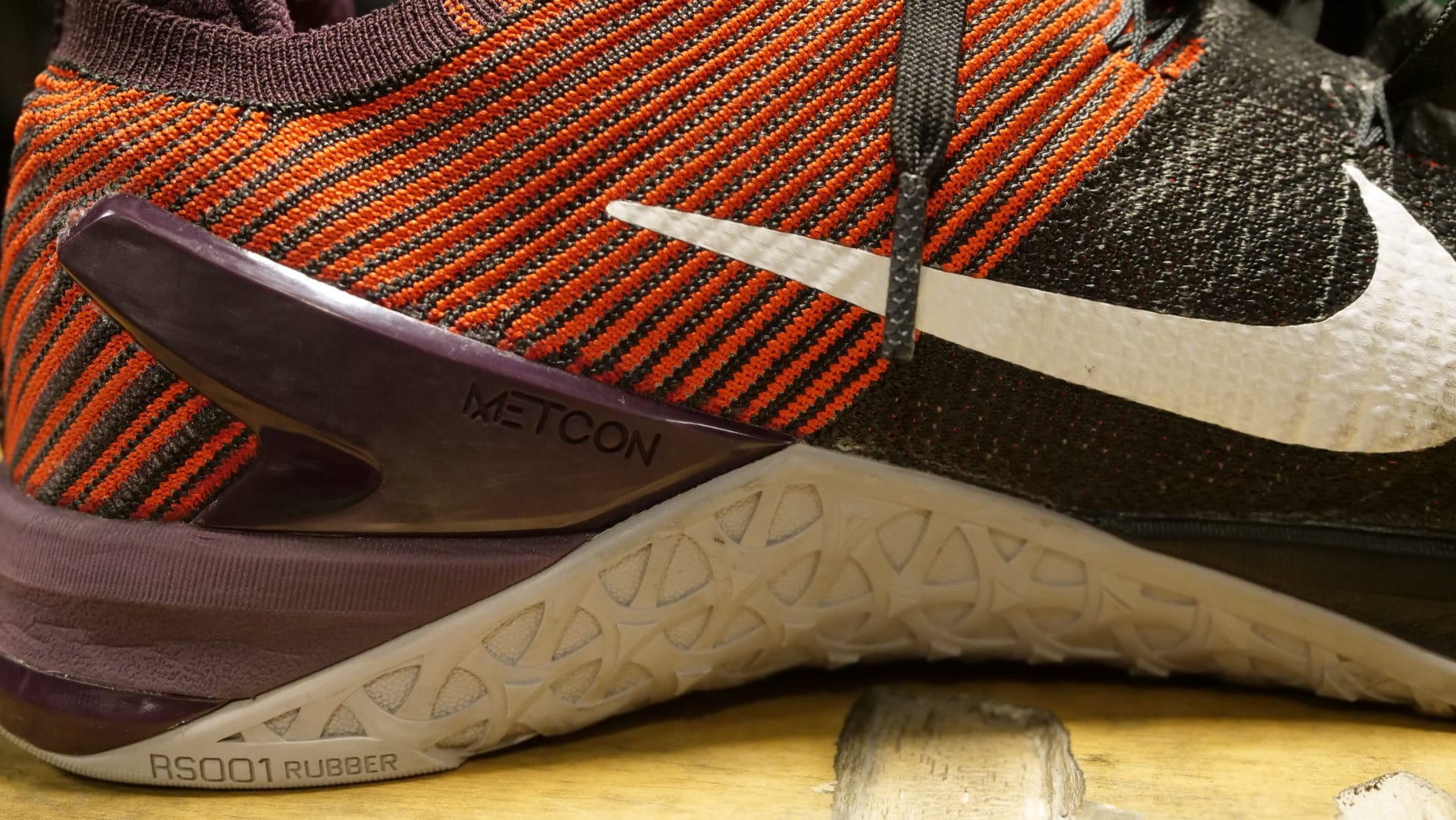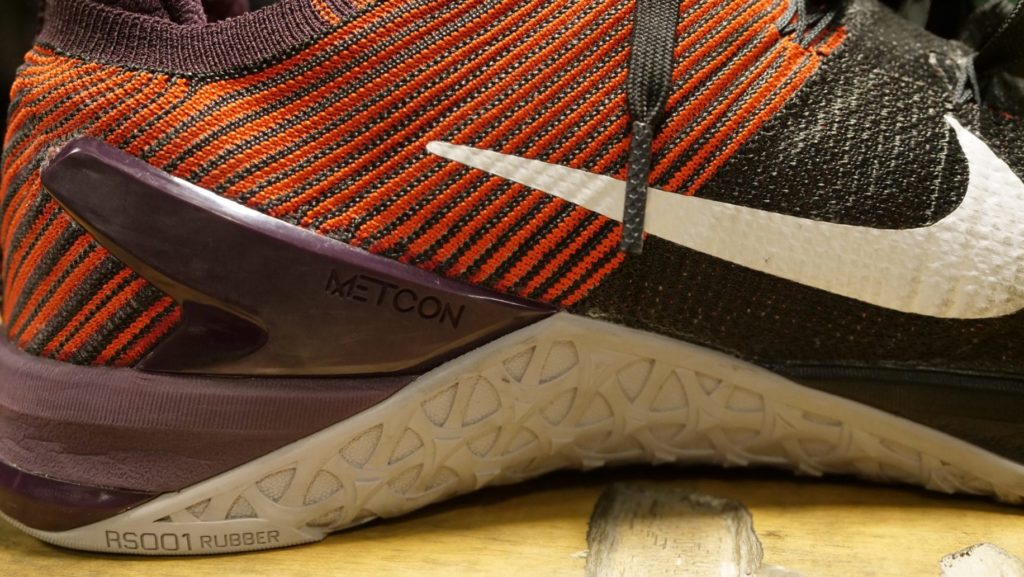 There's a 6mm offset in the sole, which isn't a huge difference compared to the Metcon 4, but it's a subtle difference you could feel in cardio movements. Basically, the heel on these shoes are slightly higher than other cross training shoes, which mimics your standard tennis shoe design a bit more. Similar to the Metcon 4s, the DSX Flyknit 2s also have a plastic heel clip and sticky rubber for grip.
Check out and explore more Nike Metcon 4 colorways and options, here! 
If I had to pick a winner, I'd have to take the Nike Metcon 4. In my opinion, I like a little more stability when reaching for a cross training shoe, so the Metcon 4's stiffer Flywire material and 4mm sole offset take the win.
Winner: Nike Metcon 4
Functionality
When it comes to functionality between these two shoes the devil's in the details. Both shoes can support cross training style workouts well, but they'll provide slightly different feelings, which should be accounted for.
Nike Metcon 4
The Nike Metcon 4 will provide a bit more stability in workouts, especially with heavy loaded movements. There's the full shoe Flywire that provides a flexible, yet slightly more stiff feeling compared to the DSX Flyknit 2. Also, the 4mm offset keeps the heel a bit more grounded, and it will feel slightly harder on impact.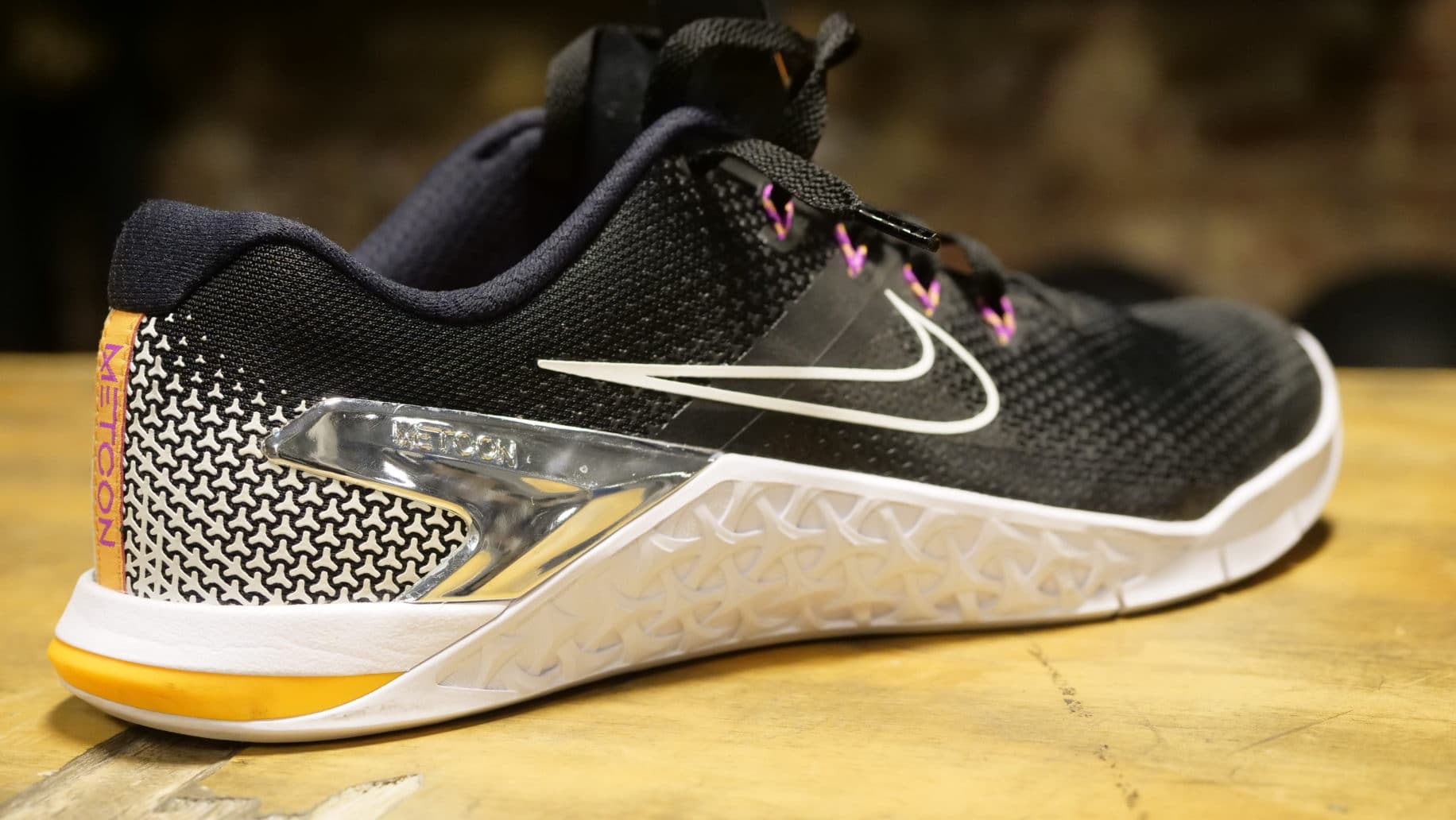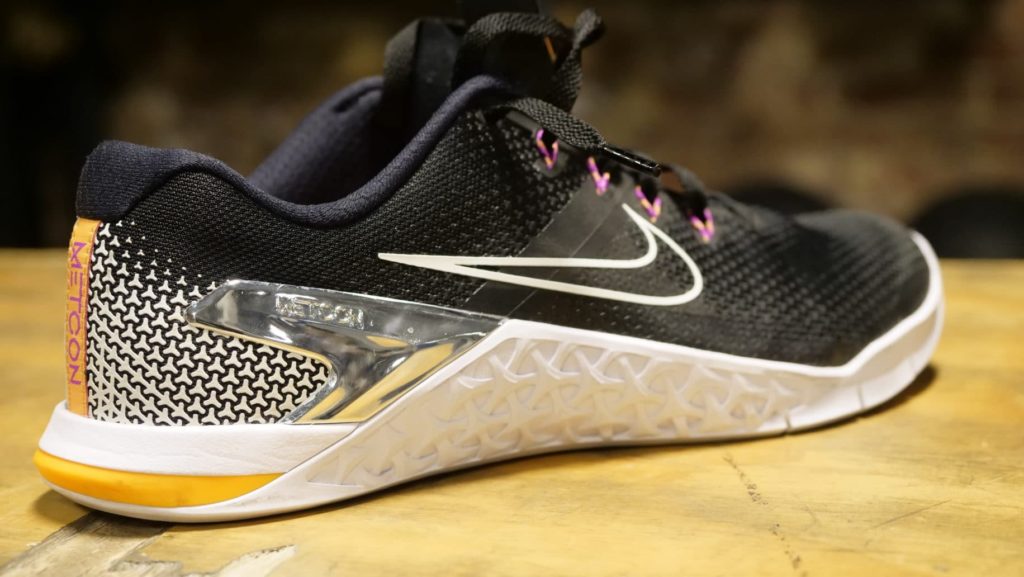 The heel clip is nice tough for additional heel stability and I like the forefoot's sticky rubber. If you're performing strength or power movements, these shoes will provide you with a stable base. The only thing I'd note is that the sole's material is a bit stiff, so endurance moves may feel a bit harder on the body.
Nike Metcon DSX Flyknit 2
The Metcon 4 may provide more stability, but the DSX Flyknit 2 offers more flexibility. This shoe will provide a stable base to move on, but it's much more maneuverable around the heel and mid-foot. You can see in the image below how thin the material is that encloses the shoe, and it has some stretch to it. This will will never feel bulky or heavy on the foot.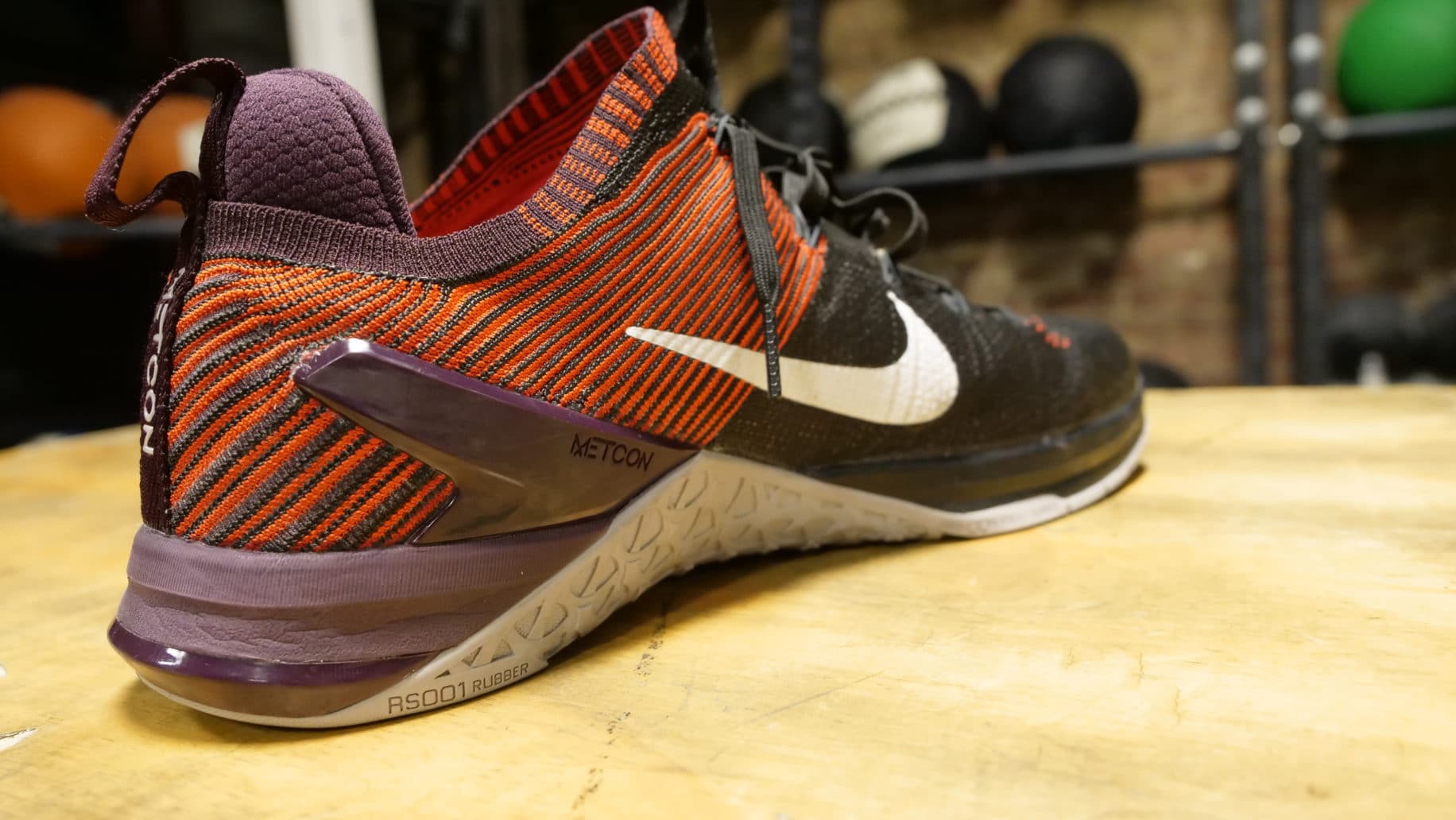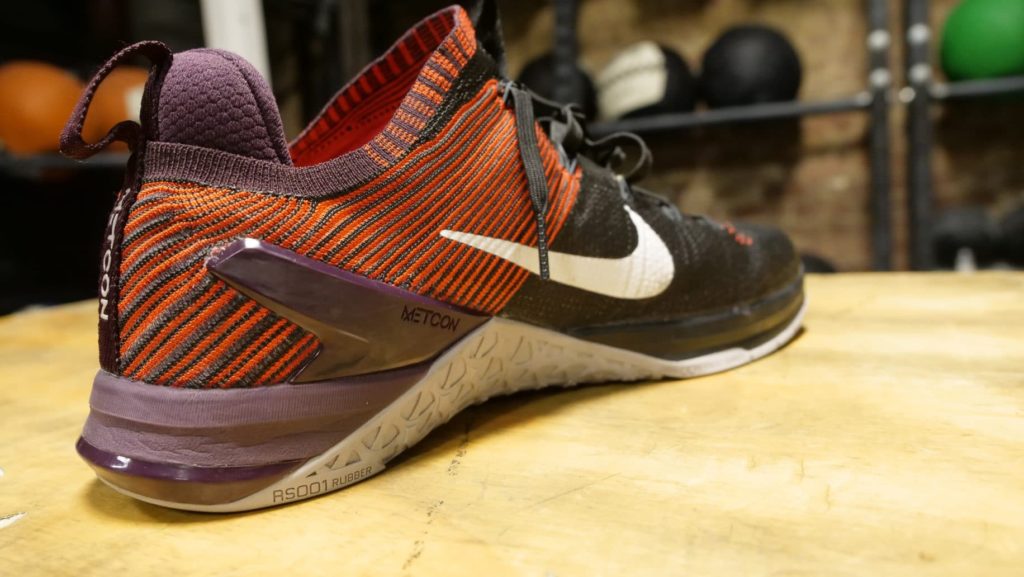 Like the Metcon 4, the heel clip adds some stability to the heel since this shoe is slightly more flexible. In strength and power movements this shoe feels okay, but it gains the edge on more endurance based activities. The 6mm offset and flexible construction makes it slightly easier on impact for these style activities.
It's hard to really give you a definitive winner for functionality. My recommendation would be to assess what you value most in a cross training shoe. The Metcon 4 will have a slight edge on stability, while the DSX Flyknit 2 has the edge in flexibility.
Winner: Tie
Material
Nike Metcon 4
The outer material for the Metcon 4 is composed a sandwich mesh. On the outer most part of the shoe is Nike's Flywire, which is flexible, breathable, and pretty resilient to prematurely fraying from things like ropes. In addition, the toe of the Metcon 4 has a wider lip that comes up on it, so it looks less like your standard tennis shoe. Lastly, the padding around the ankle is thicker compared to the DSX Flyknit 2 and the insole is slightly skinnier.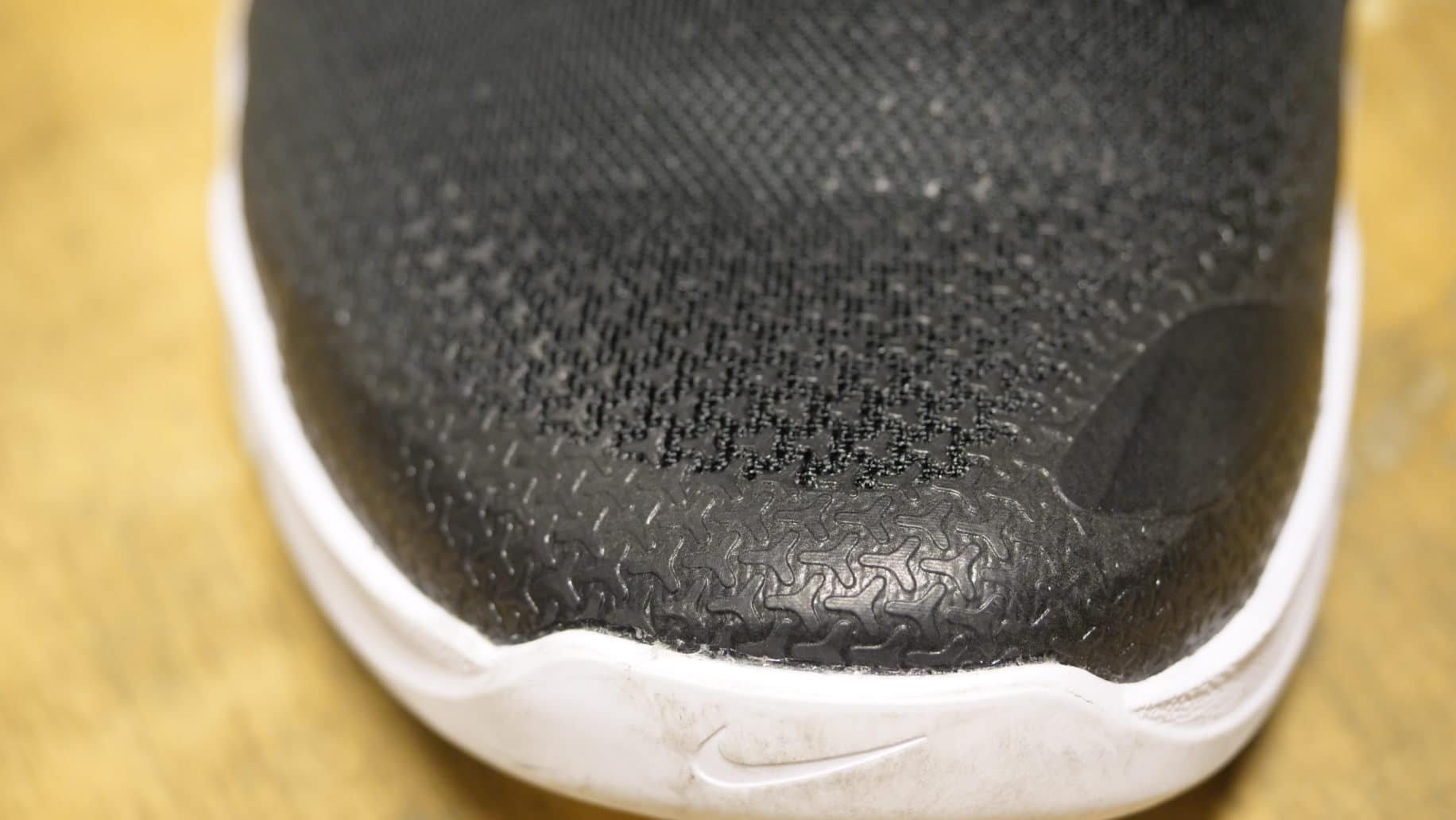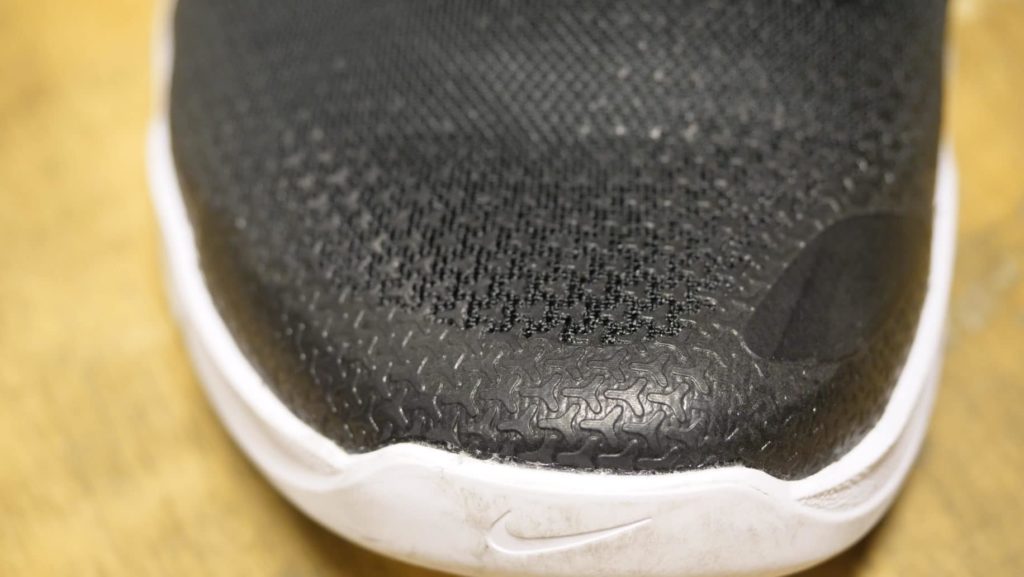 Nike Metcon DSX Flyknit 2
The DSX Flyknit 2 is composed of two signature Nike materials and that's the Flyknit (hence the name) and Flywire. The mid-foot and toe are Flywire, while the heel is Flyknit and stretches to form fit the ankle, it provides a sock-like feeling. There's an additional heel padding to provide extra security and stability. There's a bigger lip on this shoe compared to the Metcon 4 and the insole is a little bit more padded.
[Interested in other Nike Metcon DSX Flyknit 2 color schemes? Check them out here!]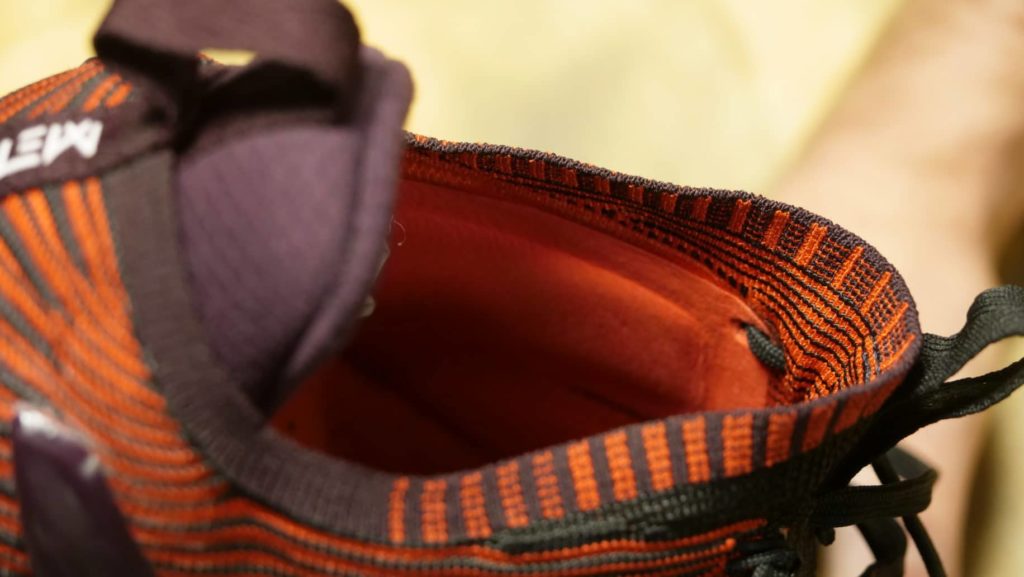 Both shoe's offer solid materials that have proven to be durable, breathable, and performance enhancing in them gym. It's going to really come down to your preference, but in terms of pure material, I was a fan of the DSX Flyknit 2's feeling for all day use.
Winner: Nike Metcon DSX Flyknit 2
Security
Nike Metcon 4
This shoe provides a fair amount of security for being a lower cut cross training shoe. It had three things going for it when it comes to security on the foot. First, there are six eyelets compared to the previous model's five. You can now lace the shoe up higher if you desire. Second, I like the plastic heel cup that surrounds that back portion of the shoe.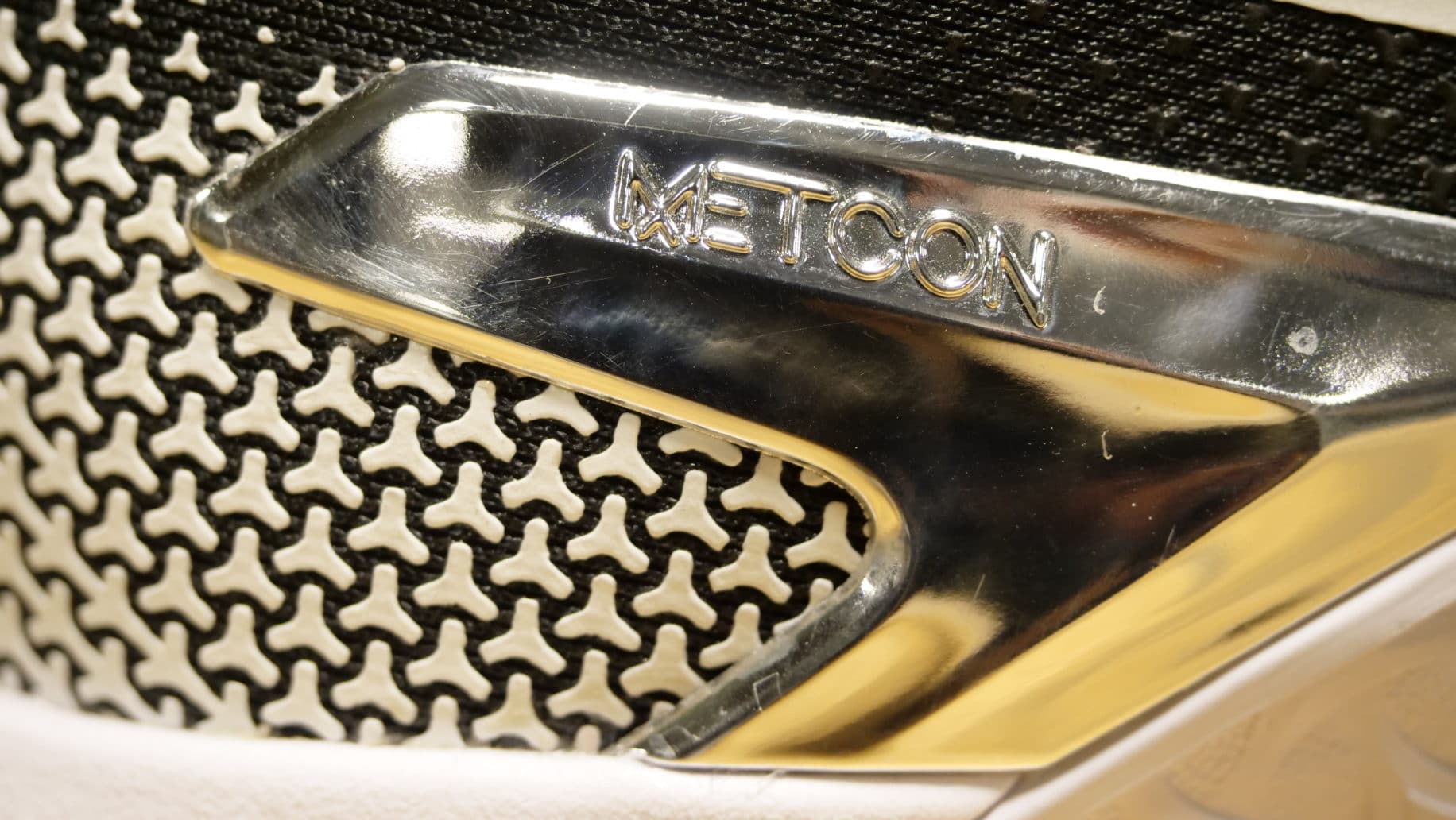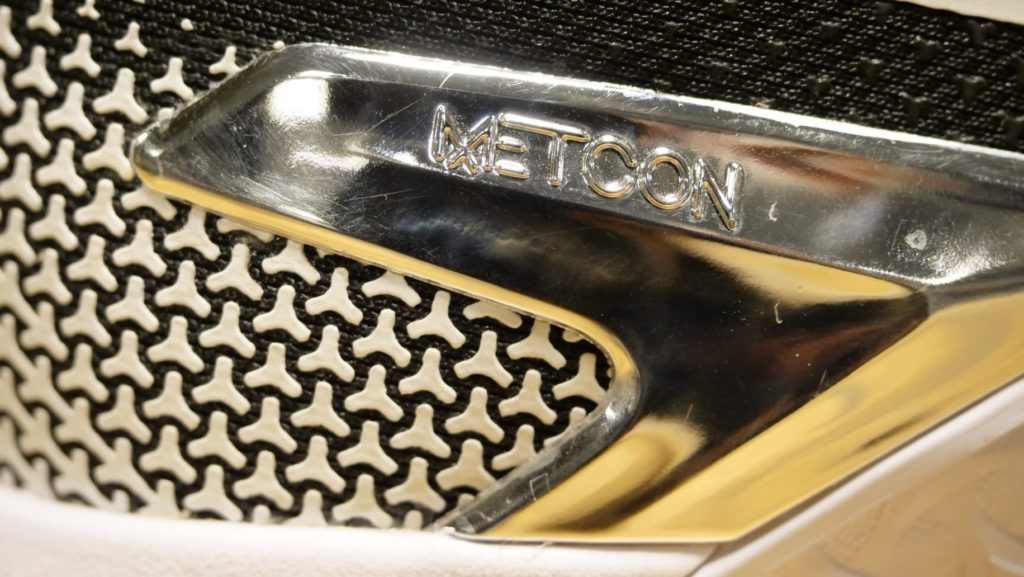 Third, I'm a fan of the outsole that wraps up the mid-foot on both the inside and outside, it helped provide additional shoe security in lateral movements.
Nike Metcon DSX Flyknit 2
If we're looking at pure shoe security, the DSX Flyknit 2 offers a fair amount, but when compared to the Metcon 4 it falls a tad short for two reasons. For starters, this shoe only has five eyelets compared to the Metcon 4's six. Secondly, the surrounding material towards the back of the shoe is somewhat stretchy, so it's not the most secure fit.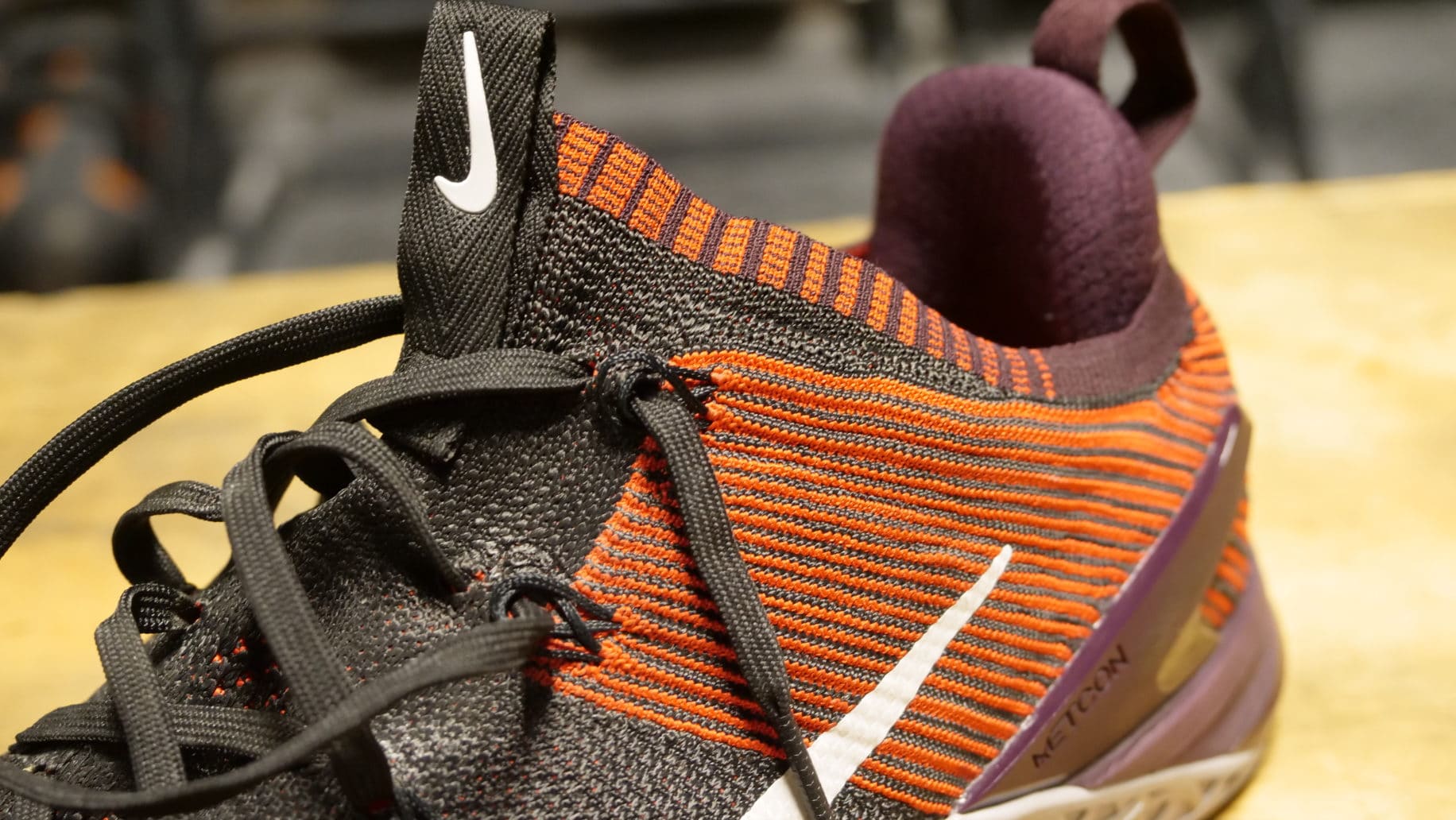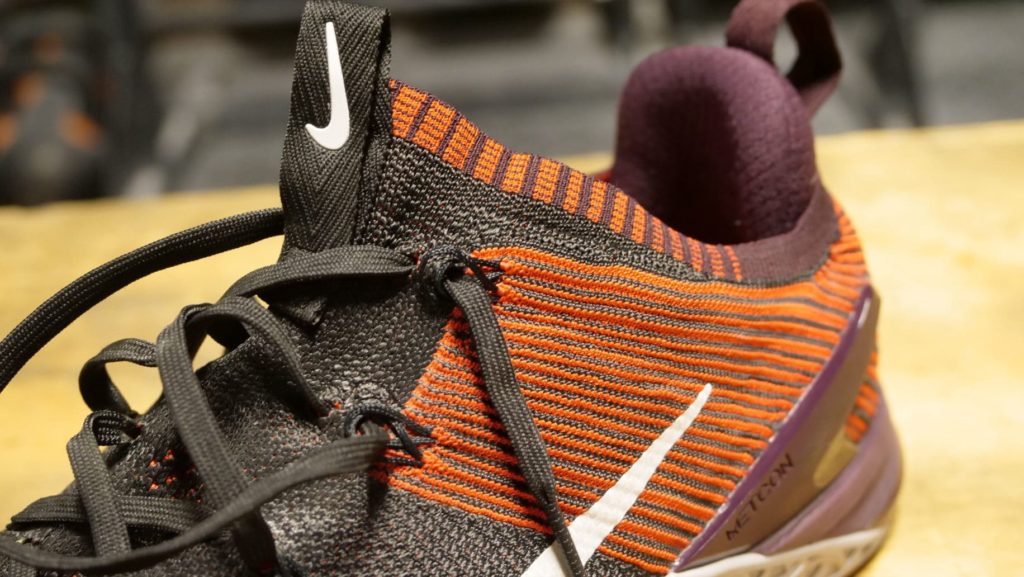 Although, keep in mind, these above traits are in direct comparison to the Metcon 4 directly. This shoe is a secure option and will provide you a secure feeling in workouts, it's just a bit more flexible compared to the Metcon 4, thus making it fall short on security in this shoe comparison.
Winner: Nike Metcon 4
Price
Nike Metcon 4 and Nike Metcon DSX Flyknit 2
Both of these shoes are relatively new to the market, so they're still being retailed at full price at most locations. Their prices are align with other big company's cross training models, so if you're shopping around, then you'll probably notice there's not much variance in retail prices.
Below we've included the average prices you can expect to pay for each model.
Winner: Nike Metcon 4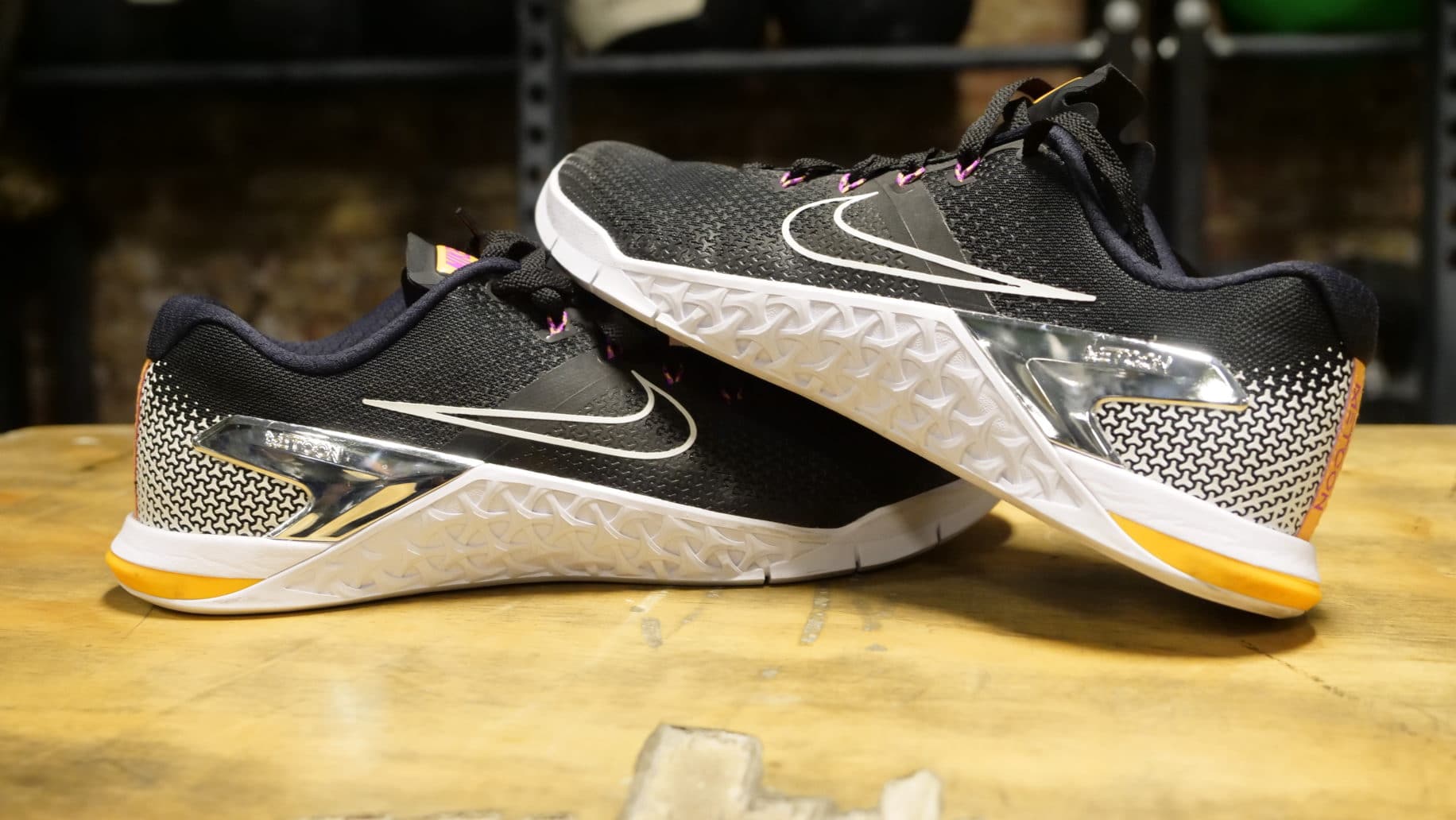 If I had to choose an overall winner between these shoes, then I'd have to go with the Nike Metcon 4 for two main reasons. One, it's stable and secure, which is what I look for in a cross training shoe. In my opinion, I don't want a cross training shoe to feel too much like a tennis shoe because that's not what it's designed for. Two, the price is a bit better than the Nike Metcon DSX Flyknit 2s.
In reality, both shoes are solid options, and they'll serve their purpose well. If you're someone who wants a slightly more flexible and "tennis shoe" feeling cross trainer, then the Nike Metcon DSX Flyknit 2 would be a better option despite the higher price.