Hampton Morris is moving the needle. On Jul. 24, 2022, the young weightlifter competed at the 2022 International Weightlifting Federation's (IWF) Pan-American Championships in Bogotá, Colombia.
There, Morris won the 61-kilogram category overall thanks to his monstrous 162-kilogram (or 357.1-pound) clean & jerk. In addition to helping him bag a gold medal and stand atop the podium, 18-year-old Morris's 162-kilogram lift was also a new Junior World Record. The prior record in the Junior category was held by Morris himself.
You can view footage of his entire competitive performance below, courtesy of USA Weightlifting (USAW):
View this post on Instagram
[Related: Weightlifter Mattie Rogers Sets Three American Records at 2022 National Championships]
On the day, Morris locked in a four-for-six performance, having missed his first and third attempts in the snatch at 117 kilograms (257.9 pounds) and 122 kilograms (268.9 pounds), respectively.
Hampton Morris at the 2022 Pan-American Championships
Snatch —117X/117/122X
Clean & Jerk — 153/158/162
Total — 279
Note: All listed weights are in kilograms. The "X" denotes an unsuccessful attempt.
An Impressive Career
When it comes to setting new World Records, Morris's only competition on the weightlifting platform seems to be himself. His 162-kilogram jerk is a two-kilogram progression on his own former Junior World Record, which he set at the 2022 Junior World Championships in May.
The event in Colombia also marks Morris' sixth international win since 2019. His only non-gold-medal finish in the Total was at the 2021 Junior Pan-American Games, where he placed second:
2019 Pan-American Youth Championships
2020 Pan-American Junior Championships
2022 Pan-American Championships
162 kilos is also a significant advancement from Morris' last clean & jerk at Pan-Ams — in November of 2021, he jerked 151 kilograms to win first Senior regional title there. However, he did also clean & jerk 164 kilograms domestically at the 2022 USAW North American Open Series I as a 67-kilogram lifter.
From Colombia to…Colombia
According to USAW, the 2022 Pan-American Championships will also play a large part in determining who the United States selects to compete in the upcoming 2022 IWF World Championships.
The 17-strong American roster consists of a healthy balance of competitive veterans like eight-time Pan-American contender and Tokyo medalist Sarah Robles, as well as up-and-comers such as Morris and first-timers like super-heavyweight Alejandro Medina.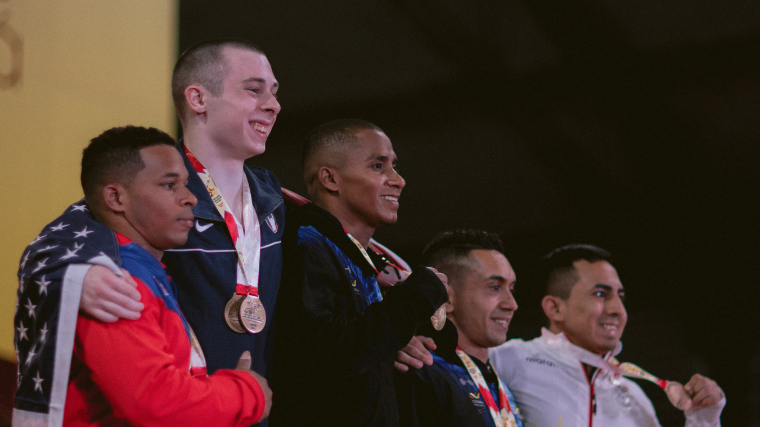 The 2022 World Championships will also take place in Bogotá in December, though the IWF has yet to pin down a specific date for the commencement of the competition.
2022 Worlds stands as the first major qualification benchmark for athletes like Morris who may seek a bid towards the 2024 Olympic Games in Paris.
Featured Image: William Johnson, BarbellStories