There's been a changing of the guard in weightlifting. On Friday, May 20, 2022, the official Weightlifting House YouTube channel posted a video revealing that the media company has acquired exclusive live broadcasting rights for the 2022 International Weightlifting Federation (IWF) European Weightlifting Championships (EWC).
The 2022 EWC is set to run from May 25 (note that the first official day of competition sessions won't be until May 28) to Jun. 5, 2022, in Tirana, Albania, according to the official IWF event calendar, and will feature many of the best lifters in the sport going head-to-head for glory, medals, and potentially even some new World Records.
[Related: 2022 IWF Junior World Weightlifting Championships Full Results]
International weightlifting competitions are typically covered by media organizations that report on multiple athletic disciplines, such as EuroSport or even the International Olympic Committee. The 100th annual EWC will be the first event in the history of the sport that is streamed by a third-party organization dedicated only to Olympic lifting.
"Rather than looking at this as a one-off event, we provided the European Weightlifting Federation (EWF) with a long-term road map of how we can help grow the sport of weightlifting," founder of Weightlifting House Sebastian "Seb" Ostrowicz wrote to BarBend in an email. "We have a clear vision for how we can work together to grow interest in the sport over time."
Why It Matters
Weightlifting House, formally established in 2017 "by and for" fans of Olympic lifting, has provided online content, athlete interviews, as well as media coverage of competitions since 2019.
Under Ostrowicz's management, Weightlifting House has evolved into an organization that strives to make an impact on the sport by producing their own barbells, showing what goes on behind the scenes at big events, and creating various online training programs.
View this post on Instagram
[Related: 71KG Weightlifter Olivia Reeves Squats 200KG in Training]
Ostrowicz is confident that they can make weightlifting appealing to dedicated fans and newcomers alike, saying:
"There are many athletes in attendance who are expected to set new World Records. In terms of our commentary, co-host Max Aita and I plan to make things as accessible as possible. We will discuss each athlete's athletic journey, explain the tactical moves at play, and analyze their technique. Our understanding of and love for the sport will make it really engaging for newcomers."
How to Watch the 2022 European Weightlifting Championships
In Ostrowicz's own words, the Weightlifting House coverage of the event will be "incredible content at a genuinely reasonable price" to consumers and fans. Viewers can expect Ostrowicz and Aita to "tell the story of the back room" at the event, explain the "why" behind attempt selection, and more.
To access the livestream of the 2022 EWC, Weightlifting House will have a pay-per-view model available for viewers in the Unites States, United Kingdom, Republic of Ireland, the Netherlands, New Zealand, South Africa, Canada, and Australia.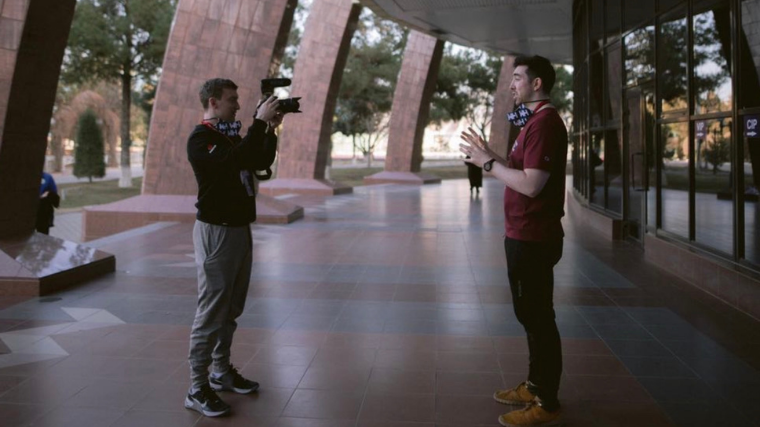 Viewers in other countries may have alternate streams available from different organizations, says Ostrowicz. Weightlifting House is working with the EWF to increase the accessibility of its stream to more countries. He also specified that every session will be available on-demand for "several weeks" after the competition wraps.
Onto Albania
The 2022 EWC will play host to many of the best athletes in the world and provide plenty of excitement on (and behind) the platform. With high-profile attendees like Karlos Nasar, Emily Campbell, Lasha Talakhadze, Max Lang, and more confirmed for Albania, sparks (and bars) are sure to fly.
You can catch all the action in real time via the Weightlifting House website. Access to the pay-per-view livestream will cost $12.50 (€10).
Featured Image: A. PAES / Shutterstock