Today, I'm taking a look at Garden of Life Raw Organic Perfect Food Green Superfood Juiced Greens Powder. My first question is, why is that name so long? My second question is, what sets this apart from other greens powders?
The first thing I noticed had nothing to do with nutrition; it was the fact that Garden of Life is a certified B corporation, which means it meets rigorous standards of social and environmental responsibility, accountability and transparency. I know how vague that sounds, but it's a certification that's incredibly difficult to obtain and it means that Garden of Life's efforts to work sustainably and their support for non-profit nutrition programs like Vitamin Angels are legit.
But what about the nutrition?
Garden of Life Perfect Food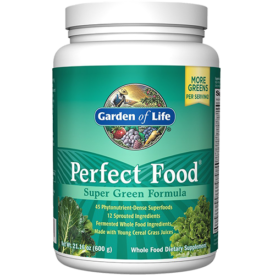 Garden of Life Perfect Food
A well priced greens drink with a strong emphasis on digestive health.
Garden of Life Perfect Food Ingredients
Organic and free of artificial colors, flavors, sweeteners, and preservatives, the ingredients are split into four categories. The primary ingredients are the "Organic U.S.A. Farmed Green Juice Blend," which is made from the powdered juice of barley grass, alfalfa grass, oat grass, wheat grass, and kamut grass. Greens powder aficionados may know that powdered juice is more nutritious than pulverizing the entire plant, and according to the packaging, a serving of this product's grass blend is six times more nutrient dense than whole leaf grass powder.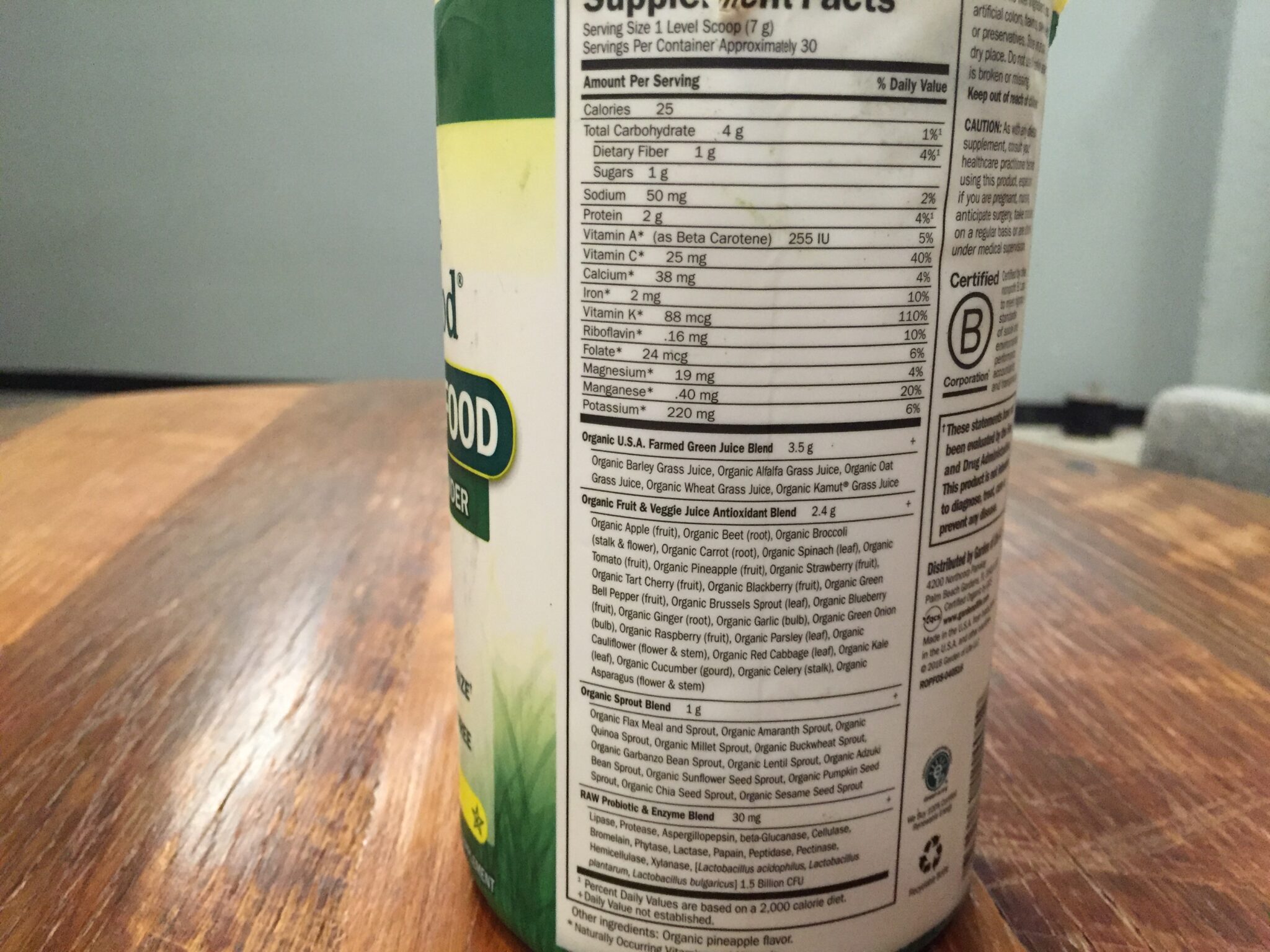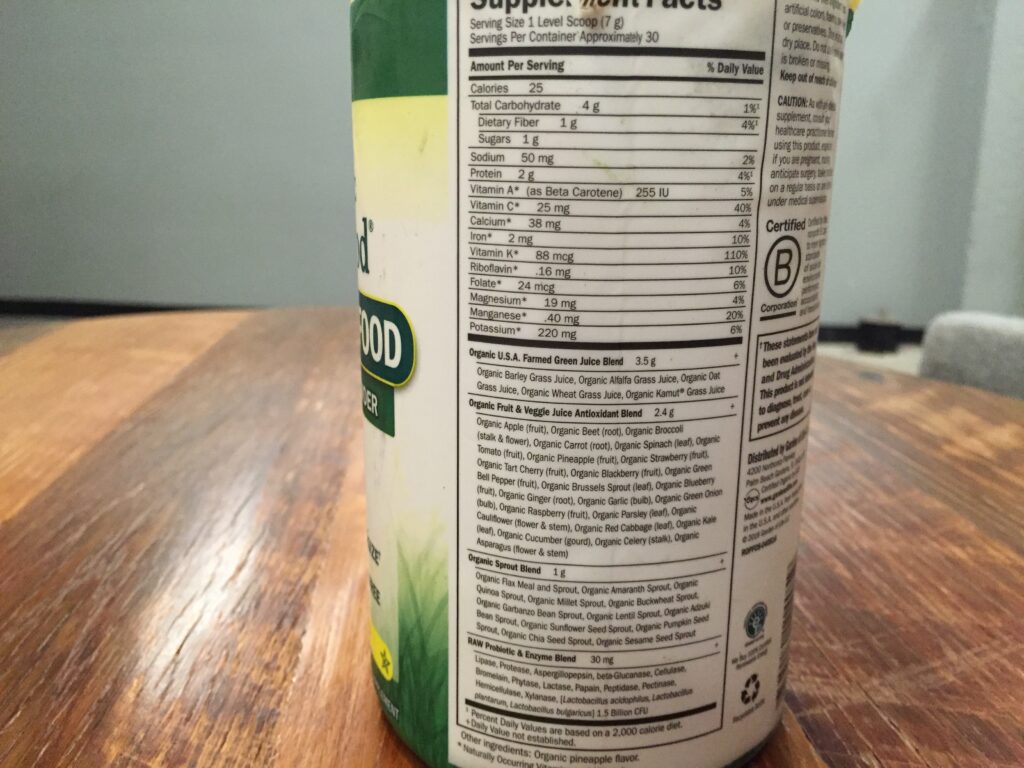 (We tried 47 brands: check out our best green superfood powder picks!)
The other three ingredient categories are a fruit and veggie juice blend, which is comprised of more than a dozen fruits and vegetables including apple, brussels sprouts, berries, cauliflower, and asparagus; a sprout blend that includes flax, millet, buckwheat, and several kinds of legumes and seeds (all sprouted); and a probiotic and enzyme blend of thirteen digestive enzymes and three kinds of probiotic bacteria. The total count of probiotics is 1.5 billion, which is relatively low but nonetheless a nice addition.
One serving contains 25 calories, 2 grams of protein, 4 grams of carbohydrates, 1 gram of fiber, and no fat.
Garden of Life Perfect Food Taste
The "original" flavor is very grassy. There are clearly no natural or artificial flavors or sweeteners in this product — it tastes of wheat grass and has a gritty, nutty aftertaste. This is probably because of the "Sprout Blend," which is heavy on flax, millet, buckwheat, and legumes.
It is unflavored, unsweetened, and unenjoyable, but it's not as aggressively bad and bitter as some other unflavored greens powders, and this is probably because of the fruits in the "antioxidant blend." It's very far from sweet, but some unflavored powders taste so strongly of grass and earth that they make me gag — Perfect Food didn't. Faint praise, I know.
Note that Garden of Life also sells this product in Apple and Chocolate (Cacao) flavors.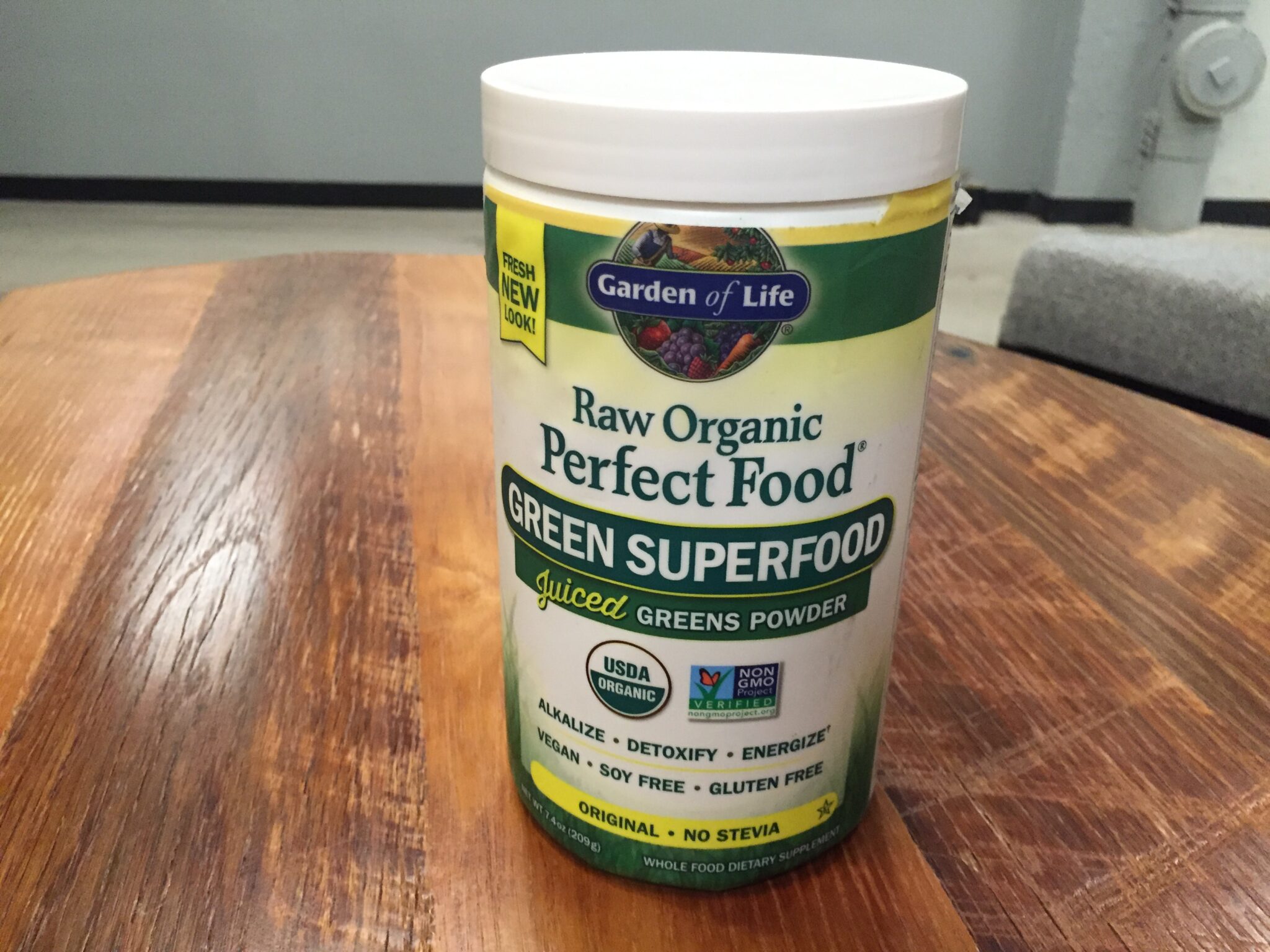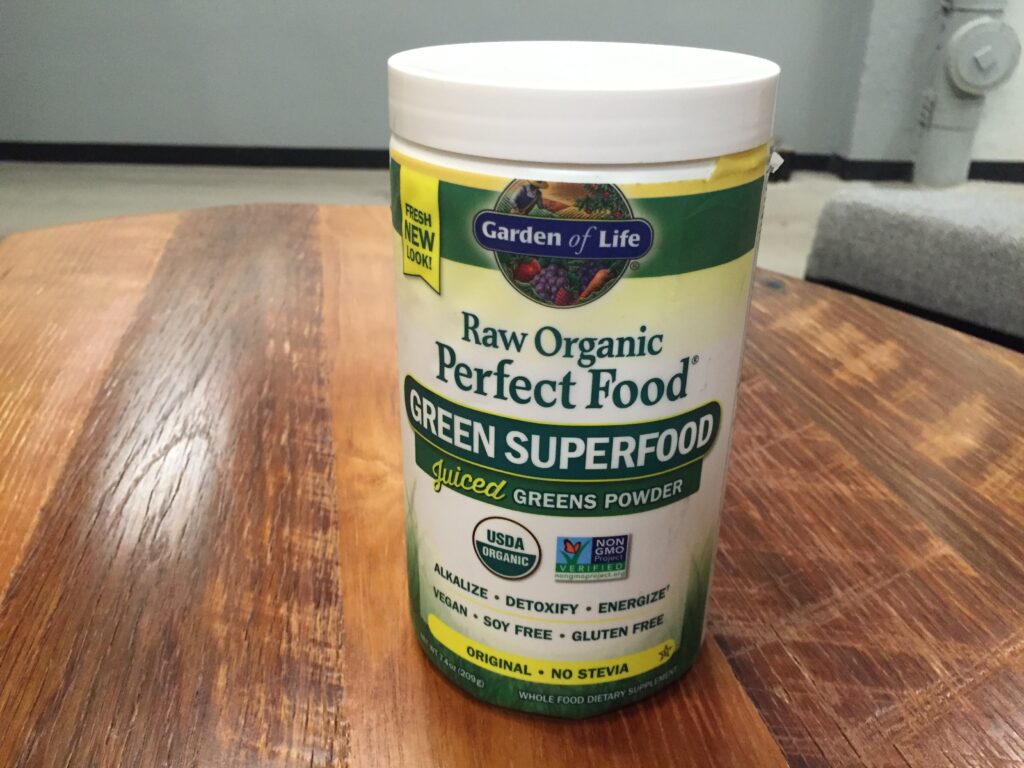 Garden of Life Perfect Food Benefits and Effectiveness
So, maybe the juice powder is more nutritious than leaf powder, but what's on the actual nutrition label, where it counts?
Thankfully, there's a decent amount of information here: the most notable nutrients are the 40 percent of the recommended daily intake of Vitamin C, the 110 percent of your daily Vitamin K, 20 percent of your manganese, the 10 percent of your riboflavin (Vitamin B2) and 10 percent of your iron.
Given the price (see below), the digestive enzymes and the 1.5 billion probiotics, that's a pretty nice spectrum of nutrition. However, given that almost half of the content by weight is an "organic fruit & veggie antioxidant blend," I would have liked more information about the antioxidant content, like an ORAC score or info as to whether or not it's equivalent to one or more servings of, say, dark leafy greens.
I also wasn't a fan of the fact that the word "Detoxify" is front and center on the label, but no information is provided as to how the product helps that occur.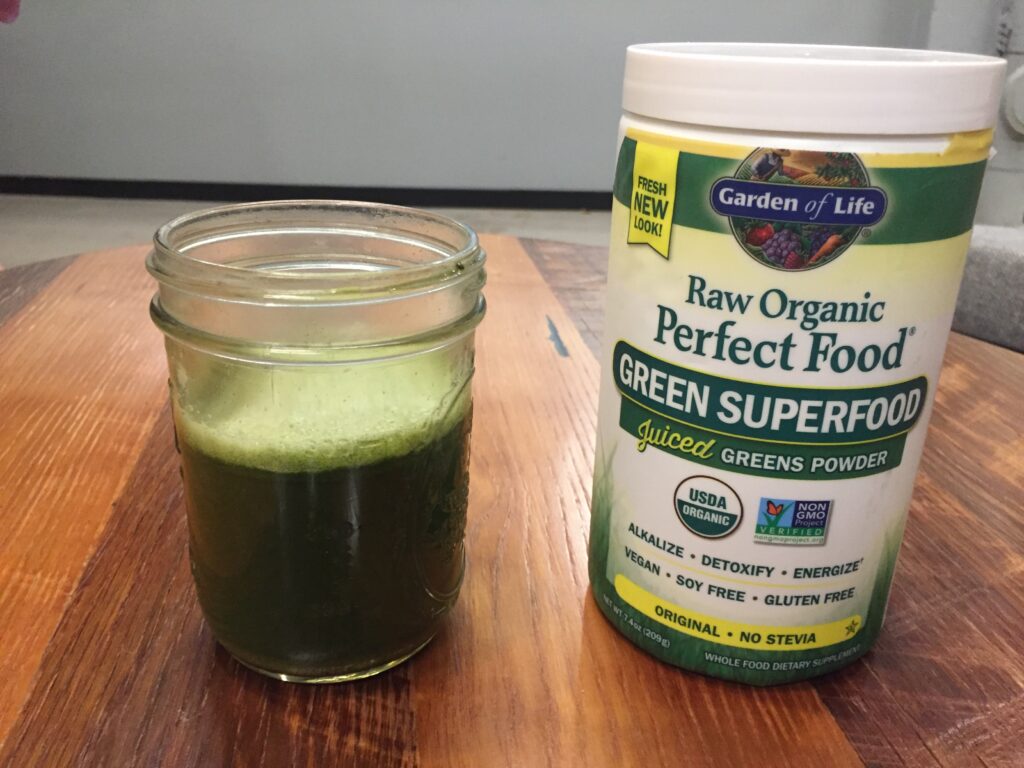 Garden of Life Perfect Food Price
At around $23 for 30 servings, or 76 cents per serving, it's cheap, particularly since a lot of greens powders only provide antioxidants and/or probiotics, while this offers a decent amount of vitamins and minerals, too.
Compare that with Athletic Greens ($4.23/serving), Onnit's Earth Grown Nutrients ($2.30/serving), Patriot Power Greens ($1.96/serving) AI Sports Nutrition Red & Greens XT ($1.33/serving), Vitamineral Green ($1.16/serving), Green Vibrance ($1.08/serving), ORAC-Energy Greens ($1/serving), PharmaFreak Greens Freak ($1/serving), Macro Greens Superfood ($0.72/serving), Sun Warrior's Supergreens ($0.55/serving), and Amazing Grass's Green Superfood ($0.52/serving).
The Takeaway
Frankly speaking, when a product is this cheap, I'm not as critical as I am of pricier products. (Some other greens powders are five or six times more expensive.)
But even taking a critical eye to Garden of Life, it's a pretty solid product: it delivers a decent amount of vitamins C, K, manganese, iron, enzymes, and probiotics for a very low price. I would have liked a little more information about the antioxidant content, but given the ingredients list I have faith that it's pretty high in this department as well. Plus, given it's a B Corporation, you can know that part of your money is supporting charity and sustainability.