When training consists of frequent runs and sprints to increase strength or to improve endurance, sometimes runners just want a dependable treadmill they can consistently use. The Activate Series treadmill from Life Fitness is a no-fuss piece of fitness equipment that delivers standard functionality. While it doesn't have the latest high-tech features some treadmills within its price range might include, the Life Fitness Activate Series treadmill is an addition to any home gym that should pay off in the long run.
Main Takeaways
The Life Fitness Activate Series treadmill can support runners of up to 400 pounds.

It provides runners with a cushioned running surface.

Runners can set this treadmill at a 15% incline and run as fast as 12 miles per hour.
Activate Series
Life Fitness Activate Series Treadmill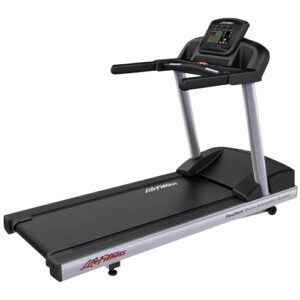 Life Fitness Activate Series Treadmill
The Life Fitness Activate Series treadmill is practical and straightforward. It features a simple console that displays the runner's metrics and should be easy to operate even for the most novice user.
Life Fitness Activate Series Treadmill Highlights
This treadmill is designed with a steel frame and is hand-welded for durability. This build will help the treadmill support runners both big and small as its weight capacity is much higher than some other basic treadmills. It should also help runners challenge themselves throughout their runs as it allows them to track their heart rate, add steep inclines for resistance training, and to run fast with sprinting speeds. Runners looking for a more cushioned running surface will find that this treadmill features Life Fitness' patented springs which gives the deck more flex.
Who Should Buy the Life Fitness Activate Series Treadmill
Runners prone to injuries since the cushioned deck can help reduce foot impact.

Heavyset runners who need a treadmill that will support their weight.

Shoppers looking for a sturdy treadmill that's going to last a long time.
Who Shouldn't Buy the Life Fitness Activate Series Treadmill
Buyers looking for a treadmill at a lower price point.

Tech-savvy runners who prefer their treadmill to have the latest upgrades like Bluetooth compatibility and a touchscreen display.

If you don't have a designated area for this treadmill as it will take up some space and does not fold.
Price
The Life Fitness Activate treadmill is definitely on the higher end of price points. It's $4,999 price considers its strong build which can support runners of much higher weights. At this price, buyers get a heavy-duty treadmill that can stand the test of time.
Overall Build and Quality
This treadmill's all-steel frame is welded to ensure its durability. Its solid build should make it a sturdy piece of cardio equipment runners can log a lot of miles on.
Features
This treadmill has many of the standard functions runners would expect from Life Fitness. Whether buyers are new to running or if they're long-distance runners, this treadmill will deliver many of the essential features users might find necessary to perform well throughout their workouts.
Incline range
For those wanting to add some strength training to their runs, this treadmill can be set at an incline of up to 15%. Runners can simulate running uphills on this treadmill for more resistance to build their calves, quads, hamstrings, and glutes.
Speed range
Runners can hit fast speeds with this Activate treadmill. With a speed range hitting as high as 12 mph, powerlifters can add sprints as part of their strength and conditioning training for leaner muscle mass and improved stamina. But for those who don't have a need for speed, this treadmill can run as low as 0.5 mph for walks and light jogs.
Included workouts
This treadmill comes pre-installed with nine workouts. Six of these programs are pretty standard to most treadmills like interval and hill training as well as routines for fat burn and cardio. Users can get right into their runs with the quick start option or create their own workout by choosing the manual mode.
The other three can serve runners with even more specific goals. For instance, the marathon setting allows runners to control the duration of their workout. They can fix the time of any of the included exercises for as long as they want and choose to end the session whenever they see fit.
Runners can really assess their overall fitness level through the Fit Test and WFI Submax Protocol program. By using the heart rate tracking system installed on the Activate treadmill, the Fit Test can estimate how much oxygenated blood the heart pumps to the exercising muscles while the treadmill's speed and incline is automatically increased until a targetted heart rate is reached during the WFI Submax Protocol program.
Display
The console on this treadmill is pretty easy to use. Runners will find arrow keys to select their preferred workout and to increase or decrease their speed and incline. There are also buttons for quick start, cool down, pause, and stop.
The standard LED console displays a workout profile window where resistance and incline levels appear as columns. A black bar across the top provides runners clear readouts of metrics such as time, distance, distance climbed, total calories burned, calories per hour, heart rate, target heart rate, watts, METs, resistance level, speed, pace, and incline.
Fans
Runners are going to have to make sure they stay hydrated throughout their runs as this treadmill does not come with a cooling fan.
Heart Rate Monitoring
This Life Fitness treadmill provides runners with contact sensors to track their heart rate. Placed on a bar below the console, users can grasp the pulse grips for an accurate stat. It also offers polar telemetry, but runners will have to use their own compatible heart rate monitor.
HDMI, USB, and Other Inputs
There are no charging ports or audio jacks on this treadmill.
Bluetooth and Audio Options
Runners will have to play music from their smart devices if they want to listen to some tunes while working out. There are no speakers or audio options on this treadmill.
Water Bottle, Cup Holders, Tablet and Phone Holders
This treadmill provides sufficient amounts of storage space. It comes with a water bottle and smartphone holder on each side of the console. It also offers an integrated reading rack that can also be used as a tablet holder.
Product Specs
The Life Fitness Activate Series treadmill is built to be strong and to support a lot of weight. Its running surface is sure to keep users of all types comfortable as it is wide, spacious, and cushioned.
Motor Size
With a 3.0 hp motor, this treadmill should be able to power through even during the toughest runs. It comes with a MagnaDrive motor controller to help the motor last longer and to run vibration-free.
Running Area
With a running area of 20" x 60", this treadmill gives its runners a little bit more space than some other treadmills on the market. This can help to push long time runners to implement different movements into their sessions and provide beginners with enough wiggle room to work on their running form.
Weight Capacity
Due to its welded steel frame and 3.0 hp motor, this treadmill has a high weight capacity. This treadmill can support up to 400 lb whereas many others can only support weights up to 300 lb or 350 lb.
Folding Options
Users will need a designated area for this treadmill as it is not foldable. This treadmill will take up some space in your home gym. It measures in at 81" x 32" x 57".
Electrical Requirements
This treadmill can be plugged into most outlets. It requires a dedicated 120 volt/20 amp circuit which is standard to many homes.
Warranties
Life Fitness gives buyers of this treadmill seven years of protection on the frame. They also cover mechanical and labor for one year.
Belt Information and Roller Size
Life Fitness equipped this treadmill with a multi-ply polyester belt. This belt glides over 2.75" rollers located in the front and back of the deck to help the belt last longer.
Cushioning and Feel
This treadmill is constructed with Life Fitness' patented FlexDeck Shock Absorption technology. This system features their custom-engineered Life Springs placed beneath the deck to absorb shock by up to 30%. This flexible surface can help alleviate stress on the joints and can help prevent running injuries.
Workout Apps and Compatibility
Unfortunately, this treadmill is not compatible with workout apps. Although this treadmill doesn't have the technology that allows runners to download their data, users can always use apps such as MapMyRun, RunKeeper, or Nike+ to track and save their metrics.
Subscription Options
Life Fitness does not offer a subscription to workout videos or downloadable content for this treadmill. Runners can use their tablets or phones to stream workouts.
Places to Buy
This treadmill is available for purchase on the Life Fitness website.
Company Information
Life Fitness is known for its trustworthy treadmills, which are often found in commercial gyms. They also produce other fitness equipment such as climbers, rowers, and cross-trainers.
Return Policy
Buyers can return this treadmill only if it is defective. They must do so within 15 days and will have to submit a Return Material Authorization Number with their return. This number can be obtained by contacting Life Fitness at 1-800-735-3867.
Contact
Users can contact Life Fitness at 1-800-527-6065 or submit a Contact a Sales Representative form on their website.
Wrapping Up
The Life Fitness Activate Series treadmill is a strong piece of fitness equipment that is uncomplicated and easy to use. It might not have all the bells and whistles that the most modern treadmills feature nowadays, but it is a piece of fitness equipment that runners can consistently rely on while working out from home.
FAQs
Is this treadmill heavy?
Yes. It weighs 325 lb and will require two people to move it. It might be a little easier with the portability wheels that are engaged by lifting the deck.
Does Life Fitness offer a similar but more affordable treadmill? 
Shoppers looking for a cheaper Life Fitness treadmill might be interested in the T3. It also has a 3.0 hp motor, a 22" x 60" running area, and the FlexDeck cushioning system but it has a lower weight capacity than the Activate Series treadmill. It can only support runners of up to 350 lb.
How can I make sure my treadmill lasts a long time?
Life Fitness offers buyers of this treadmill preventative maintenance tips. Runners can clean the display and the treadmill's exterior surface with a Life Fitness approved cleaner and a microfiber cloth. Life Fitness suggests vacuuming the belt and the area surrounding and under the treadmill regularly. They also recommend checking the emergency stop system and the stop button once a week to make sure it works.