Every runner wants a durable and dependable treadmill. For some people, the best treadmill might also have many modern features like Bluetooth compatibility and a variety of pre-installed classes. Others prefer a treadmill that sticks to the basics, like an easy to use console and standard workouts. Thankfully, the T3 treadmill from Life Fitness has all these features to satisfy every type of runner.
If you're looking for a treadmill that provides the essential features for a good run but also sports some contemporary upgrades, our in-depth review of the T3 might convince you it's the right tread for your needs.
Main Takeaway
Buyers can choose between a standard console or a console that is Bluetooth compatible with Apple and Android apps.

The T3 is an all-steel construction and can support up to 350 pounds. 

This treadmill is powered by an energy-saving motor that is strong enough to provide runners with high-speed levels.
Life Fitness T3 Treadmill Highlights
With a 3.0 horsepower smart motor, the T3 is not only strong but also energy saving. The T3 can adjust its output according to a runner's weight and go into energy-saving mode whenever it is not in use. Along with the motor, its all-steel frame allows the T3 to serve many different sized runners as it can support up to 350 lb.
Life Fitness gives the T3 some modern touches by providing shoppers the option of choosing between a standard console or a console that includes more workouts for cardio and strength building, is Bluetooth compatible, and can be used with the Life Fitness Connect app. Either way, users should find the T3 to be sturdy, energy-efficient, and easy to navigate.
T3
Life Fitness T3 Treadmill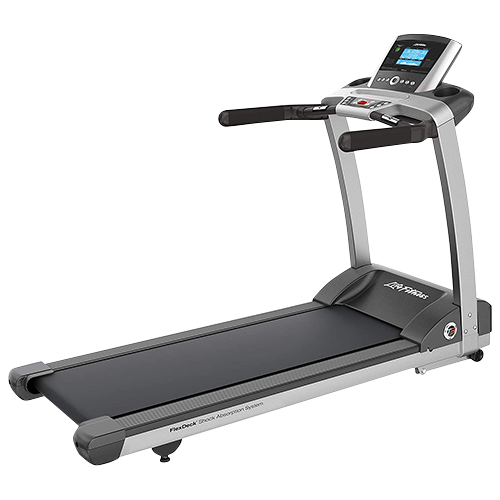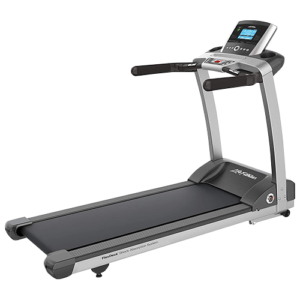 Life Fitness T3 Treadmill
Life Fitness gives buyers the option to choose their preferred display for the T3. Runners can choose between the standard Go console which includes 12 workouts or the Track Connect console which is Bluetooth compatible and includes 16 running programs.
Who Should Buy the Life Fitness T3 Treadmill
Beginners and long-time runners since the T3 is easy to navigate and includes workouts suitable for all levels.

This treadmill has a higher weight capacity and a spacious running area benefitting big and tall runners.

Shoppers who want an environmentally friendly treadmill.
Who Shouldn't Buy the Life Fitness T3 Treadmill
Anyone who can't designate a space for the T3 as it takes up a lot of space and is not foldable.

The T3 is a bit more expensive than some other standard treadmills, so it might not be the best option for those who are on a tight budget.
Price
The T3 is listed on the Life Fitness website for $2,599. It can also be purchased from other vendors on Amazon. While it might be expensive for some buyers, it's worth mentioning that the T3 is one of the lower-priced treadmills in the Life Fitness line.
Overall Build and Quality
The T3 is designed to serve many different types of runners. Its heavy-duty steel frame can support users whether they're walking or sprinting. Read on for its full list of features.
Features
At a glance, the T3 is a pretty standard treadmill. But giving the user the option to choose the type of console they want on their treadmill means buyers have convenient options to upgrade to.
Incline range
The T3 offers users the option to add inclines to their runs. The gradients range from 0.5% up to 15% and can be increased by 0.1 increments. The ability to add inclines on the treadmill can appeal to those who prefer to run on different terrains to increase their metabolic rate.
Runners can also alter their inclines with the quick select buttons on the control panel. It gives them the option to run at a low, mid, or high incline. This makes selecting an incline faster and more convenient.
Speed range
The T3 provides runners with speeds suitable for walks, light jogs, and sprints. It can run as slow as 0.5 mph and reach speeds of up to 12 mph which is pretty high considering some other treadmills can only hit top speeds of 10 mph. This can appeal to athletes who want to use sprints as a kind of body conditioning or as a way to make their legs stronger. Like the quick select incline buttons, runners can easily select a walk, jog, and run mode on the control panel. This can also benefit weightlifters looking to incorporate a quick walk or a light jog as a warmup to their training.
Included workouts
The workouts users get included with their T3 will depend on the console they choose. If they pick the Go console, they'll get 13 pre-installed workouts that should be familiar to many long-time runners. Such programs include a manual setting that allows the user to control their speed and incline levels, a random workout that creates different patterns of hills and terrains, and a calorie-burning routine.
Types of Consoles and Programs
The Go console also includes a variety of heart rate and hill workouts. Its standard hill training mode starts on a steadily increased incline after the warmup, then an interval of peaks and valleys. Beginners can start with the EZ incline workout, which elevates the treadmill throughout the workout. More experienced runners can use the Sports Training setting to simulate running outdoors.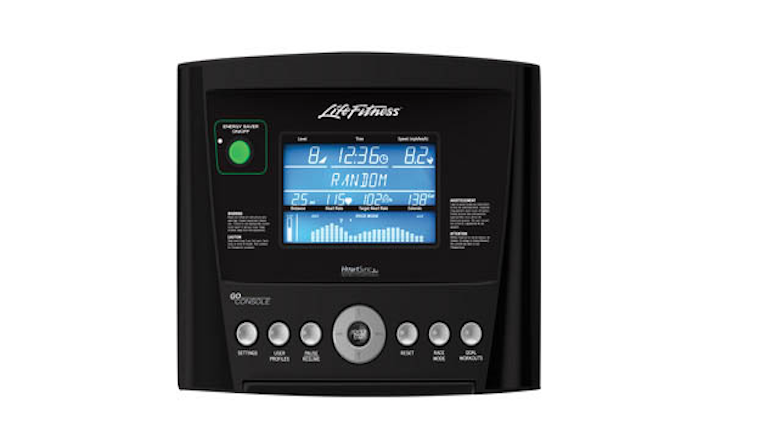 The heart rate interval program tracks the user running on an incline, then gradually elevates the incline as their heart rate reaches 80% of its maximum. In comparison, the Extreme Heart Rate workout alternates its slopes whenever the user's heart rate hits 65% and 85%. If runners really want a challenge, they can try the Heart Rate Hill training where the user's heart rate determines the duration of the incline.
The Track Connect console includes all of the same workouts as the Go plus several more. Such programs are a Fit Test that assesses a runner's overall fitness and oxygen intake by monitoring their heart rate and a Heart Rate Marathon, pushing the runner to maintain a target heart rate throughout the session. This console also allows its users to connect to the Life Fitness app to access their data and custom-made workouts and to set and monitor their weekly goals.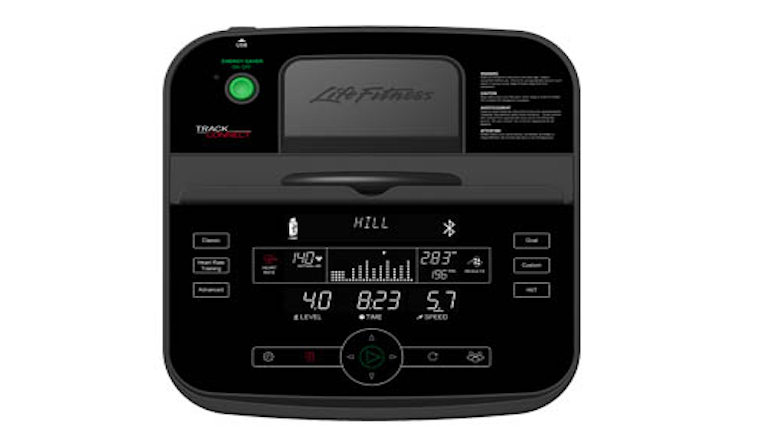 Display
No matter the console they choose, runners will enjoy a user-friendly display. They'll be able to easily read their incline levels, speed, time, distance, calories burned, and both their current and target heart rate. The Go console will display the metrics on a blue backlit LCD screen, while the Track connect comes with a black backlit LCD screen.
The T3 also allows the runner to stay within arm's reach of their most used buttons. Called the activity zone, users can easily adjust or change their incline and speed levels with the control panel right in front of them as they run. Users can also access the start and stop buttons.
Speakers
Runners will have to rely on their headphones to listen to some tunes while working out. The T3 does not come equipped with a speaker.
Fans
The T3 also does not feature a cooling fan, so runners will have to rely on a fan in their workout room or home gym to cool them down during their workout.
Heart Rate Monitoring
The T3 offers two different options to track a runner's heart rate. They can either grip the hand sensors on either side of the activity zone or use the included chest strap. Using either tracking device will be crucial to get accurate metrics throughout the heart rate focussed workouts included in the T3.
HDMI, USB, and Other Inputs
Buyers can get a USB port if they choose the Track Connect console. This feature comes in handy if users stay active on their phones while running by listening to music or accessing the Life Fitness app. The USB port will allow them to charge their phones to still have a full battery at the end of their workouts.
Bluetooth
The T3 is only Bluetooth compatible with the Track Connect console. Using Bluetooth, runners can upload and save their metrics and custom workouts from compatible apps to the T3.
Water Bottle, Cup Holders, Tablet and Phone Holders
The T3 offers enough storage so users can store their personal belongings comfortably. There are two removable and dishwasher-safe cup holders on either side of the console where you can place your bottles of water, pre-workout, and other supplements you drink after your run. It also features a tablet holder that can be used as a reading rack or an area to place keys and a wallet.
Product Specs
The T3 is a heavy-duty treadmill that will give its runners a comfortable yet stable running area. Its motor might not be the most powerful on the market, but it is strong enough to sustain users of higher weights.
Motor Size
The T3 comes equipped with a 3.0 hp smart motor. This type of motor avoids unnecessary energy use by modifying its power according to the user's weight. The motor is also a direct current motor, which is much quieter than alternate current motors.
Running Area
This treadmill offers both big and small users enough running space. With a 60"x20" running area, the T3 can also benefit runners with longer strides.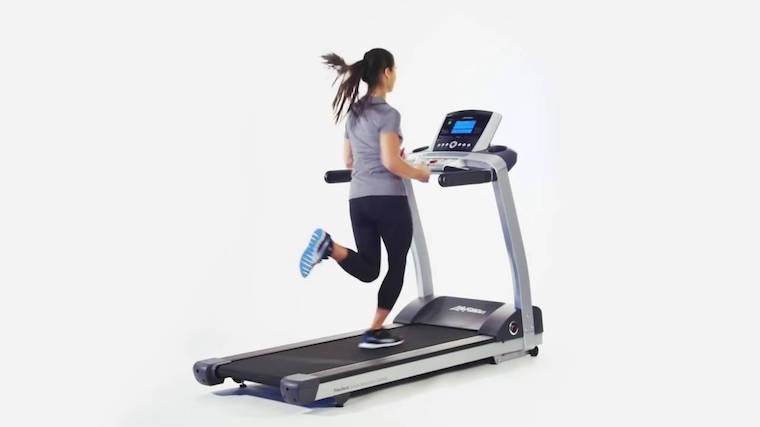 Weight Capacity
With a strong motor and a steel frame, the T3 can hold up a lot of weight. It can bear up to 350 lb.
Folding Options
This treadmill is not foldable. Those looking for a treadmill that can be folded might be interested in the Sole F65.
Footprint While In Use
The T3 is a hefty treadmill. It measures in at 79.5"x34.5"x57.5". With its dimensions, it's best to have a committed area for this piece of equipment in your home gym.
Electrical Requirements
Buyers will be happy to know that the T3 can work with most normal outlets. It requires a 120-volt power source which is standard for most homes.
Warranties
Life Fitness offers different warranties for specific aspects of the T3. The frame and LifeSpring absorbers are covered under their lifetime warranty, while a 10-year warranty protects the motor. They also give buyers five-year coverage for parts, three years on the console they choose, and one year on labor.
Belt Information and Roller Size
Life Fitness designed the belt of the T3 for longevity. Its 2-ply belt is accompanied by a 2.5" front roller and a 2.0" back roller. These rollers can help extend the belt's life by giving it a surface to glide over before and after it surfaces.
Cushioning and Feel
To give runners a comfortable running surface, Life Fitness constructed the T3 with their patented FlexDeck technology. This features custom engineered Life Springs that can absorb shock by up to 30%. It gives runners a flexible and cushioned surface that can help alleviate stress on the joints. Users can help themselves prevent running injuries even further by making sure they wear a good pair of training shoes.
Workout Apps and Compatibility
This treadmill's app compatibility will depend on the console you choose. With the Track console, runners will be able to utilize the Life Fitness Connect app. The app allows them to create and schedule custom workouts and to use Bluetooth to upload and store their data. LF Connect also allows runners to use over a dozen compatible Apple and Android apps like MyFitnessPal, Apple Health, and RunSocial and fitness trackers like the Fitbit.
Subscription Options
While the T3 features its LF connect app, it doesn't offer workout videos or downloadable content. Runners will have to use their favorite streaming services while using this treadmill.
Places to Buy
Buyers can purchase the T3 on the Life Fitness website and other various suppliers. It is available from other vendors on Amazon.
Company Information
Life Fitness has produced reliable treadmills for over 50 years. They also design other fitness equipment such as bikes and rowers and accessories such as medicine balls, heavy bags, and barbells.
Return Policy
Life Fitness gives its buyers 15 days to return their treadmill only if it is defective. Users will have to submit their return with a Return Material Authorization (RMA) Number which they can get by contacting LF at 1.800.735.3867. They will also offer to replace defective parts covered under warranty.
Contact
Life Fitness can be contacted either by phone or email. Users can call Life Fitness at 1 (800) 527-6065 or submit a Contact a Sales Representative form on their website.
Final Word
Life Fitness is known for its high-quality treadmills and the T3 is no exception. It can serve many runners whether they're just starting out or if they've been running for years. The T3 might be a little pricey for some budgets. Still, the option to choose a Bluetooth compatible console that features even more workouts, its strong and energy-saving motor, and its high weight capacity can make the T3 worth every penny.
FAQs
Is the T3 expensive?
The T3 is on the higher end of standard treadmills. Most treadmills will run anywhere between $1,000 and $2,000, but they might not feature a smart motor or have such a high weight capacity. The T3 might be a little more expensive but that takes into account its features and its strong build.
Does the T3 require a lot of maintenance?
Life Fitness recommends weekly, monthly, and yearly preventive maintenance on your T3. They suggest checking the belt weekly to ensure it's centered and vacuuming both the belt and under the deck monthly. You can also wipe the console with a soft cloth dampened with a mild soap monthly as well.
The belt can be lubricated yearly or if you get a "Lubricate Walking Belt" message on the console. You'd then apply a silicone-based lubricant approved by Life Fitness on the surface between the belt and the deck.
Is the T3 heavy to move?
The T3 weighs 250 lb. While it is heavy, it is lighter than some other treadmills with the same dimensions. It is still recommended to have a committed spot for your treadmill, but if you change your mind or have to move it for whatever reason, it's best to do so with another person helping you.