We receive free products and receive commissions through our links. See
disclosures page
.
When looking for the perfect treadmill to complete your at-home gym, you may have a few boxes to check before sealing the deal. Does it fold? Can it support enough weight? Will it cushion my joints? How big is the display? The Life Fitness F3 Folding Treadmill checks a lot of the basic boxes, but not as many technological ones. So if you're searching for a solid treadmill without the high-tech complexities, this could be the tread for you.
Main Takeaways
The Life Fitness F3 has FlexDeck Cushioning to protect your joints while you run. 

You can choose from two different consoles—one a little higher-tech than the other. 

The "smart energy" motor adjusts to your body weight so it doesn't use more power than it needs to.
Life Fitness F3
Life Fitness F3 Treadmill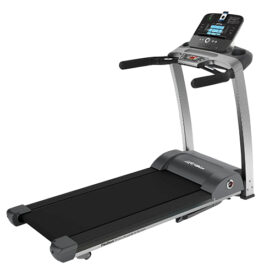 Life Fitness F3 Treadmill
The Life Fitness F3 Folding Treadmill is a quality build, has most of your basic treadmill needs, and saves you some space when it folds up. It also has a motor that will keep it running for years to come.
Life Fitness F3 Treadmill Highlights​
This treadmill is a solid option for athletes looking for a folding treadmill that still stands strong when it comes to power, wear, and cushioning. This isn't a flimsy foldable treadmill that you can push under the couch while it's not in use.
Who Should Buy the Life Fitness F3 Folding Treadmill
Runners looking for a little extra cushioning for injured or aging joints
Athletes who are into no-frills machinery and just want the basics
Anyone who needs a piece of a equipment with a high weight capacity
Who Shouldn't Buy the Life Fitness F3 Folding Treadmill
Tall runners who need extra room for their gait—the track is on the shorter side
Someone who needs lots of high-tech features to modernize their workouts
Joggers looking to save space—even when it's folded up, the F3 still takes up a good amount of room
Price​
The Life Fitness F3 Folding Treadmill is priced on the higher end of foldable treadmills. You can choose from two consoles—Go or Track—each of which are different prices. The Go Console is the most basic, which includes your standard pre-programmed workouts and an LCD backlit display. It generally goes for $2,599. The Track Console has the added bonus of being Bluetooth compatible and includes a USB port, pushing its price up to around $3,049 without factoring the discounts of the day.
Overall Build and Quality​
The Life Fitness F3 Folding Treadmill weighs in at 264 pounds, giving it a solid, steady build as far as folding treadmills go. While you can expect the basic inclines and speeds of most treadmills of its class, you won't find anything complicated going on with this treadmill. If you're looking for no-frills and just want to run and be done, the F3 should be right up your alley.
Features​
One of the best features of this machine may be that there are two customization options for the console—one with slightly more features than the other. Outside of that, you can expect an average number of pre-programmed workouts and storage space but minimal additions when it comes to features you may expect to find on your tread console.
Incline range​
You can climb from zero all the way up to 12 percent in incline, which is the average range you will find on most treadmills.
Speed range​
The speed ranges from 0.5 to 10 mph, which is on the slower side. Other treadmills in this price range accelerate a couple miles per hour faster than the Life Fitness F3 Folding Treadmill, but as long as you aren't looking to run too many sprints, 10 mph will do just fine for some faster running intermixed with longer distance jaunts.
Included workouts​
The Life Fitness F3 Folding Treadmill's Go Console has 13 workout programs: three classic programs, two advanced programs, three goal-oriented programs and five HeartSync programs. With the Track Console, you can also find personalized workouts and tracking on the LFConnect app, which you can sync through Bluetooth.
Display​
There are two console options for the F3—the Go and the Track Consoles.
The Go console has 13 workout programs and can hold two custom workouts of your creation. It will also save up to two user profiles, and has a pretty basic look with an LCD backlit blue display.
The Track Console also has the pre-programmed workouts, can hold 12 custom workout programs and will save up to 4 user profiles. In addition, it has a USB port and is Bluetooth enabled to sync with fitness trackers like FitBit and MyFitnessPal, as well as Life Fitness' LFConnect app.
Speakers​
Unfortunately, the Life Fitness F3 Folding Treadmill does not come with speakers, so if you're looking to turn your home gym into a club-bumping level fitness studio, you'll have to look elsewhere.
Fans​
There are no fans built into either console on this machine, which may be just fine during those chilly winter months, but come summer, you may have to set up a floor fan to keep you from sweating.
Heart Rate Monitoring​
You can grab onto the handlebars for contact heart rate hand sensors, or use the wireless telemetry heart rate monitoring system that comes with your purchase for more consistent heart rate tracking.
HDMI, USB and Other Inputs​
The Track Console comes with a USB port, so you can plug in a USB drive with customized workouts and they will upload straight onto your treadmill.
Bluetooth and Audio Options​
The Track console has a Bluetooth option, so you can track your workouts on the LFConnect app or your preferred fitness tracker when you sync your mobile device with Bluetooth. Again, there are no speakers on the F3, so audio options are limited to your ear buds or external speakers.
Water Bottle, Cup Holders, Tablet and Phone Holders​
There's plenty of storage on this machine. You'll find two water bottle holders, an accessory tray and a tablet holder if you're a big on streaming while you sweat.
Product Specs​
The "smart energy" motor that adjusts to each user's weight will keep this machine running for years to come, but the running area falls a little short for tall athletes. If you're measuring in under 6 feet tall, you have nothing to worry about, but taller runners may want to seek a machine that's a few more inches longer.
Motor Size​
The motor is 3.0 HP with a MagnaDrive motor controller. The "smart energy" system will adjust the power output to each runner, so the motor isn't using as much energy for its lighter users as it is for its heavier ones.
Running Area​
The running area falls a bit short at only 55 x 20 inches. If you're looking for a treadmill that takes up a little less space when in use, the F3 could be your answer. But if you would rather have some extra room for your gait, look elsewhere—many treadmills in this price range have a track that's 60 inches long.
Weight Capacity​
This machine can hold up to 350 pounds, which is on the higher side of weight capacities making this a great buy for heavier users.
Folding Options and Dimensions
When in use, the Life Fitness F3 Folding Treadmill is 78.5 inches long by 34.5 inches wide by 58.5 inches high. One of the positives of this tread though is that the deck is positioned vertically when folded instead of in a V shape, which can save a little extra room when it comes to storage space.
Max Speed and Incline Range​
This tread hits up to 10mph and 12 percent in incline, and has a motor quiet enough to allow your family some extra sleep while you hit those early morning workouts. It can handle regular use and will also recall your preferred walk, jog and run speeds which makes for an easy workout setup.
Electrical Requirements​
You only need a 120 volt plug for this machine, which for those who aren't super well-versed in electrical outlets, you'll find in your average wall unit.
Warranties​
Your purchase comes with a lifetime warranty on the frame and deck, a 10-year warranty on the motor, five years on the parts and one year on labor.
Belt Information
The Life Fitness F3 Folding Treadmill is equipped with a 2-ply belt, making it easily able to handle daily use.
Cushioning and Feel​
The FlexDeck Shock Absorption System reduces the impact by 30 percent, so if you're looking for a joint-friendly alternative to hard-hitting road running, this treadmill is your friend.
Workout Apps and Compatibility​
You can track your workouts through the LFConnect app with the Track console, but there are no specific workout apps that come with this tread. However, it does have a tablet holder, making it easy to stream workouts from other apps on your tablet as you run.
Subscription Options​
There aren't any subscriptions available for this machine, but if you pay for a separate workout subscription service, the Life Fitness F3's tablet holder will allow you to stream your workouts front and center.
Places to Buy
You can buy the F3 through Life Fitness and on Amazon Marketplace.
Company Information​
Life Fitness has produced reliable treadmills for over 50 years. They also design other fitness equipment such as bikes and rowers and accessories, including medicine balls, heavy bags, and barbells.
Return Policy
Life Fitness gives its buyers 15 days to return their treadmill only if it is defective. Users will have to submit their return with a Return Material Authorization (RMA) Number which they can get by contacting Life Fitness at 1-800-735-3867.
Contact
Life Fitness can be contacted either by phone or email. Users can call Life Fitness at 1-800-527-6065 or submit a Contact a Sales Representative form on their website.
FAQs
Is the F3 Life Fitness treadmill good?
Life Fitness is known for producing quality treadmills. If you've been to a public gym, you've likely seen (and used) a lot of their equipment there. The F3 is sturdy and reliable even though they may not include all of the modern technology that other brands have incorporated into their equipment.
How long will the Life Fitness F3 last?
That all depends on how much you use your machine. The range is quite large—treadmills can last anywhere from seven to 12 years. If you use your machine daily, you can expect that lifespan to be on the shorter end of that range, and if you use your tread less frequently, you can chalk the lifespan up to 12 years.