In this review, we'll be taking a deep dive look into the No Cow Protein Bar. No Cow protein bars are a non-dairy vegan friendly protein bar that made their name by not only matching niche nutritional asks (non-dairy, vegan, high fiber, etc), but also by delivering a solid macro profile while matching said asks.
The company No Cow, previously known as D's Naturals, was a company founded by Daniel Katz (who was 18 at the time of their first release) on a mission to solve the protein bar market ask for a vegan protein bar with no added dairy that delivered a good macro profile for active individuals.
For our No Cow protein bar review, we tried a variety of flavors and assessed the bar's nutrition, texture, taste, price, and much more.
Taste & Texture
No Cow Protein Bar Taste Tests
The taste was one of the biggest factors I assessed with these protein bars. If you're new to No Cow bars, or you're worrisome about a vegan-focused protein bar, then try not to worry — I kept an open mind, but held these bars to a similar rigorous standard as every other bar I've reviewed.
Personally, I thought every bar tasted pretty good, but there were definitely better flavors, as with most protein bars. I admire that No Cow tries to tackle flavors like Blueberry Cobbler and Carrot Cake, but I also think they missed the mark at times on some of these tougher flavors. Below, I've included my favorite and least favorite No Cow bars.
Best Vegan Bar
No Cow Protein Bar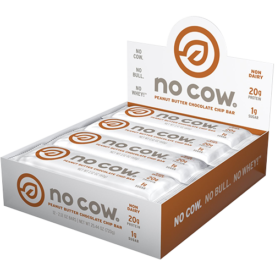 Naturally sweetened and dairy-free, No Cow is surprisingly low in net carbohydrates for a plant-based protein bar.
Favorite No Cow Bar: Peanut Butter Chocolate Chip
In my opinion, this bar was absolutely the most solid bar No Cow makes. It captures the taste, texture, and essence of peanut butter chocolate chip goodness and does so with a solid macro profile. The bar has little chips in it, which give it the whole chocolate chip vibe, and does a great job of capturing the peanut butter flavoring without overdoing it. Was it a Reeses Cup? No, but it was a solid option for combining two synergistic flavors.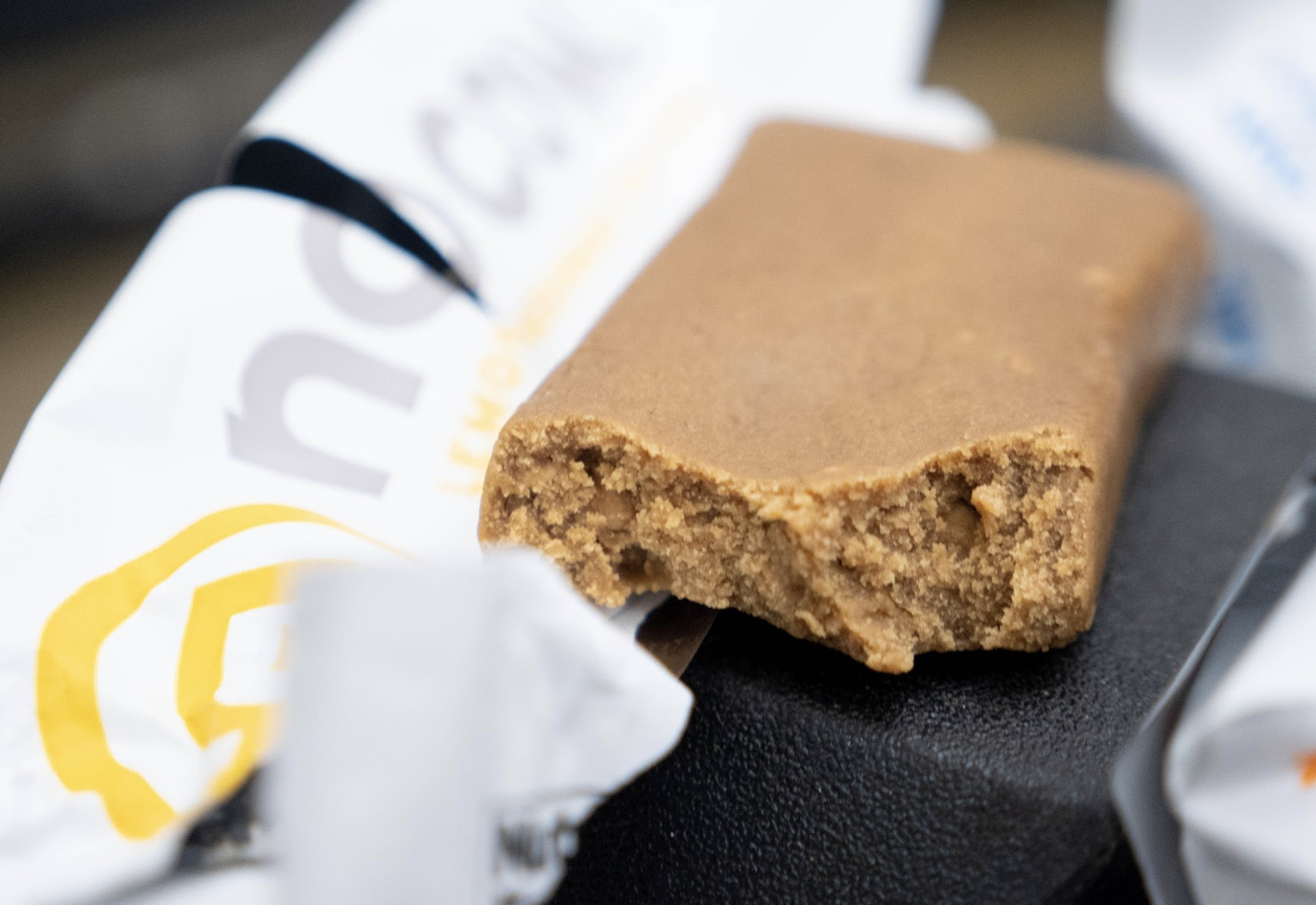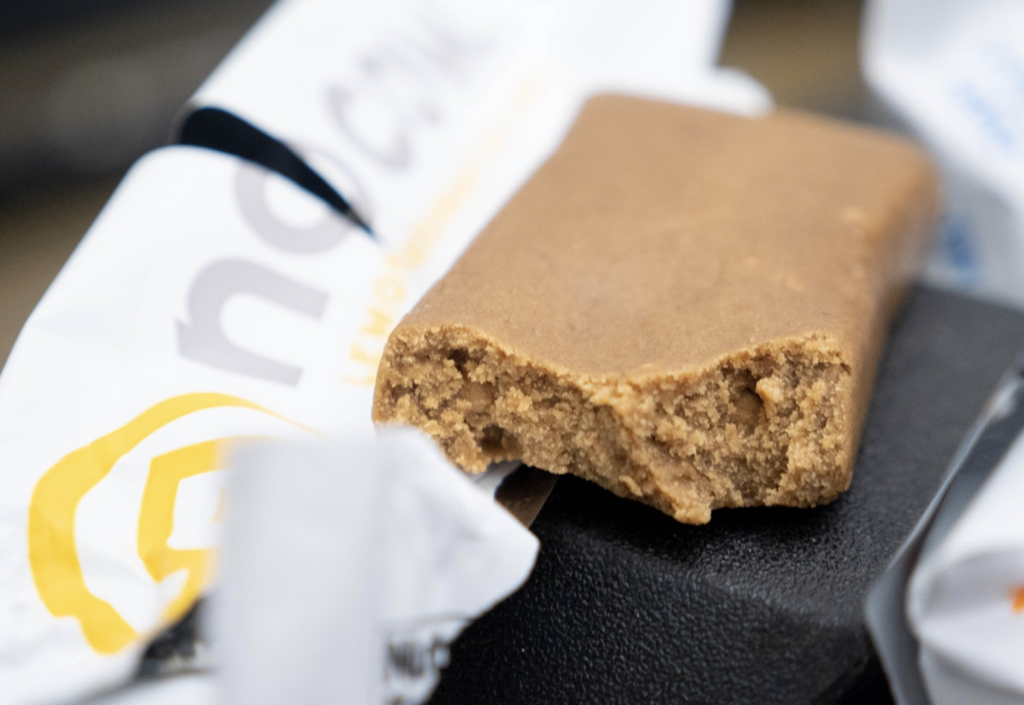 Least Favorite No Cow Bar: Carrot Cake
Meh. Again, I admit, this flavor is lofty to accomplish and I admire No Cow for trying, but this bar was definitely not their best. Carrot cake is often sweet, but not overly sweet, and I think this bar kind of missed the mark in all of those respects. If you love carrot cake flavored products, then maybe you'll like this bar, but in my opinion, it could definitely be improved and was a little off putting.
Texture
One thing I want to make known about No Cow protein bars is that they do have a somewhat inconsistent texture, and comes on multiple levels. Wait, what does that mean? Well, every No Cow bar has a somewhat chalky texture, which honestly, I don't find that off putting, yet others have expressed that they're not huge fans of it. In addition, I've found that No Cow bars vary a decent amount in terms of their "chalkiness" texture.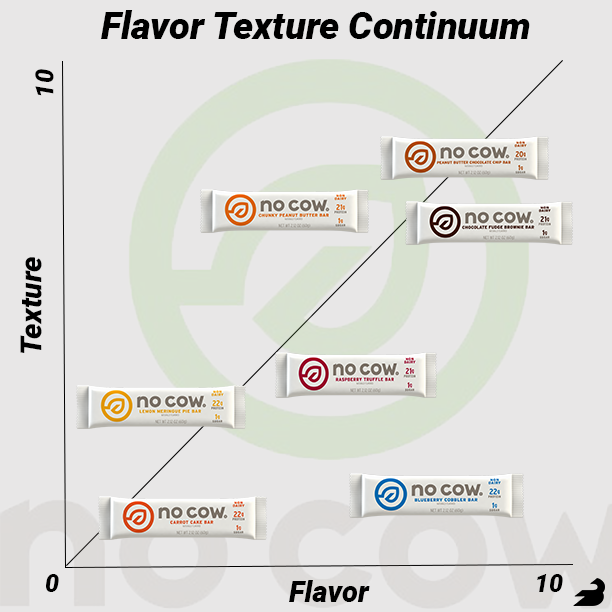 If you stumble upon a super chalky bar, then have water ready. The bar will still taste good, but you'll definitely need a little help getting it down. I've experienced this a couple times when ordering off Amazon.
Outside of the overlaying chalky texture, I enjoy how each bar comes with a doughy like feel, and how some bars have little chunks to enhance flavor and bite. All in all, I'm a fan of No Cow's texture, even though at times they can be a little too chalky. If you're not a fan of a chalky dry texture, and you're unsure about these bars, then I'd recommend trying one out before buying in volume.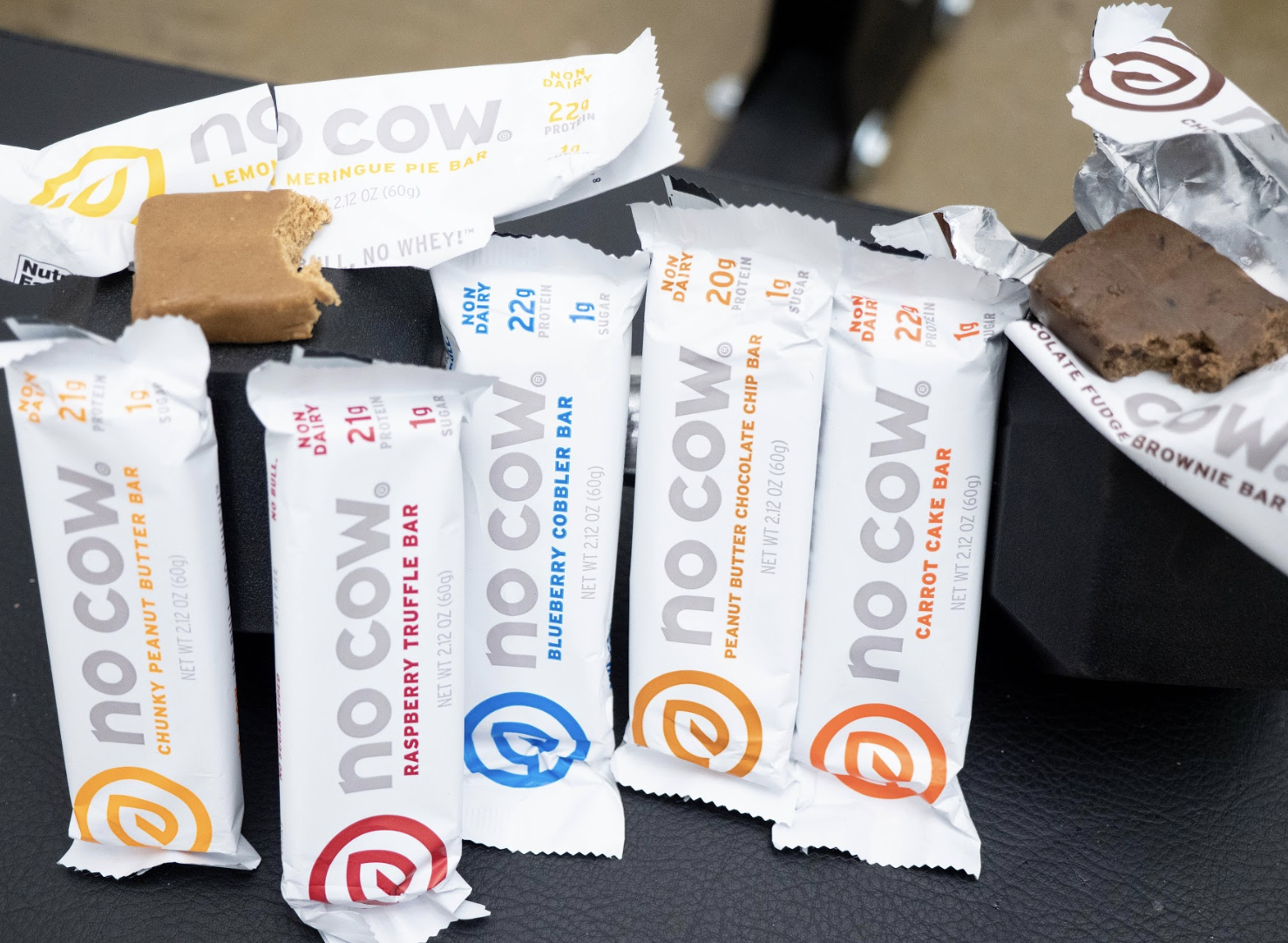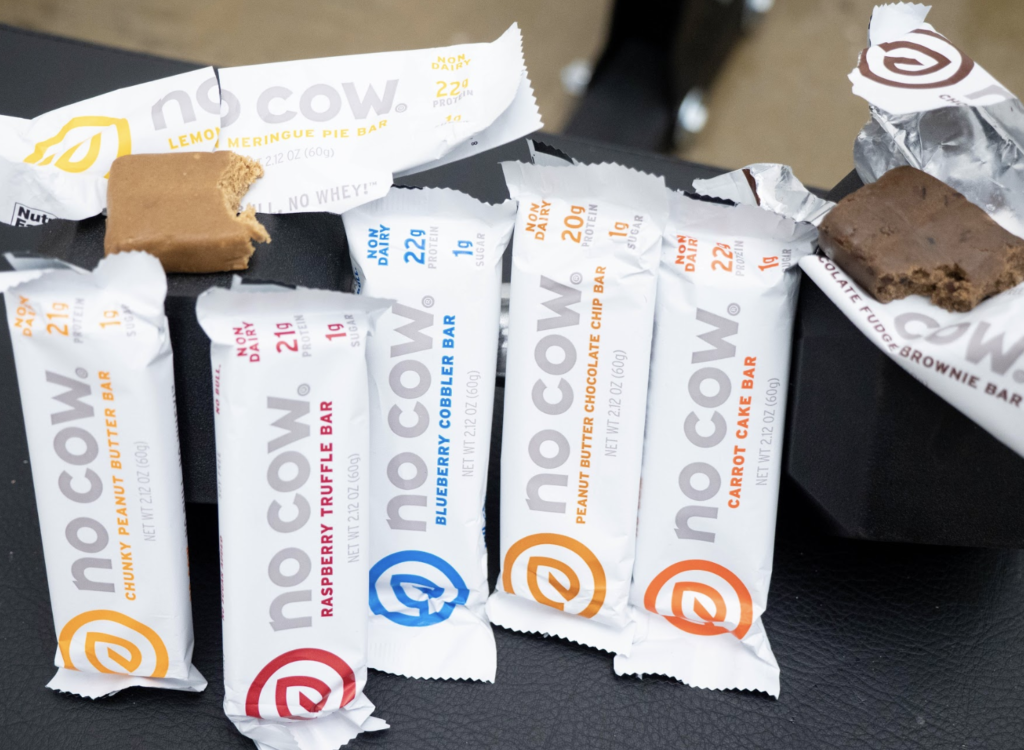 No Cow Protein Bar Nutrition
No Cow Nutrition Label
When it comes to nutrition, I think No Cow does an exceptional job with their calories and macro profile. The calories for the seven reviewed flavors ranged from 200-210. In terms of fat content, the bars range between 5-7 grams, carbohydrates range from 22-24 grams, and protein 20-22 grams. Fiber content sits around 17 grams for each bar, and then sugar comes in at 1 gram.
Author's Note: In the video it states there are 17-18 grams of carbohydrates per bar, but that is meant to be fiber, and carbohydrates sit between 22-24 grams.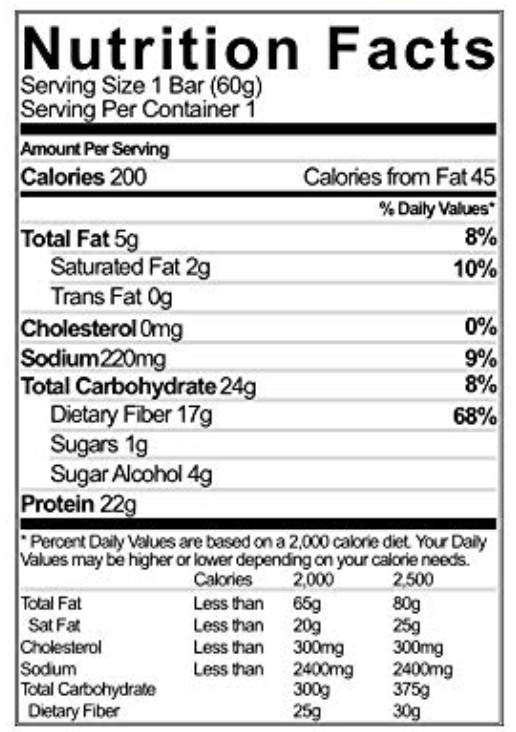 No Cow Ingredient List
One thing I like with No Cow Protein Bars is that the ingredient list is somewhat smaller. Below is a list of the ingredients that come with the Lemon Meringue Pie protein bar.
Ingredients: Protein Blend (Brown Rice Protein, Pea Protein), Isomalto-Oligosaccharides*, Glycerin, Almonds, Palm Oil, Cocoa Butter, Natural Flavor, Salt, Erythritol, Citric Acid, Water, Monk Fruit, Stevia Extract.
No Cow Protein Bar Pros
Great bar for those who want a vegan dairy free protein bar.
Solid variety of flavors, especially for those who like unique takes on popular desserts.
Balanced and pretty consistent macro profile. 
No Cow Protein Bar Cons
Bar can be easily squished and there's an inconsistent texture. 
High fiber content that could cause some digestive discomfort.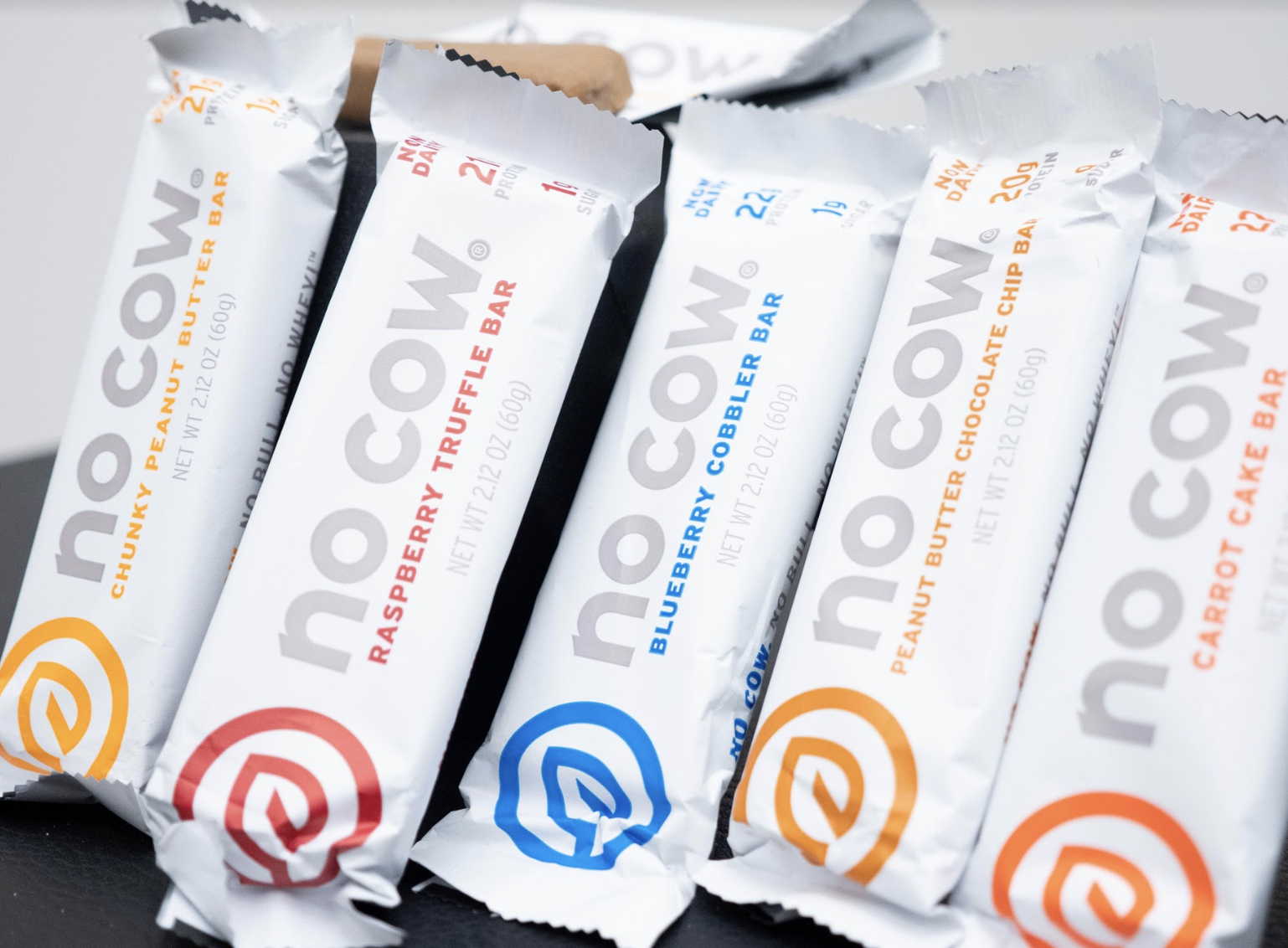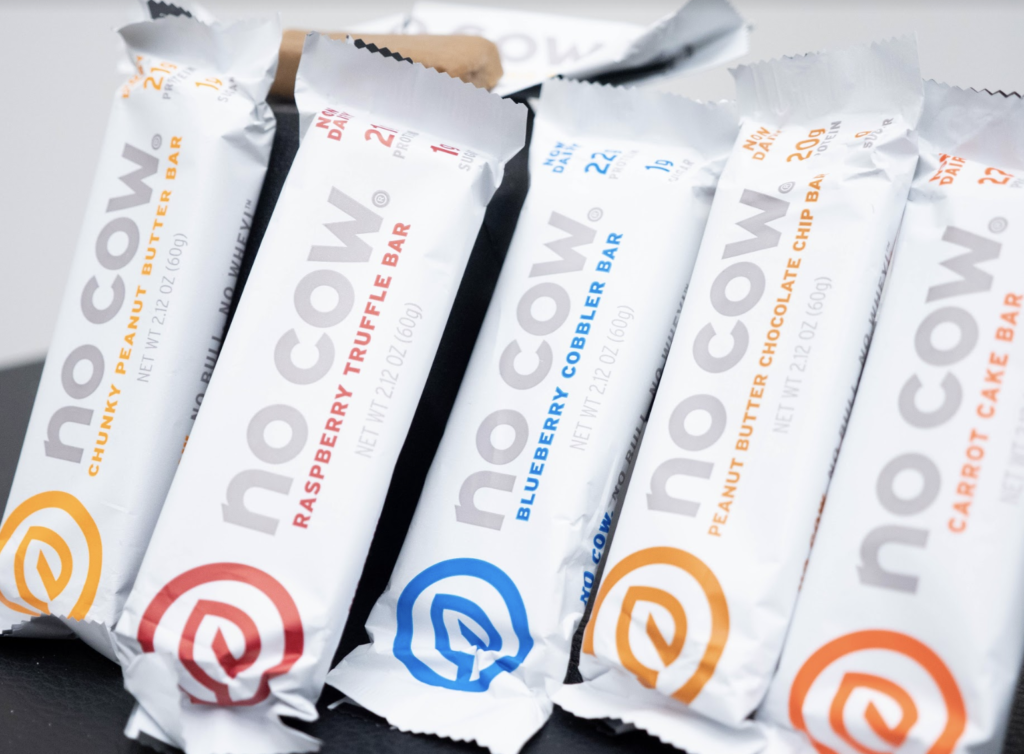 Price
In respects to price, you can expect to pay around the same you would for other protein bars on the market. For one bar, you're looking at a price tag of $2.50 – $4.00 and that will vary depending on where you reside. And for a box of 12, prices will vary between $21.00 – $30.00 depending on the retail outlet you choose to go through.
Wrapping Up
All in all, I was and have always been a pretty big fan of No Cow protein bars. I agree with the notion that they have a chalky texture, but the flavors tend to be generally good. If you're in need of a vegan protein bar, then I'd recommend reaching for a No Cow. If you want the best tasting option on the market, you may want to try other bars, but by no means is the No Cow lacking overall in taste.
Other Great Protein Powders Reviews
Related Best Protein Powders Content