American weightlifting is on the rise. On Wednesday, Sep. 13, 2023, Team USA scored big wins at the International Weightlifting Federation's (IWF) 2023 World Weightlifting Championships in Riyadh, Saudi Arabia.
During the Women's 71-kilogram event, weightlifter Olivia Reeves set a slew of new records and won bronze overall — tallying six in total for the United States. Notably, Reeves also set new Junior world records in the clean & jerk with 142 kilograms (313 pounds), and Total, with 253 kilos, or 557.7 pounds.
[Check In: 2023 IWF World Weightlifting Championships Full Results]
Both the clean & jerk and Total were Junior and Senior American records as well. Reeves' performance in Riyadh cemented her as the leading American woman in the 71s and one of the States' strongest contenders overall heading into the upcoming 2024 Olympic Games in Paris, France.
2023 World Weightlifting Championships | Women's 71-Kilogram
The competition in the Women's 71-kilogram category is among the tightest in all of weightlifting. Here are the full podium results from the 71A session in Riyadh:
Liao Guifang (CHN): 273KG WR (120/153 WR)
Angie Palacios Dajomes (ECU): 255KG (117/138)
Olivia Reeves (USA): 253KG (111/142)
Note: "WR" denotes a new Senior world record.
A Three-Way Battle
Due to the stringent limitations placed upon weightlifting by the International Olympic Committee (IOC) ahead of Paris, the sport's member federations may send only three male athletes and three female athletes to the 2024 Olympics — and only one lifter per bodyweight category.
This narrow pathway has created an incredibly fierce climate within women's weightlifting in the United States. At the 2022 WWC in Bogotá, Colombia, American women were the second-highest-placing women's contingent overall, thanks in no small part to athletes like Reeves (she finished fifth at Worlds last year).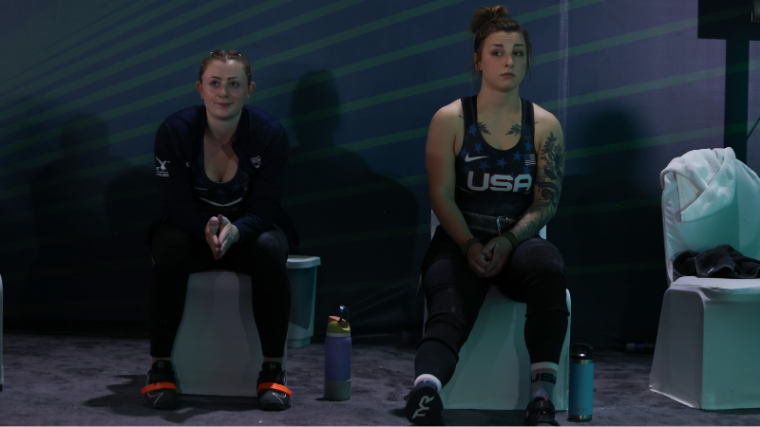 Reeves is currently entangled in a three-way fight for the top of the 71-kilogram class in an attempt to make it to Paris. For the past several years, she's traded blows with 2019 World Champion and 2020 Olympic silver medalist Kate Vibert, as well as 2021 World Champion Meredith Alwine.
Heading into Riyadh, Vibert was in the strongest position of the three, ranking fourth in the world in the 71s on the IWF's qualification leaderboards (any weightlifter who wishes to qualify for Paris must be ranked in the top 10).
However, Reeves had the better day on the platform in Riyadh. She set multiple new American records, a pair of Junior world records, and bagged a bronze medal to boot. But the Paris Olympics are still roughly a year away — a lot can change before the Olympic torch is lit.
More Weightlifting Content
Featured Image: William Johnson / @barbellstories