Over five decades have passed since a male American weightlifter stood atop the podium at a World Weightlifting Championships (WWC). In 1972, athlete Rick Holbrook won gold in the clean & jerk — 51 years later, a teenager named Hampton Morris grabbed a gold medal in the same lift.
After bombing out in the snatch portion of the competition at the International Weightlifting Federation's (IWF) 2023 WWC in Riyadh, Saudi Arabia, Morris returned to the 61-kilogram stage with gusto. On his final attempt, he clean & jerked 168 kilograms (370.3 pounds) to make modern history and set a new clean & jerk Junior world record in the process.
View this post on Instagram
[Related: Athletes To Watch at the 2023 IWF World Weightlifting Championships]
Not only did Morris break a multi-generational medal drought for the United States, he also narrowly denied China yet another triple-gold-medal performance in the Men's 61 Group A; Morris failed to register a Total and thus could not contend for the overall title at Worlds.
Editor's Note: According to supplemental information from USA Weightlifting, athlete Mario Martinez technically earned a gold medal in 1984 for the U.S. during a combined Worlds and Olympic Games event, but no actual medal was awarded to Martinez at the time.
2023 World Weightlifting Championships | Men's 61 Kilogram
Heading into the competition, 2020 Olympic Champion and now four-time World Champion Li Fabin was the expected favorite. Fabin has had the category in his grasp since 2019. He would ultimately win the overall title by way of 141 kilograms in the snatch and 167 in the clean & jerk — but the podiums themselves were the real surprise.
61-Kilogram Total Results
Li Fabin (CHN): 308KG (141/167)
Sergio Massidda (ITA): 302KG (137/165)
Ding Hongjie (CHN): 301KG (135/166)
61-Kilogram Snatch Results
Li Fabin (CHN): 141KG
Sergio Massidda (ITA): 137KG
Shota Mishvelidze (GEO): 136KG
61-Kilogram Clean & Jerk Results
Hampton Morris (USA): 168KG, Junior World Record
Li Fabin (CHN): 167KG
Aniq Mohamad (MAS): 166KG
It's rare in weightlifting to see such disparate results across the three podiums in a single category. Athlete Hongjie snuck a medal out of Group B. Italy's Massidda finished fourth at Worlds one year ago and made a tremendous leap up to silver in Riyadh. Morris failed all three of his snatch attempts at 123 kilograms before returning in force to seize the clean & jerk gold out of Fabin's hands.
A Bittersweet Victory
During the medal ceremony, commentators remarked on Morris' performance, calling it a "bittersweet victory" for the young athlete. Morris has struggled to develop his snatch to the level required to contend for a top slot on the IWF's qualification leaderboards ahead of the 2024 Olympics.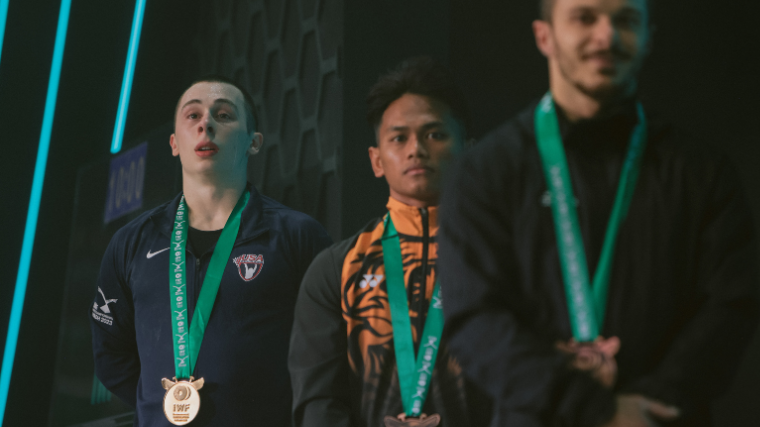 [Related: Weightlifter Jiang Huihua Sets 120-Kilogram Clean & Jerk World Record]
However, he boasts some of the best training lifts in the business and has habitually broken Junior records for the past few years. Morris is among the most promising men in American weightlifting and, with a World gold around his neck, his Olympic dreams are becoming that much clearer.
Editor's Note: BarBend is the Official Media Partner of USA Weightlifting. The two organizations maintain editorial independence unless otherwise noted on specific content projects.
Featured Image: William Johnson / @barbellstories