Team China has set the tone. On the second day of competition, 49-kilogram weightlifter Jiang Huihua set the first new world records of the International Weightlifting Federation's (IWF) 2023 World Weightlifting Championships (WWC). Huihua clean & jerked a monstrous 120 kilograms, or 264.5 pounds, to win what commentators called "the most competitive session of women's 49-kilo weightlifting ever."
In addition to the 120-kilogram world record jerk, Huihua snatched 95 kilograms to create a new world record Total of 215 kilograms.
[Related: Athletes to Watch at the 2023 World Weightlifting Championships]
In so doing, reigning 2022 World Champion Huihua not only confirmed her status as the athlete to beat in the 49s, but made a strong case for herself ahead of the 2024 Olympic Games.
Jiang Huihua | 2023 World Weightlifting Championships
China's Huihua had a stellar day on the platform in Riyadh, Saudi Arabia, where the 2023 WWC is being held from Sep. 4 to Sep. 17. Here's a breakdown of her six-for-six, no-miss performance on the day:
Snatch: 89 / 93 / 95 Silver Medal
Clean & Jerk: 112 / 117/ 120 Gold Medal, World Record
Total: 215 Gold Medal, World Record
Huihua won the 2022 WWC with a 206-kilogram Total, as a byproduct of snatching 93 kilograms and jerking 113 kilograms, though she did take a crack at the existing world record at the time.
There Can Be Only One
By setting two new world records, Huihua both advanced herself in the IWF's qualification rankings ahead of the 2024 Olympics and took a step in front of fellow 49-kilogram teammate and 2020 Olympic Champion Hou Zhihui. China may only select one of the two to send to Paris as they occupy the same category; their rivalry has been one of the best in the sport throughout this Olympic qualification cycle.
But in Riyadh, Huihua was firmly in the driver's seat. She lost the snatch gold medal only because Zhihui lifted the same weight first. During the clean & jerk portion, Huihua made it undeniably clear that she was the better lifter, taking the final attempt of the session to confirm her presence at the top of the podium.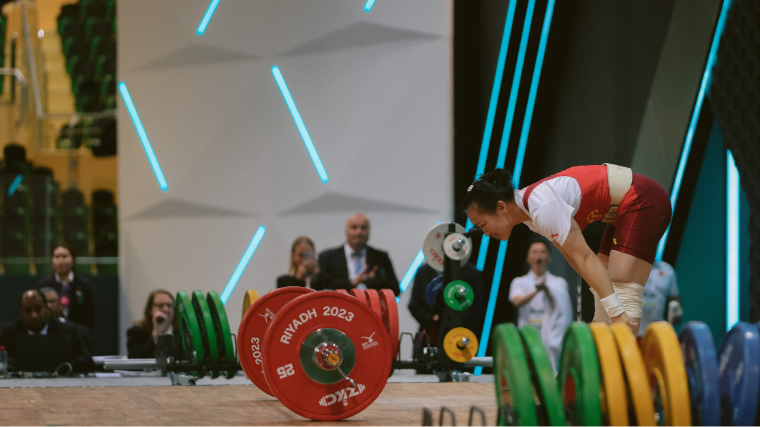 Huihua's 120-kilogram jerk record also raised the Chinese flag a little bit higher on the international stage. Previously, the record belonged to 2017 World Champion Mirabai Chanu of India at 119 kilograms. That record stood for almost two full years until Huihua knocked it down. China now holds every Senior world record in the 49-kilogram division, putting the category in a stranglehold.
More Weightlifting Content
Featured Image: William Johnson / @barbellstories