America is on the board again. On Dec. 12, 2022, American weightlifter Olivia Reeves secured a bronze medal in the clean & jerk at the International Weightlifting Federation (IWF) World Weightlifting Championships in Bogotá, Colombia.
Reeves, only 19 years of age, clean & jerked 139 kilograms (306.4 pounds) during the WWC's most competitive session yet. Check it out:
[Related: American Weightlifter Hayley Reichardt Wins Bronze Medal at 2022 World Championships]
Not only did Reeves have a stellar day, snatching 106 kilograms for a cumulative Total of 245 kilograms, but she also matched the Senior American Record in the clean & jerk held by 2021 World Champion Meredith Alwine.
It's also only two kilograms shy of the Junior World Record, 141 kilograms, held by Sara Ahmed of Egypt and which has stood since 2018.
2022 World Weightlifting Championships | Women's 71-Kilogram Results
Reeves and Vibert battled it out across the most suspenseful, high-octane session at the 2022 World Championships thus far. The 71-kilogram weight class was recently confirmed to be a recognized category in the Paris 2024 Olympic Games.
As such, extremely talented athletes such as two-time World Champion Loredana Toma, among others, have made the 71s their home for the upcoming qualification cycle.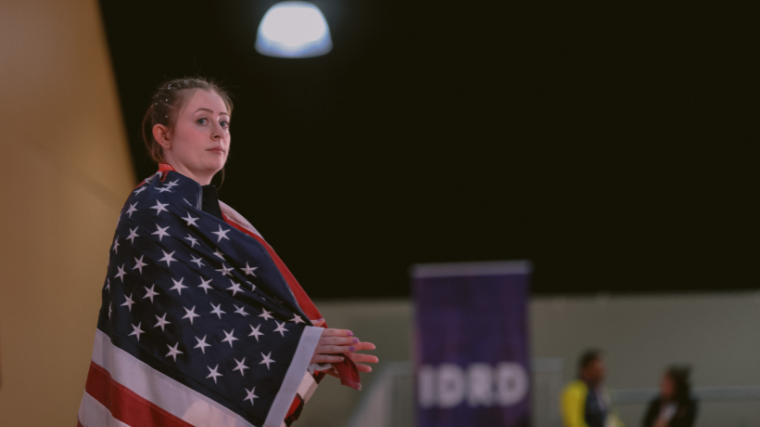 The 71-kilogram Group A session saw more successful lifts in close proximity than any other weight class since Worlds began. Here's how the podium looked at the end of the evening:
Women's 71-Kilogram Podium
1st place: Loredana Elena Toma (ROU) — 256 (119/137)
2nd place: Zeng Tiantian (CHN) — 253 (113/140)
3rd place: Angie Palacios Dajomes (ECU) — 252 (116/136)
Note: The notation above refers to the athlete's best Total, bolded. Their best individual snatch and jerk are parenthesized.
Reeves Leads
Reeves' 245-kilogram Total landed her in fifth place overall — a commendable result for any weightlifter, but worth extra portions of praise for how young Reeves is. A medal of any color at her Senior Worlds debut bodes well for the future of American weightlifting on the international stage.
You can keep up with Team USA from behind your computer screen if you grab a ticket to the Weightlifting House live stream on their website. The 2022 WWC runs from Dec. 5 to Dec. 16, 2022, in Bogotá, Colombia.
Featured Image: William Johnson / BarbellStories