BCAAs and protein powder in the same product? That's what you get with Xtend's very unusual Pro Whey Isolate, a product that hits you with 50 percent more branched chain amino acids than you'd normally get in a whey protein.
Xtend, a brand owned by Scivation, is well known for their famous BCAA product that we named as the best branched chain amino acid supplement. When you're known for your BCAAs, it makes sense that you'd want them added to your other products where it makes sense. So does it make sense to put them in whey, which is already very high in BCAAs? We took a close look and we're happy to report that this product tastes great, has no soy or cholesterol, and might — might — be better for stimulating muscle protein synthesis.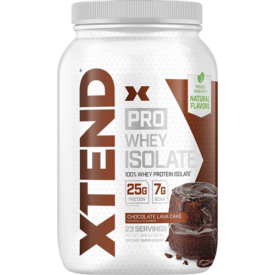 A tasty, cholesterol free whey protein that has an extra dose of leucine to help promote muscle protein synthesis.
Xtend Pro Whey Isolate Nutrition
Each tub of 1.82 pounds contains the following.
Calories: 120
Protein: 25g
Carbs: 4g (Fiber: 2g, Sugar: 1g)
Fat: 1g
Cholesterol: 0% RDI
Sodium: 7% RDI
Calcium: 13% RDI
Iron: 11% RDI
Potassium: 14% RDI
[Don't miss our complete list of the best whey protein powders!]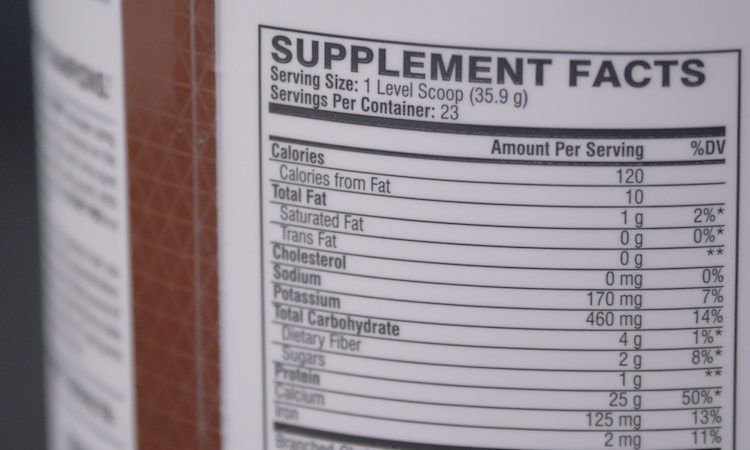 Xtend Pro Whey Isolate Ingredients
The first ingredient is instantized whey protein isolate, which is a mixture of whey protein isolate and sunflower lecithin to help with mixability.
Then you've got cocoa powder, natural flavors, the BCAAs leucine, valine, and isoleucine, then guar gum, salt, sucralose, xanthan gum, and acesulfame potassium.
It says it's proudly made with natural flavors, but it does have artificial sweeteners.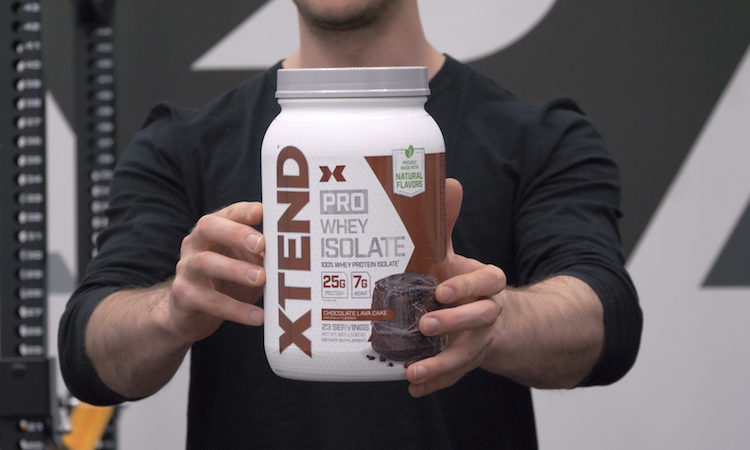 Xtend Pro Whey Isolate Benefits & Effectiveness
A few pros up front: there's no soy, there's no cholesterol, and there are considerably more electrolytes (like potassium and sodium) than you'll find in your average whey protein powder. This means it may be a little more effective at rehydrating you after a tough work out.
Xtend Pro Whey Isolate is also third party tested by Informed Choice and by NSF to make sure there are no banned substances, which may bring some peace of mind to competitive athletes.
It does contain artificial sweeteners and gums, which cause some people digestive distress. This is a pretty small minority, though — for most people it'll be fine.
But what about the BCAAs? BCAA supplements typically provide 5 to 7 grams of the amino acids leucine, isoleucine, and valine. These amino acids, especially leucine, are closely associated with muscle retention and muscle protein synthesis.(1) Some research suggests that if you're working out on an empty stomach, taking a long break between meals, or not eating that much protein overall, then supplementing with BCAAs may help to retain muscle.(2)(3)(4)(5)
It appears that you need 3 to 5 grams of leucine to trigger muscle protein synthesis, and since the average scoop of whey contains 2 to 3 grams, you probably don't need extra BCAAs in your whey. Nonetheless, these extra amino acids might be useful, especially if you're not eating a whole lot of protein throughout your day or if you're unsure if your standard whey hits the 3-gram threshold.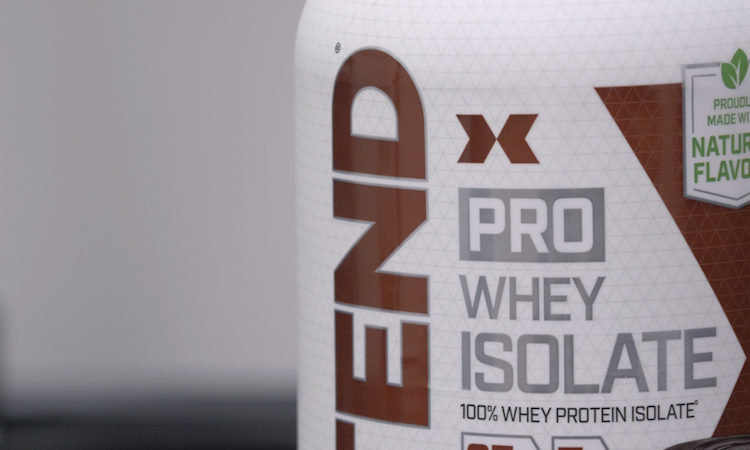 Xtend Pro Whey Isolate Price
You can pick up a tub of 1.82 pounds, or 23 servings, for between $25 and $30. That comes to about $1.15 per serving or 4.7-ish cents per gram of protein.
That's pretty reasonably priced. Most of the best selling protein powders cost between 4 and 5 cents per gram, and considering that this has extra BCAAs and it's been tested by two third party testing companies, the cost is pretty reasonable.
Xtend Pro Whey Isolate Taste
This is Chocolate Lava Cake flavor. I mixed a scoop with 8 ounces of water, per the instructions, and at first I thought it was way too sweet until I remembered that it's not Chocolate flavor, it's Chocolate Lava Cake flavor — meaning it tastes like liquid brownie batter. If that's a taste you like then you'll be delighted with the rich gooeyness of the product, but I think most people will prefer the powder mixed with double the water.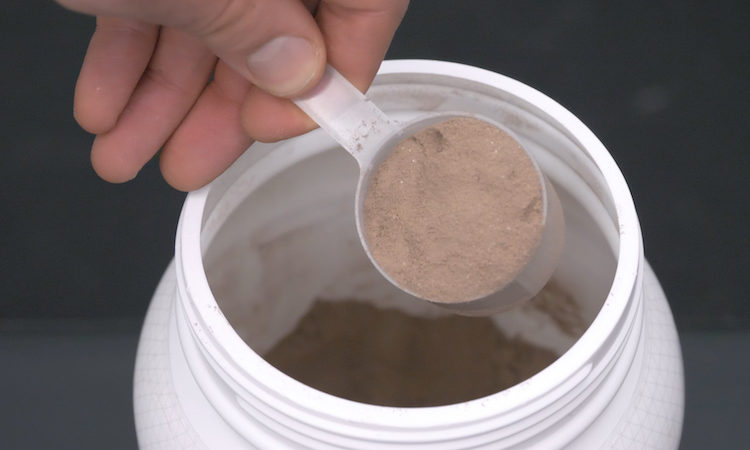 Xtend Pro Whey Isolate Pros & Cons
Pros
No soy
No cholesterol
Extra BCAAs and electrolytes
Tested by NSF and Informed Choice
Cons
Has artificial sweeteners
Contains gums
No digestive enzymes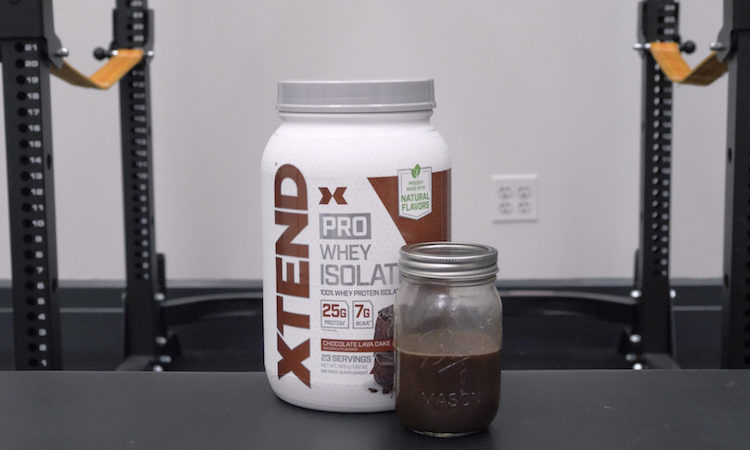 Wrapping Up
I'm pretty happy with this product. It's difficult to say whether or not the extra BCAAs do much, but they do seem to at least guarantee you'll hit the leucine threshold and stimulate muscle protein synthesis, if that's something that's important to you. In any event it's tasty, reasonably priced, soy free, and contains more electrolytes than you normally see in their competitors. I'm a fan — just water it down extra so the sweetness isn't too overwhelming.
Other Great Protein Powders Reviews
Related Best Protein Powders Content
References
1. Breen L, et al. Leucine: a nutrient 'trigger' for muscle anabolism, but what more? J Physiol. 2012 May 1;590(9):2065-6.
2. Blomstrand E, et al. Branched-chain amino acids activate key enzymes in protein synthesis after physical exercise. J Nutr. 2006 Jan;136(1 Suppl):269S-73S.
3. Matthews DE. Observations of branched-chain amino acid administration in humans. J Nutr. 2005 Jun;135(6 Suppl):1580S-4S.
4. Li Y, et al. Effects of Low-Protein Diets Supplemented with Branched-Chain Amino Acid on Lipid Metabolism in White Adipose Tissue of Piglets. J Agric Food Chem. 2017 Apr 5;65(13):2839-2848.
5. Zheng L, et al. Effects of Supplementation of Branched-Chain Amino Acids to Reduced-Protein Diet on Skeletal Muscle Protein Synthesis and Degradation in the Fed and Fasted States in a Piglet Model. Nutrients. 2016 Dec 28;9(1).