BulkSupplements.com (the ".com" is part of the company's name) is based in Henderson, Nevada, and they produce over four hundred different kinds of supplements from herbal extracts to sports supplements. Because they have so many stripped back, basic products like unflavored creatine, branched chain amino acids, glutamine, and so on, the company is pretty popular among people who like to make their own workout supplements from the individual components.
But of course, as the name suggests, they're also good for buying in bulk. Most of their products come in sizes ranging from 100 grams (which aren't all that cheap on a per-gram basis) to 20 kilograms (which are incredibly cheap), and the site notes that orders are available all the way into the tons.
We didn't buy a ton of product, we just went with their 1-kilogram bag of BulkSupplements.com's whey protein isolate. One thing that's interesting about BulkSupplements.com is that they make their products in their own certified GMP facility. Let's take a closer look at what's inside.
BulkSupplements Whey Protein Isolate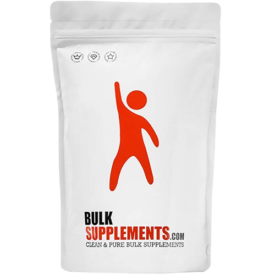 BulkSupplements Whey Protein Isolate
This product is clean and simple with 27 grams of whey protein isolate per serving and under one gram of carb and fat.
BulkSupplements.com Whey Protein Isolate Nutrition Info
There's no scoop in these bags, so you're asked to measure out your own serving of 30 grams. In that, you'll find 115 calories: 27 grams of protein and less than one gram each of carbohydrates and fat.
As for the micronutrients, there's 5 percent of your daily potassium, 6 percent of your magnesium, 3 percent of your sodium, and 12 percent of your calcium in each serving.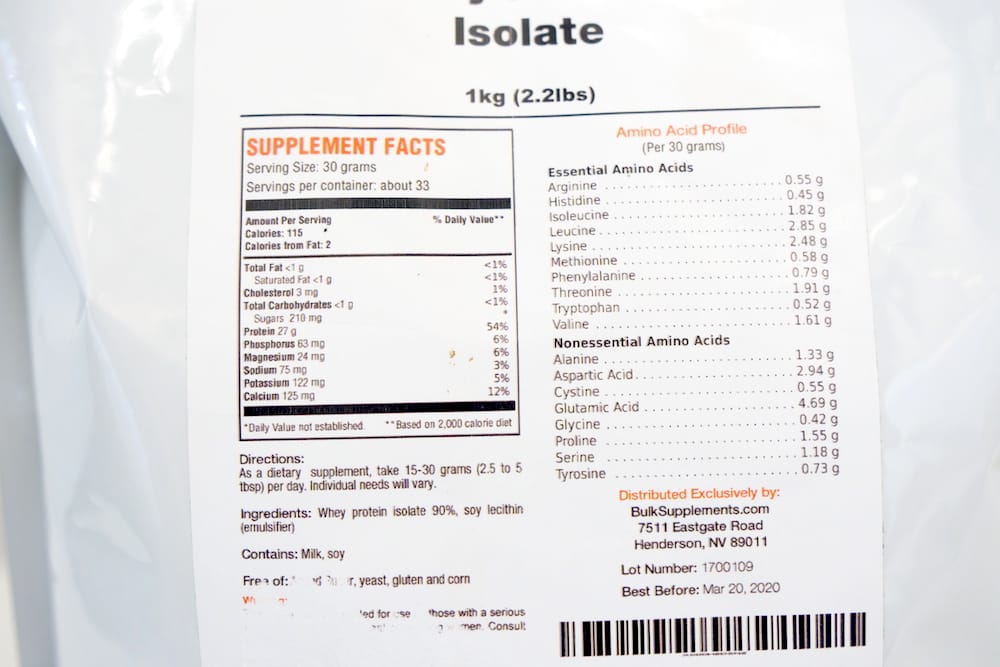 BulkSupplements.com Whey Protein Isolate Ingredients
There are two ingredients: whey protein isolate and soy lecithin, which helps with mixability.
BulkSupplements.com Whey Protein Isolate Benefits & Effectiveness
There's not an awful lot to talk about when it comes to a product as simple as this. It's definitely worth emphasizing that this is an extremely low-carb, low-fat product, even for a whey protein isolate. Isolates are more processed than whey concentrate, which is cheaper to make but contains a lot more fat and carbs.
The label lists 0.21 grams of sugar per serving, which means there may be some stray lactose in the product. At such low amounts it's unlikely to cause issues, but certain consumers may nonetheless feel the product would be better with some added lactase, an enzyme that can make lactose easier to digest.
The soy lecithin may also give some consumers pause, since a lot of people try to steer clear of soy in all its forms. But there are a lot of pros to this product: it's pretty much all protein, there are no artificial ingredients, and it's free of yeast, gluten, and corn.
But the biggest pro?
[Check out our rundown of the best whey protein powders HERE!]
BulkSupplements.com Whey Protein Isolate Price
Egad, this is a well priced whey. Now, the price varies on how much you order. The smallest bag is 100 grams, which costs $11 or 12 cents per gram of protein. That's kind of expensive.
But it's available in six sizes. The 1-kilogram bag I picked up cost $28 for 33 servings: 85 cents per serving or 3.1 cents per gram of protein. That's very inexpensive for a whey isolate, since that's less than you'd expect to pay for some of the cheapest protein blends. A good price for isolate is around 5 or 6 cents per gram.
Then if you increase your order to 20 kilograms the price drops to 1.4 cents per gram. So the price is definitely one of the biggest selling points.
BulkSupplements.com Whey Protein Isolate Taste
There's not much to say, here: it's unflavored whey. And it's practically fat free and carb free, so it doesn't bring a lot of flavor to the table. The good news is that it doesn't taste bad, the bad news is it just doesn't really taste like much. It has the flavor of watered down milk. Perfectly inoffensive, not at all exciting.
The Takeaway
If you're looking for plain, unflavored whey with as few carbs and fat as possible, BulkSupplements.com could be a great choice. The soy might put some people off, as will the fact that it has no flavorings, but if that doesn't bother you then this price is pretty darn hard to beat.
Other Great Protein Powders Reviews
Related Best Protein Powders Content