Sprout Living is a supplement company that strongly believes in the potential benefits of an organic, plant-based diet, writing on their site that it "can help act as the foundation for a healthy life and for a strong immune system." They have an informative blog on their site for anyone interested in switching to a plant-based diet (or just for anyone interested in eating more vegan meals) and they produce a lot of interesting products outside of your standard protein powders.
Some of their supplements include unusual entries like drinkable oats and pumpkin seed protein, but we decided to go with their Epic Plant-Based Protein. It has a ton of unusual ingredients that include Jerusalem artichoke and baobab fruit. It's labeled "a thoughtful blend of multi-source plant protein, prebiotics and superfoods" and delivers 19 grams of "ultra-clean and complete whole food protein."
We decided to take the Vanilla Lucuma flavor for a spin.
Sprout Living Epic Plant-Based Protein Nutrition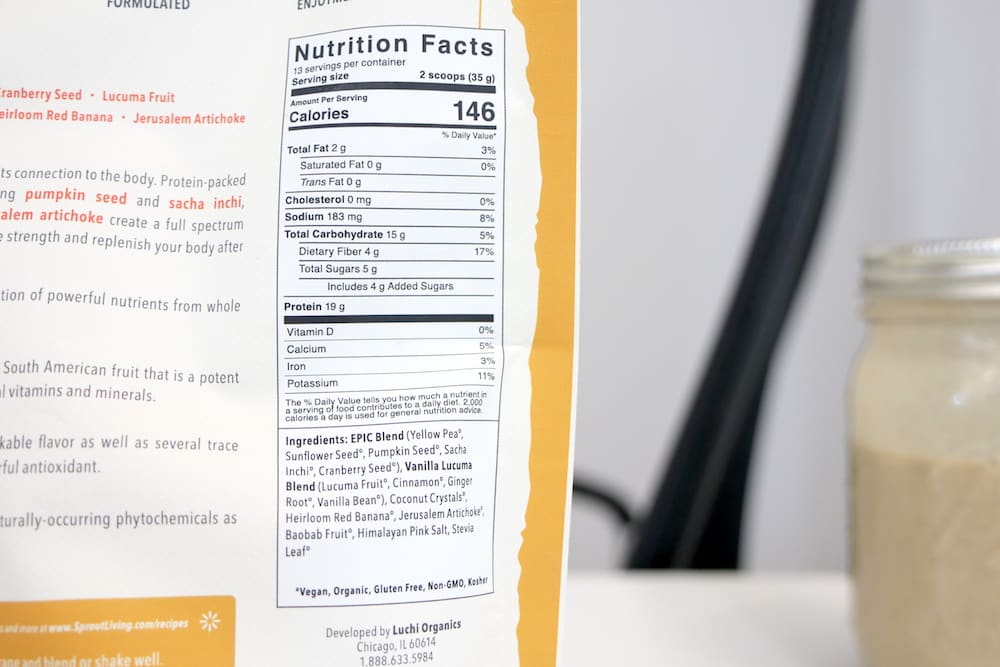 One serving is two scoops and contains 146 calories: 19 grams of protein, 15 grams of carbs (4 grams of fiber, 5 grams of sugar) and 2 grams of fat (no saturated fat).
There are just four micronutrients listed: 0% of your recommended daily intake of Vitamin D, 5 percent of your calcium, 3 percent of your iron, and 11 percent of your potassium.
Sprout Living Epic Plant-Based Protein Ingredients
The first ingredient is the EPIC Blend, which is their protein blend: yellow pea, sunflower seed, pumpkin seed, sacha inchi, and cranberry seed.
Then there's the Vanilla Lucuma blend (lucuma fruit, cinnamon, ginger root, and vanilla bean), coconut crystals, heirloom red banana, Jerusalem artichoke, baobab fruit, Himalayan pink salt, and stevia leaf.
Everything is vegan, organic, gluten free, non-GMO, and kosher, except the Himalayan sea salt. (Presumably it's vegan, but it must be missing one of those certifications.)
Sprout Living Epic Plant-Based Protein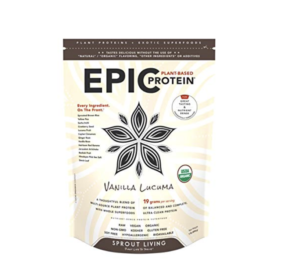 Sprout Living Epic Plant-Based Protein
Sprout Living Epic Plant-Based Protein Benefits & Effectiveness
The simple fact that this is vegan, organic, gluten free, non-GMO, and free from artificial ingredients will please a lot of people. Those are the main selling points of this product and for many consumers, they'll be sold on that alone.
Another bonus of this product is that it has a pretty solid 4 grams of fiber per serving, with some of that being prebiotic fiber from Jerusalem artichoke. Prebiotic fiber is considered "food" for the probiotic bacteria in your digestive tract, so it may have some additional benefits when compared to regular fiber.
I confess that I was a little confused about the nutrition panel. Here are a couple of statements on the back of the bag:
"Lucuma… is a potent source of beta-carotene and niacin as well as 14 essential vitamins and minerals."
"Baobab… contains… high levels of immune-boosting Vitamin C."
So where are these vitamins and minerals? The only vitamin on the nutrition panel is Vitamin D, of which there is 0 percent of the daily intake, and there's less than ten percent of the daily intake of calcium and iron. Eleven percent of your potassium is okay, but the product frames itself as a potent source of nutrients and this isn't supported by the nutrition panel. That was really disappointing.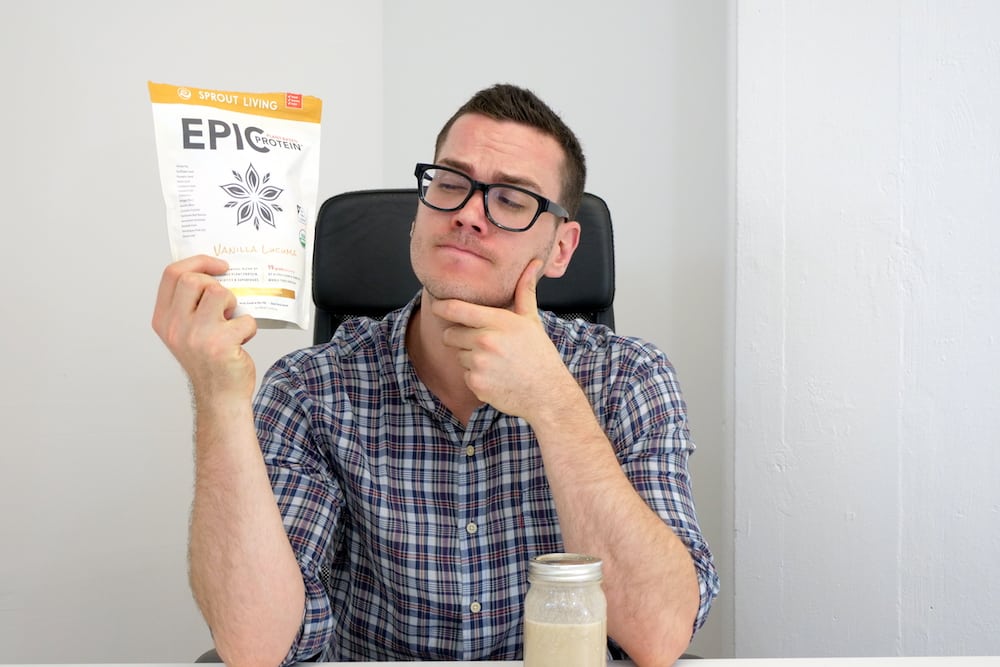 Sprout Living Epic Plant-Based Protein Price
I grabbed a 16-ounce bag of 13 servings and it cost $30. That comes to $2.30 per serving or 12 cents per gram of protein.
That's pretty pricy, since it's not hard to find an organic, all-natural vegan protein powder for 6 or 7 cents per gram of protein. Then again, they usually don't contain prebiotic fiber or lucuma fruit.
The price does change based on how much you order. You can get a single serving for $3.50 or you can get a big 5-pound bag that drops the price to $2 per serving. You also get discounts if you order multiple bags (6 bags gives you a 20 percent discount) so you do have options when it comes to payment.
Sprout Living Epic Plant-Based Protein Taste
The Vanilla Lucuma tasted pretty great, though I wouldn't say it was because of the fruit. Lucuma is a South American fruit that tastes a little like a cross between mango and sweet potato, and while that probably helped to sweeten the product I'd say the main flavor was a lot like an oatmeal cookie. The main flavors that come through are a sweet ginger and cinnamon, and while it's not totally free of the nutty flavor that's so prevalent in vegan protein powders, it was more sweet and warming than your standard fare.
The Takeaway
I wasn't crazy about this protein powder. I liked the taste, I liked the fiber, I liked the macros, but I think it's a little too expensive for the nutrition it offers. But given it has prebiotics, fruit, and a lot of other unusual ingredients, you may find the price worth it.
Other Great Protein Powders Reviews
Related Best Protein Powders Content