We receive free products and receive commissions through our links. See
disclosures page
.
Based in Miami Beach, RSP is a supplement company that was founded by former student athletes and while RSP used to focus more on bodybuilding, they're a little more general in their approach now, stating that they want RSP to become a "lifestyle brand that our customers embody in their everyday lives."
We've tried their amino acid powder, but TrueFit is their flagship product: a protein shake that they claim "offers the ideal balance of high quality protein, fruits and vegetables, dietary fiber, 9 grams of low-glycemic carbs, and healthy fats."
Let's take a look at the Gourmet Chocolate Milkshake flavor.
RSP TrueFit Lean Protein Shake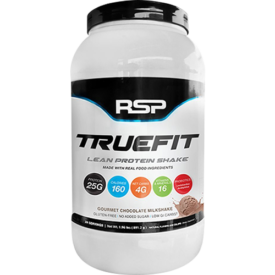 RSP TrueFit Lean Protein Shake
Well priced and high in nutrients, RSP has an unusually strong emphasis on digestive health: lots of fiber, lots of probiotics, and lots of enzymes make for a very well rounded and tasty shake.
RSP TrueFit Lean Protein Shake Nutrition
One scoop has 160 calories: 25 grams of protein, 12 grams of carbs (8 grams of fiber, 2 grams of sugar) and 3 grams of fat (2 grams saturated fat). One scoop has 20 percent of your daily cholesterol and 9 percent of your daily sodium.
As far as vitamins and minerals go, there's roughly 30 percent of the recommended daily intake of a pretty wide variety of nutrients: Vitamins A, C, D, E, B-vitamins, biotin, and magnesium.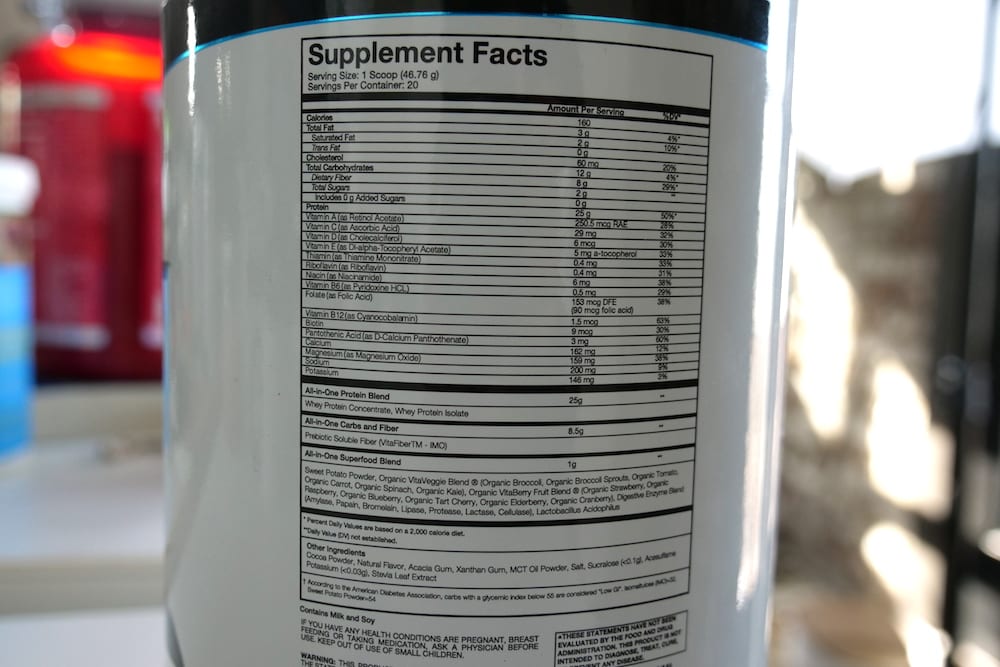 RSP TrueFit Lean Protein Shake Ingredients
The protein comes from whey concentrate and isolate, and the flavorings come from cocoa, natural flavors, stevia, and the artificial sweeteners sucralose and acesulfame potassium. There are no artificial colors, flavors, or preservatives, but there are artificial sweeteners, albeit less than 0.1 grams per serving.
The fiber comes from 8.5 grams of prebiotic soluble fiber (from a company called VitaFiber) and sweet potato powder. There's also 1 gram of an All-in-One Superfood Blend of a variety of fruits and vegetables: broccoli sprouts, berries, tomato, carrots, and so on.
Finally, there are ingredients geared toward digestive health: seven digestive enzymes (amylase, papain, bromelain, lipase, protease, lactase, cellulase) and 1 billion probiotic bacteria from lactobacillus acidophilus.
[TrueFit made our list of the best meal replacement shakes! Click through to learn why.]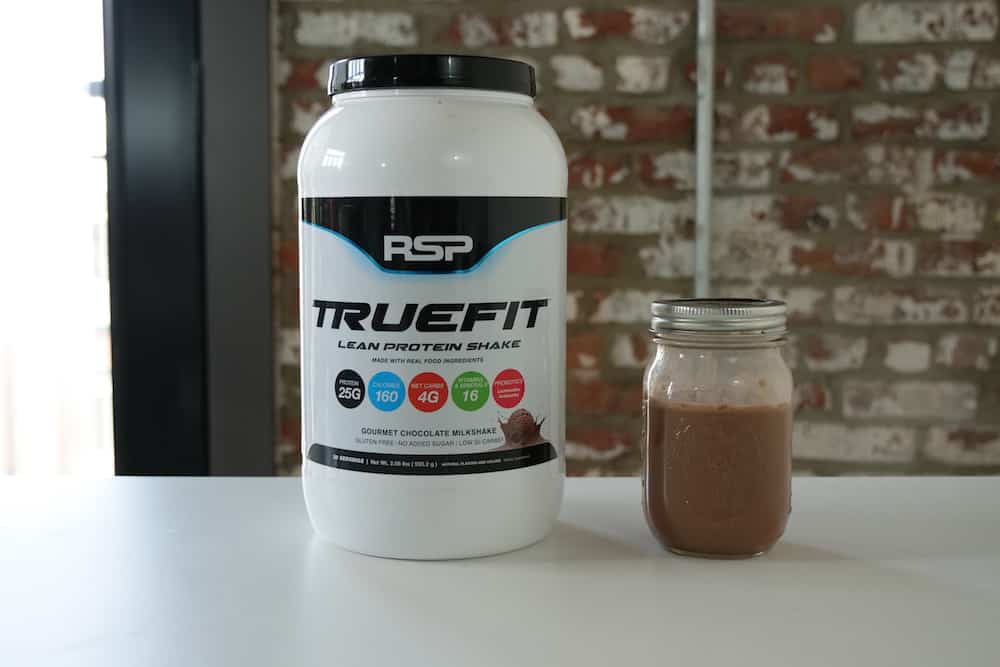 RSP TrueFit Lean Protein Shake Benefits and Effectiveness
For starters, it's encouraging that the product has such a focus on digestion. The probiotics, prebiotic fiber, and the digestive enzymes may improve gut health and nutrient absorption, and they can be particularly useful for folks who have trouble digesting the lactose in whey concentrate.
This is also remarkably high in fiber: 8 grams of fiber for 12 grams of carbohydrates. That also means it's very low in net carbohydrates, which coupled with its low fat content (3 grams per serving) means it isn't a great meal replacement, it's more of a very nutritious protein shake.
So what about the nutrition? RSP claims that with one scoop "you'll get everything you need, a clean, balanced, and filling shake to support your fitness goals." This isn't quite true. While it's far more nutritious than your average protein shake, it's missing a few nutrients.
A lot of meal replacements leave out lesser known nutrients like Vitamin K and choline. RSP is one of them, but there are a lot of other holes in the nutrition profile: there's next to no potassium, it's pretty low in calcium (13% of the RDI), and there's no iron or zinc. These are pretty important nutrients and it's unusual to see a product like this skimp on them.
RSP TrueFit Lean Protein Shake Price
For a two-pound tub, you're looking at paying 25 to 30 dollars for 20 servings, or around $1.40 per serving. That's pretty reasonably priced for a meal replacement.
RSP TrueFit Lean Protein Shake Taste
The Gourmet Chocolate Milkshake flavor tasted like a diet brownie or a not-particularly-moist chocolate cake. I wouldn't call it Gourmet, but it was perfectly passable.
The Takeaway
RSP has done a pretty good job of producing a nutritious, high fiber protein shake with a focus on digestive health. I had a few things I didn't love: it's too low in carbs, fat, iron, zinc, and potassium to really replace a meal. But it's certainly a step up from your usual protein shakes.
Other Great Protein Powders Reviews
Related Best Protein Powders Content