In the ever growing landscape of protein bars, FitJoy™ tries to deliver a bar that comes with adequate fiber and protein content with minimal overall sugar. A lot of bars on the market attempt to do the same thing, and I've tried a plethora of bars, so I was pumped to see how the relatively new(er) FitJoy bar faired.
Like everyone, I have my tried and proven protein bar favorites, so I tried to progress through this bar review with an unbiased approach, but while also holding the bar to high standard as the FitJoy bar boasts plenty of attributes they market heavily, such as: Non-GMO, no artificial ingredients, and gluten free.
All that being considered, I was really interested to see how these bars tasted compared to some of their tasty competitors. In this review, I breakdown the FitJoy protein bar's taste, texture, nutrition, ingredients, and price.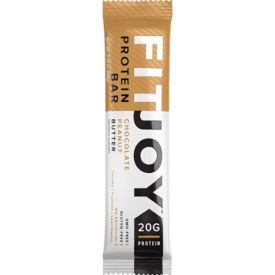 A tasty protein bar that offers a solid macro profile for the active individual.
FitJoy Protein Bar Taste
Something to note about the FitJoy protein bars is that if you look around online, then you'll notice they've had six bar flavors before. Yet, if you look at their official site and updated online retailers, then you'll notice they only currently offer three, which we've reviewed and tasted below — one in the video.
Chocolate Peanut Butter: 8.7/10
Ah, chocolate and peanut butter, a match made in heaven. A lot of protein bar companies try to tackle this flavor (or one similar), so I was interested to see the unique approach FitJoy took to nail this flavor. I thought the bar's texture was definitely interesting with the additional chocolate layers and nuts on the top. In terms of taste, I think the bar was really good, and didn't have that overly artificial taste to it.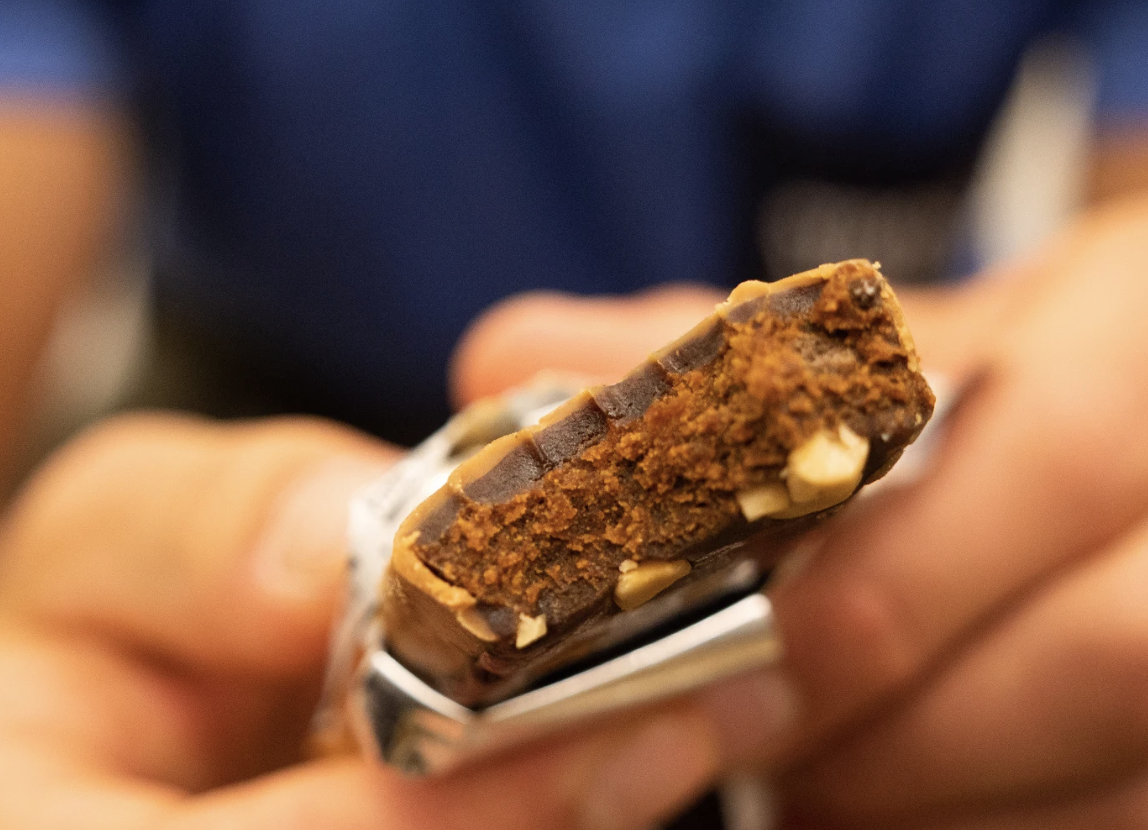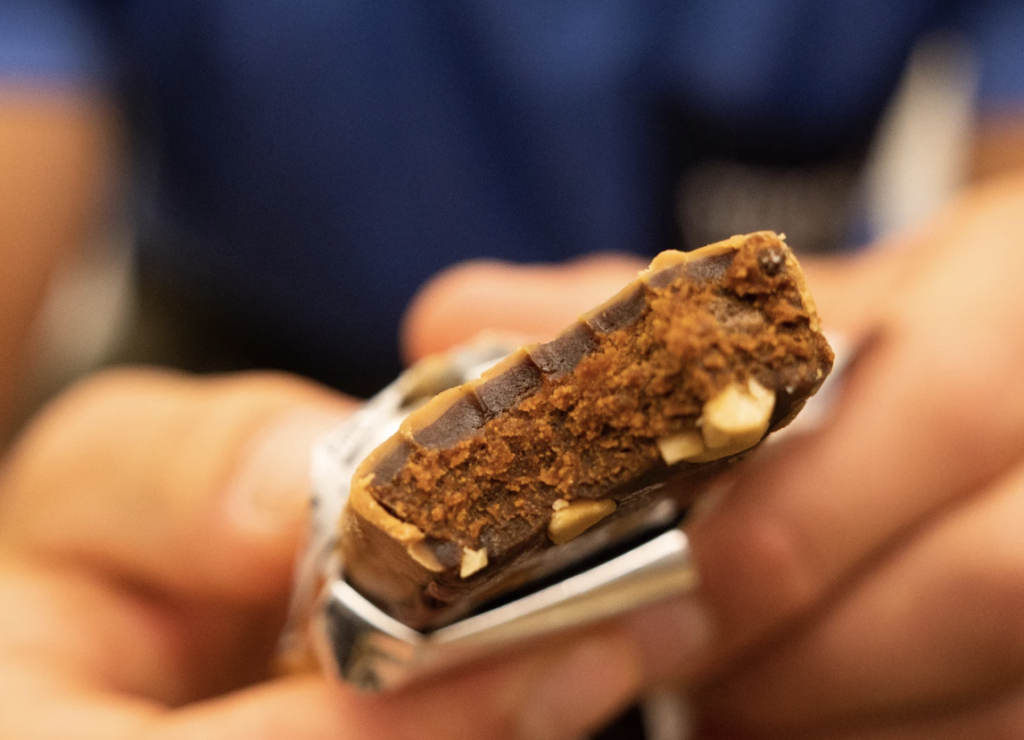 Grandma's Lemon Square: 8.2/10
I'm not going to lie when I first saw this protein bar's name I chuckled to myself, mainly because I wish my grandma would make me lemon squares. To be honest, I'm not a huge lemon guy, but this bar stood its own to my naysaying taste buds. The icing-esque layer with white glaze was an awesome touch, which really made the flavor pop. In respects to the lemon flavoring, this bar tasted subtle and didn't overpower the taste with an overly done synthetic lemon.
Cookies & Cream: 9/10
Out of all the FitJoy bars, I think the Cookies & Cream was my favorite. This bar tastes exactly like you'd expects — and what you've probably tasted from other bar companies. There were two main differences that earned this bar its ranking in my eyes and that was its additional chocolate-y chip top and chewy texture. In some cases, the extra chewiness can be a turn off for me, but this bar tasted like a really dense cookie dough.
FitJoy Protein Bar Texture
I mentioned it briefly in the taste tests, but in my opinion, the star player of the FitJoy bars were the texture each contained. At times, protein bars can be inconsistent with their textures, but these bars all tended to nail it. Each bar had their own spin on texture, and I thought that aspect really helped their flavors pop.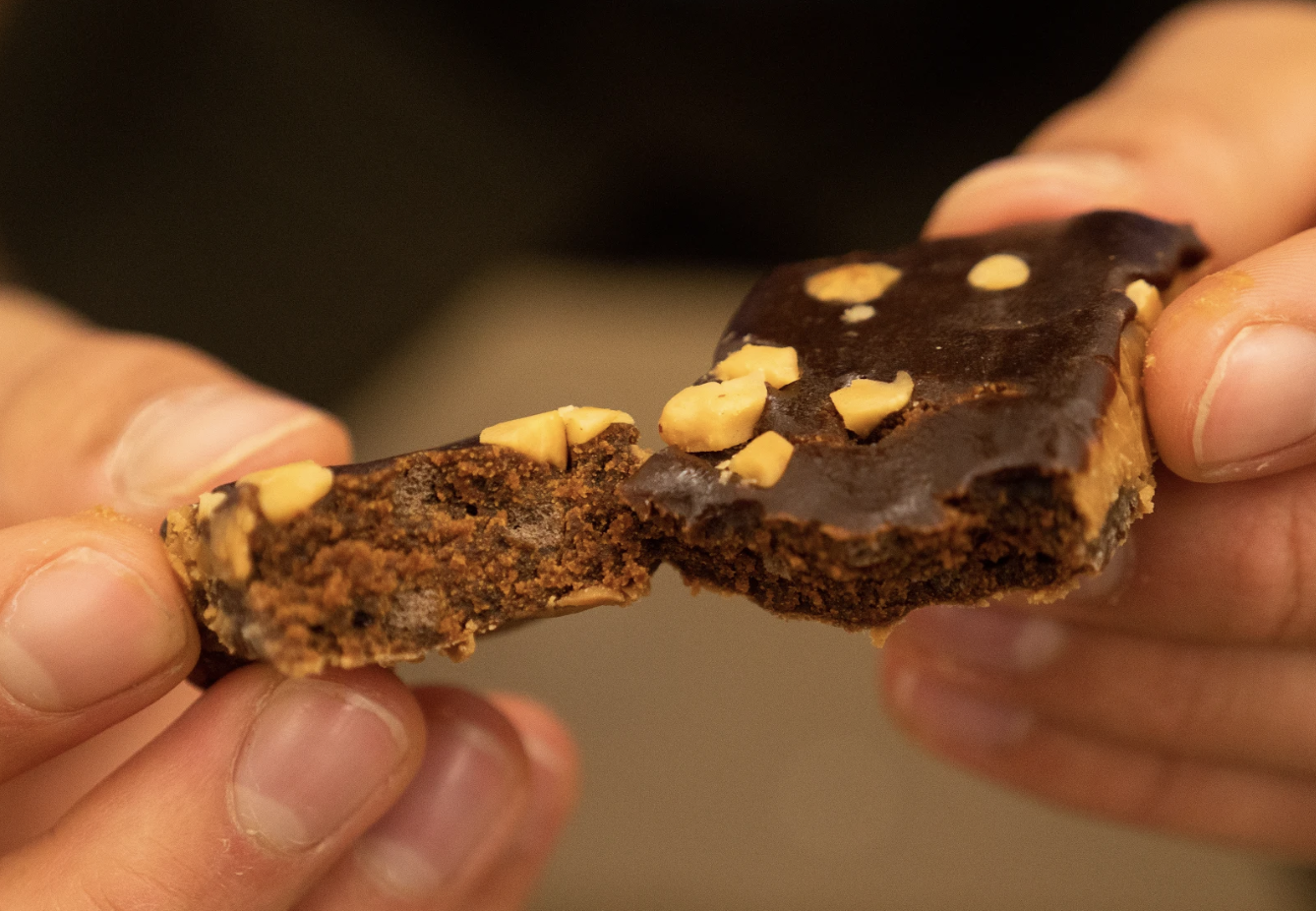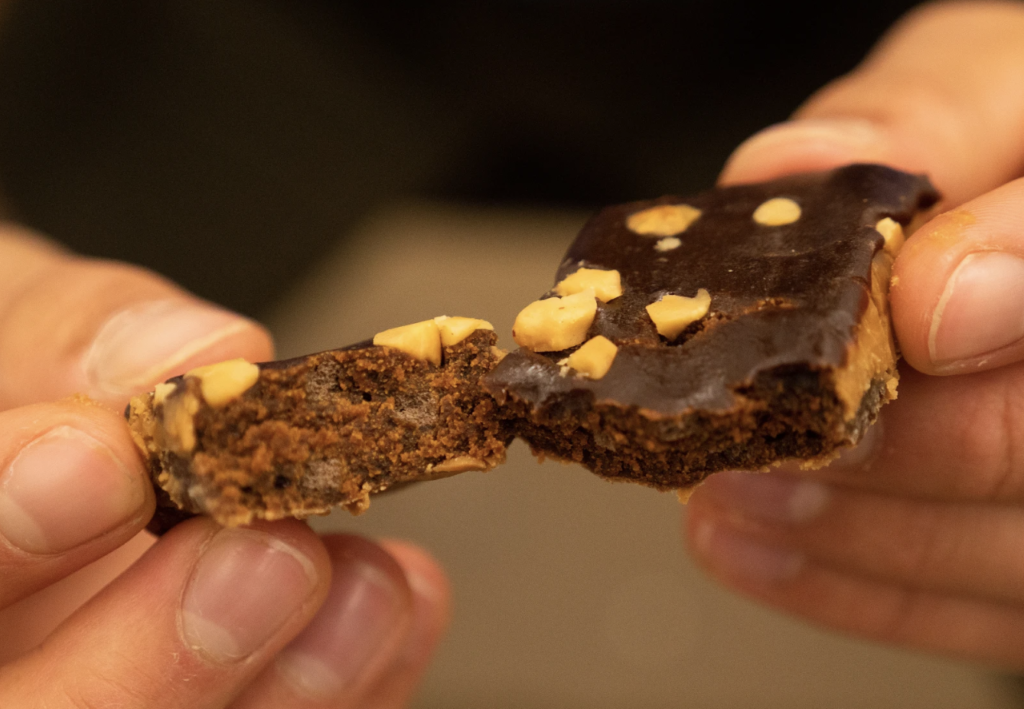 For example, there were nuts on Chocolate Peanut Butter, chocolate chips on the Cookies & Cream, and icing on Grandma's Lemon Square.
FitJoy Protein Bar Nutrition
FitJoy Calories and Macronutrients
Of the three FitJoy Protein Bars reviewed, I thought the nutrition for the bars were all pretty consistent. For caloric content, you can expect to find 220-230 calories, which is pretty consistent with other bars (if not 20-30 calories higher than the norm). In respects to protein, the bars were consistent and every bar contained 20 grams of protein.
For fat, the bars ranged from 7-9 grams, then carbs ranged from 24-25 grams. Each bar had 5 grams of sugar and fiber ranged from 10-12 grams. 
Below, I've included an example of the Chocolate Peanut Butter bar's nutrition label.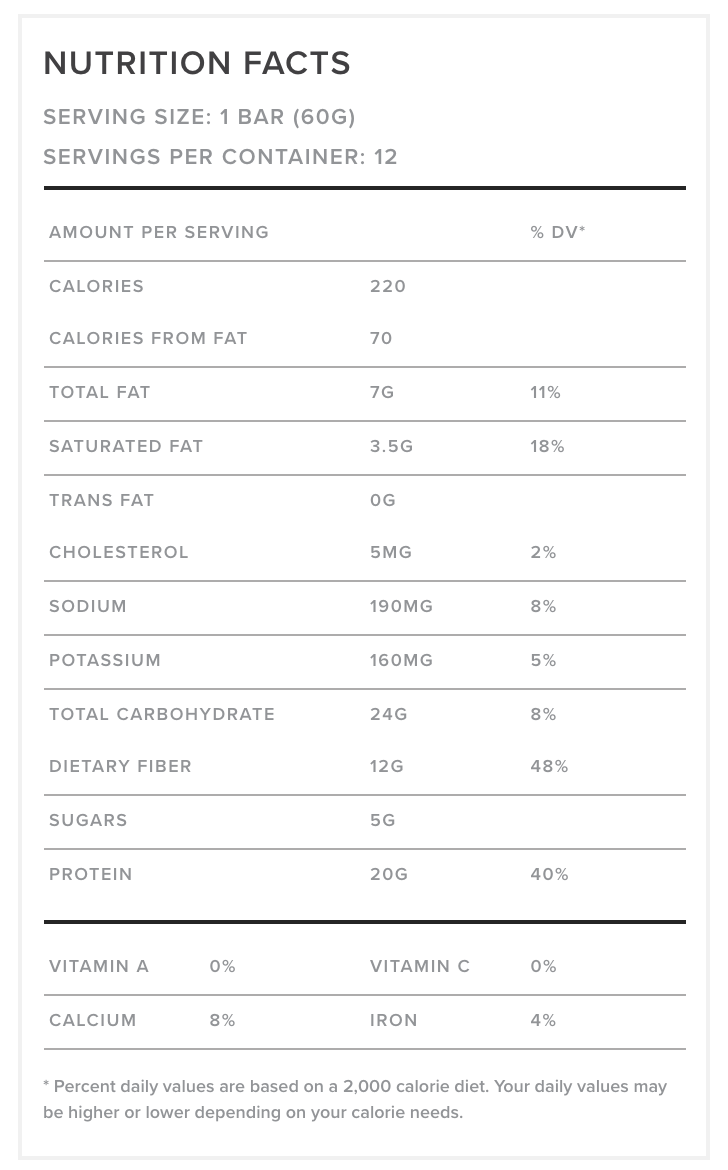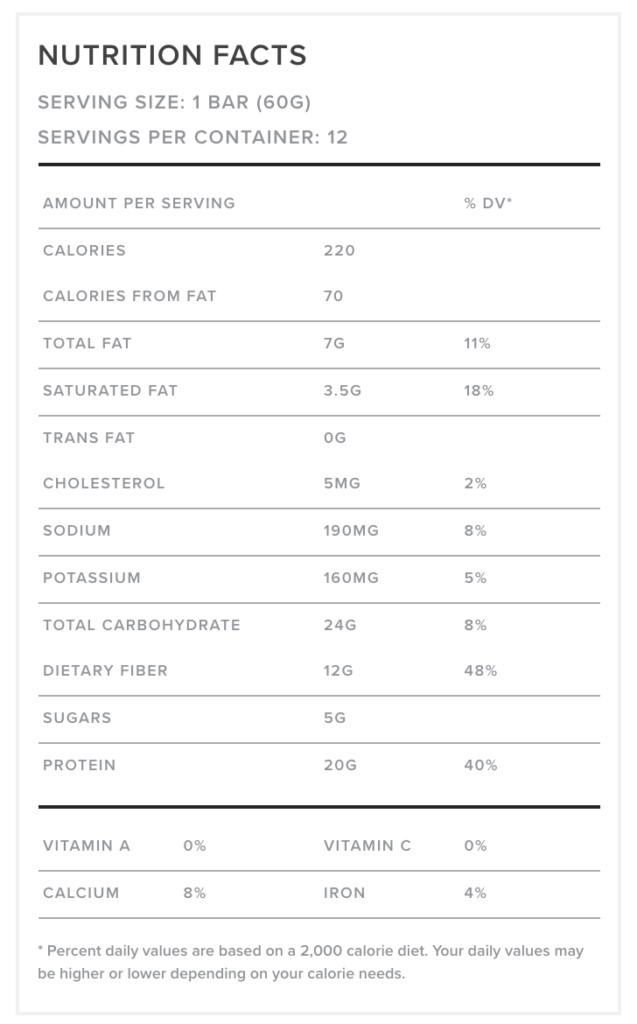 FitJoy Chocolate Peanut Butter Ingredients
Outside of the five grams of sugar, these protein bars have a decently solid list of ingredients. The list is longer than what I'd like, but all-in-all it's not the most ingredient heavy bar I've ever consumed. Check out the full ingredients list below from the Chocolate Peanut Butter bar.
Ingredients: Dairy Protein Blend [Whey Protein Isolate, Milk Protein Isolate, Whey Protein Cocoa Crisp (Whey Protein Isolate, Whey Protein Concentrate, Tapioca Starch, Cocoa (Processed with Alkali), Calcium Carbonate, Sunflower Lecithin)], VitaFiber™ (Isomalto-Oligosaccharides), Peanut Flavored Coating (Sugar, Fractionated Palm Kernel Oil, Partially Defatted Peanut Flour, Nonfat Milk, Peanut Oil, Soy Lecithin, Salt), Vegetable Glycerin, Water, Chicory Root Fiber, Peanuts, Natural Flavor, Cocoa (Processed with Alkali), High Oleic Sunflower Oil (with tocopherols to protect flavor), Cocoa Butter, Salt, Sunflower Lecithin, Stevia.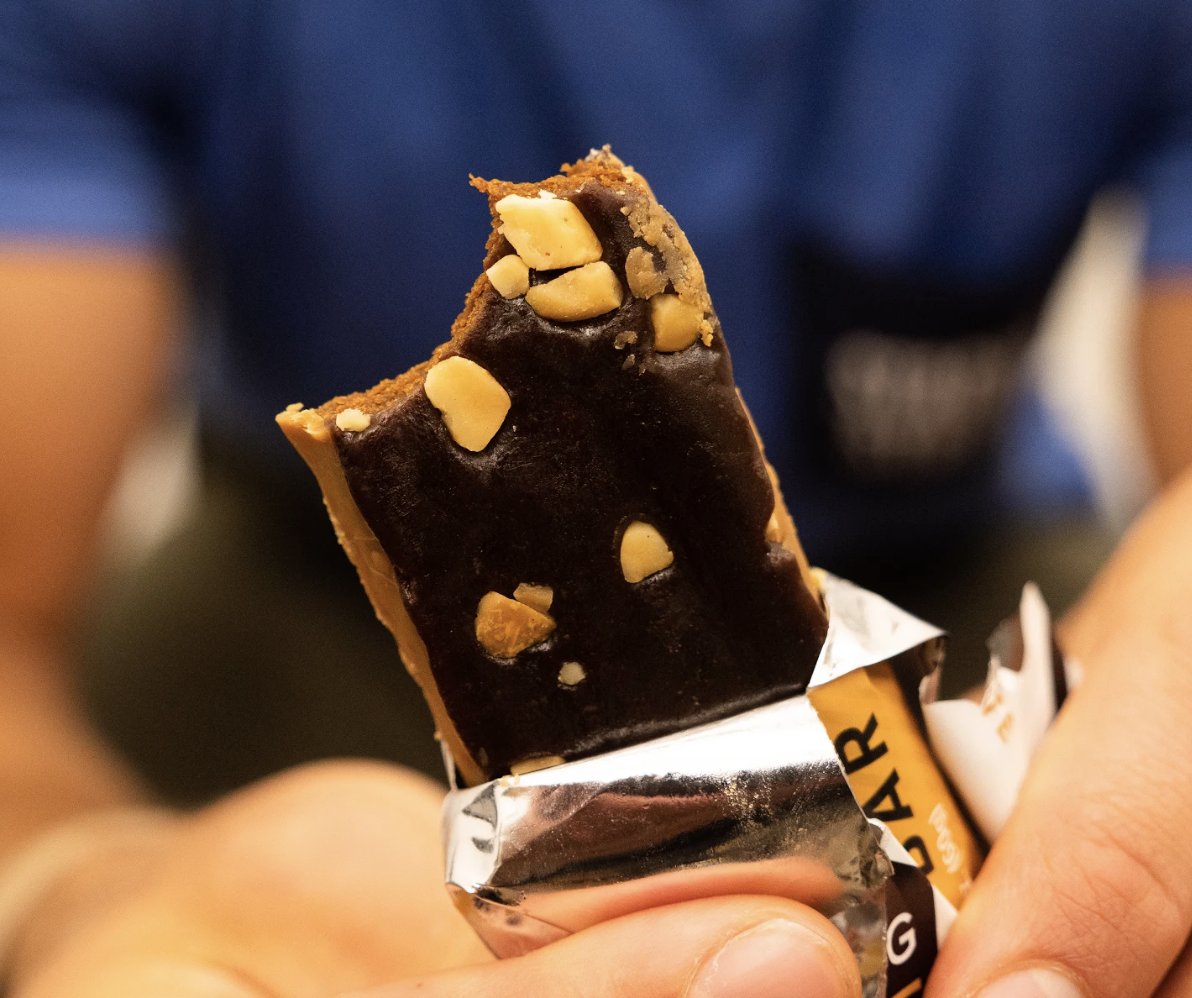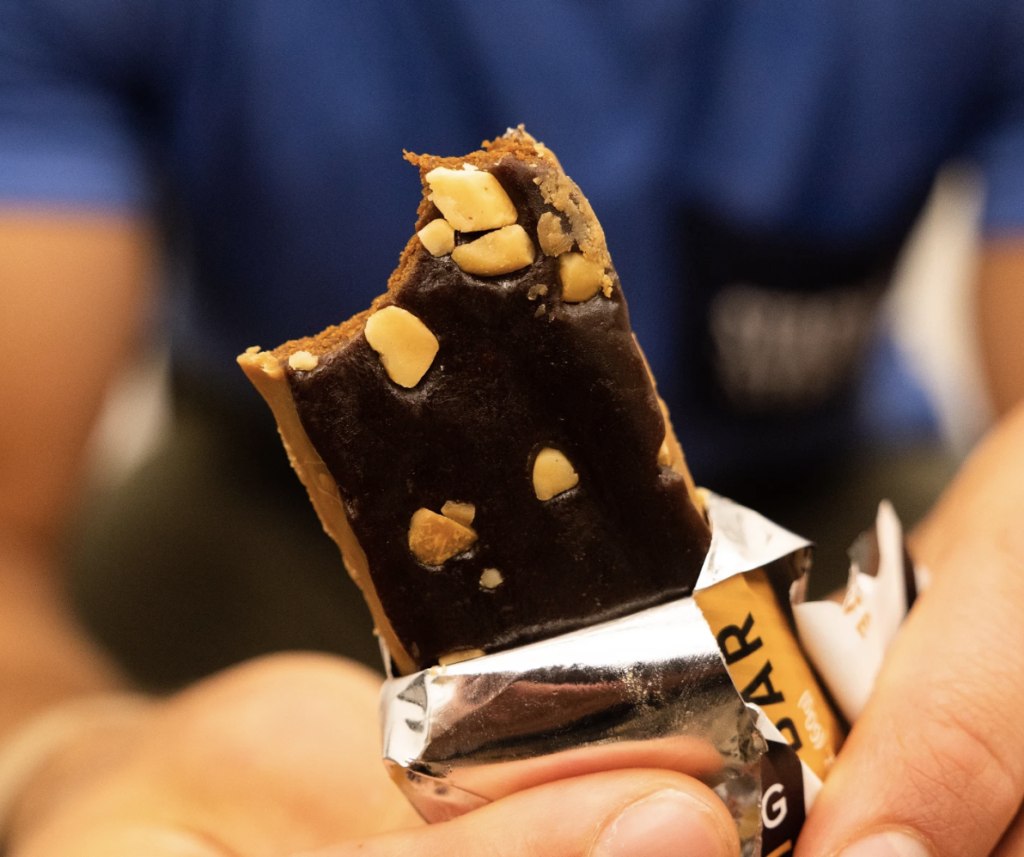 FitJoy Protein Bar Positives
Consistent taste across the board with all of the flavors.
Interesting textures across the board, which made each flavor unique and pop. 
Solid macronutrient profile, along with no artificial ingredients, non-GMO, and gluten free.
FitJoy Protein Bar Cons
Extremely chewy at times, and may be off putting for those who want a really clean bite.
A little more expensive than other protein bars on the market. 
FitJoy Protein Bar Price
If you want to purchase FitJoy Protein Bars, then you can expect to pay a little bit more than other protein bars on the market. For one bar, the price will run you between $3.50 – $4.00 depending on your geographical location. Those prices are consistent with other bars, but if you want a box of 12, then you can expect to pay around $27.99, which is a bit more than other bars.
Wrapping Up
All-in-all, I was pleasantly surprised with the FitJoy protein bars. I thought their texture offered a unique approach to popular flavors, and they come with a decent macronutrient profile. My only real gripes with the bar is the excessive chewiness at times and the 5 grams of sugar.
If you're looking for a bar that make texture its focal point, then FitJoy could be a good pick for you.
Other Great Protein Powders Reviews
Related Best Protein Powders Content