The alternating dumbbell curl should be one of the first things that pops into your mind when constructing the perfect workout. Arnold Schwarzenegger, effortlessly curling old school metal dumbbells in a stringer tank during his Olympia reign, has inspired an entire generation of lifters. You'd be hard-pressed to finish your upper body session without being drawn to the dumbbell rack and paying tribute to the Austrian oak.
Aesthetics aside, the alternating dumbbell curl brings a lot to the table. Free weights are a consistently big bang-for-your-buck type of equipment, whether you work with the barbell on leg day or isolate your arms with dumbbells.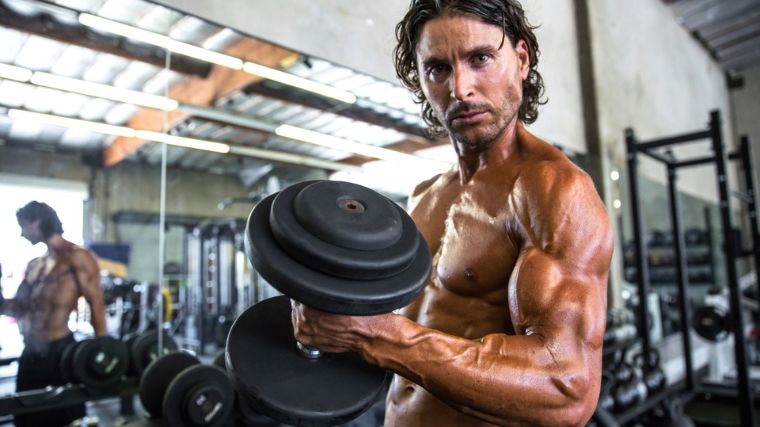 The alternating dumbbell curl can be an asset for developing your guns, but under the hood offer up a ton of often overlooked benefits. Here's everything you need to know about the alternating dumbbell curl.
How to Do the Alternating Biceps Curl
The alternating dumbbell curl is as simple as it sounds; perform a standard standing dumbbell curl with one arm at a time, rather than curling simultaneously. This will have tremendous benefits for your growth and ability to stabilize, but also offers a few key challenges to overcome during execution. Here's a step-by-step guide.
Step 1 — Get Your Grip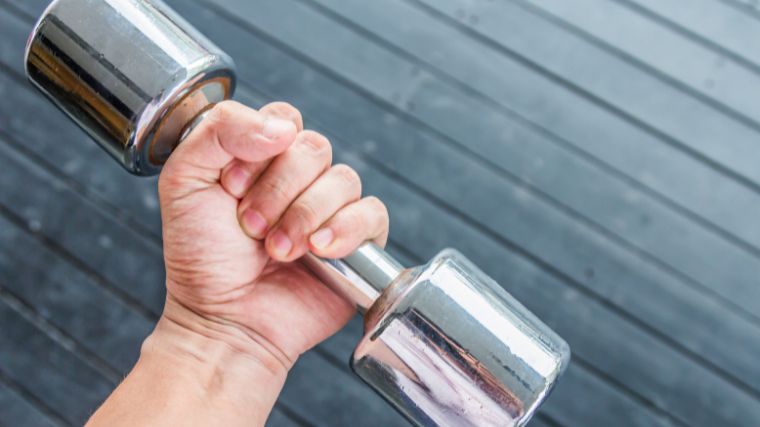 Place the dumbbell deep in your hand, right where the fingers meet the palm. Wedge the dumbbell in such a way that you avoid pinching any skin between the bar and the remainder of your hand when you close your grip. Make sure you center your grip in the dumbbell and squeeze as tight as you can for the entire set.
Coach's Tip: To ante up on the challenge of the alternating biceps curl, you can intentionally grip the shaft of the dumbbell such that more of the handle is visible closer to your midline.
Step 2 — Stand Tall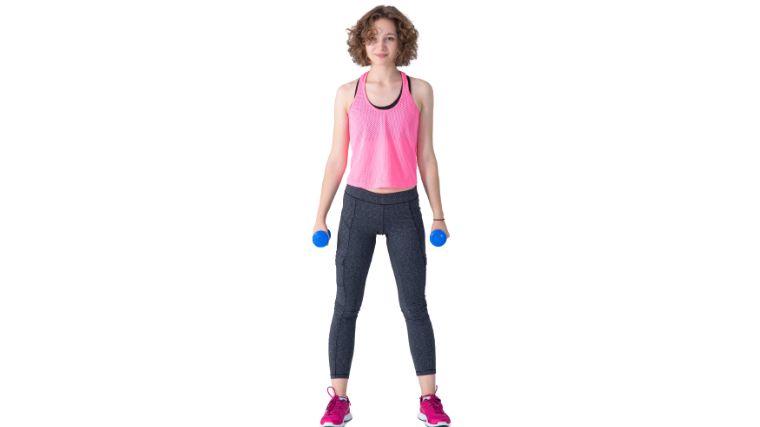 Stand tall with your feet approximately hip-width apart. This is to ensure that as you complete each repetition, you aren't at risk of the dumbbell running into your own body. The wider that stance, the greater the chance your dumbbell collides with your hip. Stay compact.
Coach's Tip: Turning your feet outward slightly may reduce the tendency to rock back and forth while you curl.
Step 3 — Curl, Separately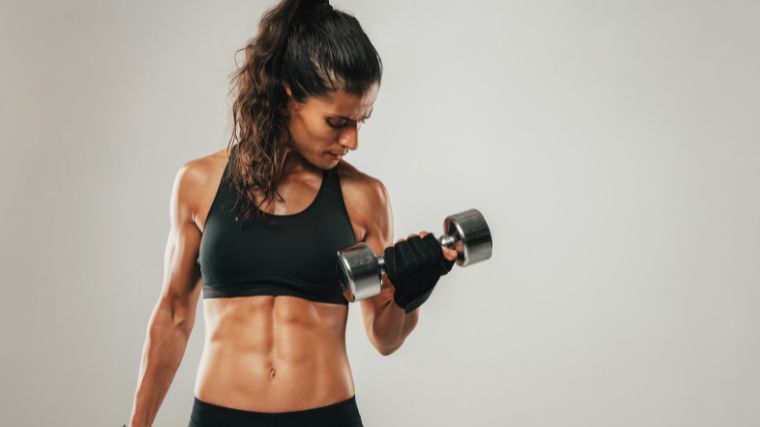 The final step is to do the work. Start with your non-dominant arm and curl the weight up by contracting your biceps. Lower it down slowly, and then repeat on the opposite side.
Coach's Tip: You can improve your line of pull by slightly "leaning into" the side of your body you're currently working.
Alternating Biceps Curl Sets and Reps
Since the alternating biceps curl is a free weight exercise, you can choose set and repetition schemes to target a few different goals. Here are a couple of options:
For Endurance: Perform 2-4 sets of 12-15 repetitions. Rest for approximately 45 seconds between each set.
For Muscle Gain: Perform 2-3 sets of 8-12 repetitions, leaving less than 2 repetitions in the tank. Rest for approximately 3 minutes between each set for the best results.
For Strength: Perform 2-3 sets of 8 repetitions. Scale the load so that you don't add any momentum. Rest for approximately 3 minutes between each set.
Common Alternating Biceps Curl Mistakes
The alternating biceps curl is a classic exercise, but it is not without some common errors in execution. Try to avoid excessive shoulder or elbow movement, using momentum, or partial ranges of motion. Here's what you should keep an eye on:
Shoulder or Elbow Movement
Free weight exercises are extremely beneficial, but they also present some specific challenges, one of which is maintaining good posture. Unlike machines and cables, you are fully responsible for keeping yourself locked in the right spot to most effectively train your arms.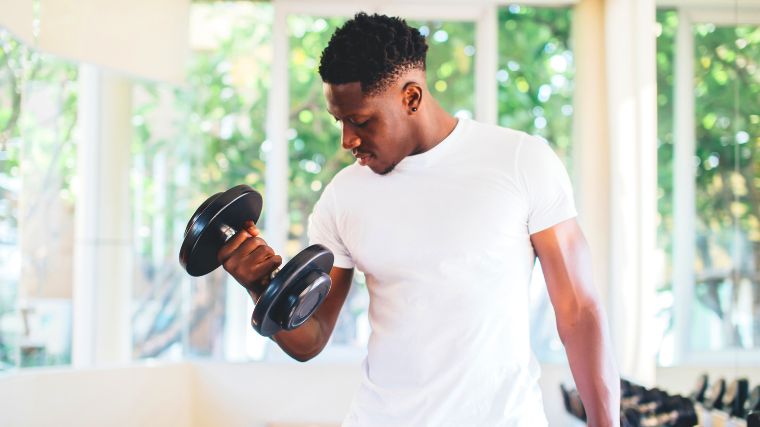 [Related: Bodybuilding Lore Addressed: Can You Really Build a Biceps Peak?]
During the alternating biceps curl, too much movement at the shoulder or upper arm will change the dynamic of the exercise and take some of the tension away from your biceps. For best results with the exercise, keep your arm pinned against your torso as your biceps contract.
Using Momentum
Another common culprit during many free weight exercises (particularly arm exercises) is accidentally adding in a bit too much body English as the reps get harder. Once you start to fatigue, momentum during each repetition will once again take some of the tension off of your biceps. To keep your alternating biceps curls as effective as possible, stay strict in your movements with no momentum — only muscular contractions.
Partial Range of Motion
Generally speaking, you'll want to perform all movements in the gym with a full range of motion. While certain partial ranges of motion during training may have benefits for muscle growth, performing a full range of motion for each repetition helps you maintain a consistent barometer for progress. (1)
For the best possible growth and ability to consistently apply progressive overload, go for a full range of motion as your standard and keep it there.
Alternating Biceps Curl Variations
If you're looking for some cool variations for the alternating dumbbell curl, look no further than the isometric dumbbell curl, one-and-a-half-rep alternating dumbbell curls, tempo alternating biceps curls, or using an arm blaster modification.
Isometric Dumbbell Curl
Isometric dumbbell curls give your "non-working" arm something to do. The working side will perform all repetitions as normal; however, the opposite arm will perform an isometric hold at the same time. Once you're done curling, switch roles.
This is an excellent exercise to combine muscle gain with muscle endurance and make it easier to get a solid stimulus for growth, particularly if you don't have access to appropriately heavy dumbbells.
One-and-a-Half-Rep Alternating Dumbbell Curl
The 1.5 (one and a half) alternating dumbbell curls will leverage partial ranges of motion intentionally integrated into your normal technique. Perform each repetition as normal, but before you lower each repetition completely, contract your biceps again to a full squeeze before finally lowering all the way.
This will keep your working arm flexing through the middle of the range of motion for a longer period of time for each repetition. In doing so, you'll accumulate more fatigue without needing as much load and catch a serious pump at the same time.
Arm Blaster Dumbbell Curls
The arm blaster is a harness that you drape around your neck and lay across your abdomen, effectively turning you into a walking preacher curl bench. If you have access to an arm blaster, it's a great way to prevent any errant technique.
The sling prevents you from moving your upper arm at any point during the alternating dumbbell curl. This ensures that you focus fully on contracting your biceps on every repetition, rather than shifting the load onto your shoulders or upper back.
Alternating Biceps Curl Alternatives
One of the best parts of alternating arm exercises is that the technique is transferable to just about any biceps movement you perform (outside of working with the barbell, that is). You can do alternating curls with cables, kettlebells, or by holding a dumbbell in the hammer position.
Alternating Dumbbell Hammer Curl
The alternating dumbbell hammer curl is a great alternative to the normal biceps curl version. This slight modification allows you to more effectively hit your brachioradialis at the forearm for some seriously targeted gains.
Simply use a neutral grip on your alternating biceps curls and you're good to go. One thing to keep in mind is that, with the hammer curl, your elbow has a tendency to drift backward as you curl. Remember to keep your arm pinned.
Alternating Cable Curl
Another easy alternative to dumbbells is the insertion of cables into your workout. Cables offer a tremendous amount of utility, from accommodating your individual body dimensions to changing angles of attack.
The best part of working with cables rather than free weights is that they apply consistent mechanical tension to your muscles. Instead of peaks or valleys in the challenge you may experience with dumbbells, cable curls are equally challenging from start to finish.
Alternating Kettlebell Curl
The alternating kettlebell curl is an unexpectedly-challenging adaptation for your grip, forearms, and biceps. Holding the kettlebell in a hammer position will force you to resist the weight's tendency to sway from side to side.
While you curl, you will be forced to squeeze as tight as possible in order to control the kettlebell while chasing your arm gains, blasting your forearms and grip in the process.
Muscles Worked by the Alternating Biceps Curl
The alternating dumbbell curl effectively trains the two major muscles of your upper arm; the biceps brachii and the brachialis. Here's how things look under the hood.
Biceps Brachii
Your biceps brachii are the major muscle group that you think of when training the biceps. They are actually two distinct muscle bellies that originate from the coracoid process of the scapula (shoulder blade) and the supraglenoid tubercle of the scapula. They both insert around the same place at the forearm just below the elbow. With that in mind, the best work your biceps will perform is big elbow flexion exercises (like curls).
Your biceps brachii are the meaty muscles on the front of your upper arm and are the principal player of all manner of curls. Your biceps originate from your shoulder blade and insert down past your elbow onto your forearm.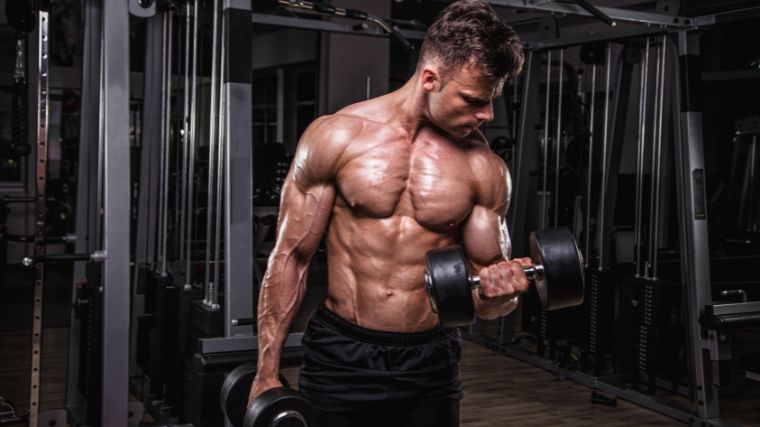 [Read More: The 10 Best Protein Powders for Muscle Gain (2023 Update)]
Any exercise involving bending your elbow, or elbow flexion, will work your biceps — including and especially the alternating dumbbell curl. This is especially true if you rotate your palms upward as you curl, as the biceps are a supinator of the wrist as well.
Brachialis
The brachialis originates from the lower part of your upper arm bone, buried under the biceps brachii themselves. It attaches just below the crease of your elbow – heavily contributing to your ability to flex the arm. Since it is in such a similar spot as the biceps brachii, most exercises that train one of these muscles will also train the other!
Benefits of the Alternating Biceps Curl
The alternating biceps curl is a fantastic way to integrate grip exercises into your training, develop bigger arms, improve coordination, and keep your training fun.
Better Grip Strength
The alternating dumbbell curl is a great way to keep your grip strong. Some dumbbell handles are thicker than others, and the extended time under tension is a factor as well. Performing a set of curls one arm at a time doubles the amount of time you spend keeping your hand firmly clasped.
For an added challenge, you can fasten Fat Gripz to the handles or wrap a small towel around the dumbbells as well.
Bigger Arms
The standout benefit of adding alternating biceps curls to your training will be increasing the size of your arms. Alternating your repetitions will ensure each arm is working hard on its own and receiving distinct stimulus; while performing dumbbell curls simultaneously, it can be tempting to lose focus of one arm. If you're looking to beef up your biceps, the alternating biceps curl should be a staple in your routine.
Improved Coordination
Using dumbbells and alternating arms between each repetition can actually be very beneficial for your overall coordination. The ability to brace, hold your position during each contraction, and avoid undue body sway is a huge asset that can carry over to many other exercises. Whether your next free weight exercise, or even when you hop onto a machine – an improved ability to control your position is a huge asset.
Enjoyment
If you're slogging through a long back-and-biceps workout, dumbbell curls can be the light at the end of the tunnel that you look forward to. Or, you can build an entire workout around working your guns.
In any case, the enjoyment of arm workout merits its own mention. Arm exercises are convenient, accessible, and fun to indulge in on a regular basis, even if you don't aspire to the bodybuilding stage.
Who Should Do the Alternating Biceps Curl
Alternating your dumbbell curls may seem redundant, especially if you already perform standard curls and are progressing with them just fine. However, there are some situations where it might be to your advantage.
Beginners
If you're a beginner, using an alternating dumbbell curl can be a low-consequence way to begin exposing yourself to the skill of stabilizing free weights.
The introductory bracing, grip, and overall muscle gain will check a lot of boxes for you, without having to worry about working both of your arms in tandem. Starting early in your lifting experience with some alternating dumbbell curls can be the perfect tool for future development.
Bodybuilders
The ability to build a huge set of arms without leaving the forearms behind makes bodybuilders one of the biggest beneficiaries of the alternating biceps curl. As a bodybuilder, keeping your physique (and strength, frankly) proportional is a big priority.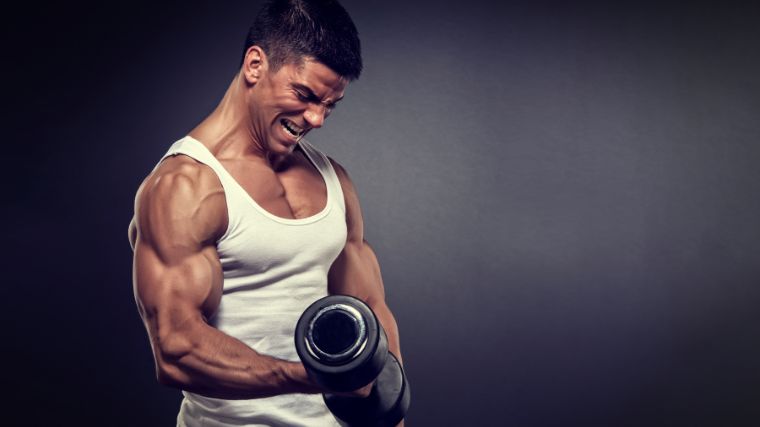 [Read More: Nutrition for Athletes — How to Eat for Muscle and Performance]
Alternating your dumbbell curls ensure you put every ounce of available effort into each repetition, leaving nothing in the tank and guaranteeing balanced progression in both strength and hypertrophy.
Strength Athletes
Although most strength-sport movements involve many of your muscles from head to toe, there aren't many better ways to directly attack the biceps than the alternating dumbbell curl. The grip, bracing, and coordination requirements will certainly carry over to more prominent compound lifts like the row or deadlift. You can't go wrong with strong arms.
An Alternative to Typical
It's all too easy for your workouts to grow monotonous over time — even if you really enjoy your sessions. Curling movements are arm-building staples for a reason, but even they can become tedious after enough time has passed.
To keep things moving forward, try alternating your dumbbell curls rather than working both of your arms together. You'll be able to focus harder on each repetition, worry less about balance, and squeeze out every last morsel of muscle gain.
FAQs
Have questions about the alternating biceps curl? We have answers.
References
Pedrosa, G. F., Lima, F. V., Schoenfeld, B. J., Lacerda, L. T., Simões, M. G., Pereira, M. R., Diniz, R. C. R., & Chagas, M. H. (2022). Partial range of motion training elicits favorable improvements in muscular adaptations when carried out at long muscle lengths. European journal of sport science, 22(8), 1250–1260.
Featured Image: El Nariz / Shutterstock