Dumbbell racks serve two important purposes. They help you organize your training space and they help with safety because your dumbbells are out of the way and you won't have to worry about tripping over them.
An investment like a dumbbell rack shouldn't only be about price. Quality construction and strength are essential to hold hundreds of pounds worth of weight. These choices below can all be beneficial to you and your weight room.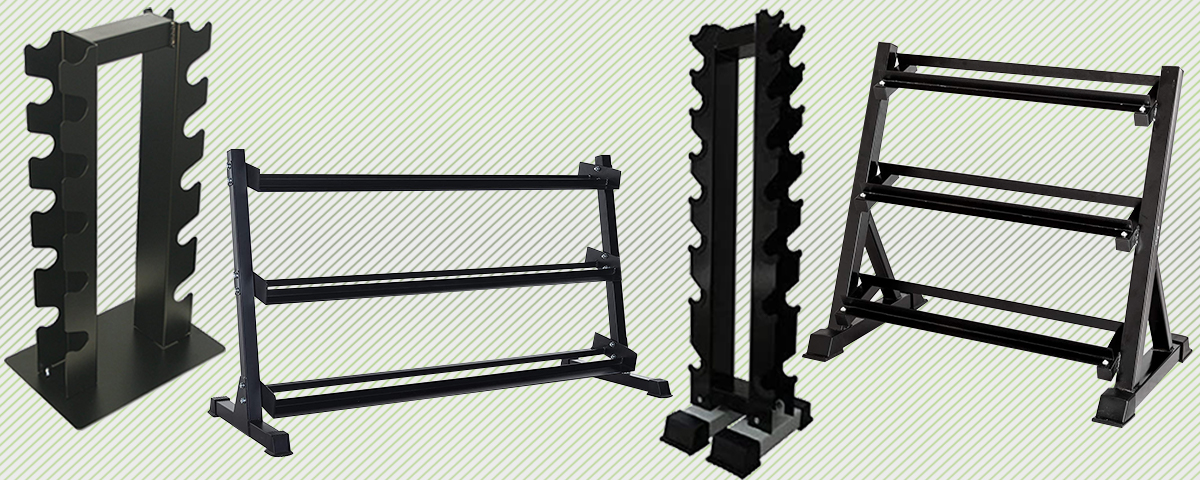 Staff Pick
Big and Stable
Pros:
The total weight support of this rack is over 1,000 pounds.

The rack is secured by bolts with 7,500 PSI shear strength.

This rack will support dumbbells that are round or shaped with six, eight, or twelve sides.
Cons:
This rack is large and heavy so assistance may be necessary if you need to move it.

This rack may not support custom dumbbells.
Runner-Up
Compact Weight Holder
Pros:
There are three tiers for you to use so this rack won't take up as much room.

The racks are angled which can make it easier to remove and replace the weights.

The heavy-duty steel construction will offer more support than other racks.
Cons:
It doesn't come pre-assembled so you will have to commit time to put it together.

If you have dumbbells that are smaller than standard weights, you won't be able to store them on here.
Honorable Mention
Simple Storage for Starters
Pros:
This rack allows you to place the weights in any order you like so your most used dumbbells could be at the top.

The 7 gage base is wide to keep the rack balanced.

The vertical design offers you more room on the floor for you to place more equipment if desired.
Cons:
This rack won't support neoprene dumbbells.

If you decide to buy heavier dumbbells later, you'll need another rack.
Also for Consideration
Solid Second Rack
Pros:
The vertical rack holds 8 pairs of dumbbells.

The space between the racks increase to provide more room for removing or replacing the weights.

This isn't a heavy rack and won't require much space. It works well in corners.
Cons:
Dumbbells that have larger ends may not fit correctly on the rack.

The balance may be an issue if you only remove one dumbbell.
Methodology
Dumbbell racks allow you to keep your weights organized which means your entire weight room will be a more comfortable environment. When you go to grab a desired pair for exercises like curls or lateral raises, you'll know where they are which saves you time you could spend exercising.
Since you won't have to leave your dumbbells on the floor, you can have more room to train and you won't have to worry about tripping over them. They also won't roll away if you have round dumbbells.
The rack you choose should coincide with several factors.
Fitness Level
If you're someone who recently decided to start training, then there wouldn't be a need for a large rack since you likely wouldn't be using many pairs of dumbbells. If you're a stronger lifter and will be using larger weights, you want to be sure the rack you choose will support the weight.
Your Current and Future Supply
How many dumbbells do you currently have? How many do you plan on having? If you intend on investing in more dumbbells in the future, then the smart play would be to buy a larger rack now so you can be prepared for when you place those orders.
Space
A dumbbell rack does require a commitment to space in your weight room. If your floor plan doesn't allow you to commit a large area to that, then a vertical rack may serve you better. If you have many pairs of dumbbells, then a horizontal rack with more tiers would be a better choice.
Conclusion
Dumbbells offer you many different exercises to perform so having them would be a great asset. A rack to store them helps extend their life and makes your space look better. You want to commit time to consider your needs so you place an order knowing the choice you make is a good one.