Dumbbells are a great way to target specific muscles and/or muscle groups while also engaging your core to help with stabilization. The problem with dumbbells is that, traditionally, multiple sets can take up a lot of space in your home gym. In order to have what many weightlifting enthusiasts would consider a comprehensive set of weights, you'd need around eight pairs of dumbbells, or 16 individual weights. This translates to a lot of floor space or the need for a specialized stand, as well as a substantial investment.
With a pair of Core Home Fitness Adjustable Dumbbells, you get the equivalent of 10 dumbbell pairs, which allows for the ability to workout with weights weighing anywhere from five to 50 pounds in five-pound increments. While these dumbbells may seem expensive off the bat, we still think they're a solid, long-term investment with how many individual sets of dumbbells you're getting within this one pair.
Main Takeaways
Core Home Fitness Dumbbells can rotate to adjust from five to 50 pounds in five-pound increments.
These weights are the equivalent of 10 pairs of dumbbells, but you only need space for one large pair of dumbbells, which significantly reduces storage requirements.
Cores Adjustable Dumbbells — though seemingly pricey upfront — cost much less than buying 10 individual pairs of dumbbells in the long run.
Core Home Fitness Adjustable Dumbbell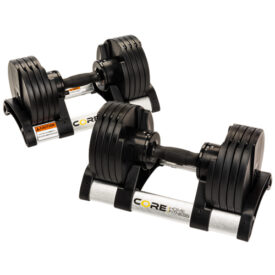 Core Home Fitness Adjustable Dumbbell
The Core Home Fitness Adjustable Dumbbell adjusts from five to 50 pounds in five-pound increments. Since this pair of dumbbells is effectively 10 pairs of individual dumbbells, this purchase can help you save both money and space in your home gym.
Core Home Fitness Adjustable Dumbbells Highlights
To convert the Core Home Fitness Dumbbell to a five-pound weight, 10-pounder, 35-pounder, 50-pounder, or any five-pound increment in between, all you have to do is twist the handle. Clear numbering makes it easy to see what weight you have dialed in during use and when your workout is over, the weights take up about as much space as a shoebox each.
Though you'll have to dish out a good amount of cash upfront (about $400 for the pair), these dumbbells can be a great long term investment. Though for those who won't necessarily make use of all of the weight options, it could be more beneficial to opt to buy a couple of individual pairs of dumbbells for your home gym set up.
Who Should Buy the Core Home Fitness Adjustable Dumbbells
Anyone who wants dumbbells of multiple weights but needs to conserve space — these dumbbells are the equivalent of 10 separate pairs of dumbbells.
Fitness enthusiasts looking to build a home gym with multiple sets of dumbbells will appreciate that the cost of this product is less than the cost of buying 10 separate pairs of dumbbells.
Folks looking to incorporate more free weight exercises into their workout routines. These weights can change in five-pound increments with ease.
Who Shouldn't Buy the Core Home Fitness Adjustable Dumbbells
Anyone who needs to execute very specific lifts tight to their body (such as hammer curls) as some exercises are a challenge given the size and shape of these adjustable dumbbells.
Athletes who already have a solid number of dumbbells may not find this to be a great deal (as they have already spent a good amount of money on the individual pairs).
Those who aren't able to drop $400 on dumbbells all at once. These folks may be better off buying less expensive individual pairs and building their home gym out over time.
Price
A pair of Core Home Fitness Adjustable Dumbbells costs $399.99. If you think of these weights as the 10 separate pairs of dumbbells they effectively serve as, that's like paying $34.99 per pair of weights. And if you shop around, you'll find that pricing highly competitive, especially as you get into the heavier sets. For example, you can get a single pair of 30-pound dumbbells for about $50 to $80. If you'd like to purchase an optional stand for your dumbbells though, that will cost an additional $159.99.
Overall Build and Quality
The Core Home Fitness Adjustable Dumbbells are just as durable as a set of iron weights. The plates are coated in a smooth, non-marking, non-scratching, and rust-resistant plastic and the grips are contoured and textured for comfort and safety during use. However, they may be a bit bulkier than individual sets of dumbbells — as you get into the higher weights, you'll have multiple plates on your dumbbell versus the one heavy weight you would have on an individual dumbbell.
Features
You can shift the weight of these dumbbells from five pounds up to 50 pounds in five-pound increments by a twist of the handle. The handles are textured for grip and contoured for comfort. The metal plates are coated in plastic to prevent rust, and make it easier to slide the weights in and out of their cradle.
Adjustability
You can adjust the dumbbells to each weight option with a simple one-handed rotation that clicks the plates you need on or off. The weight is displayed in clear numbering beside the grip, so you can easily tell what weight you're adjusting to.
Weight Options
Each Core Home Fitness Adjustable Dumbbell features 10 total plates that work in tandem (or are left in the cradle) to give you an option for weights that are five, 10, 15, 20, 25, 30, 35, 40, 45, or 50 pounds each.
Handle Grip and Comfort
The handles are thick, contoured, and textured with plastic grips. With the soft, natural grip, these dumbbells are ideal for most exercises, from chest presses to curls to shoulder raises, and more. The handles, however, are not knurled like traditional dumbbells, so they don't have the same feel or grip response that knurled handles have.
Weight Plate Design
The weight plates are coated in a plastic that prevents their metal cores from rusting or corroding, and will not scratch or mark flooring or walls. The smooth coating also makes it easier to slide the weights into and out of their cradle.
Product Specs
When fully intact, each dumbbell weighs in at 50 pounds. The weights measure 14.5 inches in length, and the plates are just under eight inches in diameter. The cradles are a bit larger, but each takes up only an extra few inches of floor space — or stand space if you choose to purchase the optional stand.
Portability
While naturally heavy, these dumbbells are much more portable than a full set of free weights would be. Instead of having to move 10 sets of individual dumbbells, all you have to maneuver is one set of 50-pound dumbbells. And while these weights probably aren't something you can bring in your carry-on ,they're definitely easier to move to different parts of your house for an at-home workout.
Size and Dimensions
Without the optional stand, each of these dumbbells on their own measure 14.5 inches long by 7.9 inches wide by 7.5 inches high. With the optional stand, the measurements for both dumbbells and the stand are 22 inches long by 33.5 inches wide by 31.9 inches high.
Warranty
Core Home fitness provides a two-year warranty on parts for its adjustable dumbbells, which is about average on the dumbbell market.
Places to Buy
You can buy these weights directly from Core Home Fitness or from other sellers, like Amazon.
Company Information
Core Home Fitness is not an old company, having been founded just a few years back in 2016, but in those few years, the brand has established itself firmly in the fitness space thanks to a dedication to high quality equipment thoughtfully designed to work in a busy, modern home where time and space are rarely there to spare.
Final Word
It's hard to deny the convenience of having one pair of weights that equates to 10 separate pairs of weights. With these dumbbells, you can effectively tuck a little gym's worth of equipment under a bed or at the foot of the closet, and you'll also save money compared to buying those 10 pairs of weights separately.
While these adjustable dumbbells are a great option for those who are starting to build out their home gym from scratch, they might not be the best option for those who already have a bunch of individual dumbbells and just need one or two more sizes. These dumbbells are also a bit bulkier than single pairs, which may make some exercises difficult — especially if you have a smaller frame. But if you're looking for a financially sound way to build out the free weight part of your home gym, these dumbbells are a great way to go.
FAQs
Are the Core Home Fitness Adjustable Dumbbells easy to use?
Yes. Adjusting the weights takes a simple twist of the handle, and the plastic coating on the plates makes it easy to slide the weights in and out of their cradle.
Can the Core Fitness Adjustable Dumbbells replace standard dumbbells?
Yes — though for a few specific exercises, like tricep kickbacks or hammer curls, the shape of the plates can impede positioning as they are a bit bulky for tight-to-the-body exercises.
Are the Core Fitness Adjustable Dumbbells worth the expense?
While the price might seem high for "two weights," it's a great price for what is in fact 10 pairs of weights. However, if you already own many pairs of individual weights, these dumbbells may not be worth their full price tag.