Over the course of my two years here at BarBend, I've spent a ton of time reviewing, testing, and wearing the best cross training shoes on the market. After all of my reviews, I've learned two major things about cross training shoes.
First, every cross training shoe — while similar at their roots — are constructed slightly different based on their best uses. So while you may think it's just a shoe, it might be worth doing a tiny bit of research to find the shoe that compliments your main workout needs best.
Second, most tend to overcomplicate the buying process in respects to what's best for them versus what others think is best. Spoiler alert: Always go with what's best for you. 
In this article, we're going to dissect some of the most important construction aspects to consider when finding your perfect cross training shoe. Will every shoe be exactly alike in respects to the construction callouts below? No, but a majority will, so hopefully this article can help give you pointers before making your next investment.
Start With Price
Smart Investments
Before diving into the construction aspects, let's take some time to address potentially the most important aspect to consider before buying new shoes: Price.
Cross training shoes vary pretty greatly in respects to their price. The lower end and discounted/older models will cost anywhere from $60.00-$80.00, while the newer and higher end trainers will be about $130.00. My advice to anyone buying new shoes, base what you pay on how much you plan to wear them.
If you only wear these shoes to work out and your goal is to save money, then finding a more budget-friendly shoe is going to be your best bet. Most older models or budget shoes will perform very well in the gym, and the exact same as newer models, so if having the newest shoe isn't the biggest deal to you, then go for a cost efficient option. Three way to find cost efficient options,
Look for previous models.
Find colorways that are not doing well. 
Explore multiple retail outlets.
Conversely, if you plan to train hard and often in your shoes, and don't mind paying a bit more for a newer/signature model, then a higher price point is pretty justified. It all comes down to how you plan to use them, how often you're wearing them, and what you can afford.
Perfect Cross Trainers In 5 Steps
1. Outsole
Function and Performance
The outsole is the bottom of the shoe and plays a very important role in cross trainers. As opposed to your normal training shoe where the outsole doesn't matter too terribly much, a cross trainer is designed to tackle both cardio-based workouts and heavy lifts. The combination of these two warrant a unique approach to what's most important to consider when finding a cross training shoe.
If your goal is stability and performance, then look for cross trainers with rubber outsoles. Typically, the more stable cross training shoes will also have the word "TPU" somewhere in their construction specifications, too. TPU stands for thermoplastic polyurethane, and is one of the materials that both cross trainers and the best lifting shoes use to promote stability. Often times, stable cross trainers will have a rubber outsole that extends and a TPU layer that sits right above the outsole on the heel.
For functionality and comfort — think, a more day-to-day and casual work out shoe — search for cross trainers with a blend of rubber and foam in their outsoles. These shoes will typically have the most cushion and give to them, which make them great for lighter workouts and comfort.
2. Midsole
Subtle, But Different
The midsoles on cross training shoes will vary slightly, and their thickness will typically be indicative of their support. The midsole is the area on the shoe that separates the outsole (bottom) from the insole (inside), it's like the bridge between your foot and the ground.
If your goal is to find a stable cross trainer, then there are a couple ways you can tell how the midsole will perform. Obviously, it's tough to tell through a screen, but these construction traits tend to stand pretty true in terms of offering stability.
Firmer midsoles will typically be thinner.
Rubber outsoles will wrap over firmer midsoles.
Stable midsoles are often comprised of a high-density foam.
For a more comfortable ride, look for midsole that is thicker in nature. Typically, you can easily see which cross training shoes have more material (often foam) separating the outsole from the outer construction on the shoe. These shoes will usually have a foam layer that spans from the toe to the heel, and be described as being a responsive shoe in the product's description.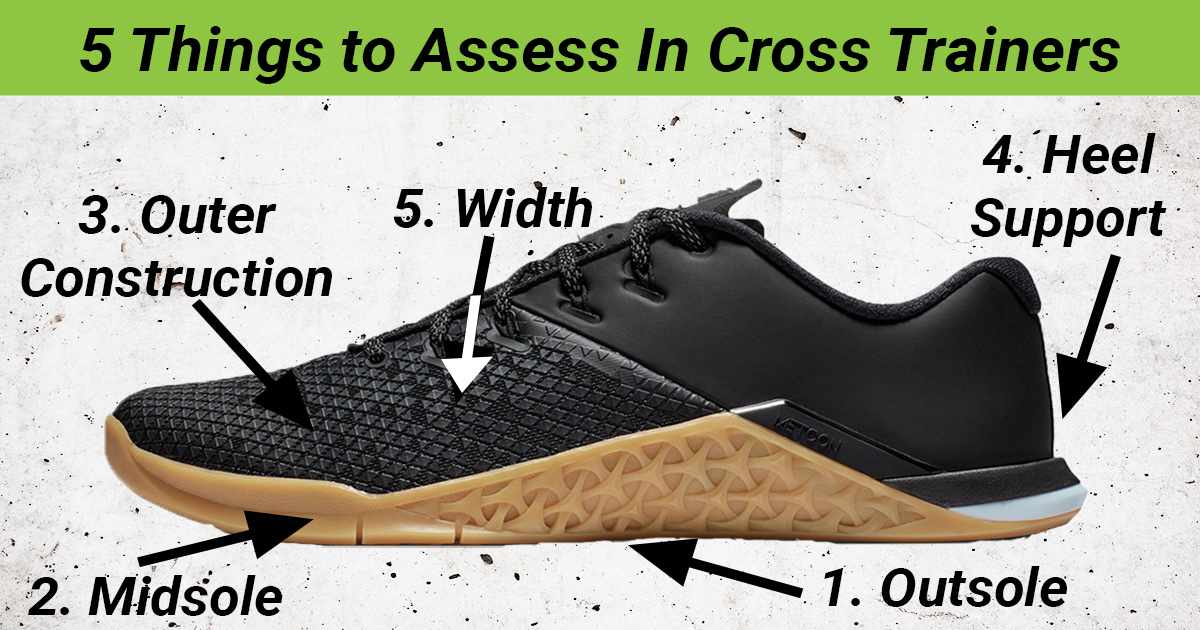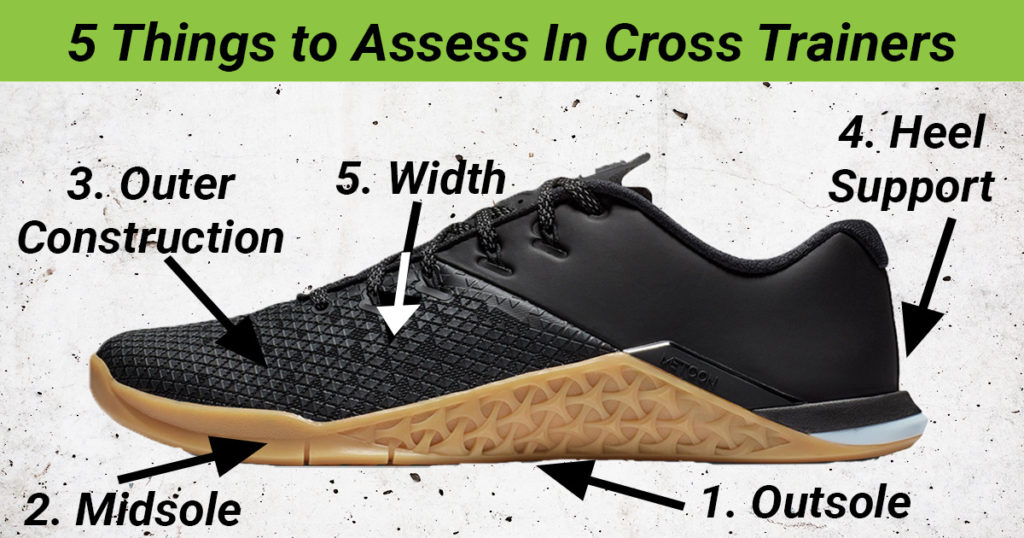 3. Outer Construction
Indicator of Durability and Breathability
Out of every construction aspect, the outer construction will vary the most between cross training shoes. Often times, companies will add their proprietary materials to this portion of the shoe to give them a unique look and feel.
Durability and breathability are two of the most important aspects to consider when looking at different shoe's outer constructions. In general there are a few rules of thumb that can be abided by when assessing a shoe's durability and breathability without physically wearing a model. 
Proprietary materials, TPU, and thicker meshes tend to do the best with durability.
Blends of leather, synthetic materials, and mesh are a hybrid between durability and breathability.
Fully mesh outers tend to breathe the best.
There's not a great one-size-fits-all logic with outer constructions, but there are a few ways to identify what's most important for you. If outer construction is a major concern for you, then this is one time I would highly advise looking at individual shoe reviews for more information, as it's the next best thing without physically testing the shoes yourself.
4. Heel Support
Stability Versus Comfort
Heel support is huge for many athletes in need of a stable shoe to provide support under heavy lifts. Similar to a shoe's outsole and midsole, each type of heel will contain different traits to indicate if a shoe is better for stability or comfort.
Below, we've made a list of a few different construction traits to look for when assessing a cross trainer's heel stability and comfort. Note, that these tips are general recommendations and some shoes will be anomalies to what's written below. 
| | |
| --- | --- |
| Stable Heels | Comfortable Heels |
| TPU layers | Thicker foam midsoles |
| Extended rubber outsoles | Bootie heel design |
| Heel cups and clips | Lower heel cups |
To properly assess heel stability, look at both the boot of the shoe and the midsole and outsole. Stable shoes will often have heel cups to provide an internal support, low-to-the-ground TPU and rubber materials near the boot, and sometimes plastic heel clips and cups for external support.
5. Width of the Shoe
The final construction aspect we'll discuss in this article is the width of the shoe and how it fits.
One of the most common questions I get asked is how the shoe fits and if it accommodates a wide foot.
In terms of a shoe's fit, I have two pieces of advice to help assist you.
My first piece of advice, check out our individual cross training shoe reviews, as I go more in-depth on this topic. Once you've done that, check out other reviews and see what they say, then compare those assessments to your foot. My second piece of advice, try the outsole test I like to use when gathering a quick snapshot of a shoe's prospective width.
Outsole Shoe Width Test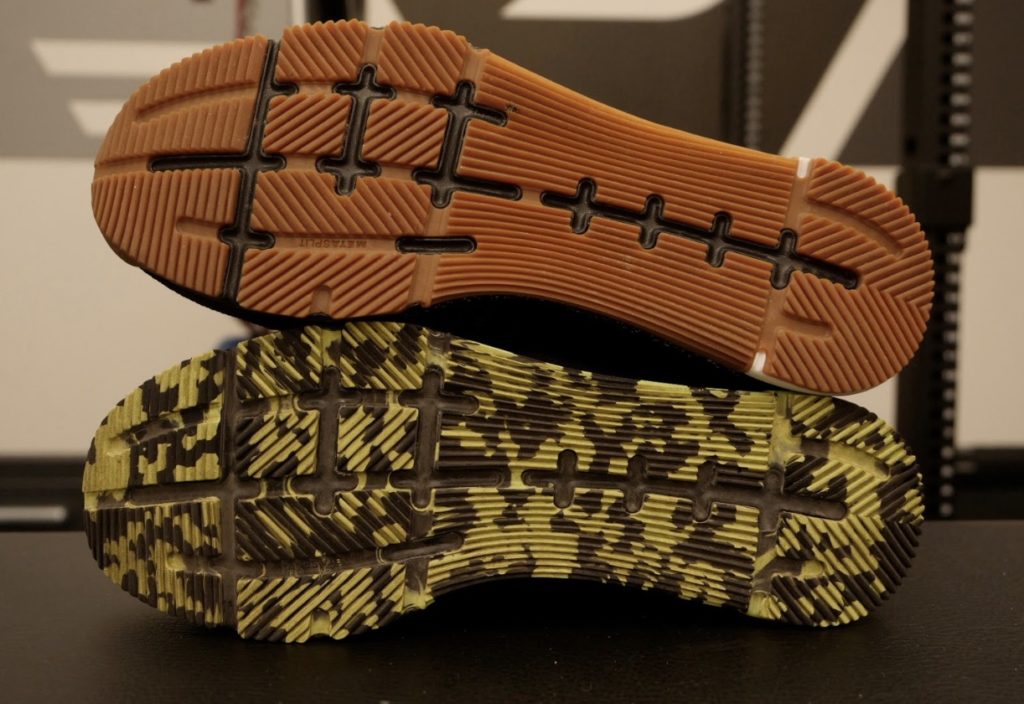 1.
Assess a Shoe's Outsole
To assess a cross trainer's projected width and fit, check the outsole of the shoe, then compare the differences between the forefoot and mid-foot.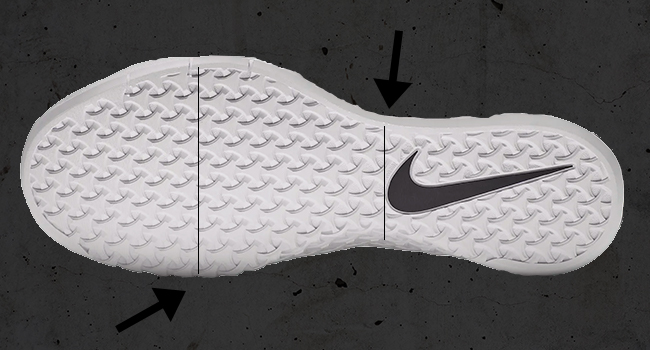 A slimmer and more athletic shoe will generally have a greater difference between the two lines drawn.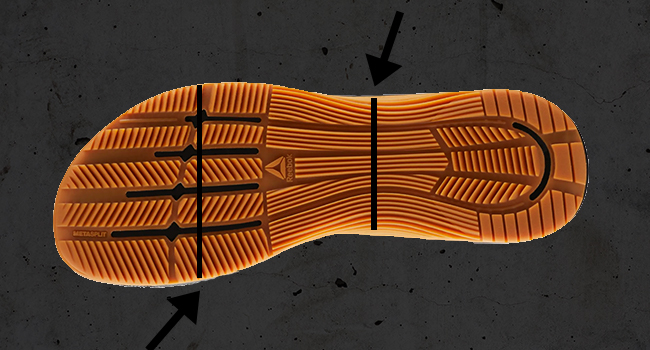 A wider and more toe splay oriented shoe will generally have a smaller difference between the two lines drawn.
Author's Note: The above test works for a majority of cross training shoes, but like many things, there are anomalies to the rule. If you need a guesstimate though, this equation tends to work pretty well!
Wrapping Up
There are a ton of cross training shoes on the market, and finding the perfect pair can be a bit overwhelming. However, if you break the process down into steps, then finding pairs that match your needs becomes a much easier task. Ask yourself what you need the shoe for most, as in what activities do you perform the most often, and make your decision from there.