We receive free products and receive commissions through our links. See
disclosures page
.
The Nike Free TR V8, or TR8 as it's commonly known, is a hybrid focused training shoe that resembles a Nike Free x Metcon, but performs like a Nike Free shoe. In fact, without taking a closer look at the shoe firsthand, it can be nearly impossible to truly tell the differences in construction apart.
Before reading any further though, I'll straight up say it, if you're looking for a cross-training shoe with maximum stability for heavy lifts, then I'm going to direct you towards something like a Nike Metcon 4, or Nike DSX Flyknit 2. If you're looking for a shoe that can be worn casually, for running, and possibly a quick workout, read on to learn more.
Nike TR V8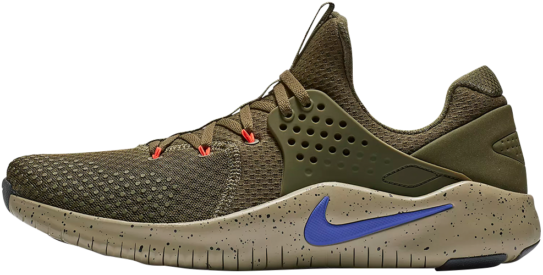 A versatile cross-training that is designed to be worn on a daily basis, for light runs, and HIIT style workouts.
In this review, I break down the Nike Free TR V8 training shoe and analyze how it's different from other cross training focused Nike models. I took a close look at this model's construction, pros, cons, price, and did a performance test to assess how it really holds up under various cross training styles and against other cross training shoes.
Construction
The toe on the Nike Free TR V8 is similar to the Nike Free x Metcon in that it has the expanded outsole lip that covers the medial side of the midsole. Personally, I like this shoe feature because it suggests the shoe will be a bit more durable compared to the shoe's with the single lip on the front.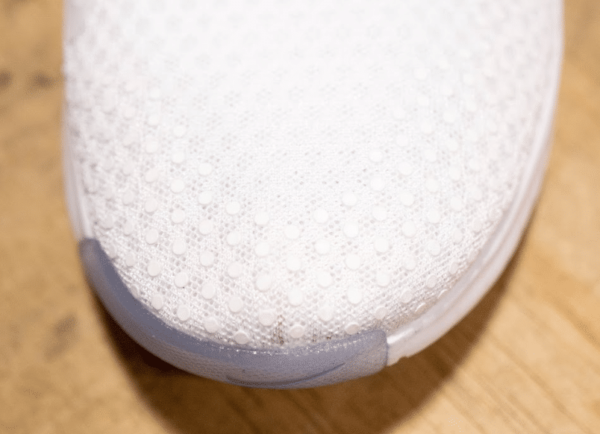 The material that covers the toe is a bit thicker and the mesh feels to be double layered with an outside mesh and a thicker inside portion. There are leather and TPU-esque dots that cover the metatarsals and run down the side of the shoe just off the toes. In my opinion, these felt and looked weird to me at first, but they grew on me. I also think they could be useful for toe drag durability.
Upper Shoe and Mid-Foot
Similar to the toe's construction and material, the upper shoe has what feels like a double-layered mesh. The outer portion is a bit thinner and breathable, while the inside feels a bit thicker. In addition, there's also a material with holes under the top layer mesh to promote the shoe's ability to breathe.
When you look towards the mid-foot, tongue, and heel, you'll see that the material changes a bit. There's no longer the material with holes, and it's a little thicker. I think this is to provide additional comfort and stability around the ankle and arch of the foot. This multi-layered material is definitely not as breathable as what's enclosing the toe.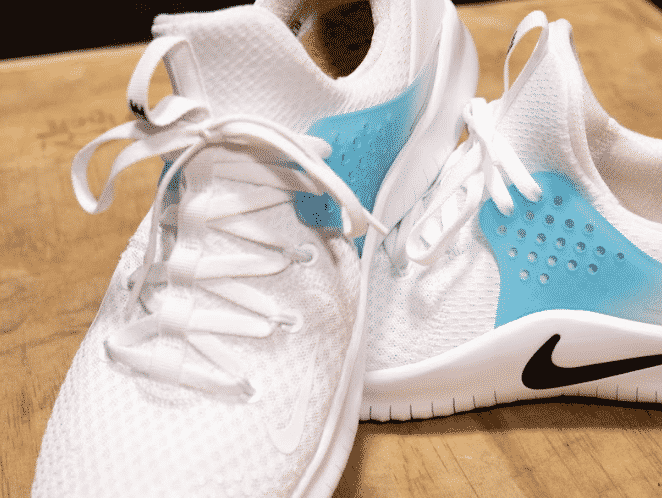 There are five eyelets running up the shoe, and five of these have Nike's Flywire material. The Flywire are the wires you see coming out of the holes and designed to provide the shoe with a natural reaction feeling. They wrap from the sides to the bottom of the shoe. The tongue extends up the shoe a fair amount.
Unlike the full heel wrapping plastic wing on the Free x Metcon, the plastic wing on this model protrudes from the mid-foot to just off the heel. It feels similar in material to the Free x Metcon, but is different as it offers multiple holes down the side. I thought this was interesting because in theory this would allow you to loop the shoelaces through any point.
[Check out all of the main construction differences between the Nike Free TR V8 and the Nike Free x Metcon here!]
Heel
The heel on Nike Free TR V8 is a hit and miss in my opinion. Personally, I thought this shoe's heel felt super comfortable and even wearing it barefoot I thought it was comfortable. Sometimes shoes with the booty design can cause friction on the heel, but I thought this shoe did a good job at resisting this. I think the thicker material around the heel played a major part in this.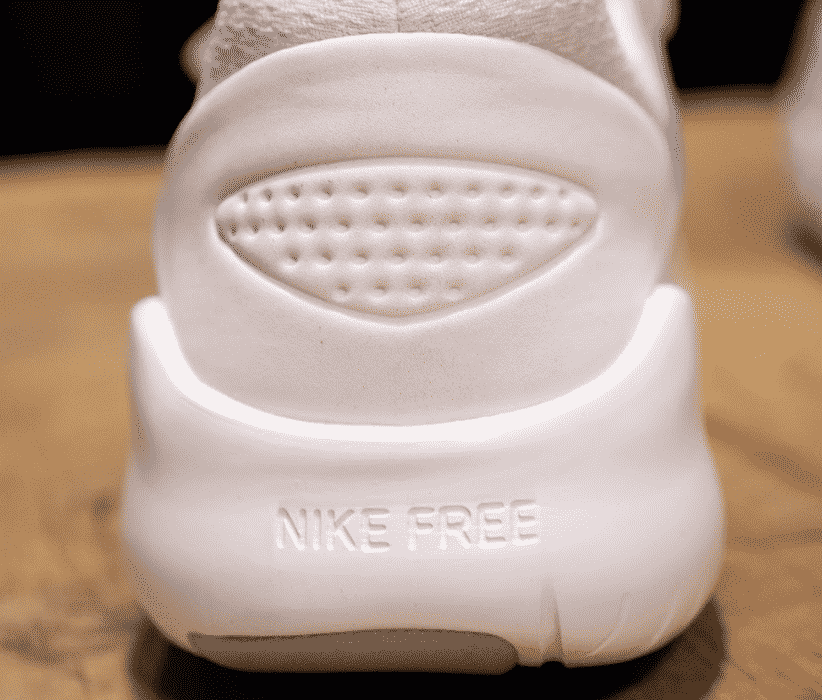 The back of this shoe model has a thick, yet mobile piece of leather-esque and mesh material that encloses it. It has a little give to it, but all-in-all it does a decent job at supporting the heel under most movements. Additionally, the higher EVA midsole provided an additional bit of support running up the heel.
Outsole
The outsole on this model looks almost identical to the Nike Free x Metcon to the untrained eye. For example, there are indented and protruding tri-star grooves, flex grooves on the forefoot, and additional material on the toe and heel, but now for the differences.
First, the tri-star grooves are much less rigid on this model compared to the Free x Metcon. The indented grooves compress much easier, and the raised ones are less tough. In addition, the indented tri-star grooves slightly protrude out a bit, which was a bit confusing for their main performance goal.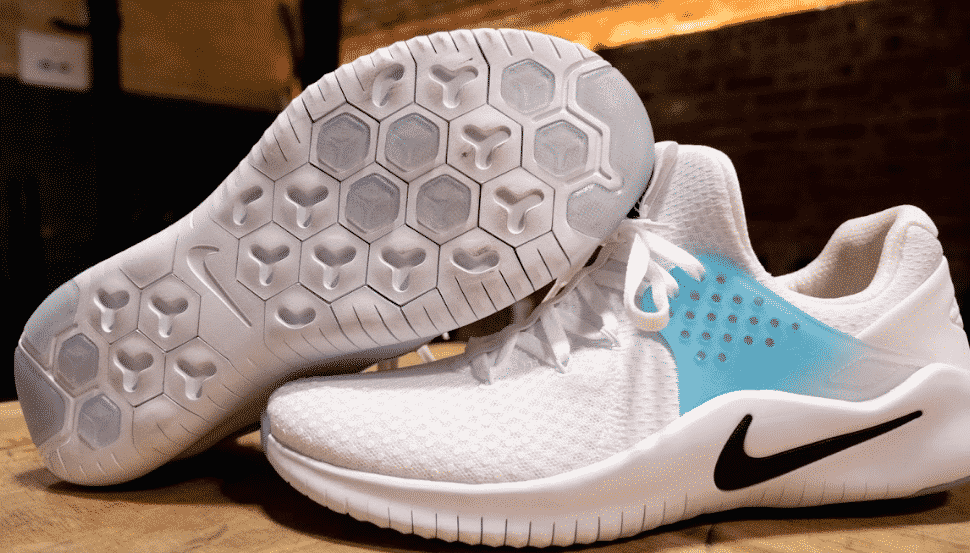 Second, there's no additional rubber material on the mid-foot. The lateral and medial construction looks similar to the Free x Metcon, but the material on the TR V8 is the EVA foam, and not the rubber.
Third and lastly, there's no additional TPU on the heel, which wasn't the biggest deal, but it does dock the shoe's ability to maintain stability really well under weight. Granted, you also have to remember this model resembles a Free shoe compared to a true Metcon.
Nike Free TR V8 Pros
For the Nike Free TR V8 I had a couple call outs that I'd found to be pros for this model. To start, I thought this model was a comfortable hybrid option. I was a fan of the bootie design that accompanied this model and that the material was a bit thicker. This gave the shoe a thick sock-like feeling and I actually enjoy wearing them without socks (I know…gross).
My second pro that comes with this shoe is its ability to support running and multiple heel strike movements. I think this shoe was a solid option for anyone who likes doing more cardio-focused workouts (classes etc), but likes to add in cross-training exercises as well. For my tests, I ran up to two miles in this shoe and it felt good. I could see it serving many athletes who run a lot well, but wouldn't recommend it for running marathon-like lengths.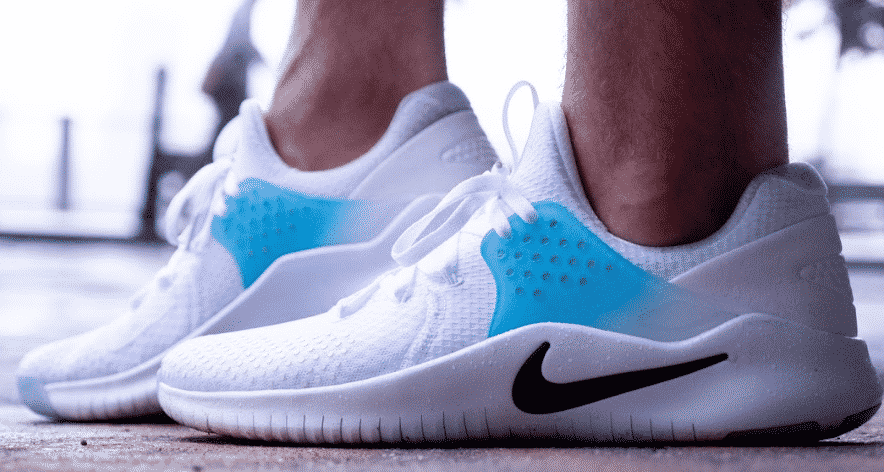 The last pro that I liked with this shoe was its suggestion of durability and price. It's a more cost efficient model and comes in around $100.00, so it's less expensive compared to the Nike Metcon 4 and Nike Free x Metcon. Additionally, the thicker outsole areas and wider toe lip were nice suggestions of durability for the price.
Nike Free TR V8 Cons
I said this in the intro right off the bar, so it shouldn't come as a surprise, but this shoe isn't the most stable cross-training option. It compressed under around 315 lbs during my deadlifts, so I wouldn't recommend this shoe as your go-to training model for heavier cross-training lifts. Personally, I didn't have any cons with this shoe's construction, and if you know what you're buying the shoe for, then I didn't have any issues with how it's made and designed.
[Need a more stable option? Check out the Nike Metcon 4 and our thoughts!]
Nike Free TR V8 Performance
To test this shoe's performance, I changed up my movement battery slightly and scaled down the weight. For starters, instead of going heavier on compounds, I only pushed it up to weight that I felt slight compression. I did this, so I can give you an accurate poundage assessment and to align better the users reaching for this model (casual cross-training athlete).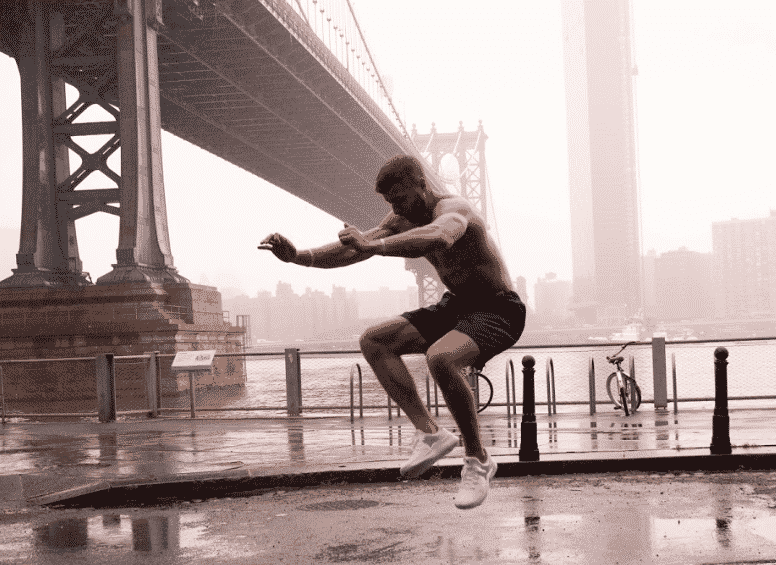 For compound movements, this shoe responded well up to about 315 lbs. I used weight up to 275 lbs in back squats and thought these shoes did a fair job at supporting the weight on my back and maintaining foot stability. There wasn't an incredible amount of compression, but I wouldn't go much heavier than this.
Next, I tested this shoe's outsole with power cleans up to 185 lbs, and they performed pretty well. There wasn't compression, but the heel isn't incredibly firm so sitting back doesn't feel the same as a weightlifting shoe, or the more stable Metcon 4. Lastly, I used deadlifts to test this shoe's compression and noticed some give under 315 lbs, so I stopped there and did rep work. They performed well, yet I wouldn't push much heavier than this.
[Nike Free x Metcon Vs. Nike Metcon 4, which is the best shoe for training?]
I mention it above, but to test this shoe's cardio focus I ran two miles on the treadmill and thought it performed well. The EVA midsole did a good job at limiting an excessively hard heel strike. For jumping and other cardio-focused movements, these shoes also held their own. The EVA cushioned me well, yet still provided some stability. My only grip is the lack of rubber mid-foot material on the outsole, as I think the foam on this model could become a little slick when wet.
Nike Free TR V8 Durability
Throughout my testing times with the shoe, I didn't notice any glaring durability issues. The mid and outsoles both held up pretty well throughout my tests, and there were no immediate signs of breakdown or compression on any area of the shoe.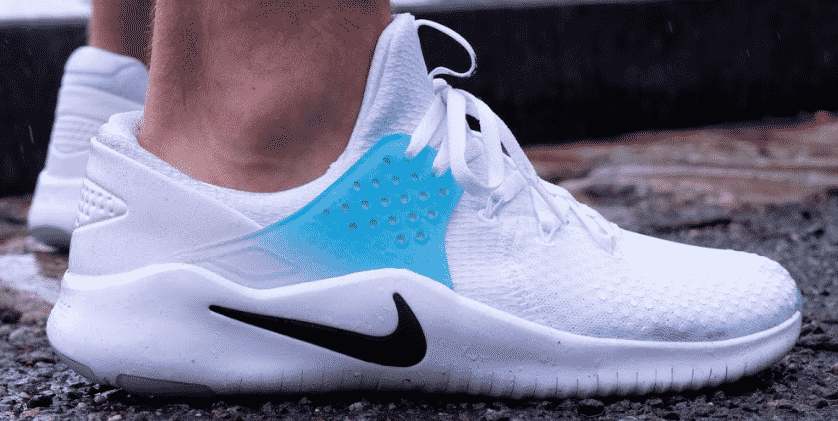 In terms of outer shoe durability, I like the thicker material and think it will serve long-term wear and tear pretty well. For example, some booty shoes can get stretched out over time, but this model may be pretty good at resisting that.
Nike Free TR V8 Price
The price for the Nike Free TR V8 comes in around $119.00. Compared to other cross-training shoe models, this shoe is slightly more cost efficient. For example, it's less than the Nike Metcon 4 and less than the Nike Free x Metcon. Granted, this shoe isn't full designed for cross-training style work outs, so that's something to consider when thinking about investing and the price.
Wrapping Up
All-in-all, I liked the Nike Free TR V8 training shoe. If you know what you're looking for and have a good idea about how you want use this shoe, then I think this model can be a solid choice. For example, for every day wearing and casual workouts this model excels, but for serious cross-training workouts, it falls a bit short.
For athletes who want a decently stable shoe for casual workouts for a fair price, then the Nike Free TR V8 is a good choice.