Many bodybuilding fans will tell you that eight-time Ms. Olympia Lenda Murray is one of the greatest — if not the greatest — women's bodybuilders ever to take the stage. But another name that inevitably comes up in the G.O.A.T. conversation is three-time Ms. Olympia Andrea Shaw.
Comparisons to Murray pop up whenever Shaw competes today, and it always spurs the same question: What would happen if the two of them ever met on the stage in their primes?
Unfortunately, we'll never get those answers since Murray retired nearly 20 years ago. But there are aspects of their careers that we can put head to head, such as the titles they've won, their popularity, and the competition they faced in their primes. With that to go on, let's compare these two titans of the stage below.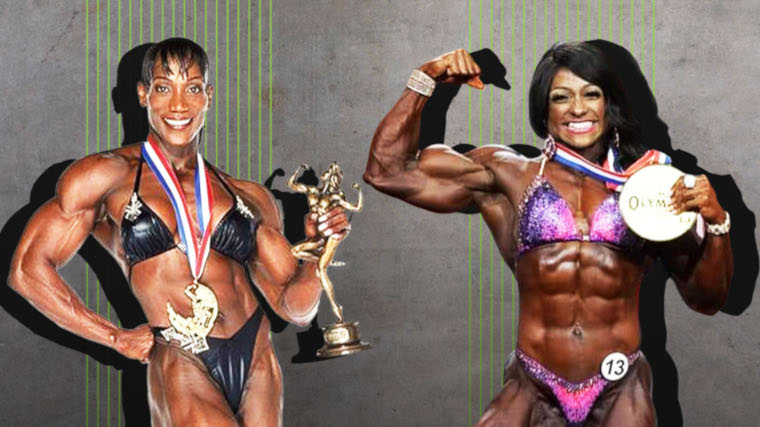 [Related: Arnold Schwarzenegger vs. Chris Bumstead: Breaking Down a Fantasy Bodybuilding Matchup]
Bodybuilding Accomplishments
Outside of inaugural champ Larry Scott, no man has ever won the Mr. Olympia on their first try. Amazingly, both Murray and Shaw did just that at the Ms. Olympia in their respective debuts. Murray ended her career with eight wins at the big show, while Shaw has three as of May 2023. Here's how their careers stack up at the point of their third Ms. Olympia win.
Lenda Murray's Accomplishments
Murray won her first Ms. O title in 1990 after six-time champ Cory Everson retired. The only other major Women's Bodybuilding title during Murray's time was the Ms. International at the Arnold Classic, which she never competed for. As a matter of fact, the only competition Murray ever entered throughout her entire career after turning pro was the Ms. Olympia, according to Muscle Memory. So through 1992, she only had three wins, all of them Ms. O crowns.
[Related: The Story Behind the Chaotic Drug-Tested 1990 Mr. Olympia]
Andrea Shaw's Accomplishments
Shaw's resume, thus far, is a little more varied. As of 2023, there are two main titles for Women's Bodybuilding: The Ms. Olympia, which returned in 2020 after a six-year hiatus, and the Rising Phoenix World Championship.
Since moving to the Women's Bodybuilding division in 2019, Shaw has won both titles three times, with her worst placing coming at the Rising Phoenix in 2019, where she came in seventh. She also finished the 2019 Chicago Pro as the runner-up and entered the Toronto Pro as a Women's Physique competitor before that, where she came in 11th.
[Related: 10 Bodybuilders With Some of the Biggest Legs in the Sport's History]
By similar points in their career, you can argue that Shaw's wins give her the edge in terms of accomplishments over Murray.
Andrea Shaw's Top Titles Through 2022
Ms. Olympia: 2020—2022
Rising Phoenix World Championship: 2020—2022
Rivals
Another aspect that should be considered is the level of competition that each champion faced. When Murray was in her first three years on top, she squared off against the iconic Bev Francis and Laura Creavalle, a multi-time Ms. International winner and perennial Ms. Olympia threat. Toward the end of her reign, she had to contend with Kim Chizevsky and Iris Kyle, who claimed a record 10 Olympia titles during her career.
View this post on Instagram
[Related: Jay Cutler vs. Nick Walker: A Fantasy Bodybuilding Showdown]
That's a murderer's row of talent, to put it mildly. And while Shaw certainly faces stiff competition like Helle Trevino and Margie Martin, she's typically the overwhelming favorite to win every time she steps on stage. Of all the ongoing dynasties right now in the IFBB — including Chris Bumstead in Classic Physique and Cydney Gillon in Figure — you can argue Shaw is the most dominant of the bunch.
Training
To win Olympia titles year in and year out requires a consistent training regimen. Here's a look at how each competitor got ready for showtime.
Lenda Murray's Training
You can get a glimpse at Murray's training style in this throwback back and biceps workout she shared on YouTube below, followed by a breakdown of the moves.
[Related: 9 Bodybuilders Under 200 Pounds Who Were Absolute Giant Killers]
You can see that supersets help keep Murray's workout economical, and she doesn't veer off the 10-rep scheme for each exercise.
Andrea Shaw's Training
Shaw uses more volume than Murray, and she regularly trains with a partner. In 2022, she shared a week of training with BarBend, where she said she was focused on nailing the small details of her physique rather than packing on size. Here's what her sample back and shoulder routine looked like:
Popularity
You can't easily compare the popularity of both women, since the internet was still in its infancy while Murray was on top. Compare that to Shaw, who burst onto the Ms. Olympia scene in 2020 at a time when competitors can promote themselves on Facebook, Twitter, TikTok, Instagram, and any other platform they wish.
[Related: The 20 Best Leg Exercises for Muscle and Strength]
At her peak, Murray could be seen in several magazines such as FLEX and Iron Man on newsstands around the world, but the Ms. Olympia wasn't broadcast on television much in those days. However, she is still relevant in today's era thanks to being an ambassador and promoter as well as a host of the Femme Flex Friday video series on the Olympia TV YouTube channel. She has over 77,000 followers on Instagram as of April 2023.
The impact of the internet and social media has clearly given Shaw a bigger spotlight than Murray may have had when she was the champ. Shaw is also sponsored by Mutant Supplements and he has over 110,000 followers on Instagram as of May 2023.
Conclusion
The type of physiques that were required to win the Ms. Olympia was very different from 1990 to 2023. However, the champions on top have quite a few favorable comparisons: Both are dominant within their division and serve as the most visible face for Women's Bodybuilding.
View this post on Instagram
[Related: Phil Heath vs. Kai Greene and 9 Other Fiery Bodybuilding Rivalries That Shaped the Sport]
This debate may be even more interesting to have when Shaw calls it a career and we can examine the full scope of their accomplishments. For right now, though, fans can just be grateful to see the division alive and healthier than ever.
Featured Image: @lendamurraylegend and @themsolympia on Instagram