Every sport has its fair share of fantasy matchups to debate. Would you take Lebron James or Michael Jordan? Mike Trout or Mickey Mantle? Tom Brady at 42 or Tom Brady at 32?
That's true, too, for bodybuilding. And one of the fantasy matchups that always stirs up impassioned opinions is Chris Bumstead vs. Arnold Schwarzenegger. They're two of the most popular competitors of their respective generations and, at their peaks, shared plenty of similarities that go beyond simply looking great in a ¾ back pose.
While fans will never see a bodybuilding contest between these two greats, we here at BarBend are breaking down their physiques and accomplishments to see how both men compare to each other.
[Related: The 16 Best Ab Exercises for Strength and Definition]
Bodybuilding Accomplishments
Both Schwarzenegger and Bumstead ruled over their respective divisions for years. Here's what each man accomplished on the bodybuilding stage.
Bumstead's Accomplishments
The current Mr. Olympia is typically the face of bodybuilding, but Chris Bumstead — a.k.a. CBum — has turned that notion on its head in recent years. Despite competing exclusively in the Classic Physique division, the Ottawa, Canada, native has racked up tens of millions of followers on social media, far outshining the more muscular competitors in Men's Open.
But a bodybuilder isn't going to gain that type of fanbase without the hardware to back it up. And here's what the 28-year-old has accomplished so far in his young career: (1)
Bumstead's most recent Classic Physique title came at 27 years old, which he won with a torn biceps. To put this victory in perspective, the division has seen seven Olympia titles since its debut in 2016. Bumstead won four of them — and he's already talking about win number five.
[Related: 9 Underrated Golden Era Bodybuilders You Should Know About]
Arnold's Accomplishments
Schwarzenegger, on the other hand, took his first step toward bodybuilding immortality in 1970 when he won his first Mr. Olympia at the age of 22. And by 1975, at 28 years old, he grabbed his sixth consecutive win at the O, which took place in Pretoria, South Africa. Here's how Arnold's career breaks down: (2)
[Related: 11 Retired Bodybuilders Who Are Still Absolutely Jacked]
The 1975 Olympia is perhaps Schwarzenegger's most famous victory, as it was the same contest that was documented in the 1977 film Pumping Iron. To win it all, he had to contend with the likes of Serge Nubret, Lou Ferrigno, and Franco Columbu, which was as stacked a lineup as the show has ever seen. Like Bumstead, Schwarzenegger stuck solely to the Olympia once it became clear he was the dominant force in the sport.
Training Style
Countless gym-goers have been influenced by the training routines employed by Schwarzenegger during his prime. And today, Bumstead's workout videos on YouTube regularly attract millions of viewers hoping to get tips from the undisputed king of Classic Physique. Here's how their training styles compare.
Bumstead's Training Style
Based on what Bumstead has shared in past videos and interviews, he's been a bodybuilder for as long as he's been training, which goes back to high school. He spent much of his early career working under the tutelage of his brother-in-law, Iain Valliere, before switching to coach Hany Rambod for the 2022 and 2023 Olympia. Rambod's past clients include Mr. Olympia winners like Phil Heath and Jay Cutler, so CBum clearly has his sights on continuing his championship-winning ways.
[Related: 10 Facts About the Mr. Olympia Bodybuilding Competition]
Overall, Bumstead follows what could be considered a high-volume approach, performing more sets and exercises as opposed to a high-intensity style of training that calls for less overall workload. He typically seems to train one or sometimes two body parts a day, and works to maintain a stage weight between 225 and 235, since he has a 240-pound weight cap for his division.
It's also important to note that Bumstead adheres to Rambod's FST-7 training style. This stands for "Fascial Stretch Training," and the '7' refers to the number of finisher sets at the end of the workout. It's basically a high-rep, high-intensity style with short rests and a seven-set finisher to cap off the workouts. Here's a look at the exercises Bumstead performs on a typical arm day while prepping for the Olympia:
Arnold's Training Style
Schwarzenegger's training style resembles more of a traditional bodybuilding routine. He took much of his inspiration from bodybuilding icon Reg Park when he started training in the 1960s, but he also competed in Olympic-style weightlifting and powerlifting while rising in the bodybuilding ranks.
Once he locked into his fitness discipline of choice, he trained one part a day in the off-season. When it came time to prepare for a competition, he employed a very high-volume approach, training twice a day with two-hour workouts six days a week. He trained each muscle group either twice or three times a week with intensity-boosting techniques such as supersets, trisets, and drop sets.
Here's a sample arm workout that Schwarzenegger employed during his contest prep:
Popularity
Each competitor was at the top of the bodybuilding world at their peak. And it's not just about championships — both Bumstead and Schwarzenegger employed an unparalleled level of charisma and business savvy to really stand out from the rest of the sport.
Bumstead's Impact
Beyond the competition results, which speak for themselves, Bumstead has made big moves in the business of bodybuilding. He's a part owner of supplement company Raw Nutrition and has a clothing line called CBUM. He also happens to have one of the biggest social media followings of anyone in the sport.
[Related: The 16 Best Biceps Exercises for Greater Growth]
As of February 2023, Bumstead has more than 14 million followers on Instagram, 4 million on TikTok, and almost 3 million subscribers on YouTube, where he regularly shares his workout and diet tips with followers. These social media numbers eclipse recent Mr. Olympia winners like Mamdouh "Big Ramy" Elssbiay and Hadi Choopan, along with legends in the sport like Heath, Cutler, and Ronnie Coleman.
Bumstead should get credit for capturing the attention of a younger generation of fans who might be more interested in fitness influencers than in a 300-pound Men's Open bodybuilder at the Olympia.
Arnold's Impact
Schwarzenegger obviously didn't have access to social media or the internet when he was in his late 20s like Bumstead does now, but he was still a star in his own right. He was a mainstay on fitness magazine covers and was beginning to make his way into Hollywood with early appearances in movies like 1976's Stay Hungry. And after Pumping Iron premiered in 1977, Schwarzenegger began to transcend the sport and reach a level of popularity no competitor has come close to since.
[Related: Best Pre-Workout Supplements for Muscle Gain, Weight Loss, and More]
If you were to ask the average person who comes to mind after hearing the word bodybuilding today, they'd probably still say Schwarzenegger. While the pop-culture icon and former Governor of California is now an ambassador to fitness and an activist for many other causes, he is also remembered as a pioneer who brought bodybuilding to the big screen and inspired future generations of weightlifting enthusiasts.
Conclusion
First thing's first: There's no comparing Bumstead and Schwarzenegger in terms of impact on bodybuilding or pop culture. Schwarzenegger is a once-in-a-lifetime competitor who thrust the sport into the mainstream. Even when comparing both men in their late 20s, Schwarzenegger was moving into a trajectory that no other bodybuilder has ever dreamed of.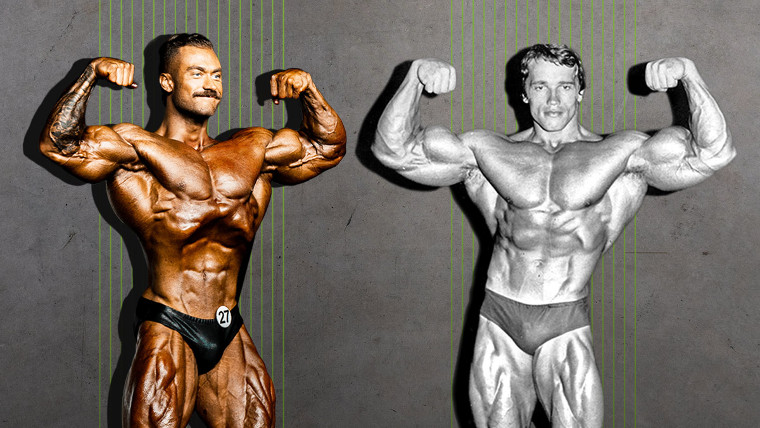 [Related: Best Back Exercises for Muscle Gain]
But if a posedown were to happen between these two in their prime — Bumstead in his current 2022/2023 shape and Schwarzenegger in 1975 — then things would be a lot closer. Both men are comparable in height and weight, and each one has their own strengths. Schwarzenegger's voluminous chest, bulging arms, and small waist may give him an advantage, while Bumstead's lower body and world-class conditioning would be hard to beat.
As for who would ultimately come out on top — well, that's up to each fan to decide on their own. What can't be argued, though, is each man's impact on the sport and how both defined what it means to be a champion.
More Bodybuilding Content
Keep up with the world of bodybuilding by checking out these stories from BarBend:
References
Muscle Memory, Chris Bumstead, http://musclememory.com/show.php?a=Bumstead,+Christopher
Muscle Memory, Arnold Schwarzenegger, http://musclememory.com/show.php?a=Schwarzenegger,+Arnold
Featured Image: T.J. Darr (Bumstead) // Jack O'Quinn, Wikimedia Commons (CC BY-SA 2.0)