Bodybuilding advances through its rivalries. Across the field of professional athletics, where genetics, aging, or injury can define a career, bodybuilding stands apart as one of the few sports where a champion can be almost unbeatable for a decade or more. So when two competitors come head to head, and one is marginally better, it can be near impossible for the other to overtake them.
For this reason, bodybuilding rivalries emerge rather easily. The first bodybuilding show was held in 1901, but it was not until 1939 that yearly physique shows became the norm. Since that time, each decade has boasted a bodybuilding rivalry that helped color the competitions themselves.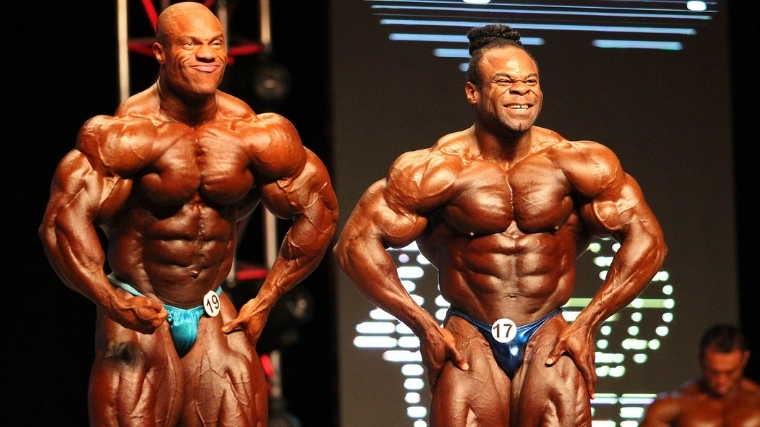 These rivalries are usually the story of one champion dominating the field and a prospective usurper seeking the throne. Arnold Schwarzenegger won seven Mr. Olympias during his reign. The same goes for Phil Heath. Lee Haney and Ronnie Coleman each won eight.
In women's bodybuilding, Iris Kyle wears the crown — she won 10 Ms. Olympia titles, making her the most decorated Olympia winner of all time. Lenda Murray did it eight times. Cory Everson won six consecutive Olympia titles.
These victories were not achieved in isolation. Each year, these champions beat various competitors whose strengths — and weaknesses — pushed them to more impressive heights. Here we look at some of the biggest rivalries in bodybuilding and the legacies left behind on the sport.
Bodybuilding Rivalries
Steve Reeves Vs. Reg Park
Many of the iconic rivalries in bodybuilding revolve around the Olympia. Considering its status as the most prestigious event in the sport, with $650,000 awarded to the top three finishers in 2020, this makes sense. Still, a competitive landscape did exist before the inaugural Mr. Olympia contest was held in 1965.
In 1950, British-born bodybuilder — and future inspiration to Arnold Schwarzenegger himself — Reg Park faced Steve Reeves at the Mr. Universe contest. Only 22 years old at the time, Park was already Europe's biggest bodybuilding star. Reeves represented the United States, and was beginning his rise as a film star alongside his bodybuilding career.
View this post on Instagram

Reeves was the favorite heading into the show, but Park defied expectations and pushed Reeves right up to the finish line. One of the judges that evening, George Walsh, described the climate of the contest:
"I can hear the deafening applause that is greeting the appearance of Park and Reeves as they display their breath-taking poses before the world's most enthusiastic audience…I marveled at these two supermen in the ruthless daylight of the afternoon." (1)
Reeves won by a single point in what would ultimately be his final bodybuilding contest. In the aftermath, Reeves turned more to film, famously portraying Hercules on the silver screen for several years. Park returned to competition the following year to win the Mr. Universe. (2) While this rivalry didn't have the longevity of others, it was the first bodybuilding result that divided fans and ignited years-long debates.
Sergio Olivia Vs. Arnold Schwarzenegger
The 1960s were all about Sergio Olivia and Arnold Schwarzenegger. The two men first competed for the Mr. Olympia title starting in 1969. Arnold was the new prospect, the man Joe Weider had tipped to lead the sport. Olivia was "The Myth," earning a reputation for his freakish size and muscularity.
Oliva won the Mr. Olympia title in 1967 and 1968. Going into the 1969 contest, the entire sport was ablaze with the news that Schwarzenegger would be challenging "The Myth." It was Schwarzenegger's first Olympia, and, in his mind, it was over before the two even stepped on stage.
In his memoir, Arnold remarks that he was overwhelmed by Oliva's presence. Backstage, Oliva pumped up in a large butcher's coat to hide his muscularity. Right before the contest, he stripped to unshroud his physique and, in doing so, overwhelmed Schwarzenegger. In their head-to-head, Oliva bested the Austrian Oak in points, four to three. (3) This marked the only Olympia defeat Schwarzenegger would suffer in his professional career.
Arnold returned bigger and leaner the following year and took Sergio's Olympia crown. 1970 was the beginning of Arnold's six consecutive Olympia titles (he won again in 1980). As Arnold soared, Oliva struggled to compete against him.
On several occasions, Oliva claimed that the Olympia judges were against him, that they favored Arnold over him, and that he was unfairly treated. While this may be true — Oliva was disqualified before the 1971 contest for appearing at an event conducted by a competing federation to the IFBB — it didn't matter to the fans.
Their rivalry was pure magic for the sport. It was the first mainstream clash at the Olympia contest and helped drive both men to better results in their careers. Oliva eventually left the Olympia — and the IFBB as a whole — to compete in Dan Lurie's World Body Building Guild (WBBG). Arnold went on to dominate the sport like no other in his era.
Frank Zane Vs. Franco Columbu
Following Schwarzenegger's departure from competition in 1975, a new rivalry emerged between Arnold's lifelong friend Franco Columbu and physique icon Frank Zane.
Zane and Columbu first met at the 1969 Mr. World contest, where Zane was chosen over his Italian counterpart. Thus set in motion a fierce rivalry which spanned Mr. Universe contests, Mr. World contests, and, of course, the Mr. Olympia show.
The two first came to a head at the Olympia in 1974, where Columbu finished ahead of Zane to win the under 200 pounds category. In 1975, Columbo won again, whereas Zane finished in fourth.
Bodybuilding aficionados know that the 1975 Olympia was the contest featured in the seminal documentary film Pumping Iron. Zane was originally involved in the project, but, disillusioned with the attention given to Schwarzennegger, withdrew from the production and decided to train away from Gold's Gym. (4)
Zane showed up smoother on stage than in 1974 and fell well behind his rivals. So disappointed was Zane in his conditioning and resulting placement that he even considered retiring from the sport. Instead, he decided to return the following year and in his best-ever condition.
1976 was the pinnacle of Zane's years-long battle against the Italian. Schwarzenegger's retirement had opened up a lane for a new champion in the sport. Frank and Franco were nearly indistinguishable from one another when they stepped on stage at the Olympia. Columbu won by half a point, one of the closest results in the history of the contest. (5)
Zane spent the next year training as a man possessed. Sadly, fate intervened to steal Zane's attempt at redemption. In 1977, Columbu competed in the inaugural World Strongest Man competition, where he broke his leg in a freak accident. The two never faced each other again, and Zane went on to win the title from 1977 to 1979.
Mike Mentzer Vs. Arnold Schwarzenegger
Mike Mentzer and Arnold Schwarzenegger is perhaps the shortest rivalry but undoubtedly one of the most explosive. The two men only met once in competition, at the infamous 1980 Mr. Olympia, where Arnold returned to bodybuilding after a five-year hiatus.
More than that, Arnold returned to the stage and shocked the sport by somehow winning the competition outright. Whether or not Arnold deserved to win his seventh Olympia in 1980 (and there were plenty of people who thought he should not have), his abrupt reappearance ruffled multiple feathers.
Enter Mike Mentzer. Heading into the 1980 Olympia, Mentzer was the expected favorite — the year prior, he had won the heavyweight division but lost the overall title to Frank Zane. 1980 was supposed to be his year, but Arnold's presence — and his legendary mind games — swept the crown away. Mentzer was enraged.
During the press conference, Mentzer attempted to physically attack Arnold following several derogatory comments by the Austrian Oak. Peter McGough, the renowned bodybuilding journalist, later interviewed Mentzer about the attempted brawl.
"[Arnold] seemed like a guy out of control as he turned to face me, his upper lip curled around like a snarling animal. We were debating the issue of weight classes, but Arnold chose to snap at me: 'Mike Mentzer, we all know Zane beat you last year because you have a big stomach!'" (6)
Mentzer was incensed that Arnold won. He retired from the sport and never competed again.
Lee Haney Vs. Rich Gaspari Vs. Lee Labrada
Lee Haney, and his successor Dorian Yates, helped advance bodybuilding into the proverbial "mass monster" era. Haney won the Mr. Olympia eight times, Yates six times. Both men were challenged at various points in their tenure. Yates was pushed to the finish line at several points by Shawn Ray. (7) Haney, though, had both Rich Gaspari and Lee Labrada to contend with.
Gaspari knew he couldn't match Haney when it came to mass. Instead, he set his focus on conditioning and, in doing so, changed the sport forever. In 1986 Gaspari competed at the Pro World Championship with striated glutes. (8) Striations occur when body fat is so low that the muscle fibers are visible, and no one had brought such extraordinary conditioning to the stage before.
Gaspari attempted to overthrow Haney with extreme leanness. While he never defeated Haney at the Olympia (he finished in second place three times from 1986 to 1988), he ushered a new standard of presentation into the sport that continues today.
But what about Lee Labrada? He overtook Gaspari as the heir apparent to Haney in 1989 and 1990. Like Gaspari, Labrada knew that conditioning, rather than bulk, was his key to defeating Haney. In 1989 and 1990, Labrada ran Haney extremely close to the finish line at the Olympia. How close? In 1990, Labrada was ahead of Haney at pre-judging before losing at the night event.
Even today, many fans believe that Labrada deserved an Olympia crown at either the 1989 or 1990 Olympia. Labrada himself saw it as the biggest disappointment of his career, saying in a 2019 interview:
"You know, at the time, after the pre-judging of that show, I was ahead by several points going into the night show. Then, he defeated me by two or three points. It was a hard loss to swallow." (9)
Haney defeated not one, but two bodybuilding legends during his eight-year reign. The three-way race notably affected the competition between Gaspari and Labrada. They traded titles across multiple bodybuilding shows in 1987 and 1988 — at seven different European shows in 1988, Gaspari won four contests, and Labrada won three. (10) Even though neither defeated Haney head-to-head, both Gaspari and Labrada cemented their own world-class legacies in the sport.
Ronnie Coleman Vs. Flex Wheeler
Bodybuilding has a strange way of disrupting the expectations of its fans. This is especially the case whenever a legend of the sport retires. When Arnold retired, everyone tipped Franco to become the next champion. Likewise, when Haney left, few predicted that Dorian Yates would be the one to take his place at the top
It is equally hard to convey the magnitude of Ronnie Coleman's 1998 Mr. Olympia victory. Although Coleman astonished fans with his level of conditioning onstage, much of the surprise was due to the fact that he had beaten Flex Wheeler to the crown.
Wheeler is heralded as one of the best bodybuilders to never win an Olympia title. His contemporaries, including Coleman, widely regarded him as having the greatest genetics of his generation. When Yates retired, most assumed it would spark the beginning of the Wheeler era.
However, fate intervened. Coleman and Wheeler had competed against one another prior to 1998 and developed something of a rapport — Wheeler had, perhaps unwisely, even given advice to Coleman on how to improve his presentation at multiple turns. (11) Coleman used that advice to win it all in 1998.
The two men, who remained friends despite the rivalry, later gave an interview about their history. Wheeler jokingly recalled the anger others felt about the help he had given to Coleman.
"I remember people coming up to me and saying, what did you do, Flex? You got him working with Chad [Nicholls], and look at him now! But the way I saw it, if I hadn't tried to help you, if I had tried to keep you down, I wasn't a champion. A real champion welcomes the competition. I remember you saying you just hoped to make the top five at the Olympia that year, finally. But we all know what happened at the Olympia that year in New York." (12)
In the end, Coleman beat Wheeler by three points at the 1998 Olympia. He finished ahead of him again in 1999 and 2000, after which Wheeler stepped away from the sport for two years. Wheeler returned to the Olympia in 2002 (and again in 2017, in Classic Physique), but he could not escape out from under Coleman's shadow.
Jay Cutler Vs. Ronnie Coleman
Where Haney had Gaspari and Yates had Ray, Ronnie Coleman had Jay Cutler. When Yates retired from bodybuilding after the 1997 Olympia, few predicted Ronnie Coleman would be his successor. Not only did Coleman win in 1998, but he also won again, and again, and again — for a total of eight Mr. Olympia titles. To this day, Coleman and Haney are tied for the most Olympia victories by a male.
From 2001 to 2005, Jay Cutler finished a spot behind Coleman. Cutler became a fan favorite — an underdog trying his best to defeat the unstoppable Ronnie. The Massachusetts native became so disheartened by his runner-up status, however, that he considered retiring from bodybuilding altogether. Cutler couldn't see himself besting Coleman on the biggest stage of them all. (13)
In 2006, Cutler took to the stage one last time and, in one of the sport's sweetest moments, finally defeated Ronnie Coleman to win the Olympia.
https://youtube.com/watch?v=0we0SUNCnOU
A keen student of the sport, Cutler contextualized his victory as one for underdogs everywhere:
"To have all those second (placings), I was second to him four times. Most guys would have given up. It seemed like there was a curse of the second place Mr. Olympias. If you go back to like Rich Gaspari, and Kevin Levrone, Shawn Ray, all these guys — they never end up getting the title. They all pursued that title and then fell back, whereas I was the one who was able to leap forward and actually win the title." (14)
Cutler went on to win the Olympia three more times in 2007, 2009, and 2010. Coleman dropped to fourth place in 2007 and then never returned to the Olympia stage. In 2008, Cutler was shortly dethroned by the now-retired Dexter Jackson. Cutler is only the third Mr. Olympia winner in history to win non-consecutive titles (the others are Schwarzenegger and Columbu).
Lenda Murray vs. Iris Kyle
Running alongside the Coleman-Cutler feud was the clash of Iris Kyle and Lenda Murray for the Ms. Olympia title. Two of the greatest and most dominant female bodybuilders of all time, they account for a combined 18 Ms. Olympia titles — 10 for Kyle and eight for Murray. Their rivalry spanned from 2001, when Kyle first competed at the Olympia, to 2004 when she finally overthrew Murray.
Kyle and Murray were not the only dominant figures in the sport during these years, as Juliette Bergmann's victory in 2001 makes clear, but their feud was the most intense. Murray continually criticized Kyle for her excessive muscularity and her win-at-all-costs approach. Kyle ignored these comments, at least during her active career, using them as inspiration to return to the stage with a more impressive package each time. (15)
For fans of the sport, Murray vs. Kyle was a spectacle — a chance to witness new blood challenge an old legend. While their rivalry did at times spill over into personal attacks, it made their stage appearances all the more intense. Kyle finished second to Murray in 2002 and 2003 before finally overthrowing her idol in 2004. She would go on to be unstoppable at the Olympia until 2014, becoming a 10-time champion.
Jay Cutler Vs. Phil Heath
Whether he was aware of it or not, Flex Wheeler helped mentor and shape Coleman's career. The same was true for Coleman's successor Jay Cutler, and as well for the man who ultimately dethroned him at the Olympia, Phil Heath.
In 2003, Cutler met Heath while guest posing at an NPC show in Colorado. Cutler was still some years away from defeating Coleman, and Heath was a 192-pound amateur bodybuilder just getting started in his career. (16) Impressed by Heath's genetics and drive, Cutler gave some friendly advice and thought nothing more of it.
Fast-forward five years to 2008, and the two men were competing on the same Olympia stage. In the interim, Heath had earned a pro card, been introduced to FLEX magazine through Jay Cutler, and, of course, amassed fifty-plus pounds of raw muscle. He had yet to earn his moniker as "The Gift," but few doubted Heath's trajectory to the top.
Over the next three years, Heath and Cutler played up their brotherly relationship on stage. They publicly praised one another in the press, engaged in friendly banter on stage, and encouraged the crowd to cheer for both of them simultaneously on more than one occasion. It wasn't unheard of for cries of "Heath/Cut-ler/Heath/Cut-ler" to resound across the Olympia auditorium. (16)
In 2010, Cutler won the Olympia and Heath finished second, eight points behind. One year later, their positions were reversed. Heath's first victory spurred remarks by journalists and fans that the student had finally upstaged the teacher.
And unlike Zane or Mentzer, Cutler didn't hold a grudge or seek redemption. The man who had taken the belt from Ronnie Coleman was unable to contend with "The Gift." Cutler missed the 2012 Olympia due to a biceps injury and placed sixth when he returned a year later. By that time, though, Heath had found a fresher, more formidable opponent.
Phil Heath Vs. Kai Greene
While Cutler and Heath maintained an atmosphere of comradery and mutual respect on and off the stage, the same cannot be said for Heath's beef with "The Predator" Kai Greene. Greene was the Jay Cutler to Heath's Coleman. A crowd favorite figure for bodybuilding fans, Greene took the silver medal thrice over at the Olympia, each time losing to Heath.
Such was the gravity of Greene's struggle that his campaign to overthrow Heath became a central plot point of the 2013 film Generation Iron, a spiritual successor to Pumping Iron. In the documentary, Greene was depicted as a hardworking underdog trying to match up against a seemingly unstoppable adversary.
This was the first rivalry, outside of Mentzer and Arnold, that genuinely felt contentious. At the Arnold Classic Europe in 2013, the two men nearly came to blows on stage. At the 2014 Mr. Olympia, they had a similarly explosive back-and-forth exchange.
When posing on stage, competitors tend to respect each other's personal space. As their repeated tensions escalated to a boiling point, Heath and Greene attempted to crowd one another out, each taking steps to physically overbear the other.
Despite Greene's best attempts, he could not shake Phil on the stage or the scorecard. Greene retired from the Olympia in 2014 after an extremely fiery press conference spat with Heath. He made a brief competitive return in 2016 and continually hints at another Olympia, but never bested Heath on the biggest stage in the sport.
Looking Forward
Modern-day bodybuilding is in a different place. From 2018 to 2020, there have been three unique Mr. Olympia winners. This hasn't been the case since the early 1980s, when Schwarzenegger, Columbu, Chris Dickerson, and Samir Bannout won the title. The sport is seemingly in a state of flux where any of the players in the upper echelons could reasonably walk away with the title.
The cancellation of the Ms. Olympia event in 2014 has also dampened the competitive climate in the women's circuit over the past few years, limiting the capacity for rivalries to emerge. That said, Ms. Olympia returned in 2020 — which Andrea Shaw won — possibly opening the door for new competitive collisions.
It's a fairly safe bet that the next era of professional bodybuilding will be marred by rivalries both on and off the stage. But with the landscape undefined and so many pieces in play, the shape of the board is a much harder question to answer.
References
Clinton Emshoff, 'Should Reg Park Have Beaten Steve Reeves at the 1950 Mr Universe,' Enduring Aesthetics. 25 March 2019. https://www.enduringaesthetics.com/post/reg-park-steve-reeves-mr-universe-controversy.
Fair, John D., and David L. Chapman. Muscles in the Movies: Perfecting the Art of Illusion. University of Missouri Press, 2020, 23-44.
Schwarzenegger, Arnold. Arnold: The education of a bodybuilder. Simon and Schuster, 2012, 104.
'Frank Zane vs. Franco Columbu: A Golden Era Rivalry,' Old School Labs. https://www.oldschoollabs.com/frank-zane-vs-franco-columbu/.
Ibid.
Peter McGough, 'THE 1980 "MENTZER-ARNOLD" BUST-UP!,' Digital Muscle. https://www.digitalmuscle.com/master-archive/the-1980-mentzer-arnold-bust-up/.
'The Best Mr. Olympia Rivalries of All Time,' Muscle and Fitness, https://www.muscleandfitness.com/athletes-celebrities/news/best-mr-olympia-rivalries-all-time/.
Quinn Myers, 'How a Tiny, Red Male Thong Changed Pro Bodybuilding Forever,' Mel. https://melmagazine.com/en-us/story/how-a-tiny-red-male-thong-changed-pro-bodybuilding-forever
John Hanson, 'Lee Labrada Interview,' Bodybuilding.com, https://www.bodybuilding.com/fun/leelabrada.htm.
'Clash of the Titans,' Bodybuilding.com. https://www.bodybuilding.com/fun/clash-of-the-titans-bodybuildings-10-greatest-rivalries.html
'Ronnie Coleman and Flex Wheeler: Reflecting on Friendship,' Muscle Development. https://www.musculardevelopment.com/training/team-md-blogs/ronnie-coleman-blog/14941-ronnie-coleman-flex-wheeler-reflecting-on-friendship.html
Ibid.
Gary Goldstein, 'Review: 'Generation Iron' an intimate portrait of bodybuilders – Los Angeles Times,' LA Times. https://www.latimes.com/entertainment/movies/moviesnow/la-et-mn-generation-iron-review-20130920-story.html.
Tom Miller, 'Jay Cutler Reflects On Beating 'The Greatest Ever' Ronnie Coleman To Win Mr. Olympia,'
'Iris Kyle,' Evolution of Bodybuilding, https://www.evolutionofbodybuilding.net/iris-kyle/.
Greg Merritt, ''10-year Friendship Rivalry between Mr. Olympias Phil Heath and Jay Cutler,' Muscle and Fitness. https://www.muscleandfitness.com/flexonline/ifbb/10-year-friendship-rivalry-between-mr-olympias-phil-heath-and-jay-cutler/
Featured Image: Kevin Laval under Creative Commons CC0 1.0.