If you're looking for a modernized water rower, the Life Fitness Row HX may be the rowing machine for you. It has all the basics you'd want in a water rower, but unlike your average water rower, you can change the resistance on this machine. Plus, its natural wood frame is easy on the eyes, making it a great addition to any room in the house. And if you're working on building a home gym, the Life Fitness HX rower will fulfill both your cardio and strength needs.
Main Takeaways
The Life Fitness Row HX has four resistance levels even though it's a water rower.

This machine can be stored vertically when it's not in use to save floor space. 

It's powered by two D batteries, making usage pretty simple compared to other rowers you may need to plug in.
Life Fitness Row HX Trainer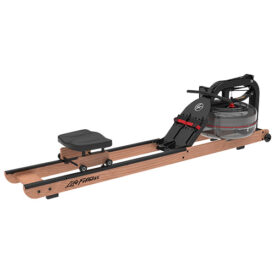 Life Fitness Row HX Trainer
The Life Fitness HX rower is a durable water rower that offers four resistance levels, quality stat tracking and a beautiful wood frame that will add to the aesthetic of any room. With a contoured seat and adjustable footboards and straps, this rower can fit most any user.
Life Fitness HX Rower Highlights
​
This HX Rower is fairly basic when it comes to features. You won't find any programs in its console, but it does track all your necessary stats on its display screen. It's good for space-saving since it can be stored vertically, but its seat is a bit low to the ground, which may not be easily accessible for all users. Overall, if you're looking for a piece of equipment that gets the job done and doesn't include any confusing technology to distract from your workout, this could be the one for you. But if you are the type who loves those streamable classes, you can find rowers with better fitness class access elsewhere on the market.
Who Should Buy the Life Fitness HX
Athletes who don't want a lot of technology messing with their

at-home workouts

.

Those looking for a water rower with the option to change resistance levels.

Anyone who is looking to save space and needs something less than 7 feet tall when stored vertically.
Who Shouldn't Buy the Life Fitness HX
Users who will have trouble accessing a low seat.

Athletes with a wider frame who don't want to mess with a narrow machine.

Rowers who want pre-programmed workouts ready to go in their console.
Price
​
This rower retails for around $1,499, which puts it in the middle of the price-spectrum when it comes to rowers. However, it is quite rare to find a water rower with four different resistance settings, so if you love water rowers but hate that they normally don't let you change the resistance, this may be worth the price for you.
Overall Build and Quality
​
Sometimes simpler is better. You're going to find that overall, this is a sturdy and durable rower that will last long enough to make it worth its price tag. However, it doesn't come with a whole lot of fancy features that other rowers at this price point may include. If lots of technology is something you're looking for, you won't find it here. But if you're looking for a rower that sounds and feels like you're on the water, gets you sweating and stores away easily when it's not in use, the Life Fitness HX has you covered.
Features
​
You'll find all the stat-tracking you need on this small display screen, but you won't find much technology outside of that. There aren't any included workouts and this rower doesn't come with any fitness subscriptions, so you will have to be comfortable rowing on your own to use this machine. If you are, the contoured seat and adjustable footboard will make your ride comfortable enough to feel the glide in no time.
Stats Tracking and Metrics
​
You can track your time, split time, pulse, strokes per minute, calories per hour, distance and watts on the display screen.
Display
​
This display is fairly small, so it's not the easiest to read, but it does show you all the stats you need to track for a solid workout.
Included workouts
​
This machine does not have any included workouts, so you'll have to be comfortable rowing on your own. However, rowing is a great workout for both increasing endurance and building muscle, so even if you aren't following a workout class, you will still see results.
Workout Apps, Compatibility
​
and Subscription Options
This rower doesn't come with any fitness subscriptions, but you can opt to use a third party app and listen to a class as you row through Bluetooth headphones. If you want to watch a video stream of a class, you'll need to position the rower in front of a TV or have a stand for your tablet at the ready next to the HX.
Feel
The Fluid Technology resistance system makes each stroke seamless and natural, creating a smooth flow that will feel similar to rowing on the water.
Ergonomics and Comfort
The Life Fitness HX has an adjustable footboard with foot straps that will fit almost any shoe size. The seat is contoured to make you feel comfortable throughout your session, and the handlebars are curved in to reduce the impact on your wrists as you pull.
Heart Rate Monitoring
​
This machine is compatible with both Polar H7 and H10 heart rate monitors via Bluetooth, but it does not come with them — you will have to purchase a separate package if you want included heart rate monitors.
HDMI, USB and Other Inputs
​
There is a USB port on the Life Fitness HX that you can use for online workout data tracking.
Product Specs
​
This rower weighs 71 pounds without water and 108 pounds with water. It's made of natural wood and features a tempered steel frame, making it both aesthetically pleasing and durable. It has a lower weight capacity, but it does still feature resistance levels that most water rowers do not.
Rower Type
This is a water rower, which means it uses water in its tank to create resistance with each stroke. It's the closest feeling you'll get to being out on the water while you're using a rowing machine indoors.
Max Height
The Life Fitness HX can accommodate users up to 6'5″ without cutting their strokes short.
Weight Capacity
​
This machine can hold users of up to 330 pounds, which is a little on the lighter side considering the average is 500 pounds.
Folding Options and Dimensions
When in use, the Life Fitness HX is 83.85 x 20.47 x 22.04″, but when you store it vertically, it's the perfect size to squeeze into the corner of any room.
Max Resistance
​
This rower has four levels of resistance, which is rare for a water rower. Typically with water rowers you just pull with more power to make the row harder. With this rower, the tank is divided into two chambers (active and passive). You'll find an adjustment dial on top and if you want to increase resistance, you turn the dial up and some of the water from the passive chamber will move into the active chamber to make your row a bit tougher.
Electrical Requirements
The Life Fitness HX is powered by two D Batteries, so no need for a power outlet here.
Warranties
​
With your purchase, you'll get a 5-year warranty on the frame, a 3-year warranty on the tank and seals, a 2-year warranty on mechanical and a 1-year warranty on both the console and labor.
Noise
Since this is a water rower, it's pretty noisy. If the whoosh of the water is not something you're interested in listening to, you should opt for a magnetic resistance rower, as they are much quieter.
Places to Buy
You can buy the Life Fitness Row HX Trainer through Life Fitness.
Company Information
​
Life Fitness has produced reliable exercise equipment for over 50 years. They design treadmills, bikes, rowers and strength accessories, including medicine balls, heavy bags, and barbells.
FAQs
Is the Life Fitness HX rower heavy?
It's about average without the water — most rowers, like this one, weigh around 70 pounds. But if you add the water in, it makes it a bit heavier. Still, you'll have no trouble maneuvering this rower as it has wheels for easy storage.
Can you take classes on the Life Fitness Row HX?
No, this display only allows for stat-tracking. There are no pre-programmed workouts on here. However, if you choose to use a third party app, you can listen to a class via Bluetooth headphones and row along or position the rower in front of a screen.
Is the Life Fitness Row HX worth the money?
If you are looking for a machine that doesn't have a lot of features that take away from the actual workout, then yes. This is a great water rower that will last for a long time. However, you can get other great rowers that also have a lot of cool technological features and class streaming options at this same price point.