Punching bags are popular pieces of training equipment not only for those practicing forms of combat, martial arts, and defense, but also for those just hoping to work on their agility and strength-training. Punching bags can utilize several muscle groups ranging from the core, upper body, lower body, and back. There are several different punching bag styles that most of the leading brands base their equipment off of, while they can also be made of various materials, both inside and out. With the wide variety in bags, first-time shoppers and experienced boxers alike may need some guidance figuring out which product is right for them. We've looked at some of the most popular offerings to see what sets them apart.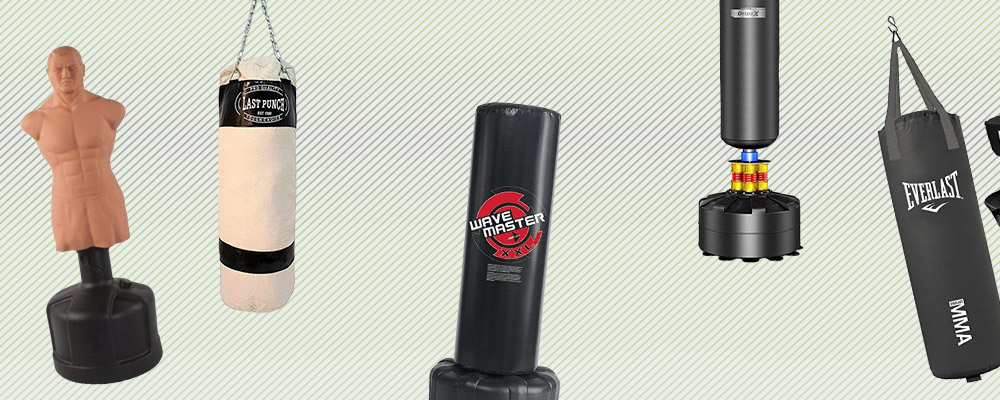 Editor's Choice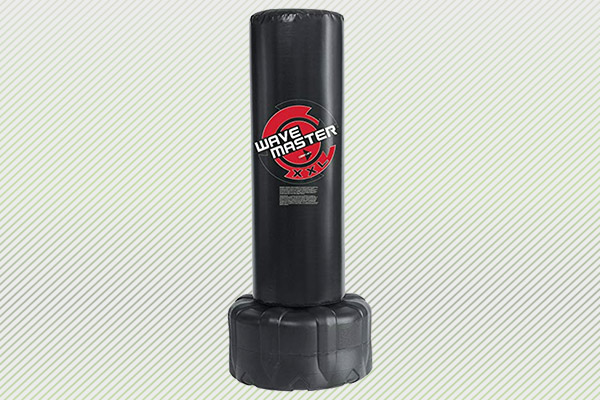 Century Wavemaster XXL Training Bag
Pros: 
69" tall. At just under six feet tall, this training bag allows users to practice both low and high punches and kicks. This is ideal for tall customers looking for a punching bag that doesn't limit their punch range.

3 color options. This bag has the option of being purchased in red, blue, or black. Most competitors only offer one color option.

Low-profile base. Because this punching bag isn't hanging, users can utilize a whole range of surface area from just above the ground all the way to the top of the bag. This makes high and low strikes possible without destabilizing the punching bag.
Cons: 
Need to re-screw to base after use. The bag portion of the equipment tends to come a bit loose after punching it for a while. It will need to be tightened during and after workouts.

Water can spill out. If users punch the bag too hard, it can tumble over and spill out water. Sand may be a better option for those hoping to really wallop the bag.
The Contender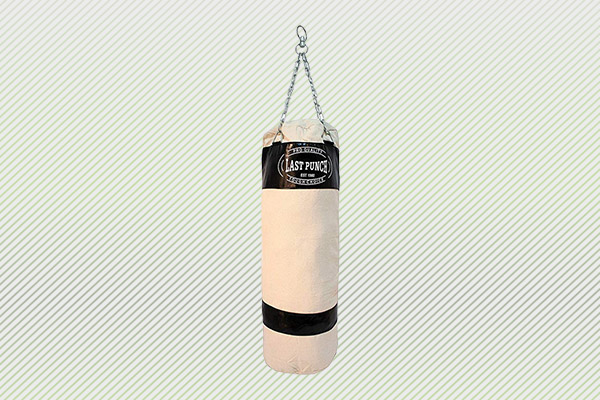 Last Punch Heavy Duty Punching Bag
Pros:
Customizable fill. This bag arrives empty with its contents to be decided upon by the user. This allows customers to customize the density and weight of the punching bag. Common fillings are old clothes, empty trash bags, gravel, and sand, or any combination thereof.

18" diameter. With an 18 inch diameter, this is one of the larger hanging punching bags available amongst its nearest competitors. This allows users to vary their striking locations, encouraging more footwork during training.

Price. Because this bag arrives without any fill, Last Punch can offer this product for a steep discount. Customers can often find this bag available for less than the cost of a month's gym membership.
Cons:
Can be more painful. Canvas is a rougher material than vinyl or leather-like surfaces. It is recommended that users wear gloves when practicing with this punching bag.

Users can mess up fill. While it makes the bag much cheaper in cost, the fact that users need to fill the bag with their own fill, whether it be old clothes, sand, or gravel, adds a layer of inconvenience that some customers may want to avoid altogether.
Best Bargain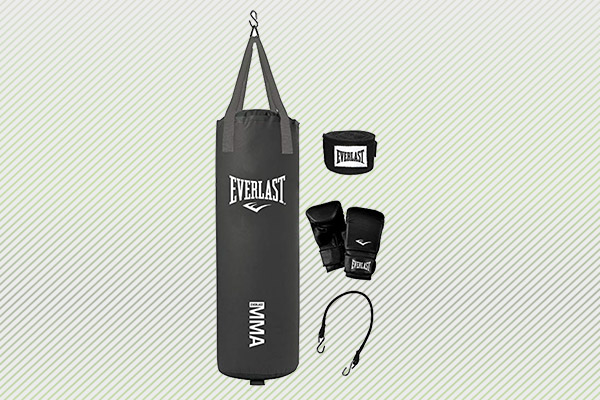 Everlast Traditional Heavy Bag Kit
Pros: 
Bungee add-on. Users can add additional pound resistance by adding on the included bungee cord. This makes the punching bag have the resistance of a 100 pound bag.

Gloves and hand wraps included. A nice benefit of getting this set is that Everlast includes both gloves and 108" hand wraps. Hand wraps are worn on the hands underneath gloves to add a layer of protection to hands and wrists.

Value. This imitation leather bag has the feel of a professional punching bag, but costs a fraction of the cost. The fact that there are gloves and hand wraps included makes the value even sweeter.
Cons: 
Will probably need better gloves. Though it is great that Everlast includes gloves and hand wraps, those who are hoping to use this bag heavily will probably need to invest in longer hand wraps and more stout gloves.

Hard bag. It will take users some time before breaking this bag in and softening it. Upon first use, there is not much give when punching it.
Best for All Ages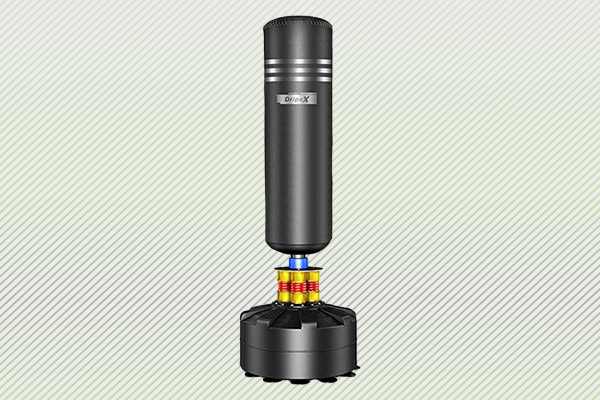 Dripex Freestanding Punching Bag
Pros: 
Kid and adult options. This punching bag from Dripex comes both in a 47" height version designed for kids who are starting their training early and a 69" version for adults. Both versions come in black, while the kids one also has a red or blue option.

Suction cup base. The Freestanding Punching Bag from Dripex uses a series of twelve suction cups to attach stoutly to the floor. The kids version has a steel base, while the adult version has a sand or water-filled based for added stability.

Absorbers and springs. Both versions have shock absorbers made out of Thermoplastic polyurethane (TPU) and four removable springs at the base of the equipment, included to minimize the noise emanating from each punch.
Cons: 
Can't practice low kicks. As the bag portion begins at around 3 feet or so, users will not be able to practice low kicks, as these will hit the base and potentially topple and damage the equipment.

Hard to relocate

. Once users have established adhesion using the suction cups and filled with sand, it will be very difficult to relocate. It is advised to think hard about the location before setting it up.
Best for Self Defense Training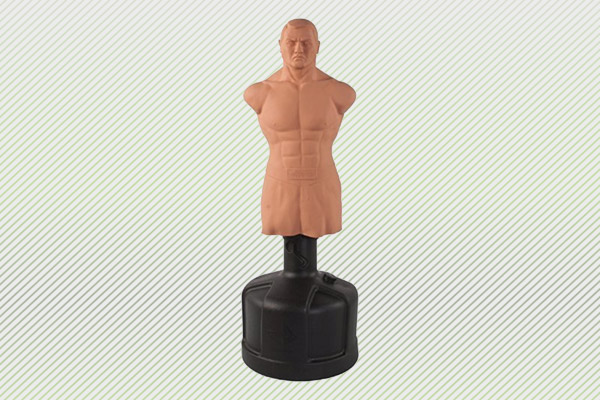 Century BOB XL
Pros: 
Torso shape. This punching bag offers a different target than most; users can punch a realistically shaped human torso and head. This can go a long way in mimicking real-life training partners. Great for defense training.

Can roll. The Century BOB XL can hold up to 270 pounds of sand but is still designed for easy transport. Users can tilt the unit on an angle and roll it to storage after use.

Multiple height settings. A great feature of this lifelike punching bag is that it can have its height adjusted to satisfy a wide range of training needs. It can stand anywhere from 60 to 80 inches tall.
Cons:
Putting in sand can prove difficult. The hole to put sand or water into the base is rather small. Putting in 270 pounds of sand can take a while and involve some spillage.

Stationary. Punching bags that hang or the kind that have springs have more natural motion to them after impact. This torso stays rather stationary, so it does not quite mimic the dynamics of boxing.
How We Picked
Punching bags may seem like simple pieces of fitness equipment, but they are actually somewhat complicated products that need to be built to withstand loads of punishment. Because there are different avenues to achieve that durability, manufacturers can produce punching bags that share little in common other than their name. When shopping for a punching bag, users should try to understand the unique qualities of each offering, as these seemingly marginal differences might make one product a better fit. Here are the factors we used in evaluation the top punching bags on the market.
Structure
A key difference that is plain to see between different punching bags is the structural quality of the product. That is to say, some products will hang from the ceiling using chains and hooks, while others will be ground-based. Hanging punching bags require a bit more complicated assembly process; many people will hire help to get their hanging punching bags installed. Hanging bags can offer more lateral movement as it swings after strikes; this can be a facsimile of the movement that happens in actual combat sports.
Free-standing punching bags typically are easier to set-up; they may require their bases being filled up with sand or water, but no additional hardware or tools for installation. These are easier to relocate, as there is no permanent structure put in place to support them. These do not swing in the same way that hanging punching bags do, but often will lean backwards after strikes, thus providing some kinetic resistance to train with.
Cost & Material
Punching bags can be priced with a huge gulf between the highest priced and the most affordable. Quintessential in determining the price of most punching bags is going to be the material they are made out of. Leather, vinyl, and imitation leather will cost the most. Canvas bags tend to be the most affordable, as are any bags that are to be filled by the customer. These types of bags will need to be filled with items that create bulk but provide some softness. Common fill items are old clothes, garbage bags, sand, gravel, and sawdust. If filling the bag with clothes, users should take buttons and zippers off of the clothing if possible to prevent possible damage to their hands.
Free-standing bags also tend to be a bit more expensive than the hanging variety. These need to have a more durable structure to withstand impact while staying upright. Some variations of free-standing bags use the weight of sand or water to keep them grounded, while others use suction devices. However, with free-standing bags as with hanging bags, it will be the material that makes the biggest difference in pricing.
Tips
Not sure which punching bag is right for you? Take a look at the below tips to help guide your decision making:
Where will you put the bag? One of the drawbacks of the hanging punching bag is that you will probably need to create a semi-permanent place for the punching bag to live. You will need to install hardware allowing the bag to hang from chains. This will need to be installed securely lest the bag become unstable after a strike and possibly damage property or even cause injury.

Some bags have quite sturdy bases that may be difficult to move after installation. Punching bags with suction buttons, when combined with hundreds of pounds of sand or water, may be especially difficult to move. Other bags have designs that allow them to be rolled into storage if need be.

How much will you be using this bag? Some bags are designed to last longer than others. This is typically by virtue of the material they are made out of. The bags made out of leather tend to last the longest, while bags made out of canvas may deteriorate more quickly. Bags made out of canvas make user's hands endure a bit more hardship, due to the more textured surface.

The thicker and bigger the bag, the longer they tend to last. Users who are serious about boxing training and plan on utilizing their punching bags every week should probably opt for a more professional (and expensive) bag.

What discipline are you training in? If you are training in a specific combat art, different bags may offer more potential in terms of training possibilities. For example, if your discipline relies on low kicks and shin blocks, then a free-standing punching bag might be preferable. Not all free-standing bags have components that can endure a strike in the lower part of their design however.

Some bags have adjustable heights or are just plain taller than other bags. These are better suited for exercises featuring high kicks and high strikes. Torso punching bags are the best suited bags for self-defense training.