We receive free products and receive commissions through our links. See
disclosures page
.
For athletes training for a sport, individuals looking to build up their own speed and agility, or coaches and physical education teachers simply looking to mark points on a field, agility discs are a great option for demarcating space. Setting up agility discs is a perfect way to facilitate footwork drills for all types of sports and field events.
The agility disc category runs the gamut from large quantities of discs that are ideal for coaches and physical education teachers to mark multiple spaces in large areas, to merely being one component in personal speed and agility training kits. Here are some of the options we found to be the best in the agility disc category.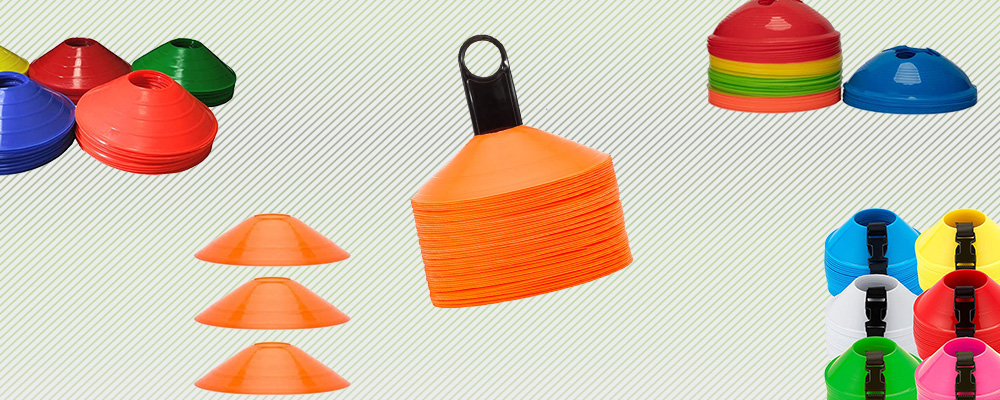 Editor's Choice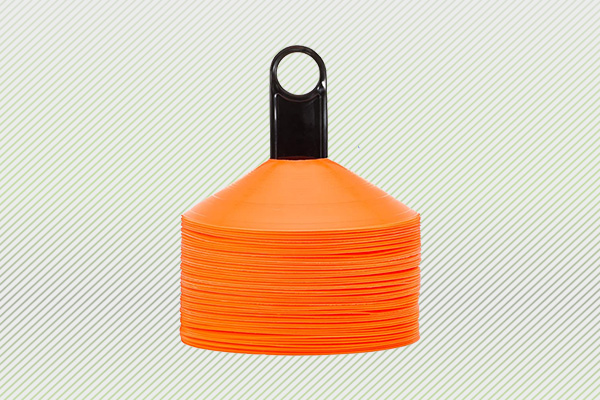 Profect Sports Pro Disc Cones
Pros:
This set of 50 agility discs is large enough to accommodate coaches or instructors who need to mark larger areas.

Choose from a single color, a two-color, or a five-color set.

The high-visibility colors are easy to see in a large field.

The set comes packaged on a rod that makes the discs easily stackable, and in a mesh bag that's easy to transport.
Cons:
The discs are lightweight, but the build quality can be a little thin which can present potential problems in windy conditions or when stepped on.

The discs stand two inches off the ground, which may present visibility issues in longer grass.
Profect Sports Pro Disc Cones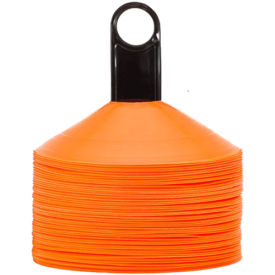 Profect Sports Pro Disc Cones
This easily transportable and storable set of agility discs includes 50 pieces, making it perfect for marking points on larger areas like a soccer field or gymnasium. Choose from one, two, and five-color sets based on the application, and enjoy the high-visibility options for clear sight in large areas.
Contender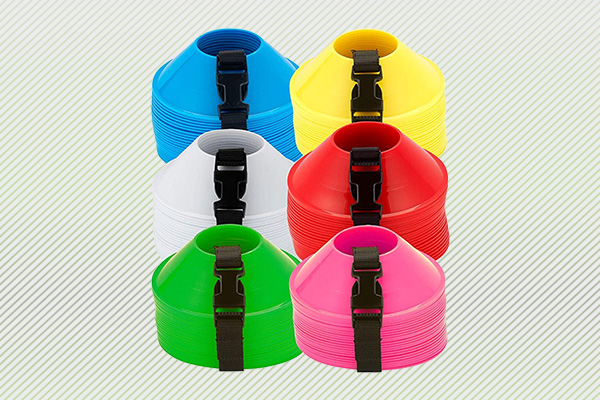 American Challenge Soccer Mini Disc Cones
Pros:
The set of 25 agility discs is ideal for smaller group drills or personal training.

Choose from six bright, distinct color options.

Each set of 25 comes with a clasped strap for convenient carrying and storage.

The smaller sized discs stand 1.25 inches tall, and the entire stack is short enough or easy transport in a backpack.
Cons:
There are no mixed-pack color options, which may be inconvenient for someone looking to create team or group delineations with disc color.

While the nylon strap is great for containing and carrying the discs, the package could benefit from the addition of a bag for transport.
American Challenge Soccer Mini Disc Cones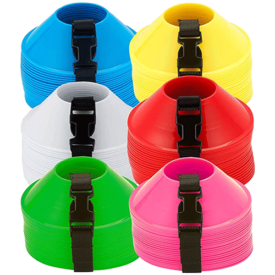 American Challenge Soccer Mini Disc Cones
Featuring 25 small-size, stackable agility discs, this set is both functional and portable, especially for coaches and instructors in charge of smaller groups, or for personal training purposes. The agility discs come in six bright color options for enhanced visibility, and the included nylon strap makes them easy to contain and transport.
Best for Large Groups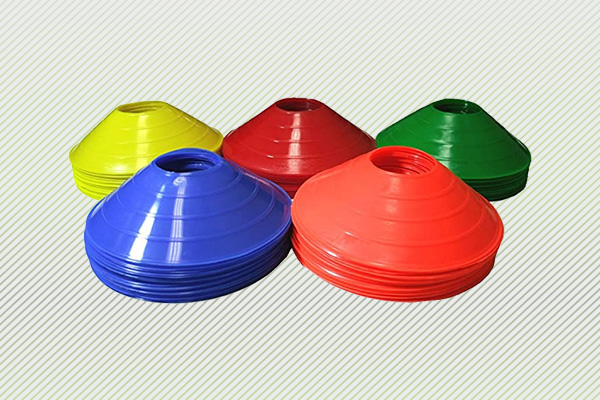 Boshen Soccer Disc Cones
Pros:
With 100 agility discs, this set can be used to mark large areas, perfect for coaches or teachers responsible for bigger groups.

The set contains five bright colors so different activities, exercises, or group designations can be easily assigned by color.

The discs are made of a durable polypropylene which won't crack or fade in rough weather conditions.

The amount of discs in the set makes them a great bargain in the category. 
Cons:
The set doesn't include a stand for storage or a bag for transport, which can make the discs a bit unwieldy.

The larger quantity may be more than the average coach or instructor may need.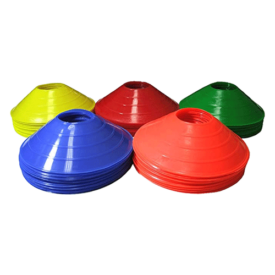 This set of 100 agility discs is a great option for a teacher or coach who needs to set up agility drills or demarcate a field that covers a lot of ground or to accommodate a large number of athletes. With five distinct color options, the set can be used to isolate specific drills or designate teams for separate events. At its lower price point in the category, this no-frills set is a great option for the budget-conscious.
Best for All-Weather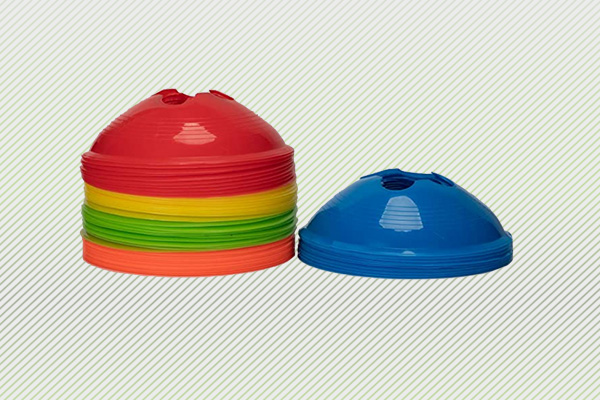 KEVENZ 50-Pack Soccer Disc Cones
Pros:
This set of 50 agility discs is made of soft plastic, but features a thicker build quality compared to others in the category, making it a great option for harsher weather or windy conditions.

The set comes in five bright colors for easy visibility.

The discs are held together with an included nylon strap for easy storage and transport.

The flexible material can be stepped on without risk of damage.
Cons:
The build quality on the carrying strap could definitely be improved upon to match the durability of the discs.

The lack of a carrying bag makes the discs slightly more of a hassle to transport.
KEVENZ 50-Pack Soccer Disc Cones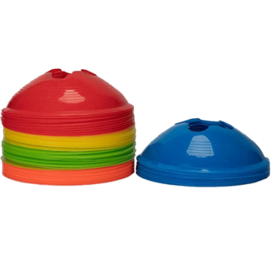 KEVENZ 50-Pack Soccer Disc Cones
Made of a thicker soft plastic than comparable agility discs in the category, this set of 50 discs is a great option for those looking to set them up in more rugged terrain or in harsher weather conditions. With five distinct, bright color options, the set is the right size and variety for a number of event and exercise applications without having too many extraneous pieces. The included nylon strap makes containing the discs simple.
Best for Individual Speed & Agility Training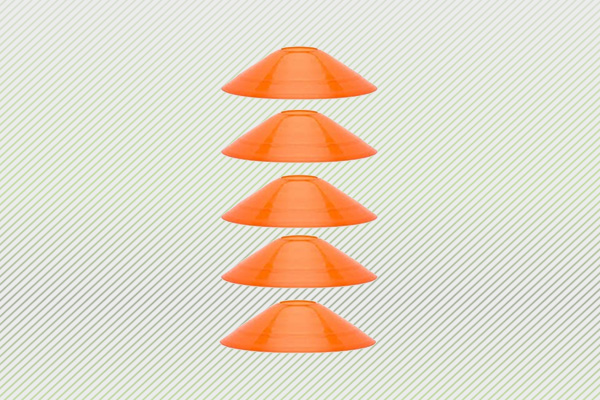 CANPPNY Speed Agility Training Kit
Pros:
This complete speed and agility training kit not only contains agility discs, but an agility ladder, and a resistance parachute as well.

The set of five two-inch tall agility discs is perfect for setting up footwork drills.

The included agility ladder provides an additional opportunity for footwork drills, and the included steel stakes help hold the ladder in place.

The entire set includes a carrying bag for easy transport and storage.
Cons:
Because of the smaller quantity of agility discs, this kit is much more suited for individual or small group training as opposed to larger group work.
CANPPNY Speed Agility Training Kit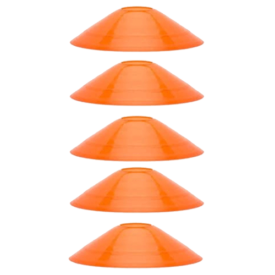 CANPPNY Speed Agility Training Kit
This complete speed and agility kit has multiple components for improving footwork and overall explosive running. The kit contains not only five agility discs, but an agility ladder for quick-motion precision foot drills. It also contains a resistance parachute to improve sprints. The entire kit comes with a carrying bag for easy storage and transport.
Methodology
In reality, the world of agility discs isn't as varied as other fitness products. There isn't a price difference of hundreds of dollars between different types of agility discs, with the high end representing a radically different product. That said, there are certain qualities that can help distinguish better and worse choices in the category. Here were some of the factors we considered when determining the best.
Quantity
One of the biggest distinctions in a category like agility discs where products come in multiple piece sets is the number of pieces included. In most cases, we erred on the side of more, because having too many agility discs is always better than having too few when you need them. The sweet spot typically landed around 50 discs in a set, yet sets as high as 100 also offered great value for the number included.
Build Quality
Even though agility discs are often sold in bulk quantities, that shouldn't mean that they sacrifice quality. What good are markers that define precise movements if they can lose their position in a moderate breeze? Additionally, if a disc is stepped on in a drill, it doesn't do anyone any good if they crack or warp and become unusable. We favored discs that had a certain amount of resilience to handle everyday wear and tear, which typically meant some sort of soft plastic that would remain pliable and durable during activities.
Color Variance
For physical education teachers or coaches, agility discs can be used to demarcate individual drills or separate teams, and as a result, it was important that discs come in differentiated colors to help define those separate exercises. We tended to favor agility disc sets that featured multiple color options to meet the needs of the end-user. Some sets offered options for simple two-color variations, while others had as many as five or six colors. For our purposes, the more color options the better.
Visibility
While having color options is great, it was also important that those colors be vibrant and visible on a field. Brighter colors tended to be the best option, but that wasn't the only factor that helped determine overall visibility: the size of the discs also played a factor. We liked agility discs that had a larger overall size, both height, and width, that would help them stand out and remain visible, even in long grass.
Storage and Transport
When dealing with multiple-piece sets, especially those that need to be transported to a field, it's important that they not become unwieldy. The best agility disc sets had some sort of organizing element, whether it be a nylon strap that can be used to tether the discs together or a central pole that enabled easy stacking. Additionally, the inclusion of a storage bag or case not only helped keep the discs organized, but made them much easier to transport to and from an event.
BarBend Tips
Take a hard look at the number of agility discs you think you'll need before committing to a set, and then overestimate it. If you're an individual simply looking to have some markers for your own training, a set in the 25 disc range will likely be more than enough; but if you're a coach or teacher that may need 50 or even 100 at some point, always err on the side of having more than you need. Because agility discs can be damaged over time with heavy use, having some replacements on hand is never a bad idea.
Consider the weather and potential field conditions in which you expect to use the agility discs. Having lightweight pieces of plastic blowing all over the field if you're trying to run drills in gale-force winds can be more of a headache than it's worth. If you know you're going to need agility discs capable of withstanding harsher conditions, opt for something with more weight or heavier build quality to keep them firmly in place.
Agility discs are a great multi-purpose tool for coaches, teachers, or individuals looking to define spaces on a field or court. Not only are they perfect for practicing tight movements and footwork, but more broadly they can be tools used to parcel off fields into individual teams or activities. For such a simple design, they can really provide an astronomical number of valuable applications in fitness training and sports.