Set the incline to 40 percent on this machine and you will legitimately look like you are hiking up a mountain. Yes, the NordicTrack Commercial X22i treadmill inclines all the way up to 40 percent and all the way down to negative six percent, so you can replicate all sorts of terrains. It's ideal for anyone trying to implement higher inclines or declines into their training or try out a "Sled Push" option to increase your strength by pushing the belt with your own leg drive.
Main Takeaways
This

treadmill

has an incline-decline range of -6 percent to 40 percent.

The Integrated Sled Push feature allows you to manually move the belt, upping your

calorie burn

and increasing your strength

.

You receive a free one-year iFit fitness class subscription membership with your treadmill purchase.
NordicTrack X22i Treadmill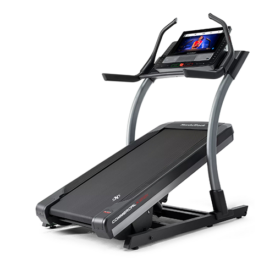 NordicTrack X22i Treadmill
The NordicTrack Commercial X22i is built for those who want to climb. The machine inclines up to 40 percent and declines down to -6 percent. It features a Sled Push option where you can power the belt with your own leg drive, and it has a 22-inch touchscreen display where you can follow your workout and take iFit classes.
NordicTrack Commercial X22i Treadmill Highlights
​
The NordicTrack Commercial X22i is great if you're looking for a modernized high-tech piece of technology that also challenges you physically with its high inclines and low declines. However, as you can imagine, a treadmill that can incline as high as this one won't be as stable for larger users, so the weight capacity on this machine is fairly low.
Who Should Buy the NordicTrack Commercial X22i
Athletes who love having a large, interactive screen while they run.

Runners who like working with decline as well as high incline, during their workouts.

Anyone who wants a

fitness class subscription

that comes with their purchase.
Who Shouldn't Buy the NordicTrack Commercial X22i
Heavier users who are looking for a high weight capacity.

Athletes who don't want to deal with all the technological frills this treadmill offers.

Runners looking for extra storage space to utilize during their workouts.
Price
​
This treadmill goes for $2,999. It's a little on the pricier side, but you're definitely paying for features like incline, decline and technology that other treadmills don't bring to the table to help up your fitness game.
Overall Build and Quality
​
This treadmill was designed for the ultimate climber. With extreme incline and decline ranges, this machine will challenge every user. The Sled Push feature will throw even more of a challenge into your workout, making it so you have to push the belt using your own power. Outside of these features, this tread also has a large touchscreen display with a free one-year iFit subscription that will allow you to travel across the globe via virtual workouts while you run or climb.
Features
​
The high Incline and option to decline are easily the standout features on this tread. In addition to these though, this machine also has 44 pre-programmed workouts, a free one-year iFit subscription, a 22-inch touchscreen display and many high-tech features you may not find on other treadmills.
Incline range
​
You can decline this treadmill to -6 percent and incline it all the way up to 40 percent, which are both far beyond the average for most treadmills on the market.
Speed range
​
You can go from 0.5 mph up to 12mph, which is about average for most treads. However, the Sled Push option is not an average find—this feature allows you to set your speed at one mph, grab onto the tall handlebars and push the belt using your own leg drive, eventually helping you build more muscle.
Included workouts
​
There are 44 pre-programmed workouts on this machine, including calorie, incline, intensity and speed options. In addition, you also get a free one-year iFit fitness class subscription where you can choose from over 16,000 on-demand and live workouts that take you virtually across the globe on your touchscreen display.
Display
​
The NordicTrack Commercial X22i has a 22-inch touchscreen display that allows you to use the iFit subscription to take virtual classes with trails around the world to keep you hooked while you run.
Speakers
​
There are two three-inch Digitally-Amplified Speakers that you can sync to your phone via Bluetooth to blast your music a little louder, or just take an iFit class out loud so you can fully zone in.
Fans
​
This tread has two fans built into the console to keep you cool when your climbs heat up.
Heart Rate Monitoring
​
You can use the handlebar sensors or the iFit Bluetooth wireless chest strap that comes with your purchase to track your heart rate throughout your session.
HDMI, USB and Other Inputs
​
There's no USB port on this tread, so you'll have to be charged up before you hop on if you want to use your phone at any point during your workout.
Bluetooth and Audio Options
​
You can pair both your phone and your Bluetooth headphones to the tread, so whether you want to listen to your music through your earbuds or out loud for your whole house to hear, you'll be set to go with this feature.
Water Bottle, Cup Holders, Tablet and Phone Holders
​
This machine does have an accessory tray but there's really not a whole lot of storage space—try to stick to just the necessities when it comes to deciding what you're going to bring with you onto the tread.
Product Specs
​
The NordicTrack Commercial X22i weighs a solid 417 pounds, so you know it's going to be a sturdy piece of equipment. To support all of its features, you'll find a powerful 4.0 CHP motor with quiet incline and solid rollers to make sure you'll have a smooth ride.
Motor Size
​
This tread's 4.0 CHP motor is great for heavy incline training and its Quiet Drive Incline Tech will ensure that you transition inclines quietly, so the rest of the house can still sleep soundly while you get your morning climb in.
Running Area
​
The running area is 22 inches by 60 inches, which is about average and will allow for taller users.
Weight Capacity
​
The weight capacity is on the lower side at 300 pounds, so this isn't a great find for heavier users over that weight range.
Folding Options and Dimensions
Once assembled, the NordicTrack Commercial X22i is 70" L x 39" W x 72.5" H, and there is no folding option, so it will stay that way wherever you decide to put it in your home.
Max Speed and Incline Range
​
Since this tread goes from -6 percent in decline to 40 percent in incline, it requires a powerful 4.0 CHP motor, but the Quiet Drive Incline Tech keeps the changes in speed and incline fairly quiet throughout your workout.
Electrical Requirements
This treadmill requires a 120 volts, 15 amps outlet, which is your basic in-home power outlet.
Warranties
​
As far as warranties go, you'll get 10 years on the frame, two years on parts and electronics and one year on labor.
Belt Information and Roller Size
​
The NordicTrack Commercial X22i has the average 2.5-inch Precision and Balanced Non-Flex Rollers, which ensure a smooth ride at any and all inclines and speeds.
Cushioning and Feel
​
The Reflex Cushioning reduces impact but unfortunately, it's not adjustable to different levels of cushioning on the incline series like it is on other NordicTrack treadmills.
Workout Apps, Compatibility
​
and Subscription Options
With your purchase, you get a free iFit fitness class subscription for one year (a $468 value), which gives you access to over 16,000 live and on demand classes that you can take on the touchscreen display. The classes range anywhere from running to hiking and even strength class options.
Places to Buy
You can buy the NordicTrack Commercial X22i directly from NordicTrack.
Company Information
​
NordicTrack is known for its personal training at home. Not only does it make high-quality treadmills, but it also makes bikes, rowers and ellipticals. They offer a 30-day trial period, and if you're not satisfied after a month of use, you'll receive a full refund. You can reach their customer support by calling 1-888-308-9616.
FAQs
Can you watch TV on the NordicTrack Commercial X22i?
No, but you can take iFit classes that will appear on the display. Some of them take you on trails around the world, so it may actually feel like you are watching TV as you run.
Is the NordicTrack Commercial X22i worth it?
It depends on what you're looking for in a treadmill. If it's incline and decline you want, this is definitely a valuable buy for you. But if you don't see yourself going beyond 10 percent in incline or ever touching the decline option, you can find cheaper treads that still have all the features you'd need.
How do you use the sled mode feature?
Once you're in the Sled Push option, set your speed to one mph, grab onto the handlebars and push the belt using your leg power. The belt will only move as fast as your legs do and it will help increase the strength and power behind your leg drive.