Anyone looking for an intense treadmill workout should consider the NordicTrack Commercial X22i. This state-of-the-art treadmill features a max incline of 40 percent and a decline of negative six percent, making it a great choice for those who want a workout that will push them to the limits — especially those who like to go hiking in mountainous regions. The 22-inch touchscreen monitor is loaded with 16,000 trainer-led iFit workouts that offer automatic adjustments to speed and incline along with your instructor's directions.
To go along with the wide range of incline and decline options, the X22i also offers speeds up to 12 miles per hour. The monitor will track your stats for each workout, so you can see how much you have progressed over time. The integration of Google Maps™ means you can pick just about any region of the world to train virtually. Due to its size though, it's not the best bet for small home dwellers, and the steep price tag may make it a bit expensive for those on a budget. However, if you're an avid hiker and want to turn things up a notch in your home gym, we think the advanced, high-tech features this treadmill has to offer are worth it in the long run.
Main Takeaways
This treadmill has an incline-decline range of negative six percent to 40 percent.
The integrated sled push feature allows you to move the belt manually, upping your calorie burn and increasing your strength.
The 22-inch touchscreen monitor is full of trainer-led iFit workouts that span the globe.
NordicTrack X22i Treadmill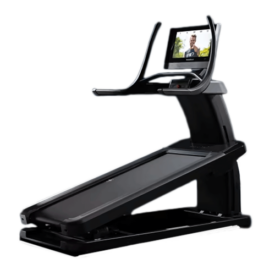 NordicTrack X22i Treadmill
The NordicTrack Commercial X22i is built for those who want to climb. The machine inclines up to 40 percent and declines down to -6 percent. It features a Sled Push option where you can power the belt with your own leg drive, and it has a 22-inch touchscreen display where you can follow your workout and take iFit classes.
NordicTrack Commercial X22i Treadmill Highlights
The NordicTrack X22i might be the front-runner when it comes to treadmill technology. The wide range of incline and decline settings (-6 to 40 percent) make it great for those who frequently hike outdoors and want to build more leg strength. There also isn't a shortage of workouts on the 22-inch touchscreen monitor, meaning you likely won't get bored with your cardio session — especially with the integration of Google Maps™, which allows you to select just about any city in the world for a virtual workout. We also think the sled push option is a great feature — with this, the speed will be set to one mile per hour, and it's up to you to make the tread belt move using your leg strength.
It's worth mentioning that this is a pretty large piece of equipment as it's over six feet tall, six feet long, and just over three feet wide. It cannot fold for storage, so those who are tight on space may want to look for a better fit — literally. It also features a steep price tag of about $3,500, and you must pay a membership fee to access the iFit classes. However, if you have the space and budget to add this treadmill to your home gym, we think you'll find it worth the money.
Who Should Buy the NordicTrack Commercial X22i
Athletes looking for a treadmill that can mimic running outdoors are bound to love the wide range of incline/decline adjustments here.
Those who want to stream workout classes led by a certified trainer will enjoy the inclusion of iFit on this display.
Folks looking for a top-of-the-line piece of cardio equipment will be hard-pressed to find one that is more high-tech than the X22i.
Who Shouldn't Buy the NordicTrack Commercial X22i
Anyone working with a tight budget or who is tight on space may want to consider some smaller or cheaper options.
Those looking for a treadmill that can fold for storage will want to avoid this product as you cannot fold it.
Athletes who don't care for trainer-led workouts will want to source a more basic treadmill.
Price
The base price for the X22i is around $3,500 on the NordicTrack website, but the final price will depend on a few variables. This includes your iFit membership plan, any additional maintenance or warranty plan, and whether or not you want white glove assembly. The max price you could pay for this treadmill is around $5,200, but you can always finance your purchase instead of shelling out all of that money upfront. NordicTrack will provide you with all the details on your monthly payments over 39 months as you select your plans.
The X22i is hands down one of the most expensive treadmills on the market, but for a good reason. You're getting a ton of luxury features that you simply won't find anywhere else. So if you're looking for the Rolls Royce of treadmills, look no further. However, that doesn't mean it's the best fit for everyone. If you don't care about all of the high-tech features, or maybe you're just trying to burn some extra calories at home, you'll probably be better off saving your money with a more basic treadmill.
Overall Build and Quality
The X22i weighs a hefty 417 pounds and features a sturdy steel frame. NordicTrack designed this treadmill for the ultimate climber, with extreme incline and decline ranges that will challenge every user. The sled push feature will throw even more of a challenge into your workout, making it so you have to push the belt using your own power. Outside of these features, this tread also has a large touchscreen display that will allow you to travel across the globe via virtual workouts from iFit while you run or climb.
Features
There's certainly no lack of features with the X22i. On top of manually adjusting the incline, decline, and speed settings, all your trainer-led iFit classes offer automatic adjustments specific to each cardio workout. The 22-inch display is loaded with over 16,000 iFit classes, and even though there aren't any pre-programmed classes with this tread, you do have the option for a manual workout if you don't want to pay for iFit.
On top of that, you have a built-in fan to help keep you cool and a pair of three-inch speakers that provide a solid amount of sound when streaming your classes. One thing worth mentioning is that there are no built-in heart rate sensors, so you'll need to pair your own heart rate monitor to receive an accurate reading on your burned calories.
Incline range
You can decline this treadmill to negative six percent and incline it to 40 percent. These numbers are far beyond the average for most treadmills on the market.
Speed range
You can go from 0.5 mph up to 12mph, which is average for most treads. However, the Sled Push option is not an average find—this feature allows you to set your speed at one mph, grab onto the tall handlebars and push the belt using your own leg drive, eventually helping you build more muscle.
Display
The NordicTrack Commercial X22i has a 22-inch touchscreen display that can tilt to meet your comfort level. This is where you will browse all of the iFit virtual classes that allow you to run on trails worldwide.
Stat Tracking and Metrics
Similar to the other NordicTrack equipment, the touchscreen display is where you will find all of your stats tracked. This includes your distance traveled, time working out and how much time is left, and an estimate of your burned calories. But if you're looking for an accurate reading of your burned calories and want to track your heart rate variability, we suggest pairing a heart rate monitor since there aren't any built-in sensors.
Included workouts
There are no pre-programmed workouts on the X22i, but you can always utilize the manual workout option if you aren't interested in iFit.
Workout Apps, Compatibility and Subscription Options
First-time NordicTrack buyers will receive a free month of iFit with their purchase, but you are required to pay a membership fee after that month runs out. You can pay about $40 a month for these classes or choose from one of the three different yearly plans. The three-year plan will save you the most money long-term, despite it costing you about $900 upfront. The two-year plan will cost you around $700, and the one-year plan is about $400.
If you aren't familiar with iFit and don't know if it's worth adding to an already expensive purchase, let us tell you why we think it's worth it. This membership provides access to over 16,000 workout classes ranging from cardio to strength training, Pilates, cycling, and even yoga. So if you want a trainer to lead you through a cardio workout and help sculpt your biceps with some dumbbells, iFit has you covered.
The cool thing is that you can stream these classes directly from your phone or tablet via the companion app. So you're all set if you're out of town or just doing a workout that doesn't require the X22i. The app and monitor will save all of your stats from previous workouts, making it easy to track your progression.
Speakers
There are two three-inch Digitally-Amplified Speakers for you to listen to the music loaded onto the monitor and the trainer in your workout.
Fans
This tread has two fans built into the console to keep you cool when your climbs heat up.
Heart Rate Monitoring
This treadmill does not have built-in heart rate sensors, so you'll need to pair a heart rate monitor for an accurate reading of the number of calories you're burning.
HDMI, USB and Other Inputs
There's no USB port on this tread, so you'll have to be charged up before you hop on if you want to use your phone at any point during your workout.
Bluetooth and Audio Options
This treadmill features Bluetooth capabilities, so you can connect a heart rate monitor, or your favorite pair of Bluetooth headphones to listen to your instructor if you don't want to wake the neighborhood.
Water Bottle, Cup Holders, Tablet and Phone Holders
This treadmill does not feature any type of tray for storing phones or tablets, and there are no water bottle holders — this means you'll need to set everything off to the side.
Product Specs
The NordicTrack X22i is undoubtedly one of the most luxurious treadmills on the market. It features a steel frame that is about as sturdy as they come. The cushion is also pretty forgiving, so it won't feel like you're pounding the pavement as you run. Due to the high incline settings though, this treadmill has a lower weight limit than some other treads on the market at just 300 pounds. It also cannot be folded for storage, so be prepared for it to dominate a solid chunk of space.
Motor Size
This tread's 4.0 CHP motor is excellent for heavy incline training, and its Quiet Drive Incline Tech will ensure that you transition inclines quietly, so the rest of the house can still sleep soundly while you get your early morning or late night climb in.
Running Area
The running area is 22 inches by 60 inches, which is about average and will allow for taller users.
Weight Capacity
The weight capacity for this treadmill is on the lower side at 300 pounds. Many treadmills can accommodate about 350 pounds.
Dimensions and Weight
The NordicTrack Commercial X22i is just over six feet tall, about six feet long, and just under three feet wide. It cannot fold, so be sure you have enough space for these dimensions before trying to squeeze it into your personal gym.
Belt Information and Roller Size
The NordicTrack Commercial X22i has the average 2.5-inch Precision and Balanced Non-Flex Rollers, which ensure a smooth experience — regardless of the incline or speed.
Cushioning and Feel
The Reflex Cushioning on this treadmill will respond to the amount of pressure generated. So the amount of "give" it provides will be determined by the user's weight.
Electrical Requirements
This treadmill requires a basic 120v, 15 amps in-home power outlet.
Places to Buy
You can buy the NordicTrack Commercial X22i directly from NordicTrack.
Warranties
With your purchase, NordicTrack tosses in a 10-year warranty on the frame of the X22i, two years on parts, and one year on labor.
Company Information
NordicTrack is known for its personal training at home. Not only does it make high-quality treadmills, but it also makes bikes, rowers, and ellipticals. They offer a 30-day trial period; if you're unsatisfied after a month of use, you'll receive a full refund. You can reach their customer support by calling 1-888-308-9616.
Final Word
In today's world of virtual coaching, the NordicTrack X22i may be the most luxurious treadmill out there that offers this feature. You can spend hours browsing through all of the available workout classes, series, and challenges offered by iFit on the 22-inch touchscreen monitor. The tread adjusts from a -6 percent decline to a 40 percent incline and has a top speed of 12 miles per hour. During your trainer-led classes, those variables will adjust automatically, but you can always override them with manual adjustments if needed.
Whether you want to mimic walking through the mountains or simply through the streets of your chosen city, the integration of Google Maps™ means that none of your workouts will be identical. The surface area of the tread is large enough to accommodate users of all sizes, and provides a solid amount of cushion to soften the blow on your joints. Even though it's pretty massive and features a lofty price tag, we still think the luxury features on the X22i make it one of the best treadmills on the market. It will make a great addition to your home gym if you have the budget and space for it.
FAQs
How much does the NordicTrack X22i cost?
This treadmill is one of the more expensive options on the market with a lofty price tag of about $3,500. While we think the high-tech features make it worth the money, it might be best suited for avid hikers who want to mimic that experience at home. So if you're simply looking for a tread to help get your daily steps in or just burn some extra calories, you might be better off sourcing a cheaper option.
Does the NordicTrack Commercial X22i feature any programmed workouts?
Unfortunately, the X22i does not feature any pre-loaded workouts on the 22-inch touchscreen monitor, but you can always use the manual workout mode if you don't want to pay for an iFit membership.
How do you use the sled mode feature on the NordicTrack Commercial X22i?
Once in the Sled Push option, set your speed to one mph, grab onto the handlebars, and push the belt using your leg power. The belt will only move as fast as your legs, increasing the strength and power behind your leg drive.