Getting tired of eating the same, bland beef, and rice meals just to hit your macros? Or maybe you're in a hurry after the gym and need some quick post-workout carbs before you carry on with your busy schedule.
These sprouted quinoa and chicken stuffed bell peppers are the perfect addition to your meal prep that are guaranteed to set your week up for success.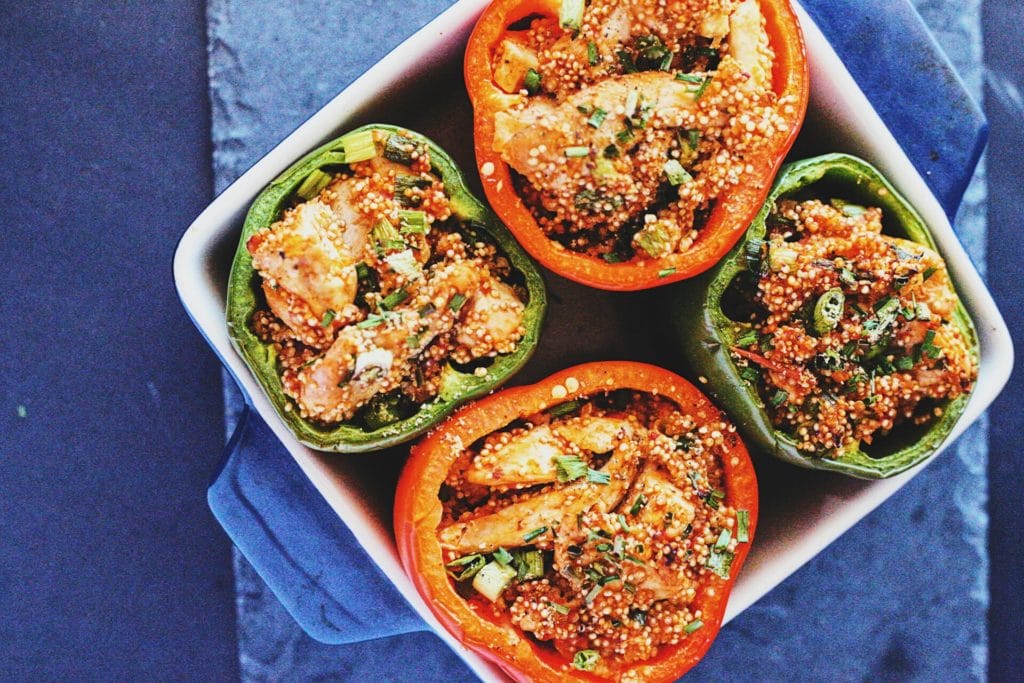 The ingredients for these stuffed bell peppers include:
1 ½ cup sprouted quinoa
1 lb of skinless, boneless chicken breast
½ organic pasta sauce
1 cup bone broth
½ cup green onions
4 bell peppers
Prep time: 15 minutes
Total time: 35 minutes
Serves: 4
Serving size: 1 Stuffed bell pepper
Macros of One Serving
Fat: 4g
Carb: 21.6g
Protein: 37g
Fiber: 2.5g
Cooking Instructions
Preheat oven to 350 degrees.
Cut the tops off of the bell peppers and remove the insides and seeds.
Cut up chicken and place in sauce pan on medium heat for about 15 minutes or until cooked.
While the chicken is cooking, place 1 ½ cup of quinoa in a pot and cover with water.
Bring the water to a boil and then let it simmer for 12-15 minutes or until quinoa is cooked.
Once the chicken and quinoa are cooked – add in quinoa, green onions, and ½ organic pasta sauce, then place them all in a sauce pan.
Scoop ingredients in the sauce pan into the bell peppers.
Place the peppers in a baking dish — bake for 20 minutes at 350 degrees.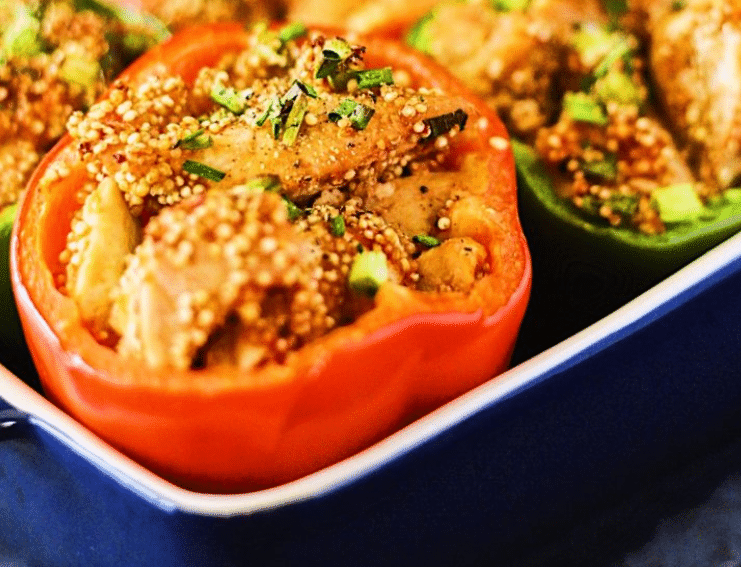 The Benefits of Quinoa
Did you know that quinoa is actually considered a complete protein source? It's rare to find a plant source with the full profile of all 10 essential amino acids our body can't produce on its own. These amino acids include arginine, histadine, isoleucine, leucine, lysine, methionine, phenylaline, threonine, tryptophan, and valine.
Along with its solid amino acid profile, quinoa is a nutritional powerhouse containing multiple vitamins and minerals.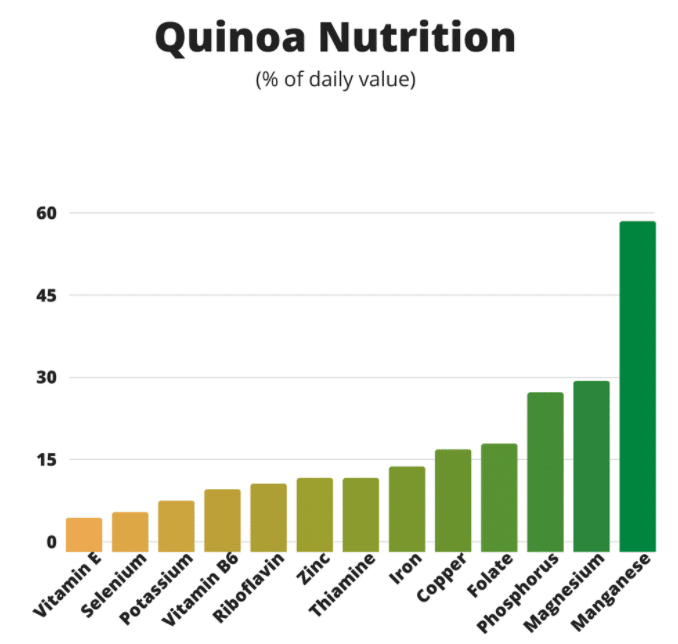 Best Time to Consume Stuffed Bell Peppers
Now that we know some of the health benefits these Stuffed Bell Peppers offer, let's look at the best times to eat them.
These stuffed bell peppers are high in carbs and protein, so they're perfect for pre or post-training. For athletes serious about their nutrition and training, ingesting carbs directly around workouts will help with optimal recovery so you're prepared for the next training session ahead.
Also, are you thinking these are off limits if you're on the ketogenic diet? While a standard keto diet doesn't allow much wiggle room for carbs, there are variations of keto you can follow such as the targeted keto diet (TKD) that allow you to have an extra 25-50 grams of carbs before and after your workout to properly fuel your workout and refill your glycogen stores. Not only do these stuffed bell peppers use all natural ingredients, but you can have them no matter what diet you follow.
Whether you're looking to try something new for your meal prep or plan on cooking a big feast for all of your friends to enjoy, these quinoa and chicken stuffed bell peppers create the ultimate, satiating dish.
Don't like some of the ingredients in this recipe? No worries! Stuffed bell peppers can be easily manipulated to add in your favorite veggies and meats so you'll never be bored with your nutrition again.
Editors note: This article is an op-ed. The views expressed herein and in the video are the authors and don't necessarily reflect the views of BarBend. Claims, assertions, opinions, and quotes have been sourced exclusively by the author.
Feature image courtesy from article author Stephanie Lodge.