Don't overspend this holiday season. We've rounded up the best Black Friday deals in weightlifting, powerlifting, strongman, and functional fitness for 2016 (companies listed in alphabetical order below). Stay tuned, as we'll be adding more throughout the holiday weekend.
Know any we missed, or are you a company rep looking to get the word out about a deal? Email us at info [at] barbend.com
2POOD Performance
2POOD isn't known for having many sales, but Nathan Bramblett just posted about this one: 20% off storewide using code BLACKFRIDAY.
ASRX
Use Brooke Wells' code BROOKE10 for 10% off storewide for ASRX apparel. They're also offering free shipping this week.
Caveman Coffee
Caveman Coffee Company is offering 20% off sitewide via an emailed code that goes out at noon. Sign up at their website to get the notification.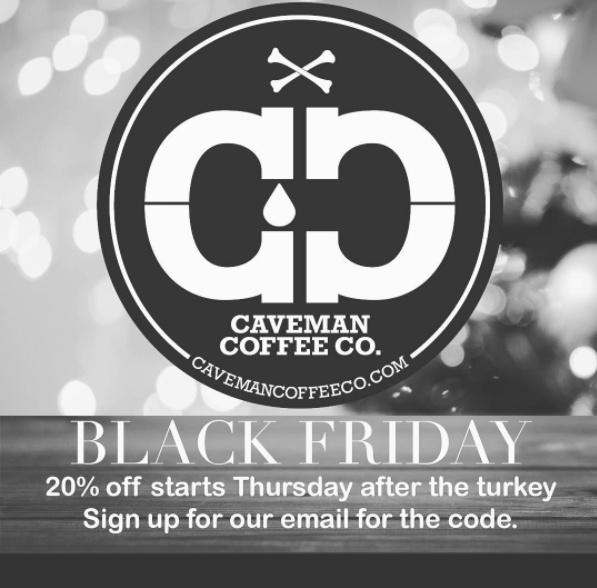 Compex USA
The muscle stimulator company is offering 28% off their store through the holidays in honor of athlete Mat Fraser. Use code FRASER for 28% off for the holidays.
An even bigger discount — and it seems just for Black Friday — is 43% (!) off by using Brooke Wells' code (WELLS) at this URL. Otherwise, the code is good for 28% off through the holidays.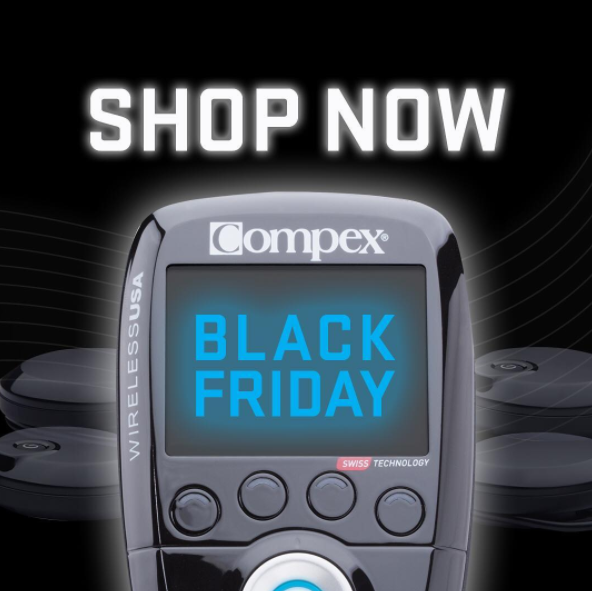 Eleiko
Eleikoshop.com is having sales from November 25-28th, though the exact discounts and associated codes won't be announced until early Friday.
EliteFTS
"1000's of products up to 52% off while supplies last" at elitefts.com.

FITAID/LIFEAID Beverage Co
The company is offering 25% off sitewide on Black Friday using code BFRIDAY2016. They've also just launched their newest product, LIFEAID.

Fringe Sport
Fringe Sport's "Lightning Deals" feature a steeply discounted piece of equipment every day launching at noon CST, plus a larger Black Friday sale sitewide on November 25th.
HVIII Brand Goods
Tom Sroka posted his athlete code — Sroka30 — for 30% off their entire store.
Inside Tracker
They're giving $200 off their "Ultimate" service using code THANKSIG at this URL.
Myprotein US
The company is having a pretty big sale this week with 25% off protein, 40% off pills and aminos, and 30% off snacks and creatine. One of their athletes (@megsquats on Instagram) just posted her code for an additional 10% off: MEGSQUATS
NF Sports
The supplement line previously known as NutriForce Sports is relaunching as NFSports and offering 35% off sitewide beginning on Thursday at 8pm EST with code BF35.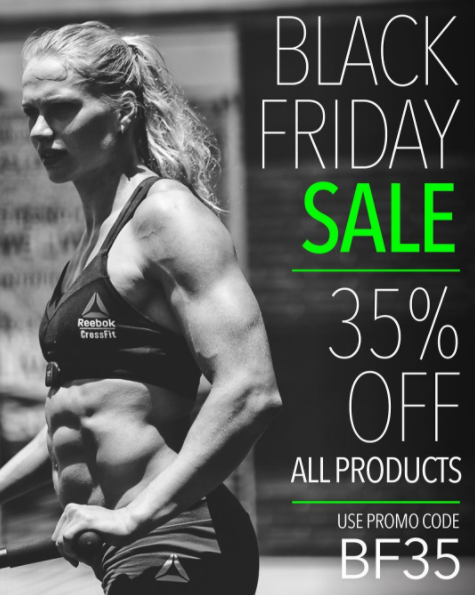 Onnit
Onnit products — from supplements like Alpha BRAIN to kettlebells, clubs, and maces — rarely go on sale. From their Black Friday website; sale begins Thursday night:
The biggest sale of the year is right around the corner, and with deep discounts, exclusive products, & free giveaways, you won't want to miss it.
PaleoEthics
The entire site is 40% off with code EZPALEO.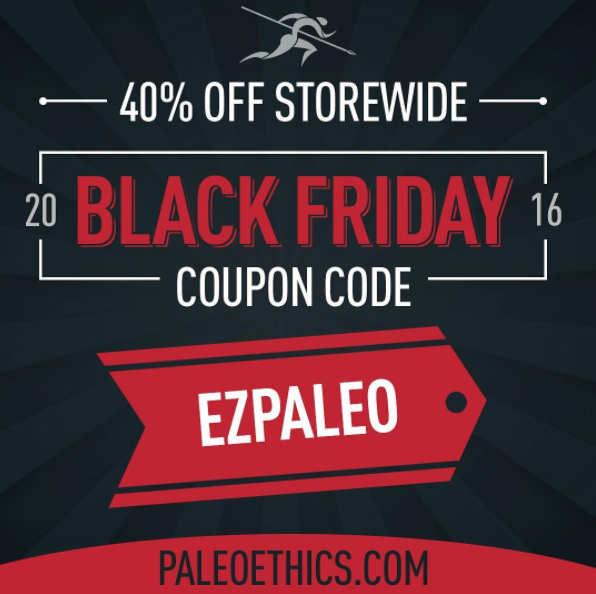 RedLine Gear
RedLine's sale is already active, with 20% off storewide using code BLACK2016.
Reebok
For United States customers, Reebok is offering an additional 50% off (with code BF50) their Black Friday Collection. Their elidible products in the CrossFit® category can be found here.

Rogue Fitness
Rogue's "Matte Black Friday" promotion runs all week. A video rundown of their deals are below. Sale items so far have included barbells, monoracks, kettlebells and Fatbells, Nike Metcons and Romaleos.
It's Matte Black Friday season at Rogue again and back this year are the great deals and exclusive MBF products we've been known for. We're bringing back our 5for5 deal which gives you $5 shipping for any 5 or more participating items on our site. We're also coming back with our Hundo shipping promotion. With Hundo, the more bumpers you buy, the cheaper it is for you to ship. And of course, our Hot Deals MBF exclusive products are returning in 2016. We'll have discounts on everything from jump ropes to power racks and dozens of products in between. Don't miss out.
Rx Smart Gear
Starting November 25th, they're having the following sale for Cyber Weekend:
25% off Jump Ropes
Hats & Apparel 15%-25% off
Gear Packs 25%-30% off
Gear 10%-20% off
Ten Performance
Jacob Heppner just posted his athlete URL to get 50% off Ten Performance Institute's "Recover Pro" with the sale starting Thursday.
The Natural Grip
The Natural Grip is offering steep discounts on many products until November 27th; discounts are automatically applied at checkout on their Black Friday portal.
USA Weightlifting
The official governing body for weightlifting in the United States is offering discounts on flags, club banners and coaching course entry fees for members. Log into the member portal here to check them out.
Virus International
Virus International is giving 10% off on Black Friday with code VIRUS10 or an athlete code (like Jared Enderton's, embedded below). They're also providing free shipping, socks, and a water bottle for orders over $50.
Featured image: Eleiko Shop