One of the best ways to set up a healthy lifestyle or work on a fitness goal when you're busy is to carve out times in your schedule. If you like to hit the gym in the morning before work, you've got a short window to maximize. You have to get to the gym, warm up, work out, and shower all before your workday starts. Nutrition plays a crucial role in training — so where does that fit?
Some people opt for pre-workout supplements for energy or a protein shake to refuel post-workout. Supplements can be helpful, but you also need whole foods in your diet. Meal replacement shakes can be a quick and efficient option for meeting your calorie and nutrient needs without a ton of time in the kitchen.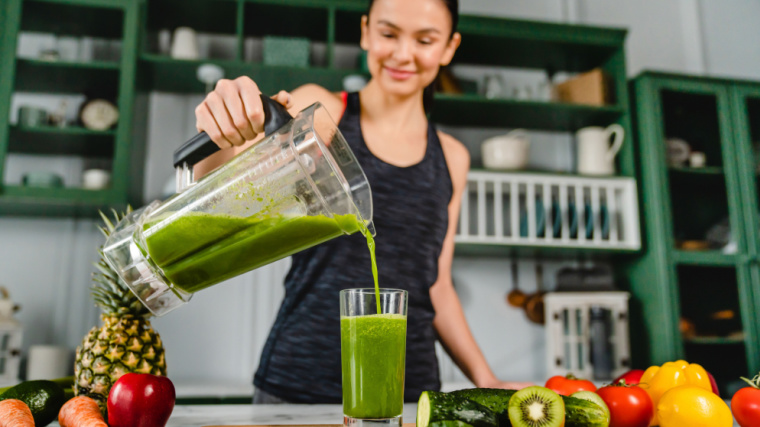 Outside of training, they can help when you're busy or traveling to be sure you get everything you need. You control everything that goes into a homemade meal replacement shake, so if you've got a muscle gain or fat loss goal, you can tailor it to your macro needs. Here, we'll get into the best ingredients and a simple formula to build your own healthy shake.
Editor's Note: The content on BarBend is meant to be informative in nature, but it should not be taken as medical advice. When starting a new training regimen and/or diet, it is always a good idea to consult with a trusted medical professional. We are not a medical resource. The opinions and articles on this site are not intended for use as diagnosis, prevention, and/or treatment of health problems. They are not substitutes for consulting a qualified medical professional.
What Is a Meal Replacement Shake?
A meal replacement shake is typically a blended drink made up of whole foods and (optionally) protein powder. It has enough nutrients, calories, protein, carbs, and healthy fats to take the place of one of your meals.
Pre or Post-Workout Shakes
If you like to eat before your workout, you can choose energizing food ingredients as a pre-workout shake — just allow yourself enough time to digest. You can also have a high-protein post-workout shake with more foods to constitute a meal if you won't be able to eat for a while after training.
Breakfast, Lunch, or Dinner Shakes
Maybe you work a job with long hours that don't allow time for long meal breaks, or you spend time on the road. A meal replacement shake during your work or traveling day can fuel your brain and body with enough nutrients and calories to help you perform your best.
Muscle Gain or Weight Loss Shakes
Meal replacement shakes can benefit your fitness goals of gaining muscle or losing body fat.
If you're trying to gain muscle mass, you need to eat enough calories to be in a surplus — in addition to resistance training. Adding a shake to your day can help you pack in more calories and protein without needing to cook — and chew — all day.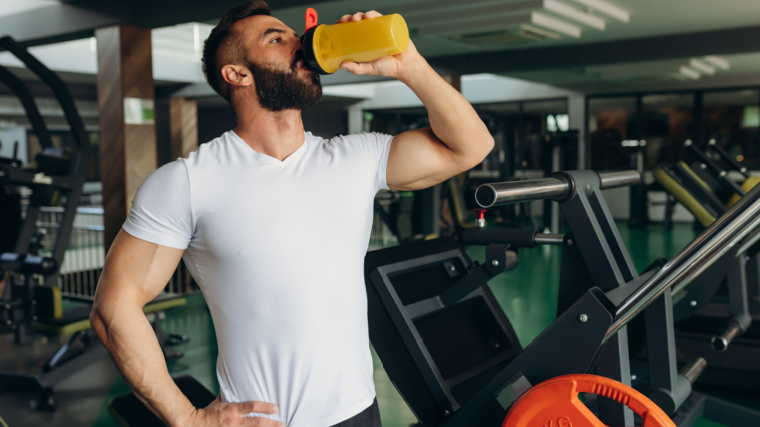 [Read More: Nutrition for Athletes — How to Eat for Muscle and Performance]
When losing body fat, you're likely eating fewer calories than your body needs or reducing your portions. It's important to also resistance train to preserve your lean muscle mass. Meal replacement shakes can be low-calorie to fit your plan while still packing enough protein, carbs, and healthy fats to fuel your body.
Common Meal Replacement Shake Ingredients
When making your meal replacement shake, you want to include nutrient-dense whole foods that you can blend into a smoothie consistency. Here are the most common ingredients in a powerful and satisfying shake.
Any nutritional information below comes from the FoodData Central database on the United States Department of Agriculture (USDA) website. (1)
Whole Food Protein Source
If there's one thing your meal replacement shake needs, it's protein. Choose a whole food protein source like Greek yogurt or cottage cheese to add to your shake.
In addition to being protein-packed, both Greek yogurt and cottage cheese are excellent sources of calcium. These are dairy-based foods, but you can get non-dairy versions as well.
[Read More: 20 High-Protein, Low-Calorie Foods Worth Subbing Into Your Diet]
A 200-gram serving of Greek yogurt packs 20 grams of protein. A 113-gram serving of cottage cheese contains 14 grams of protein.
Protein Powder
If you're open to adding a supplement to your shake, a high-quality protein powder can easily boost your protein content. There are two main types of protein powder to choose from: whey protein, which contains dairy, and plant-based protein powder.
Whey protein is one of the best options for people who consume animal products. It's a complete protein source, meaning it contains all 20 of your essential amino acids that are necessary for building muscle. It's also high-quality, meaning the amino acids are readily available to be quickly digested and absorbed. (2)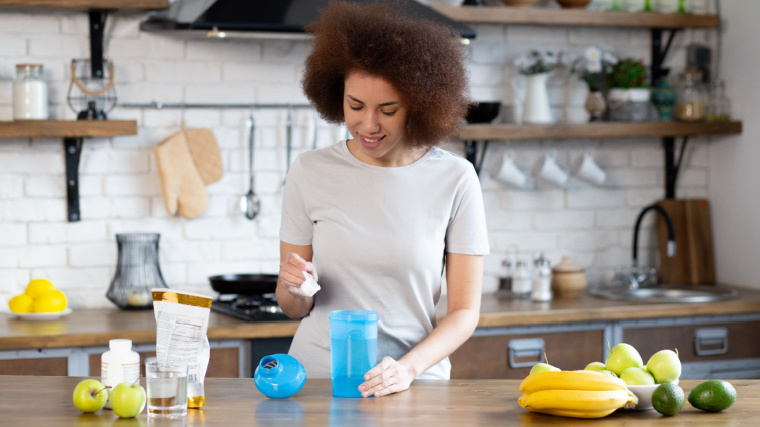 [Read More: The Gymgoer's Guide to Whey Protein]
Vegans and people who don't consume dairy can opt for a plant-based protein powder. You can choose from pea protein, hemp protein, or soy protein. Soy protein has comparable benefits to whey protein — it's a complete and high-quality protein source — so it's a great option if you're looking to build muscle.
A one-scoop serving of whey protein yields 25 grams of protein. One scoop of soy protein powder also typically contains 25 grams of protein.
Milk
Some people like their shake to be drinkable through a straw, while others prefer a thicker blend. Either way, you'll need some liquid for your shake.
Choose your dairy-based or non-dairy milk to liquify your shake. Almond milk, coconut milk, and soy milk are all plant-based and pack other health benefits. Almond milk contains antioxidants and calcium. Soy milk has some protein. Coconut milk contains healthy fats and may help lower cholesterol. (3)
Frozen Fruit
Adding frozen fruit to your shake will give you more nutrients, healthy carbohydrates, and a thicker texture. If you want to get closer to the consistency of a milkshake, add some ice cubes — just make sure you're using a powerful blender.
You can add any fruits that you like. Frozen bananas are key to a creamier meal replacement smoothie. Bananas are also loaded with potassium and can give you energy for workouts. Frozen blueberries, raspberries, strawberries, and blackberries all contain fiber, vitamin C, and other antioxidants.
Some other solid options are frozen mango, pineapple, acai, watermelon, and cherries.
Frozen Veggies
A meal replacement shake is a great place to increase your veggie intake. Frozen veggies can help your shake stay thick, but raw veggies also work. Add high-water content veggies like spinach, kale, cucumbers, zucchini, and bell peppers for more effortless blending.
[Read More: The 12 Best Supplements for Muscle Growth]
If you're making a pre-workout smoothie, try adding some beets. Beetroot contains nitrates, which can increase nitric oxide production in your body. Nitric oxide increases vasodilation and blood flow, allowing more nutrients and oxygen to be delivered to your muscles when you train. More nitric oxide may improve your exercise performance. (4)
Nut Butter
Nut butter is common in meal replacement shakes because it contains healthy fats to help satiate you. These butters also contain vitamins and minerals and improves the texture and taste of your shake. Choose peanut butter, almond butter, or cashew butter for a creamier shake.
If you have a nut allergy, sunflower seed butter or soy nut butter are some alternatives that are also nutrient-dense and packed with flavor.
Nutrient-Dense Seeds
Throw some seeds in your shake for more nutrients and texture. Chia seeds, flax seeds, and hemp seeds are common additions to meal-replacement shakes. These seeds contain protein, healthy fats, fiber, and antioxidants. When added to liquid, the seeds expand and help create a thicker shake.
Chocolate, Vanilla, Ginger, Tumeric
A few other common ingredients in meal replacement shakes can add some flavor and benefits.
If you want to satisfy a chocolate craving, cocoa powder is a healthy choice packed with antioxidants. You can also add vanilla extract and cinnamon for a little more sweetness and spice without added sugar. Cinnamon is an anti-inflammatory spice and contains antioxidants. (5)(6)
[Read More: The Definitive Guide to Bodybuilding Meal Prep]
If you're doing a more veggie-based shake, ginger and turmeric can add spice, flavor, and nutrients. Ginger may help ease gastrointestinal distress, reduce inflammation, and boost immunity. Tumeric may also have anti-inflammatory and antioxidant properties. (7)(8)
How to Make Your Own Meal Replacement Shake
You can create your own healthy meal replacement shake recipes by combining your favorite common ingredients. Choose an option for each of the macronutrients, and add some extras to get your desired consistency and flavor. Let's break it down.
Pick a Protein
Choose a protein for your shake. Greek yogurt and cottage cheese are food sources that can absorb the other flavors in your shake. Other ingredients in your shake may contain some protein, like nut butter and seeds, but you want to get the bulk of your protein content from this section.
You can also opt for a high-quality protein powder. Consider which flavor you choose by how it will combine with your other ingredients.
Pick a Fat
Nut butter, seeds, and avocados can all provide healthy fats for your shake. Healthy fats, along with protein and fiber, help keep you satiated. They're critical to a complete and healthy meal. (9)
Pick a Carb
After protein and fat, you want to include the third macronutrient in your shake: carbohydrates. Fruits and vegetables are both healthy sources of carbs. If you want something a little more substantial, you can also add oats.
Pick a Liquid
You'll need some liquid for your shake. Choose from dairy or non-dairy milk, water, or natural juice. Juices like beetroot or watermelon juice work great in a natural pre-workout smoothie — just watch out for added sugars if you'd like to avoid them.
[Read More: The 8 Best Non-Stim Pre-Workouts]
You can also choose coconut water for some electrolytes.
Pick a Flavor Profile
You want to combine ingredients that work well together.
Add some cocoa powder and cinnamon if you're going for a sweet and fruity protein-rich smoothie with nut butter, chia seeds, and banana.
If you're doing green veggies, avocado, and Greek yogurt, add some ginger and turmeric for a more savory profile.
What About Meal Replacement Supplements?
Dietitians and nutrition professionals recommend getting the most nutrients and calories through whole foods. When you need some extra help, supplements work great.
You can add a supplement like protein powder to your homemade meal replacement shake.
[Read More: The Best Protein Intake Calculator for Muscle Gain and Fat Loss]
You can also purchase pre-made meal replacement shakes if you're traveling or need something quick. Check out the ingredients and nutrition label to ensure it's high in protein and doesn't contain too many additives.
If you're traveling, getting a greens powder supplement can also be an efficient way to keep your veggie intake up.
Blend it Up
When you live a busy life but still want to eat healthy, whip up a meal replacement shake. Pack it with whole foods that contain protein, carbs, and fats, and you can stay nourished and satisfied until you can hit the kitchen again. Protein powder can also help you out.
Meal replacement shakes can work for pre or post-workout fuel or as an actual replacement for one of your meals when you're in a rush, on the go, or traveling. Choose your favorite ingredients from each macronutrient category and slurp away.
FAQs
If you have more questions on meal replacement shakes, let's answer them.
How can I make my own meal replacement shake?
Choose a protein, a fat, a carb, a liquid, and a flavor profile. Ice cubes and frozen ingredients can also improve the texture. Pop them in your blender and enjoy.
Is it okay to have a meal replacement shake every day?
As long as you're getting your nutrient profiles met, having a meal replacement shake every day is okay, especially if it contains whole foods. It's simply a way to consume healthy ingredients quickly by blending them.
How many calories are in a meal replacement shake?
The calorie content is completely up to you and your needs. If you want a low-calorie shake, choose low-calorie ingredients or smaller amounts. Just be sure that they have enough protein and other nutrients. If you need more calories for muscle gain, add more calorically-dense foods or larger amounts.
References
USDA. FoodData Central. U.S. Department of Agriculture.
Hoffman JR, Falvo MJ. Protein – Which is Best? J Sports Sci Med. 2004 Sep 1;3(3):118-30.
Vanga SK, Raghavan V. How well do plant based alternatives fare nutritionally compared to cow's milk? J Food Sci Technol. 2018 Jan;55(1):10-20.
Dos Santos Baião D, Vieira Teixeira da Silva D, Margaret Flosi Paschoalin V. A Narrative Review on Dietary Strategies to Provide Nitric Oxide as a Non-Drug Cardiovascular Disease Therapy: Beetroot Formulations-A Smart Nutritional Intervention. Foods. 2021 Apr 15;10(4):859.
Latif R. Health benefits of cocoa. Curr Opin Clin Nutr Metab Care. 2013 Nov;16(6):669-74.
Kawatra P, Rajagopalan R. Cinnamon: Mystic powers of a minute ingredient. Pharmacognosy Res. 2015 Jun;7(Suppl 1):S1-6.
Anh NH, Kim SJ, Long NP, Min JE, Yoon YC, Lee EG, Kim M, Kim TJ, Yang YY, Son EY, Yoon SJ, Diem NC, Kim HM, Kwon SW. Ginger on Human Health: A Comprehensive Systematic Review of 109 Randomized Controlled Trials. Nutrients. 2020 Jan 6;12(1):157.
Liu S, Liu J, He L, Liu L, Cheng B, Zhou F, Cao D, He Y. A Comprehensive Review on the Benefits and Problems of Curcumin with Respect to Human Health. Molecules. 2022 Jul 8;27(14):4400.
Samra RA. Fats and Satiety. In: Montmayeur JP, le Coutre J, editors. Fat Detection: Taste, Texture, and Post Ingestive Effects. Boca Raton (FL): CRC Press/Taylor & Francis; 2010. Chapter 15.
Featured Image: Inside Creative House / Shutterstock