We receive free products and receive commissions through our links. See
disclosures page
.
For folks looking to reap the protein-rich benefits of peanut butter while cutting out some of the calories and fats associated with it, powdered peanut butter may be an alternative worth exploring. Made by roasting peanuts, pressing natural oils out of them, and grinding them into a powder, powdered peanut butter contains far fewer calories and upwards of 80 percent less fat than typical peanut butter.
Aside from its nutritional profile, some folks find powdered peanut butter easier to use in smoothies or baking than typical peanut butter. Many powdered peanut butters take the form of creamy, spreadable butters simply by adding water and stirring. We rounded up some of the top powdered peanut butters on the market, taste-tested, and compared them.
Best Powdered Peanut Butter
Editor's note: The content on BarBend is meant to be informative in nature, but it should not be taken as medical advice. The opinions and articles on this site are not intended for use as diagnosis, prevention, and/or treatment of health problems. It's always a good idea to talk to your doctor before beginning a new fitness, nutritional, and/or supplement routine. Individual needs for vitamins and minerals will vary.
Best Overall
PB Fit had the highest marks for taste among the powdered peanut butter we reviewed. It utilizes a great mix of sweet and salty to give a rich, full flavor that one might expect from a regular jarred peanut butter. It was very easy to mix into a butter, as it only took a bit of water and less than a minute of stirring to end up with a creamy peanut butter that was easily spread.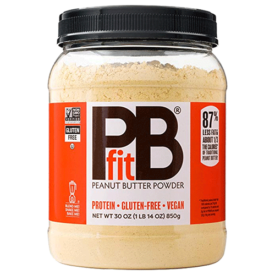 Our top pick in terms of taste, it goes from powder to creamy peanut butter with just a little bit of water in no time. A rich source of protein, it includes a bit of coconut palm sugar and salt to enhance its taste. 
On a cost per ounce basis, PB Fit is among the most competitively priced powdered peanut butters on the market, which was a nice bump in our ratings as powdered peanut butters can tend to get quite expensive. Here is the macro breakdown per 16 gram serving:
Calories: 70
Fat: two grams
Carbohydrates: five grams
Protein: eight grams
The peanut butter market has a lot of variety to it when it comes to flavors. PB Fit competes on that axis with their powdered version as well — offering pumpkin spice and even sugar-free varieties for anyone following a keto diet or something similar like the carnivore diet.
Who Should Buy PB Fit
Those who want a powder that mixes into a butter easily and prefer it creamy.
Folks on a budget.
People who are searching for a sugar-free option.
Who Shouldn't Buy PB Fit
Note that although the Nutrition Facts indicates a comparatively high 8g protein per serving, the serving size is 16g, which is also higher than most competing brands.
Includes added coconut palm sugar and salt for flavor.
The biggest knock is that the ingredient list includes added coconut palm sugar and salt for flavor. Of course, the fewer ingredients the better, but this wasn't enough to dock it as our top pick as the substantial amount of protein per serving was a huge boon. If you're someone who tackles some heavy squat days or goes hard on the deadlift, that extra protein will feel good.
Best Texture
This powder turned into peanut butter quickly and easily, becoming a real standout among all the options we tried — just a quick stir with a spoon and the powder took the form of creamy peanut butter. From a texture stand point, the end result of this powder scored highest as it was tough to tell the difference from its non-powdered counterpart. Perhaps it was a bit less dense if you compared them really closely.
Peanut Butter & Co. Peanut Powder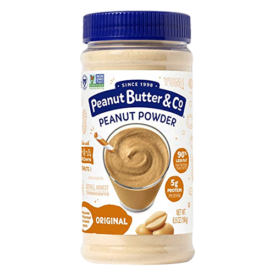 Peanut Butter & Co. Peanut Powder
Peanut Butter & Co. Peanut Powder is our pick for the best textured peanut butter. This powder mixes into a creamy, well-textured spreadable with little effort and in mere seconds. 
Here's the macro breakdown per 12 gram serving:
Calories: 50
Fat:pne and a half grams
Carbohydrates: four grams
Protein: five grams
Peanut Butter & Co. is a family owned company that makes their products with peanuts grown on their own farm in northeast Arkansas, for those of you out there who value American brands. What's more is the supply a whopping six different flavors, including a no sugar added option.
Who Should Buy Peanut Butter & Co. Peanut Powder
People who want an easy-stir option.
Folks who want to support products made in the USA.
Those who value a wide variety of flavor options.
Who Shouldn't Buy Peanut Butter & Co. Peanut Powder
Anyone who prefers saltier flavored peanut butter.
Those who are trying to be more conservative with their budget.
From a taste standpoint, this peanut butter was quite delicious, but did seem a bit sweeter than some of the other options, despite not having that much sugar in it at all. The ingredient list consisted of just three ingredients — a good sign — but one of them was cane sugar, which was listed before salt. We didn't concern ourselves too much with salt content, as it actually has a lot of benefits for strength athletes. So, if that bit of sweetness doesn't bother you, then this is a great overall pick that just barely missed out on our overall top slot.
Most Balanced
PB2 has a slightly thicker texture than most conventional creamy peanut butter, but it mixed with water quickly, albeit with a bit more effort than its competitors (it wasn't by much so we didn't dock it too hard in our ratings). It is really tough to provide a crunchy peanut butter via a powder for obvious reasons, but if crunchy is more your vibe, then this should be a contender for you.
PB2 Powdered Peanut Butter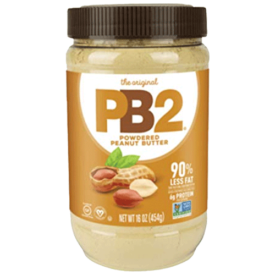 PB2 Powdered Peanut Butter
A powdered peanut butter with a well balanced, natural taste. This nonGMO project verified peanut butter has a slightly stiffer texture than some of its competitors, but offers a nice blend of sweet and salty at a competitive price.
Here is the macro breakdown for each serving of 13 grams:
Calories: 60
Fat: one and a half grams
Carbohydrates: five grams
Protein: six grams
The taste overall was delicious, providing a really nice blend of both sweet and salty.
Who Should Buy PB2 Powdered Peanut Butter
Those who want a thicker textured peanut butter.
Anyone who likes a balance of sweet and salty.
Who Shouldn't Buy PB2 Powdered Peanut Butter
Those looking for faster mixing options.
People who want a sugar-free option.
It took a bit more water to reach a desirable consistency with this powdered peanut butter compared to some of its competitors. They note that the correct amount of water is one tablespoon per two tablespoons of powder. We adjusted that slightly to get a more consistent texture, so you should too depending on how dense you prefer it — just keep in mind that denser might be harder to spread.
Overall, this didn't score high enough to take our top slot, but still managed to score high enough to make our list. We appreciate a thicker peanut butter and imagine you will too, particularly if you want a rich tasting post-workout snack.
Best For Shakes
The likeliest reason that Naked PB jumped out to us as the best when put in a shake is the ingredient list. And by ingredient list, we mean the one ingredient: crushed roasted peanuts. Not only living up to their name, that purity — meaning the absence of any additional sugars, oil, preservatives, etc. — really comes through with the flavor.
The flavor profile was relatively neutral which shouldn't overpower other ingredients in your shakes. Additionally, it's great to use similarly in baked goods as a way to punch through that peanut butter flavor without packing in the calories.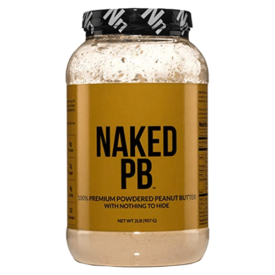 For folks looking to get the protein benefits of peanut butter without any of the sugars or salts associated with PB, Naked PB may be a good option. Intended primarily for use in smoothies and shakes, this single ingredient powder offers nothing but PB. 
Here is the macro breakdown for each 12 gram serving:
Calories: 50
Fat: one and a half grams
Carbohydrates: four grams
Protein: six grams
There's extensive information about the amino acid profile of this powder available on the bottle, something that makes it pretty unique across the market.
Who Should Buy Naked PB
Those who want a super simple ingredient list.
Anyone who wants the amino acid profile of their powders.
People who want to add peanut butter to their shakes and baked goods without excess calories.
Who Shouldn't Buy Naked PB
Anyone who wants a rich peanut butter flavor to spread on toast and the like.
Though this powder does mix into a relatively creamy spreadable with water, the lack of salt and sugar makes for a much less pronounced taste compared to some of the other brands we tried. This is the biggest reason it didn't secure our best overall slot, but shouldn't discount how good it is to the eyes of someone looking for a great mixing peanut butter powder.
Furthermore, this should be the go-to peanut butter powder for strength athletes maintaining their diets. Likewise, this is likely the best pick for strength athletes between diets, as the ingredient list won't get simpler than this.
How We Decided Our Picks
Powdered Peanut Butter is an often tasty and easy-to-use substitute for conventional peanut butter. Attractive, in part, because of its comparatively low fat and caloric content, powdered peanut butter has become increasingly popular in the last few years. In comparing powdered peanut butter options, we considered the following key features.
Taste
If you're simply looking for a powdered peanut based protein to add to health shakes and smoothies, the taste of a given brand may be as important as its nutritional profile. The point is to keep the calories in check, but without pleasure on the tongue, it is making a sacrifice in a diet for the sake of calories, rather than a diet upgrade. All that is to say, peanut butter powder should enhance the flavor despite not being the actual butter.
If you're looking for an alternative to traditional peanut butter for use in snacking or as a topping, then you'll probably want one that adds a bit of sugar or salt. We know, we know, the point might be to get away from that, but for most powders (at least those that ranked well in our view) only add minimal sugar and salt to get helps get the job done — nothing excessive.
While Peanut Butter & Co. was the sweetest in practice, PB Fit was our overall choice for best taste. All of our top picks crush it on the flavor axis or they wouldn't have made it. Rest assured, it is tough to miss with our list if the goal is to find a tasty, healthy snack.
Texture
This might be less important for folks who are only planning to use powdered peanut butter in shakes, as other ingredients mixed in can pick up the slack a bit, but we think it is important nonetheless. If you're looking to use this as a straight up substitute for peanut butter, you'll want a powdered peanut butter that mixes easily with water and resembles the creamy texture of peanut butter.
Crunchy peanut butter lovers may have to accept the unfortunate news that executing a crunchy powdered peanut butter is not only difficult, there isn't really anything on the market. Unfortunately, no powdered peanut butter legitimately mirrors the crunch of a a chunky peanut butter, although there are some powdered peanut butters that are thicker than others when mixed with water.
Our rankings couldn't negatively judge texture — aside from it was watery or gross — because texture is primarily subjective. This means that it was more a category to earn points than lose them. Peanut Butter & Co. stuck out to us as the elite texture, but all of our top picks have some solid gusto in this category.
Calories
If you're looking to cut some calories from your diet, but can't bare to part with peanut butter, powdered peanut butter is of course the way to go. The caloric value of powdered peanut butter versus its full buttered counterpart is often upwards of 75 percent less. Take a look at the nutrition facts to figure out how many calories are in a serving size.
The serving size being the big factor here. Pretty much every powdered peanut butter we tried had a label that noted 40 to 60 calories per serving. However, the serving sizes would range a lot from 12 to 16 grams. When mixed with water, both those amounts can go a long way, but if there are two competing powdered peanut butters, one with a 12 gram serving and the other with a 16 gram serving, both at 50 calories, then the latter gets you 25% more volume. We assume every consumer would rather have more peanut butter if the caloric value stayed stagnant, hence we scored those options higher.
Fat
This is really a sub-category of calories in our rankings — most powdered peanut butter contain about 80 to 90% less fat than typical peanut butter. However, this dearth of fat is not always a positive, as some research shows the natural occurring fat in peanuts, oleic acid, may have some health benefits. If you are looking to get a powdered peanut butter and aren't really concerned about the calories, or actually looking for more calories to bulk up, stick with regular peanut butter. The biggest draw to powdered peanut butter is the significantly decreased calorie count. If that isn't your goal, then enjoy that full creamy or crunchy goodness.
Cost
To determine how to get the most bang for your buck, divide the total cost by the number of ounces. This will give you a sense of the cost per ounce and inform you how expensive a certain product is. This was a straightforward category for us — less expensive scored higher than more expensive assuming volume was even.
BarBend Tips
When you're mixing up powdered peanut butter with water to form a creamy topping, start light on the H2O. You can always add more water to reach a desired texture or level of creaminess, but you can't remove it.
If you're turning to powdered peanut butter as part of an attempt to lose weight, here's a gentle reminder that regular exercise and better sleep help you toward your fitness goals.
Powdered Peanut Butter is a less-caloric, but, some would argue, equally tasty substitute for conventional creamy peanut butter. If you're looking to cut down on calories as a peanut butter fanatic, this lower calorie option is likely the solution.