Snacking is different for everyone. Some people may prefer a salty and crunchy snack, whereas others may crave sweet and chewy morsels. Luckily, there are endless snack options on the web that make choosing easier. Before the hunger strikes, plan ahead! We've researched some of the best healthy snacks on the internet to not only make your snacking experience simpler, but also introduce some of the best nutritious snacks out there.
There's a lot that goes into selecting the right healthy snack, and we've done our best to consider taste, nutrition, cost, and packaging. This list doesn't follow any particular dietary plan, so there may be some items listed that don't fit into your nutritional needs. With all that being said, let's get snacking!
Editor's Choice: Popchips (24-Pack)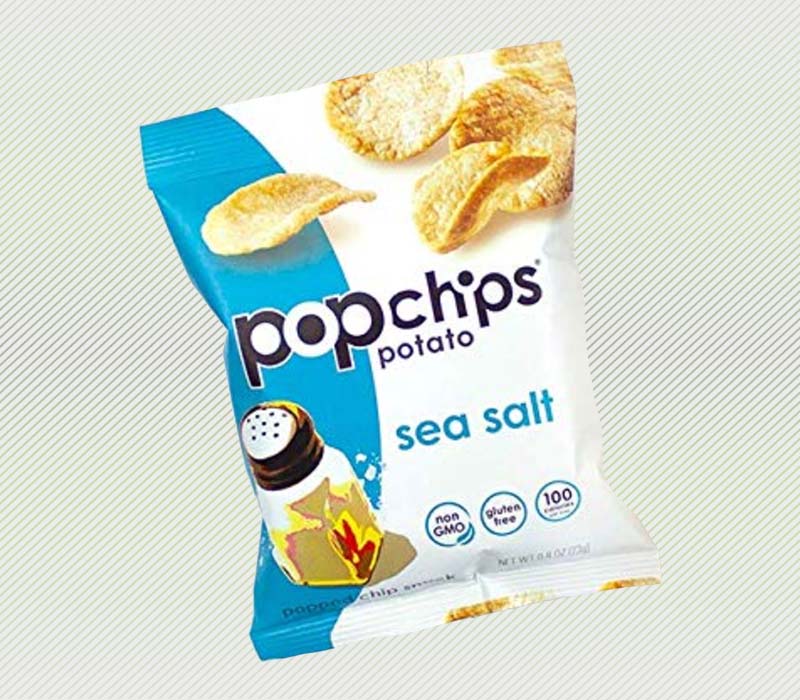 Popchips are crunchy and come in five different flavors, however the variety pack includes the three front-runners: Sea salt, sour cream & onion, and barbeque. These chips stand out because they are popped potatoes. They are made by adding heat and pressure to the potatoes until they pop.
Pros:
Taste. Finding a snack that is both healthy and tasty isn't the easiest task, however Popchips have done it. Their chips are crunchy, crispy, and packed with flavor. I liked the sea salt ones the best because they had a minimal amount of salt, but just enough to be satisfying.
Nutrition. I didn't feel bad indulging in a full bag of pop chips because one serving is just 100 calories (for each flavor) and there is no trans fat or saturated fat. The chips are also gluten free, have no added preservatives, no artificial flavors, and zero synthetic colors.
Production. I really liked that these chips are popped. Chips are typically fried or baked, so it was exciting to see a new player that is right up there in terms of crunch and taste!
Cons:
Flavor variety. Popchips run in five different flavors, however the variety pack only includes three, so this is something to be mindful of if there is a different flavor you would rather have.
Non-GMO. The nutrition of the pop chips is very clean, however the product description does say that "some flavors" are non-GMO and vegan. This makes me curious why not all of their products are the same.
Nutrition Facts:
(Sea Salt Flavor)
Serving size: 1
Calories: 100
Fat: 3.5 g
Sat. Fat: 0 g
Sugar: 0 g
Protein: 1 g
Ingredients: Dried potato, sunflower and/or safflower oil, rice flour, potato starch, sea salt, salt.
Best Simple Ingredients: That's it. (Cherry)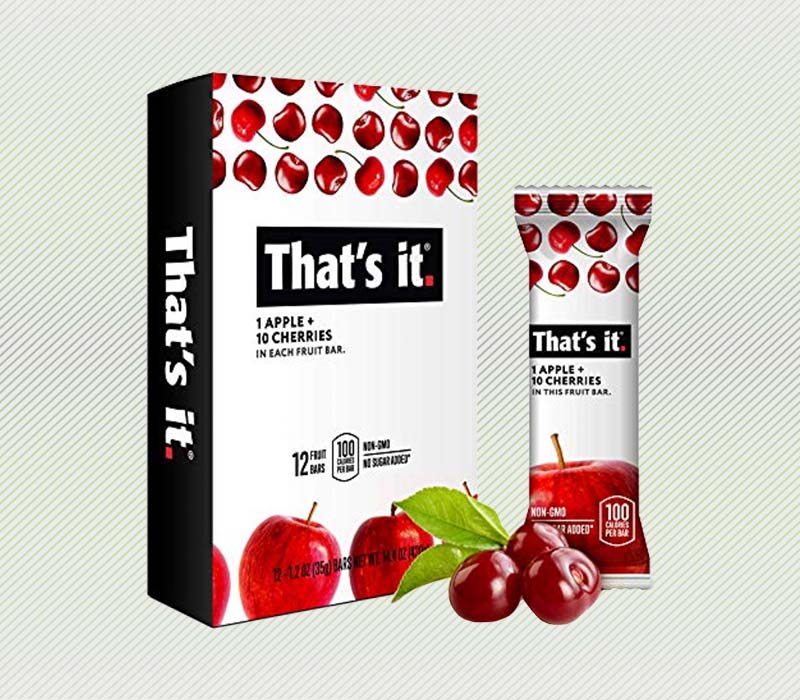 The name says it all here. "That's it." These bars are simple, and are made from one apple and 10 cherries. These bars are no-fuss, and have no added sugar and are non-GMO. Grab one of these to eat on the go, or easily pack it for that moment when hunger hits. "That's it" are a wholesome snack for all, and pride themselves on being made directly from fruit.
Pros:
Simple. I liked how I knew exactly what I was eating and where it came from with these bars. Packing fruit isn't always easy or the most temperature-friendly, so it's great that these bars get rid of that stress by rolling up apples and cherries for a grab-and-go snack.
Ingredients. Just apple and cherries. These bars do give a disclaimer that sometimes they may contain occasional stem, seed or pit fragments which isn't something to stress about because it just validates how real and from the source these bars are.
Calories. At just 100 calories this is a low-cal snack that is perfect to combat a sweet tooth or boost energy levels.
Cons:
Sugar. Since these bars are made from just fruit, they do pack a fair amount of sugar into a single serving. There is 22 grams of sugar in one bar.
Protein. Although "That's it" looks like a typical bar, and could easily be confused for a protein bar by it's design and size, it doesn't have much protein. One bar has just 1 gram of protein.
Nutrition Facts:
Serving size: 1
Calories: 100
Fat: 0 g
Sat. Fat: 0 g
Sugar: 22 g
Protein: 1 g
Ingredients: Apples, cherries
Best On-the-Go: KIND Bar (Dark Chocolate Nuts & Sea Salt)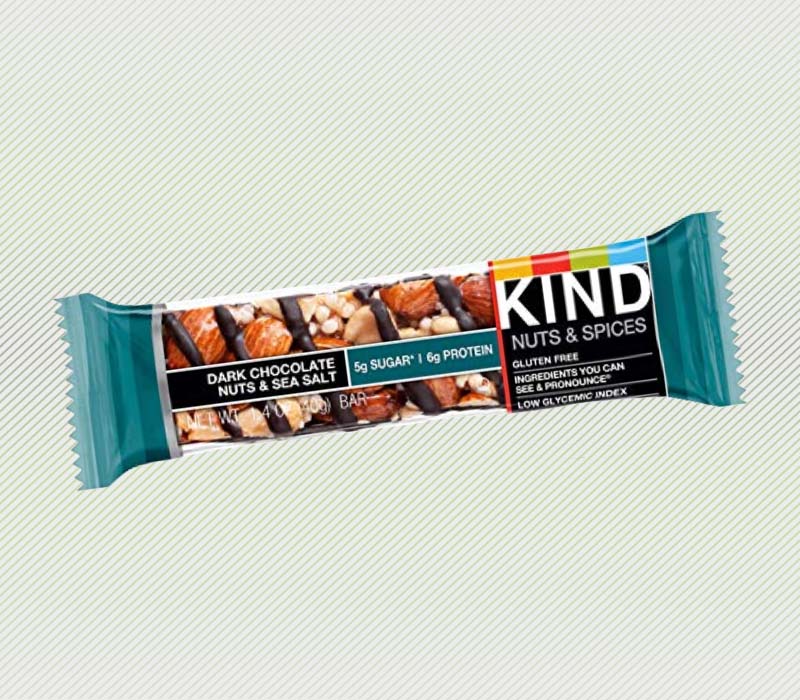 KIND Bars have been a player in the bar game for awhile. KIND Bars come in many different flavors and are gluten-free, made with simple ingredients, and are a solid option for anyone looking for a nutrient-dense, yet tasty bar on the go.
Pros:
Taste. With so many bars out on the market, I can still confidently say Kind Bars are one of my favorites. The dark chocolate nuts & sea salt flavor is the perfect mix of salty and sweet. The nuts give it a good crunch, while the dark chocolate drizzle offers a subtle, yet smooth taste.
Satisfaction. KIND Bars are packed with nutritionally-dense ingredients. There are different nuts, fruits, and whole grains all packed into this bar which makes it not only filling, but a feel-good snack.
Nutrition. I like that these are gluten-free, non-GMO, dairy-free, and are made from primarily nuts (59% nuts for the dark chocolate nuts & sea salt kind!) For a bar that has chocolate in it, I was pleased to find out that there was only 5 grams of sugar and 0 sugar alcohol.
Cons:
Temperature. KIND Bars are great to pack as an on-the-go snack, however because some of them have chocolate and other gooey-deliciousness, they can sometimes melt in hotter temperatures. The packaging ensures that any mess stays put, but something to be aware of if the bar is in a particularly warm bag, or sitting outside.
KIND Bars are typically made with lots of nuts, so this is something to be aware of in terms of allergen information. Some work spaces and schools don't allow snacks with nuts because of allergies, so make sure to read the labels before purchasing!
Nutrition Facts
Serving size: 1
Calories: 200
Fat: 15 g
Sat. Fat: 3 g
Sugar: 5 g
Protein: 6 g
Ingredients: Almonds, peanuts, chicory root, fiber, honey, palm kernel oil, sugar, glucose syrup, rice flour, unsweetened chocolate, cocoa powder, sea salt, soy lecithin, natural flavor, cocoa butter.
Best for Sweet Tooth: High Key Mini Cookies (3-Pack)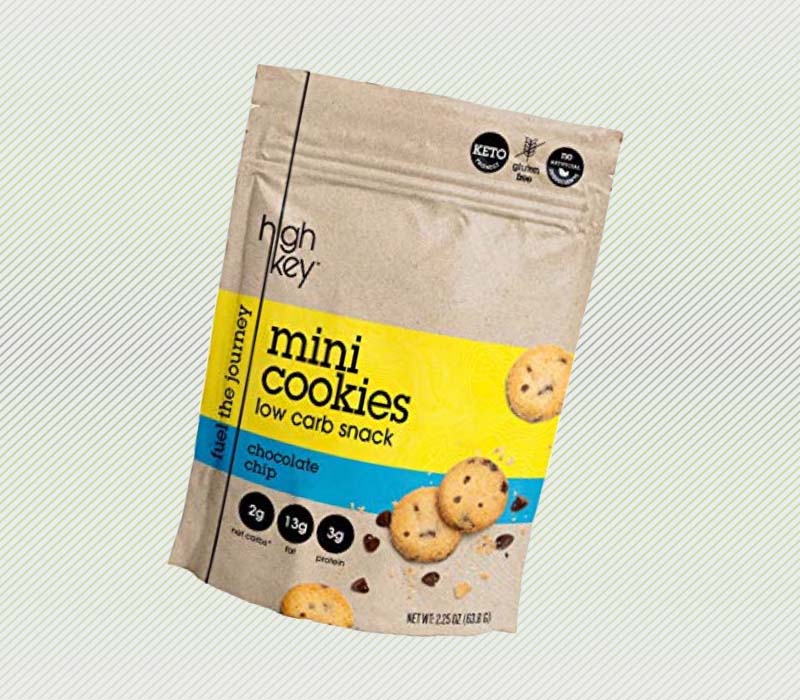 Low carb snacks can be fun thanks to High Key Mini Cookies. These cookies are keto friendly, gluten-free, and non-GMO. They have just 2 grams of carbs, 13 grams of fat, and 3 grams of protein.They are naturally sweetened and are made with almond flour, coconut oil, and collagen.
Pros:
Taste. The High Key Mini Cookies stand out in taste because of the combination of chocolate with a hint of almond flour and coconut oil. I really liked that the coconut oil and chocolate, plus a small taste of vanilla gave these cookies a sweetness.
Keto-friendly. Although I do not follow a keto-diet, I would still choose these. These cookies are gluten-free, grain-free, and naturally sweetened
Serving. Six cookies equals one serving, so let that sink in. Cookies are usually the kind of snack where one or two quickly leads to a guilty downward spiral. There's no room for that with these, since a single serving includes six cookies and totals to just 140.
Cons:
Quality. The cookies were a bit crummy, and not all of them were intact. The taste was still great, but just know that this won't be the cleanest snack on the go.
Packaging. There are two servings per pack, so this is something to be mindful of before indulging in the entire thing.
Nutrition Facts:
Serving size: 1
Calories: 140
Fat: 13 g
Sat. Fat: 6 g
Sugar: 1 g
Protein: 3 g
Ingredients: Almond flour, natural sweetener [(erythritol, monk fruit extract (mogroside V), stevia extract (steviol glycosides)], chocolate chips (unsweetened chocolate, erythritol, cocoa butter, stevia extract, sunflower lecithin), coconut oil, butter [cream (milk), salt], prebiotic fiber, dried eggs, vanilla extract, baking powder, hydrolyzed collagen, sea salt, xanthan gum, guar gum.
Best Value: Planters Variety Pack (24-Pack)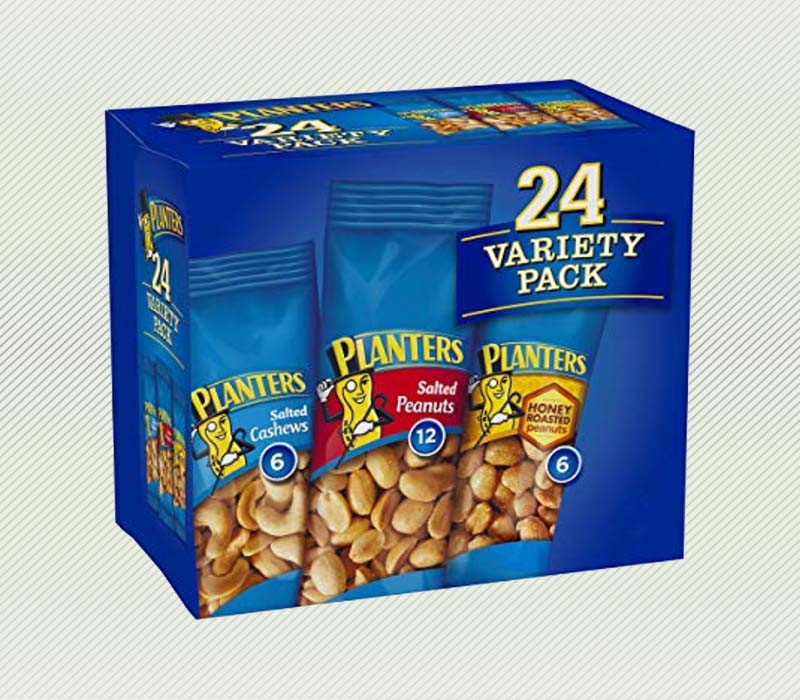 The Planters Variety Pack includes salted cashews, salted peanuts, and honey roasted peanuts. This product includes 24 packages of nuts for a price of just $8.48. Each of the nuts are packed with protein, low in sugar, and are a great option to grab and eat on the go. Shopping for nuts can be difficult, especially as far as understanding portion control, so these coming in single-serving packages makes it convenient and easier to snack consciously.
Pros:
Price. A pack of 24 nuts under $10 is a total steal. Also, Planters isn't just giving out one flavor for this price, there are three kinds in this pack.
Accessible. The single-serving portion packs are perfect to pack on-the-go, toss into a bag for later, or even indulge in while running out the door. The packaging is easy to open with a "tear here" slit, which makes snacking on these nuts easy.
Serving. Forget just reaching blindly into bag for nuts, and consuming well over the suggested serving size. Planters makes it easy by portioning out a single-serving packs.
Cons:
Ratio. This variety pack doesn't provide the same number of flavors. There are 12 servings of salted peanuts, and six servings of salted cashews, and honey roasted peanuts. This is something to be cognisant of if plain salted peanuts isn't your number one.
Calories. It is no surprise to anyone that nuts can rack up in calories, and similarly in these packs the calories run from 240 calories per serving to 290 calories depending on the kind.
Nutrition Facts:
(Salted Peanuts)
Serving size: 1
Calories: 290
Fat: 25 g
Sat. Fat: 3.5 g
Sugar: 2 g
Protein: 13 g
Ingredients: Peanuts, peanut oil, sea salt.
Best Wild Card: HIPPEAS Organic Chickpea Puffs (Variety Pack)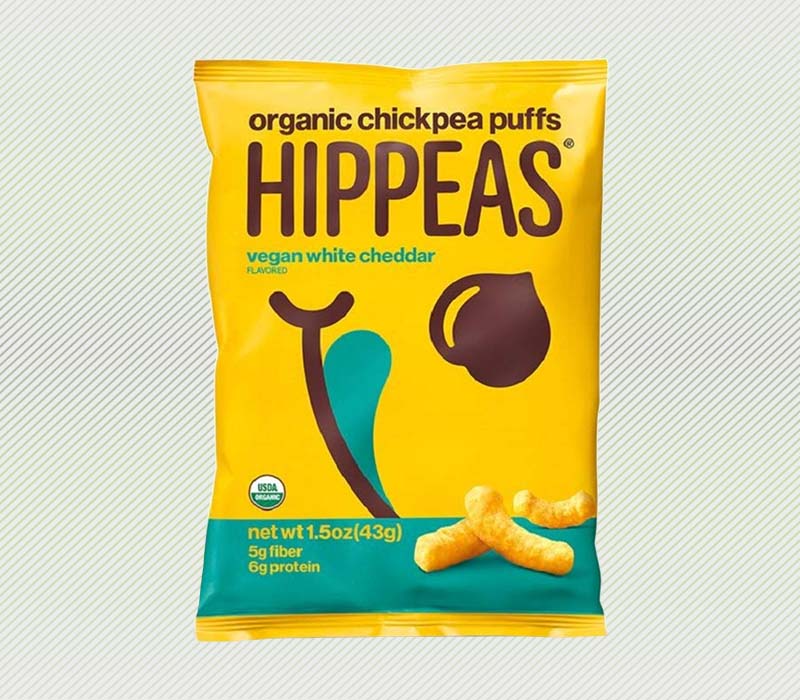 HIPPEAS Organic Chickpea Puffs come in three flavors, vegan white cheddar, Sriracha sunrise, and bohemian barbecue. All of the organic chickpea puffs are gluten-free, vegan, kosher, non-GMO and don't have nuts or soy in them. This makes it an edible snack to people with a wide-range of dietary restrictions. The puffs are packed with protein, solid flavor, and come in eye-catching packaging.
Pros:
Taste. I liked all three flavors a lot. They actually tasted like they sounded, and I didn't mind the mild aftertaste of chickpeas. The Sriracha sunrise stands out because of the flavor combination of salt, spice, and sweetness.
Creativity. The packaging is hip, colorful, and eye catching. The names of the flavors are innovative and took just a barbecue flavor to another level by adding bohemian ahead of it.
Protein. One bag has 6 grams of protein which is great for a puffed snack.
Cons:
Ratio. The variety pack includes six vegan white cheddar, three sriracha sunshine, and three bohemian barbecue. Since I like the vegan white cheddar a lot this didn't bother me, but make sure to consider flavor preference before purchasing the variety pack!
HIPPEAS aren't the easiest snack to eat on-the-go since there are quite a few packed in each bag, and because of the flavors it can get a little messy.
Nutrition Facts:
(Vegan White Cheddar)
Serving size: 1
Calories: 200
Fat: 8 g
Sat. Fat: .5 g
Sugar: 2 g
Protein: 6 g
Ingredients (*organic): Chickpea flour*, rice flour*, sunflower oil*, tapioca starch*, pea hull fiber*, brown rice flour*, salt, cane sugar*, onion*, citric acid, garlic*, rice concentrate*, lactic acid, canola oil*, natural flavor, rosemary extract.
How We Picked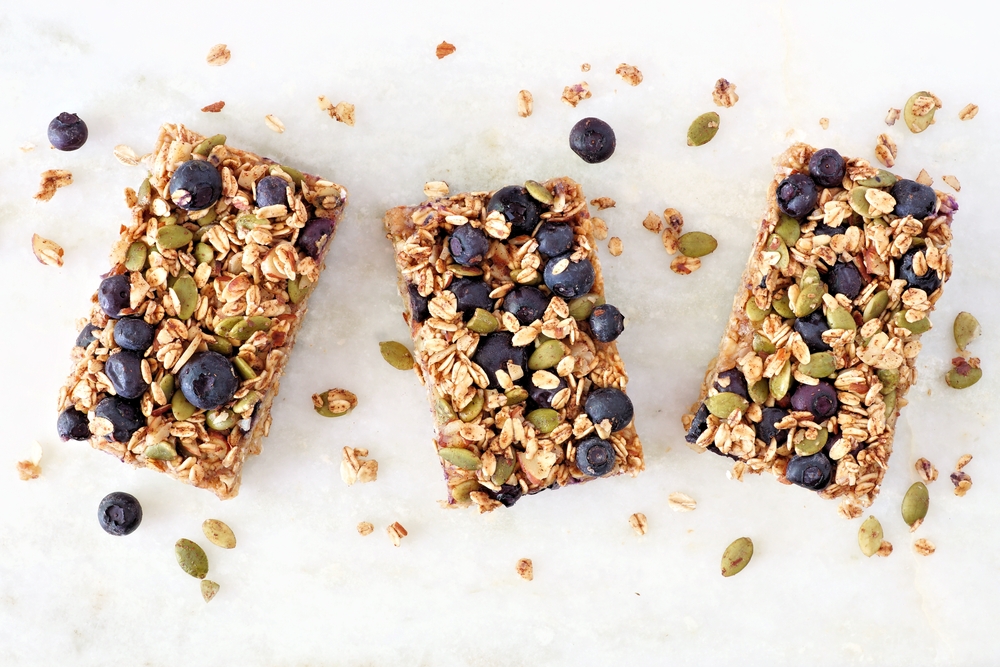 Now that we've gone through six of my favorite healthy snacks, let's take some time to go over my process to make these selections. In order for a snack to be considered healthy we looked closely at the ingredients and nutritional breakdown. We paid attention to where the ingredients came from, how the snack was made, and if the snack catered to any particular diet. We also made sure to taste everything! At the end of the day the key to a perfect healthy snack is something that not only tastes good, but also adds some nutritional value.
Nutrition
The first thing we did was look at the nutrition label on each snack. We wanted to know what the ingredients were, and what the nutritional breakdown was. When looking at the ingredients we kept an eye out for simple ingredients. Less is more, so we tried to prioritize items that didn't stray far from the actual source. When observing the nutritional breakdown we looked at calories, fat, sugar, and fiber. In general a snack shouldn't be so high in calories that it feels like a meal, but it should be satisfying enough to keep your stomach from grumbling.
Taste
A snack should taste good! We picked snacks that were satisfying, but also offered a variety in taste. Some snacks we chose were sweeter and others were salty. A few of the variety packs included flavors that had different flavors that cater to all types of taste buds.
Convenience
Grab and go. A snack should be easy to access, quick to open, and no fuss. The last thing anyone wants is to be in a pinch for time and hungry! A healthy snack can be the perfect easy fix when hunger strikes and time is tight.
Packaging
A healthy snack ideally should be in packaging that is durable. It shouldn't go stale, it shouldn't crumble, and it shouldn't melt. We also looked at how all of the nutritional information and breakdown was curated on the packaging, and found that some snacks were more transparent than others.
BarBend Tips
In the strength sports world, we're always looking for the next best snack to either fuel a workout or help with recovery. We understand how important nutrition is for building strength, so we take our snacking seriously.
Nutrition
While there is no one diet that every athlete in strength sports follows, reading a nutritional label is something any top athlete is accustomed to. We certainly recommend looking at the ingredients as well as the nutritional breakdown. A snack should be something that fits in with daily caloric goals, and isn't something that takes you off course.
Packaging
A snack shouldn't take much thought or stress. It should be something easy to eat, accessible, and enjoyable. We look for items that can withstand a long day in unpredictable temperatures, are easy to eat and digest, and won't take too long to prepare and eat.
Taste
It could be the healthiest snack in the market, but it still needs to taste good or it will just sit in a cabinet with all the rest of the sad, one-off stuff. We look for snacks that will fuel all different taste buds.
Wrapping Up
Now that we've gone through six of the best healthy snack options on the web, we've definitely worked up an appetite. There's a lot that comes into choosing the best healthy snack, but hopefully by now we've provided plenty of good tasting, guilt-free options.