Sneaking a meal in before you train at the gym can be difficult, especially if you're coming from a long day at the office. Equally difficult is when you have to wake up early, and find the energy to push yourself hard at the gym. That's when quick fuel via a grab-and-go snack or a high-quality pre-workout can help you get through your sweat sesh with some protein or caffeine. A pre-workout snack might also help you retain muscle, and provide the energy to lock out that last deadlift without the barbell grinding to a halt.
Many snack options on the market claim to be an ideal pre-workout snack, but include too much fat, have an ingredient list that could slow digestion, or produce a "heavy" feeling in the belly that can make lifting uncomfortable. If you're trying to make your workout better, that will be hard to do with a brick sitting in your stomach. Ideally, we're looking for pre-workout snacks that are more like protein bars than candy bars to provide easily digestible nutrients. To help you decide the ideal option, we compiled this list of the best pre-workout snacks on the market to get you to your next training session.
Best Pre-Workout Snacks
Editor's note: The content on BarBend is meant to be informative in nature, but it should not be taken as medical advice. The opinions and articles on this site are not intended to diagnose, prevent, and/or treat health problems. It's always a good idea to talk to your doctor before beginning a new fitness, nutritional, and/or supplement routine. Individual needs for vitamins and minerals will vary.
Best Pre-Workout Protein Snack
Your pre-workout snack should be something you to look forward to. This pre-workout protein snack gets the nod over a protein shake because it is satiating and (in our opinion) tastes better.
Onnit Protein Bites
These tasty protein bites are packed with protein and nutrients to help give you the energy you'll need to power through even your toughest workouts. Onnit sources its protein in these bites from whey and milk isolate from grass-fed cows. Each bite provides a modest 120 calories from six grams of fat, 15 grams of carbs for energy, and eight grams of protein. Of those 15 grams of carbs, seven are dietary fiber — meaning these bites may provide solid satiety. Onnit also includes a blend of over 60 plants, herbs, nuts, and seeds.
The big draw here is the taste though as these are objectively some of the best-tasting protein snacks out there, featuring a chocolate coating and chewy center. Pick your favorite from a variety of classic and fun flavors like Cookies and Cream, Coconut Cashew, S'mores, Chocolate Peanut Butter, and more. Each box contains 24 bites and costs around $39.95 ($1.66 per bite). Be careful if you have allergies though as these contain tree nuts, milk, soy, and sesame.
Who Should Buy Onnit Protein Bites
People who want a delicious-tasting pre-workout snack. These are generally regarded as some of the tastiest protein products in the industry.
Folks who prefer to eat their pre-workout snack rather than drink it.
People who want a nutritionally balanced pre-workout snack. These provide a solid blend of macros for energy and potentially aid in recovery.
Who Shouldn't Buy Onnit Protein Bites
Anyone on a strict cut who may want lower fat, higher protein macronutrients. Though six grams of fat isn't all that much, those are precious calories that could have been used for protein or carbs.
Anyone with food allergies will want to be extra cautious. All of Onnit's Protein Bites contain tree nuts, milk, soy, and sesame.
Flavor meets function when it comes to this pre-workout snack. They're not too much to make you feel bloated, but enough to provide a satisfying pre-workout boost. Some folks may want slightly less fat and more protein, but on the whole, these are a happy medium nearly any gymgoer can enjoy.
[Related: Could Baking Soda Be The Best Workout Supplement You've Never Tried?]
Best Pre-Workout Drink
If you're looking for energy, blood flow, focus, and other potential benefits that may come from a pre-workout drink rather than an edible solution, then we've got a perfect option for you. The potent formula of Huge Supplements Wrecked contains 17 clinically-dosed ingredients to help you power through that early morning or evening workout.
Huge Supplements Wrecked
Wrecked contains 17 different potent ingredients that are designed to work together to provide the maximum fuel for your workout. Staples like citrulline (8,000mg), beta-alanine (3,500mg), and betaine (3,000mg) for a potential boost in pump and blood flow are strongly dosed. Energy and focus ingredients are also included in high doses with 600mg of alpha gpc, 350mg of total caffeine, and 1,500mg of l-tyrosine. Other thoughtful ingredients include 3,000mg of malic acid, which can potentially aid with muscular endurance, and 10mg of black pepper extract, which may help with absorbing all of the ingredients in this heavy-hitting formula.
Due to the clinical dosing of all the ingredients included in Wrecked, the serving size is quite large at just over 30 grams. The price per serving is also higher than most regular pre-workouts at about $2.49 per scoop, but this is a very strong pre-workout, so you're paying for the potency here. Wrecked is available in four delicious flavors — Peach Rings, Raspberry Mojito, Bomb Popsicle, and Rainbow Burst.
Who Should Buy Huge Supplements Wrecked
Those who are looking for a strong pre-workout to potentially give them a boost of energy and help in the sports performance department.
Anyone who likes the tingles from beta-alanine — the 3,500mg dose here is high enough to potentially leave you buzzing with tingles.
Folks who don't mind paying extra for well-dosed and comprehensive ingredients. Huge Supplements Wrecked doses all 17 ingredients properly.
Who Shouldn't Buy Huge Supplements Wrecked
Anyone who is sensitive to stimulants or trains later in the day may want to look for a stim-free pre-workout.
Those who simply want a snack before they work out — like a protein bar instead of a pre-workout drink.
Folks who are on a budget may want to look for other, more cost-effective options for a pre-workout drink.
If you're looking for a pre-workout drink to provide a comprehensive list of clinically-dosed ingredients to support your workouts then you've struck gold here. Wrecked has ingredients that may cover practically every area of your workout — from blood flow and energy to focus and fatigue management. The scoop size may be large and the price tag higher than some other pre's, but we think it's worth it if you can afford it.
Read our full review of Huge Supplements Wrecked.
Best All-Natural Protein Bar
When you're reaching for a healthy pre-workout snack, you want your protein bar to be clean and high-quality to fuel you properly. Legion High Protein Bars are all-natural without any artificial flavors, dyes, or sweeteners — plus, objectively, they taste great too.
Legion High Protein Bar
Legion High Protein Bars are an all-natural, high-protein, and low-sugar bar that can make for a great pre-workout snack to fuel your efforts. The transparent labeling provides confidence that you can see everything that's in the bars and know exactly what you're putting in your body. Possibly more important is what you won't be putting in — namely any artificial sweeteners, flavors, or dyes. Snack with peace of mind since these bars are manufactured in an NSF-certified and FDA-inspected facility that provides independent, third-party testing for accuracy and food safety.
As far as nutrition, these bars are a complete snack with a friendly macro profile. Each bar contains 20 grams of protein from milk and whey with 12 grams of fat and 24 grams of carbs. Of those 24 grams of carbs, nine come from dietary fiber with only four coming from sugar. The fat content is a bit higher than some people may like, but that can aid in the bars having a more palatable consistency rather than being chalky.
Pick up your favorite of either Chocolate Chip Cookie Dough or Chocolate Peanut Butter for about $39.99 per box (or $3.33 per bar). These may not be the cheapest protein bar, but we think they're top-notch in quality.
Who Should Buy Legion High Protein Bars
Those who want a pre-workout snack that's all-natural without any artificial ingredients, but yet, still tasty. This bar checks both those boxes.
Anyone who prefers to eat their pre-workout snack rather than drink it. The process of actually chewing something is more satisfying to some folks.
People who want a decent number of calories to fuel their workout. These bars provide carbs, protein, and fat in a macro-friendly split to power your workout.
Who Shouldn't Buy Legion High Protein Bars
Folks who prioritize cost-effectiveness. These aren't the cheapest pre-workout snacks out there as you're paying for the high quality here.
Anyone who suffers from peanut or nut allergies. These contain almond butter.
People who want a kick of energy from caffeine will want to look at other options on this list for that.
Even with only two flavors, you can't really go wrong with either if you are in the market for an all-natural pre-workout snack. The protein content here is comparable with other popular protein bar options on the market, but the transparency and third-party testing combined with the lack of artificial ingredients push these bars over the top.
[Related: Intermittent Fasting 101: A Guide To Benefits, Muscle Gain, And More]
Best Caffeinated Snack Bar
Pre-workout powders can be great for providing energy, but they don't provide anything of note when it comes to crucial calories to burn during your workout. Typical protein bars can provide much-needed calories to burn, but no extra energy. If you want the best of both worlds, then consider this product — Quantum Energy Squares.
Quantum Energy Squares
These unique caffeinated snack bars are a perfect pre-workout snack to provide both calories to power your workout and a hit of caffeine for an extra push of energy. These bars provide 100mg of caffeine for clean and smooth energy without any jitters. The bars themselves are suitable for nearly any type of diet as they're free of GMOs, soy, dairy, and gluten. They're also Kosher and vegan — though they do contain tree nuts and almonds, so those with allergies are aware.
Each bar provides 10 grams of plant-based protein with, on average, 20 grams of carbs and 11 grams of fat for 210 calories per bar. Quantum Energy Squares are available in a variety of flavors too — Caffe Mocha Almond Chip, Peanut Butter Dark Chocolate, Dark Chocolate Pink Himalayan Salt, and Coconut Almond Chocolate Chip. You can also try all four flavors in a variety box. These ring out at about $19.95 per box of eight, which comes out to $2.49 per bar — a fairly average price for protein bars.
Who Should Buy Quantum Energy Squares
Anyone who wants the best of both worlds with both a protein snack and caffeine for a potential boost in energy. These provide both.
Folks who like having a wide variety of flavors. The four flavors offered here are all unique. You can also purchase a variety box for two of each flavor to try.
Those who are vegan. These provide 10 grams of plant-based protein per serving instead of the more common dairy-based protein.
Who Shouldn't Buy Quantum Energy Squares
Anyone who is allergic to nuts or tree nuts will want to steer clear of these energy squares.
Folks who are sensitive to caffeine may want to look at other pre-workout snack options.
People who want more than 10 grams of protein per serving will want to check other options on this list.
Protein? Check. Caffeine? Check. Ready to workout? Check. Quantum Energy Squares take a dual-pronged approach to providing the energy you need to crush your workout while keeping free of gluten, GMOs, dairy, and soy.
Best Digesting Snack Bar
The last thing you want when you're trying to workout is an upset stomach — especially if you're doing squats or deadlifts (been there, done that, not fun). Thankfully, there's an option for a well-digesting pre-workout snack in the Legion High Protein Bar.
Legion High Protein Bar
These digestion-friendly bars are made to be as clean as possible with no artificial ingredients to potentially mess with your stomach. Each bar provides a solid 240 calories to fuel your performance in the gym. The macros break down into 20 grams of protein, 24 grams of carbs, and 12 grams of fat per bar. Of those 24 grams of carbs, nine grams are prebiotic fiber, which may help encourage growth and regulation of beneficial gut bacteria. (1)
Additionally, Legion ensures no artificial sweeteners are used, which may negatively affect your gut microbiome, though the research on this topic is mixed. (2) Regardless, it's an extra step that shows how careful Legion is about what they put in their products. Each batch of products is third-party tested for purity and label accuracy, too.
Whether you fancy Chocolate Chip Cookie Dough or Chocolate Peanut Butter, you can pick up a box of 12 bars for about $39.99 ($3.33 per bar). These bars might be expensive, but the care put into building such a clean formula makes them worth the cost, in our opinion.
Who Should Buy Legion High Protein Bars
Those looking for a high-protein pre-workout snack. These provide a dose of 20 grams of protein per serving.
Anyone who values their gut health or has problems with digesting regular protein bars. These may be better tolerated because of the all-natural ingredients and prebiotic fiber.
Folks who enjoy knowing that what it says on the label is exactly what you're putting into your body. Third-party testing is done on every batch of Legion High Protein Bars.
Who Shouldn't Buy Legion High Protein Bars
People who want to keep their fiber intake low for any reason will want to look for other options. The nine grams of fiber per bar here is quite high.
Anyone who is vegan will want to look for other, plant-based options on this list.
Those with allergies to tree nuts and milk will want to steer clear of these bars.
If you've tried other pre-workout snacks, and had trouble digesting them or were left with an upset stomach, then these might be the saving grace you're looking for. The combination of naturally sourced ingredients, the lack of artificial ingredients, and the inclusion of prebiotics make for a potentially more gut-friendly pre-workout snack.
[Related: Nutrition For Bulking: 10 Tips For Intelligent Muscle Gain]
Best Snack for Vitamins and Minerals
If you're on the go often, then you might be lacking in certain vitamins and minerals. An easy way to help fill in those gaps is a nutrient-dense pre-workout snack for your body to use as energy for your gym session. If you want a great option, look no further than the Paleovalley Superfood Bars.
Paleovalley Superfood Bars
These bars are made with certified organic, antioxidant-rich superfoods like kale, spirulina, turmeric, and ginger. They're naturally low in sugar with just four grams per bar, and free of gluten, grains, soy, and GMOs. For protein, Paleovalley uses 100-percent grass-fed bone broth protein. These are relatively low in calories too (compared to many other protein bars) at 190 calories. The macro split is decent, as well, with 12 grams of fat, 21 grams of carbs, and 10 grams of protein for most flavors.
Despite not having the most protein on the market, these bars hit the right marks where they're designed to — in the micronutrient category — thanks to their blend of 10 full-spectrum, organic superfoods. There are great flavor options too with options of Pumpkin Spice, Dark Chocolate Chip, Apple Cinnamon, Lemon Meringue, and Red Velvet. A box of 12 bars will run you around $37.99 ($3.17 per bar), though you can score discounts if you order in bulk once you know you like them.
Who Should Buy Paleovalley Superfood Bars
Those who are concerned with ensuring they're intaking adequate vitamins and minerals daily. The blend of 10 superfoods here is designed to help in that department.
People who appreciate the lower sugar content. Four grams of sugar or less per serving and no sugar alcohols make these a great choice for those conscious of their sugar intake.
Folks who follow a paleo diet will appreciate that these don't have any grains or cereals, and the protein is from plants and bone broth.
Who Shouldn't Paleovalley Superfood Bars
Those who are looking for a higher protein content will want to check out other options on this list.
Anyone who wants their pre-workout snacks to have a lower fat content. The trade-off is that generally, lower-fat bars are more chalky, but have less fat to slow digestion.
People who are allergic to tree nuts will want to pass on these bars as they contain cashew, almond, and coconut.
With a variety of interesting flavors to choose from, you can't go wrong if you're in the market for a vitamin and mineral-rich pre-workout snack. The protein may be lower than other bars, but the ingredient list as a whole makes up for it. These are superfood bars at the end of the day, not "protein" bars.
[Related: The Lifter's Guide To Magnesium: What This Nutrient Does For Strength]
Benefits of Pre-Workouts Snacks
Some people like to perform fasted cardio but generally, it's beneficial to have some nutrients to fuel your workout in the form of a pre-workout snack. Taking a protein-rich supplement like many of those on this list can potentially improve muscular adaptations and increase your gains. (3) Some other pre-workout snacks contain ingredients that can help potentially aid in your performance during workouts.
Common pre-workout ingredients, like citrulline and betaine, are included in pre-workout drinks to potentially aid in blood flow and pumps, while caffeine is often in the drinks and may provide energy and focus. Some pre-workout snacks even have caffeine included in protein bars for a double whammy.
How We Chose the Best Pre-Workout Snacks
When selecting the pre-workout snacks on this list, we looked for a variety of factors. Many common ones, such as ingredients and price, but also the purpose or need that the product filled. For a breakdown of these considerations, follow along with us below.
Ingredients
A product is only as good as the sum of its ingredients, which is why we placed a high priority on effective ingredients and transparent labeling with our picks. It can be difficult to find the "perfect" pre-workout snack since there are so many different types with swathes of ingredient types.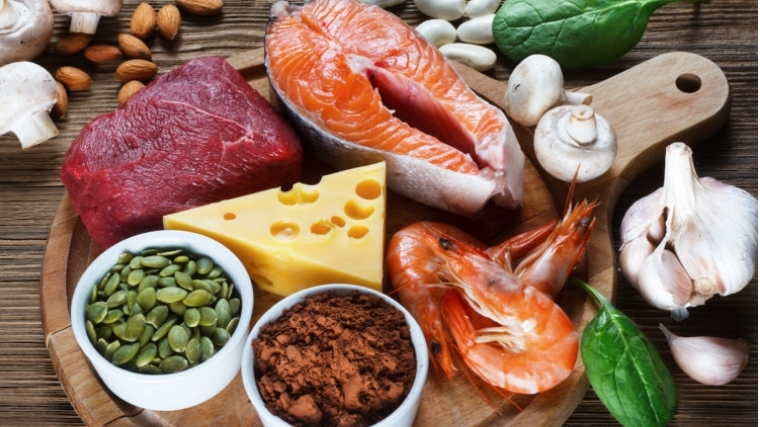 What we look for in a pre-workout drink will be vastly different from what we're looking for in a pre-workout bar, for example. That said, the clarity of the label, the dosing of ingredients or macro split, and the overall quality of what makes up the product are all important considerations for us in making our picks.
Price
This one is tricky since the price can vary widely with the different types of pre-workout snacks. Overall, the price has to be justified by the quality and benefits of the product. A simple protein bar may not command a price of over $3.00 per bar, but a specialized one with unique benefits (like all-natural ingredients) might. Similarly, a regular pre-workout drink with common dosing might not rank well if it costs over $2.00 per serving, but one that's stacked with a highly-dosed formula would. The value you receive from the product has to equal the price paid for it for that product to rank well on our list.
Purpose
The purpose of a product or the need it may fill were also important factors we took into consideration when making these picks. We like to have a wide range of products to accommodate a variety of situations on our lists, and the products we choose have to fulfill their purpose well.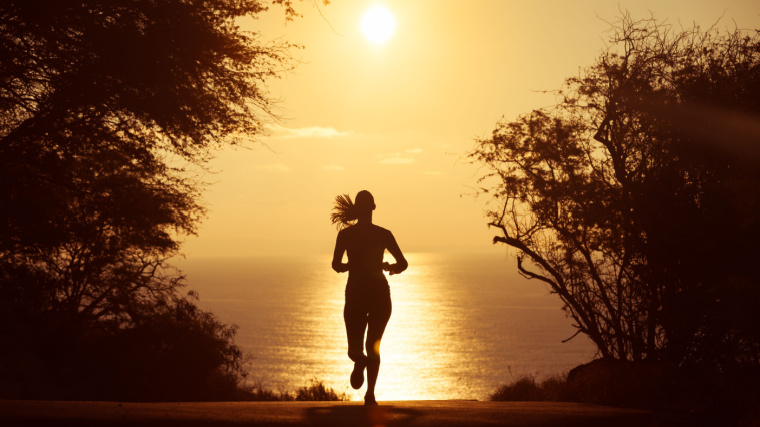 If we're selecting a product that we think is the best option for those who may have trouble digesting pre-workout snacks, then that product has to have some special components that make it exceptional in that area (like prebiotics for ease of digestion or all-natural ingredients), along with satisfying the other factors we take into account.
How Much Do Pre-Workout Snacks Cost?
Pre-workout snacks can be as simple as a piece of fruit or a cup of coffee. If you're looking for a little more oomph or something with a bit more vitamins and minerals then our list of pre-workout snacks will cost a bit more but have potentially more benefits. The prices vary with protein and energy bars being a bit more expensive per serving while pre-workout formulas are generally a bit less expensive.
Best Pre-Workout Protein Snack
Onnit Protein Bites

$39.95

Per serving: $1.66

Best Pre-Workout Drink
Huge Supplements Wrecked

$49.95

Per serving: $1.25

Best All-Natural Protein Bar
Legion High Protein Bar

$39.99

Per serving: $3.33

Best Caffeinated Snack Bar
Quantum Energy Squares

$19.95

Per serving: $2.49

Best Digesting Snack Bar
Legion High Protein Bar

$39.99

Per serving: $3.33

Best Snack for Vitamins and Minerals
Paleovalley Superfood Bars

$37.99

Per serving: $3.17
For pre-workout snacks, you can expect to spend somewhere around $20 to $50 for a box of bars or tub of powder. The price per serving hovers between about $1.25 and $3.33 with food goods being a bit more expensive and on the higher end of the spectrum.
What To Consider Before Buying Pre-Workout Snacks
The best strategy for pre-workout nutrition is to get a dose of protein and an even higher dose of carbohydrates, which can help with muscle growth and energy levels. (3) Fat and fiber aren't inherently bad before a workout, but they can slow digestion — this is why they may be great for satiety at other times of the day, but not always ideal for when you want your snack to digest quickly.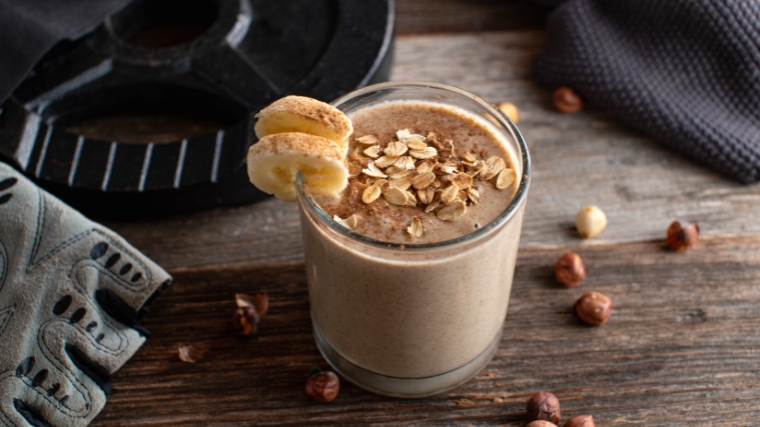 Many bars contain sugar alcohols, which are a great way to add sweetness without calories, but a small minority may find them hard to digest. Some other important things to consider when choosing a pre-workout snack are your training goals and dietary needs, or the time of day you're consuming the snack.
Training Goals
This one should seem pretty straightforward on the surface. If you're about to set off on a 10-mile run, then a low or no-calorie pre-workout drink is likely not the best option, as you'll want some protein and a hearty dose of carbs to keep your tank full. Likewise, if you're hitting the gym to crank out a heavy lifting session and you're feeling sluggish, a higher calorie snack might only add to that — a caffeinated beverage might do the trick instead. Aligning your pre-workout nutrition with your training goals and the type of training you're about to perform is key to selecting the right pre-workout snack for that workout.
Dietary Needs and Time of Day
This one can come down to personal preference, but there are some general guidelines to keep in mind. If you like to or have to workout in the evening, then it's best to keep the caffeine to a minimum if you absolutely need to have it. Likewise, a large pre-workout snack first thing in the morning might cause some stomach problems. When we exercise, the sympathetic nervous system is upregulated to meet the demands of increased heart rate and blood flow which diverts blood from many non-essential processes at that time — like digestion. (4)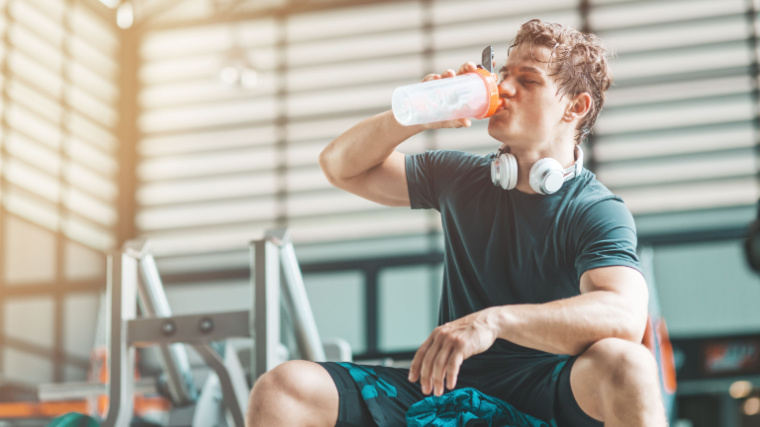 Consuming food and then exercising within a short time can cause that food to simply sit in your stomach or small intestine, and cause gastric distress. If you want proof, next time you're exercising hard take your hand and touch your arms or legs, and feel how warm they are, then touch the skin on your tummy and you'll notice it's cool to the touch. That's due to the blood being shunted away from the center of the body and to the limbs where it's needed more as a survival mechanism. (4)
Palatability
This goes hand-in-hand with dietary needs, as you'll want to ensure that the pre-workout snack you're ingesting is something that you can easily tolerate and won't cause you to have an upset stomach. Likewise, the pre-workout snack should be something that you look forward to as a way to get you in the mood to work out.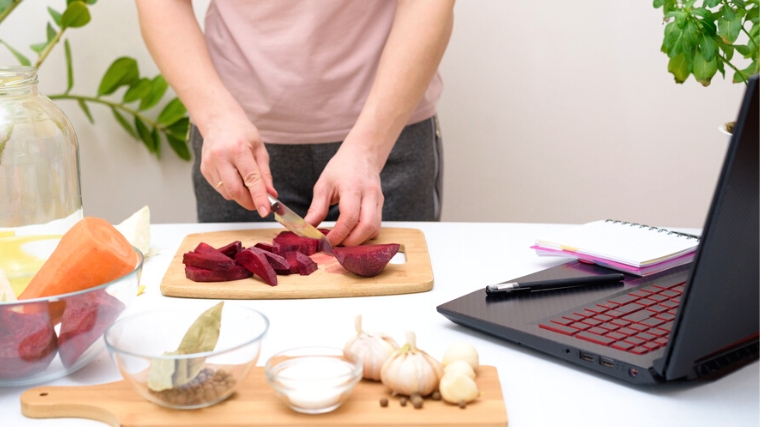 If you dread choking down a chalky protein bar, or pinch your nose and chug a pre-workout drink, then you're less likely to intake the often much-needed product. Experimenting with different options is a good idea until you find one that works for you to stick with. Don't be afraid to branch out and try something new when you've got an easy or short workout coming up though.
[Related: IIFYM (If It Fits Your Macros): Your Ultimate Guide To This Diet]
Final Word
There are countless ways to approach pre-workout nutrition, and we've provided a handful of what we think are high-quality solutions to some of the most common approaches. You have to find what works best for you, which may take some experimenting. Some people like to train fasted if they go to the gym first thing in the morning while others absolutely need to eat something first. Others can just slam a pre-workout drink and be good to go.
We want to be clear that there's no right or wrong way to approach pre-workout snacks — though we may advise against hitting the buffet first as you're more likely to fall asleep on the bench instead of hitting a PR. No matter what approach you take — whether it be a drink, caffeine, protein bar, or something else — just make sure you chat with your doctor before making any big changes to your diet or supplement regimen.
FAQs
References
Carlson, J. L., Erickson, J. M., Lloyd, B. B., & Slavin, J. L. (2018). Health Effects and Sources of Prebiotic Dietary Fiber. Current developments in nutrition, 2(3), nzy005. https://doi.org/10.1093/cdn/nzy005
Suez, J., Korem, T., Zilberman-Schapira, G., Segal, E., & Elinav, E. (2015). Non-caloric artificial sweeteners and the microbiome: findings and challenges. Gut microbes, 6(2), 149–155. https://doi.org/10.1080/19490976.2015.1017700
Schoenfeld, B. J., Aragon, A. A., Wilborn, C., Urbina, S. L., Hayward, S. E., & Krieger, J. (2017). Pre-versus post-exercise protein intake has similar effects on muscular adaptations. PeerJ, 5, e2825.
Ramsbottom, N., & Hunt, J. N. (1974). Effect of exercise on gastric emptying and gastric secretion. Digestion, 10(1), 1-8.
Karli, U., Guvenc, A., Aslan, A., Hazir, T., & Acikada, C. (2007). Influence of Ramadan Fasting on Anaerobic Performance and Recovery Following Short time High Intensity Exercise. Journal of sports science & medicine, 6(4), 490–497.
Engmann, J., & Burbidge, A. S. (2013). Fluid mechanics of eating, swallowing and digestion – overview and perspectives. Food & function, 4(3), 443–447. https://doi.org/10.1039/c2fo30184a