Sometimes, it's been a good few hours since you've eaten but it's still time to go work out. We know the feeling. That's when you want some quick energy to help you get through a sweat sesh, give you some protein to retain muscle, and some carbs to help you keep lifting until the last barbell drops from your fingertips.
It's hard to find a snack that serves these needs, with many claiming to be an ideal pre workout snack yet they wind up high in fat, slowing digestion and producing a "heavy" feeling in the belly. To help you decide on the ideal option, consider our picks to get you to your next workout.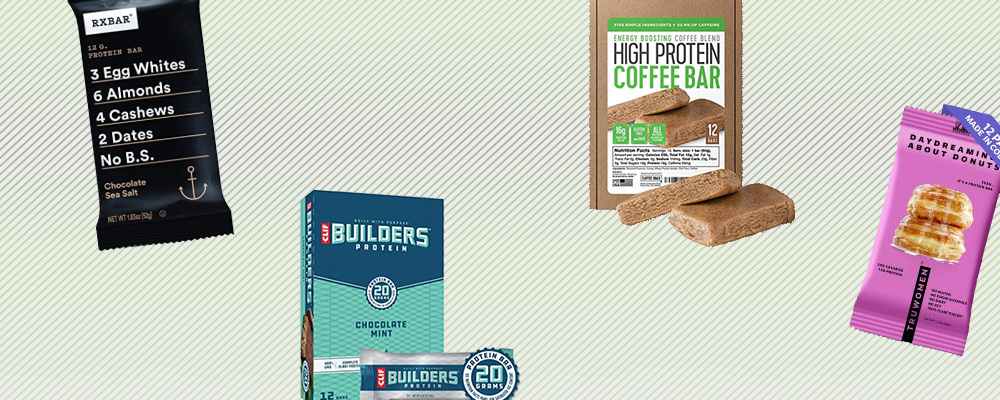 Best Overall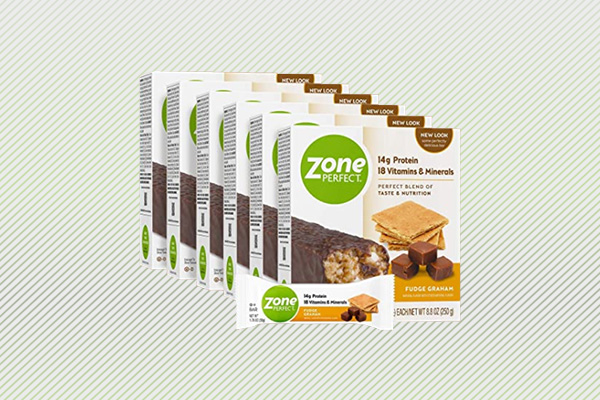 Zoneperfect Classic Protein Bars
Offered in over ten flavors, Zoneperfect gets a lot of points for flavor variety but it also has a terrific nutrition profile. Not only does it contain about 14 grams of complete protein and 20 to 25 grams of carbohydrates — with little fiber and fat to slow digestion — the product also contains eighteen vitamins and minerals to provide important micronutrients.
Pros
Zoneperfect's bars contain a significant amount of protein and carbs to help fuel a productive workout.
The bars are unusually nutritious, delivering over 50 percent of the recommended daily intake of over a dozen vitamins and minerals.
The bars contain no artificial sweeteners.
Cons
Most of the protein comes from soy and the ingredients also include palm oil and corn, which some prefer to limit.
Runner Up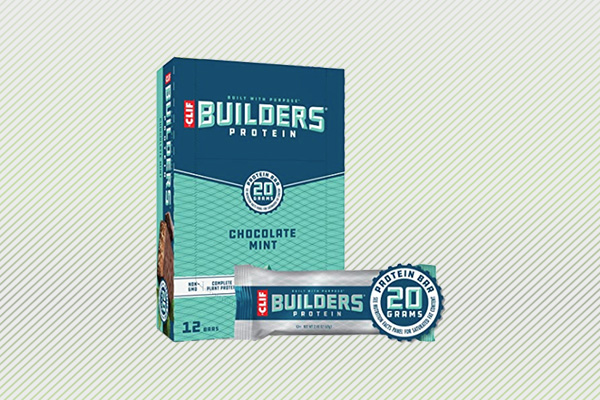 CLIF BUILDERS
Consider this a sequel to your standard CLIF bar — with more protein. Delivering roughly 20 grams of complete protein, 30 grams of carbs, and about 10 grams of fat, these bars are a great source of nutrients to fuel a workout and they're free of artificial ingredients.
Pros
Much of the ingredients, including the sugar and rice flour, are made from organic ingredients.
The cocoa is certified by the Rainforest Alliance, who are dedicated to sustainably sourcing cocoa.
The bars have a great macro split of roughly 20 grams of protein and 30 grams of carbs, without too much fiber to slow digestion.
Cons
Most of the protein here comes from soy, which some try to limit.
Best With Caffeine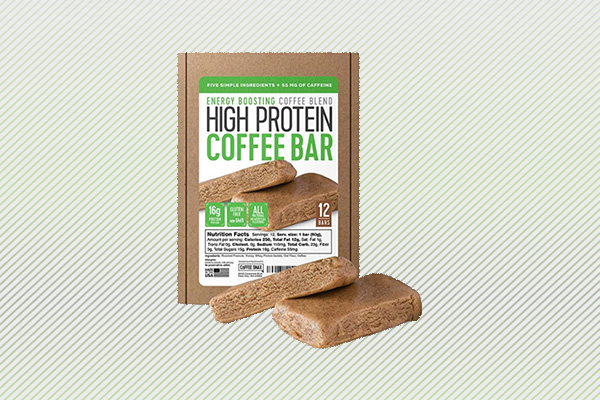 Coffee Snax High Protein Coffee Bar
Designed with simplicity in mind, these bars just contain five ingredients: roasted peanuts, honey, whey protein isolate, oat flour, and coffee. The coffee provides 55 milligrams of caffeine, about half the amount in a standard cup, and the honey helps to add sweetness and carbs without requiring artificial sweeteners.
Pros
The ingredients are guaranteed gluten free and non-GMO.
The bars contain no artificial flavors or sweeteners.
Cons
The 55 milligrams of caffeine is about half the amount you'll find in a cup of coffee, which might not satisfy those used to very high caffeine pre workout powders.
The product contains peanuts, milk, and soy, so those with allergies may be wary.
Best All Natural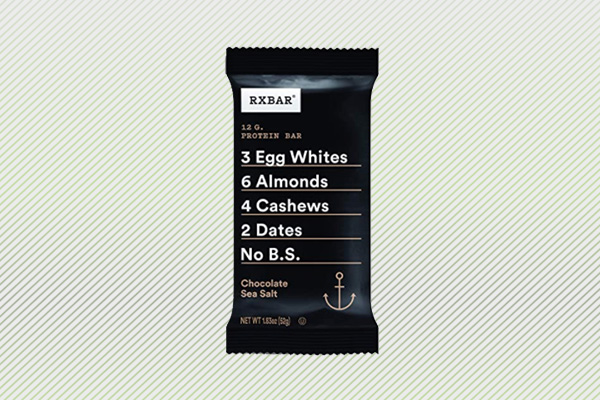 RXBAR
RXBAR is an enormously successful snack that's well known for its extraordinarily simple ingredients: it's entirely dates, egg whites, nuts, and some flavoring. The dates add plenty of sweetness and they also mean there are no artificial flavors or sweeteners to be found.
Pros
RXBAR is totally all natural, with no artificial flavors or sweeteners in sight.  
The bars fit a variety of dietary restrictions: Paleo, gluten free, dairy free, vegetarian, and more.
Cons
Because of the nuts, almost half of a bar's calorie count is derived from fat, although they're usually higher in protein with regard to the amount of grams of each.
The bars' texture is very chewy, which some don't love.
Best Vegan
Truwomen Plant Fueled Protein Bars
It goes without saying that both men and women can enjoy these bars, which come in tasty flavors like "Daydreaming About Donuts" and "I Scream for Orange Cream." More to the point they contain about 12 grams of protein and 23 grams of carbs, they have no artificial ingredients, and they're totally free from animal products.
Pros
The bars are free from animal products and they contain no soy, which is usually the protein source in plant-based protein bars.
The Plant Fueled Protein Bars contain no artificial flavors or sweeteners.
The macro split of protein, carbs, and fat is ideal for pre workout nutrition.
Cons
While there are a lot of positive reviews, it's not hard to find customers who were a tad let down by the taste.
BarBend Tips
The best strategy for pre workout nutrition is to get a dose of protein and an even higher dose of carbohydrates, which will help with muscle growth and energy levels.
Fat and fiber aren't inherently bad pre workout, but they slow digestion — this is why they can be great for satiety at other times of the day, but not always ideal for when you want your snack to digest quickly.
Many bars contain sugar alcohols, which are a great way to add sweetness without calories, but a small minority find them hard to digest.
Wrapping Up
Protein, carbs, and flavor are the priorities when it comes to an ideal pre workout snack and we think we've provided the best options to give you some energy for your next gym session. Just make sure you chat to a doctor before making any big changes to your diet or supplement regimen.