We receive free products and receive commissions through our links. See
disclosures page
.
Snacking has evolved! No longer must we resort to crinkly bags full of carbs and fat. Even when companies try to make gluten-free, "healthy" chips that are made from rice and quinoa and lentils, they still typically wind up with similar nutrition profiles as traditional chips: high in carbs and fat, low in protein.
But nowadays, due to innovative advances in food science, it's easier than ever to find protein rich "unhealthy" foods like chips that are legitimately low carb, high protein chips that are pretty similar to your favorite regular chips. Strength athletes: sit up straight, because these are your go-to protein snacks from now on.
Best Protein Chips
Editor's note: The content on BarBend is meant to be informative in nature, but it should not be taken as medical advice. The opinions and articles on this site are not intended for use as diagnosis, prevention, and/or treatment of health problems. It's always a good idea to talk to your doctor before beginning a new fitness, nutritional, and/or supplement routine. Individual needs for vitamins and minerals will vary.
Best Low Carb
Quest is best known for their industry leading protein bars, but their tortilla-style chips — which are also made primarily from milk and whey — deserve some accolades. Available in four flavors, the chips are free from gluten, soy, and potato and have a remarkably zesty taste that many customers find addictive.
Quest Nutrition Tortilla Style Protein Chips
Quest Nutrition Tortilla Style Protein Chips
Zesty, Mexican-inspired chips that are phenomenally low in carbs, even for protein chips.
The chips come in four different, Mexican-cuisine inspired flavors, all of which are quite tasty. Most protein chips are about equal parts protein and carbs, but these provide about 20 grams of protein with just five grams of carbs.
Who Should Buy Quest Nutrition Tortilla Style Protein Chips
Who Shouldn't Buy Quest Nutrition Tortilla Style Protein Chips
Anyone who wants a sturdier texture.
Those who want chips they can dip.
Texture-wise, these are quite thin and crumbly — don't expect a precise replica of a corn chip. It is unfortunate that these chips aren't quite up to snuff to dip into thicker dips such as guacamole, but they do hold up well enough for lighter dips like salsa. The trade off is a protein-packed snack that can satisfy chip cravings. We highly recommend these to anyone looking to keep their carb count down.
Best For Dipping
A lot of protein chips are pretty wispy, but the ones from Wholesome Provisions are thick, robust, and taste great. Providing 13 grams of protein for every five grams of net carbohydrates (the non-fiber carbohydrates), they're made from vegetable fiber, wheat protein, egg whites, and whey.
Wholesome Provisions Muscle Chips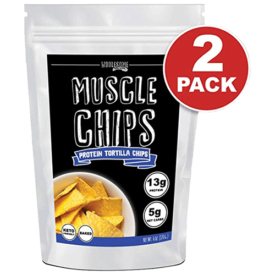 Wholesome Provisions Muscle Chips
A thick, cracker-like chip that's low in carbs and baked, not fried.
These chips are thicker than the average protein chip.
The product is baked, not fried.
Who Should Buy Wholesome Provisions Muscle Chips
Anyone who prefers a thicker chip to dip into sauces.
People who steer clear of fried products.
Who Shouldn't Buy Wholesome Provisions Muscle Chips
Folks on a tighter budget.
Those who want a tortilla-chip style texture.
The thing that caught our surprise was that the texture of these chips was closer to a cracker than a tortilla chip. That isn't necessarily bad as that is a subjective category, but it sidestepped expectations. For anyone looking for a healthier snack to offset the carbs or fat that would come from a dipping sauce, this chip ranked best for us. They are firm, tasty, and high in protein.
Best Plant-Based
Somehow, these high protein chips have the first ingredient as potato, so they taste closer to the chips you're probably substituting them for. Made with potato flakes and potato starch (among other constituents), the protein largely comes from soy and produces a serving that's about equal parts protein and carbs with less than half that in fat content.
High in fiber and totally vegan, these are a great pick for those who want protein but also want a break from animal products.
Unlike a lot of protein chips, these are vegan friendly, and you get a good four grams of fiber, or 20 percent of daily recommended intake. These have slightly lower calories than many comparable options on the market.
Who Should Buy NutriWise Protein Chips
People who follow vegan diets or something similar.
Anyone who really wants a protein chip that tastes very similar to regular potato chips.
Who Shouldn't Buy NutriWise Protein Chips
Those who follow gluten-free diets.
Anyone who avoids soy.
When it comes to closest tasting to actual potato chips, it is hard to outdo NutriWise's offering. It seemed strange that the chips are vegan friendly, but not gluten free. We didn't dock it any points for that as every person has different dietary needs, but it was a noteworthy point. As these do use potato flakes and potato starch, these are not the chips someone looking to keep carbs low should grab.
Due to the protein and carbohydrate content being equivalent per serving, they would be a great snack to have right before a training session of deadlifts, squats, or other heavy lifts without giving a bloated feeling.
Best Low Fat
Made largely from soy and cassava, these all-natural chips are never fried, so they deliver just 90 calories and two and a half grams of fat per bag. They're also verified by the non-GMO project and are thicker and crunchier than a lot of competitors, which tend to be very light and airy.
PopCorners Flex Protein Chips Variety Pack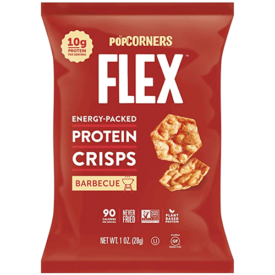 PopCorners Flex Protein Chips Variety Pack
These are remarkably low in fat and more plant-based than your average protein chip.
What stood out in these chips when analyzing the labels and manufacturing practices is they're made in a nut-free facility. Not only do these chips pack less calories than most comparable options on the market due to the low fat content, they also go above and beyond to accommodate many dietary needs.
Who Should Buy PopCorners Flex Protein Chips Variety Pack
Anyone looking to keep fat content and calories low.
Those who appreciate a non-GMO project.
People with nut allergies.
Who Shouldn't Buy PopCorners Flex Protein Chips Variety Pack
Folks who actively want to avoid soy.
Vegans who want a barbecue flavor.
Although low in fat, these chips go heavy on the soy. This is totally fine assuming you are fine with soy. If not, look elsewhere. Otherwise the only thing that caught our eye in a big way is that the Buffalo flavor in particular is not vegan friendly. We didn't dock a protein chip from ranking in our best lists due to one flavor, but it was a strange divergence from the rest of their offerings, especially since the Buffalo flavor lists "ten grams of plant-based protein."
Overall though, it isn't easy to make a tasty chip that packs high protein content while also keeping fat low as fat is what usually gives chips a lot of their flavor. If you are operating under a low-fat diet, these are an excellent choice.
Best Keto Chip
There's little else but cheese in these tasty, low carb chips that are roughly equal parts protein and fat. They're made by melting and drying out cheese, resulting in crispy and crunchy slices of cheese that are higher in the umami, savory, fattier flavor profiles that keto dieters tend to enjoy. Bonus: it's available in five different flavors.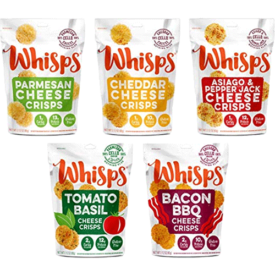 Tasty, salty, crunchy crisps that are made from just cheese and flavorings.
One serving delivers an impressive 25 percent of the recommended daily intake of calcium. With 30 percent of the recommended daily intake sodium per container, these are pretty salty.
Who Should Buy Whisps Cheese Crisps
Those who enjoy cheesy flavors.
Anyone looking to increase their calcium intake.
People following a keto or keto-related diet.
Who Shouldn't Buy Whisps Cheese Crisps
Anyone who needs to lower their salt consumption.
Some of the varieties, such as Tomato Basil, include ingredients like natural flavors and sugar, which some keto dieters prefer to limit. It is a strange pattern that we noticed with a few different brands when determining our rankings that there was one flavor that was an outlier compared to the rest of the product line. That said, sugar is not present in the Cheddar Cheese Crisps or Parmesan Cheese Crisps flavors.
If you're a cheese fanatic then these chips are likely to please you. Just be conscious about how much salt you're taking in from your daily meals before adding these into your diet.
How We Decided Our Picks
There were several main categories that we judged our top picks on against the rest of the market. They ranged from how they taste, to how closely they felt to consuming actual potato chips, to how much they delivered on their nutrition labels.
Flavor
There isn't a legitimate ranking without taking flavor into account so we weighted it heavily. This included number of flavors available in each product and how good each flavor was. "How good" is subjective, so we did tread that lightly, but if, for example, a flavor was nacho cheese, we ranked it on how close it met the expectations of tasting like nacho cheese.
Most brands had the types of flavors you'd expect from normal potato chips. However, in some cases, that also influenced their compatibility with certain types of diets like vegan or gluten-free.
Texture
Changing up the ingredient list to provide more protein and less carbohydrates can do a lot in terms of a chip's texture. There are a lot of airy or crumbly protein chips out on the market. Some brands even use a sturdier texture as their main marketing point to sell their product.
For the most part, the protein chips we ranked highest on our list hold up fairly well and will feel like just having a bag of chips that provide a better macronutrient breakdown. The only major difference maker where texture could make a game-changing difference is if you plan to dip your protein chips in a sauce, dip, or spread and want them to hold up properly. In these cases, we'd heavily recommend to lean toward an option that is manufactured with that type of consumption in mind.
Nutrition
Most bags of protein chips will fall in a range of around 90 calories on the low end to upwards of 150 calories on the high end for a serving that weighs an ounce or two, give or take. Although protein chips will usually pack at least 10 grams of protein per serving, the carbohydrate, fat, and sodium content varies pretty heavily across the field.
This is likely good for buyers, as each consumer will be able to get protein chips that have a compatible macro breakdown for their needs. Aside from macros, the sodium content can get fairly high in certain brands so be conscious of that as you sift down your top picks.
BarBend Tips
Some chips are thicker than others, but it's worth remembering that even the thick chips tend to crumble more easily than your regular old corn chips. Don't be too disappointed if there are more crumbs than you're expecting at the bottom of your bag.
High protein doesn't mean anything with regard to allergens or restrictive diets — plenty of the products include soy, nuts, dairy, and other allergens — so be very careful to read the labels prior to placing an order. High protein chips also aren't necessarily low fat or low carb. Again, inspect the nutrition label carefully.
Wrapping Up
Thankfully, we no longer have to forego crunchy, salty, savory snacks if we're dieting. Whether you're low fat or low carb, vegan or keto, you can find an option that works for you and your restrictions. Just make sure you speak with your doctor before making any changes to your nutrition or supplement regimen.