Whether the goal is losing fat or gaining muscle, protein intake is usually a priority. It's hard to see why: protein is filling, it helps minimize blood sugar spikes, it's associated with a ton of health benefits, and it helps us to gain lean muscle.
The tricky part is that when out and about, protein is the toughest macronutrient — out of protein, carbs, and fat — to find. Few people are happy keeping steamed chicken breast in their pocket all day, so we've compiled the best protein snacks to keep you fueled on the go.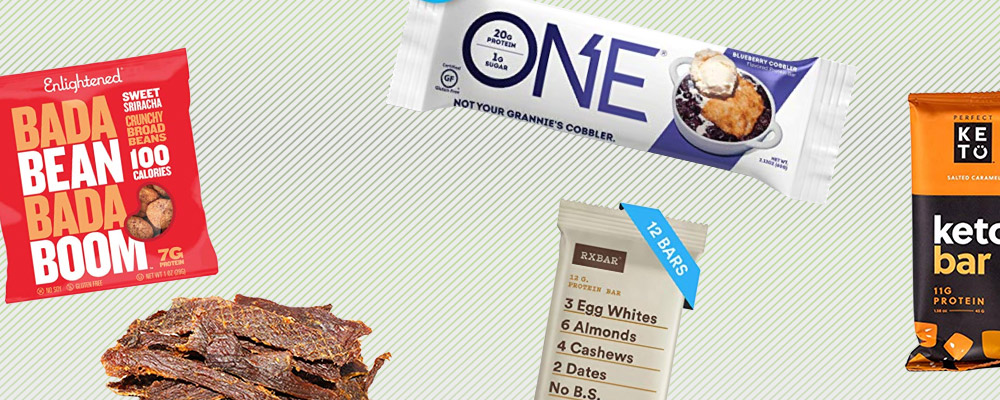 Best Bars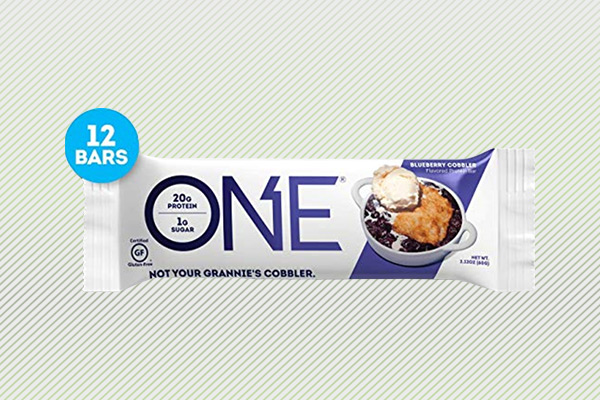 ONE Bar
ONE bars are among the best protein bars on the market. Relative to their competitors they have a terrific, chewy texture, plus they only contain one gram of sugar per bar. Available in a wide variety of flavors, many find it to simply be the best tasting protein bar as well — they're just easy to eat, and they contain a considerable 20 grams of protein to boot.
Pros
Many of the bars contain prebiotic fiber, which may have digestive health benefits.
The bars only contain one gram of sugar and are relatively low in net carbohydrates.
When compared to competitors, these have a nice, chewy texture.
Cons
The "classic" ONE bars contain artificial sweeteners, which not everyone is a fan of, but the company does produce naturally sweetened bars under their "Basix" line.
These aren't the cheapest protein bars on the market.
Every bar has a layer of icing. Some love it, some don't.
Best Jerky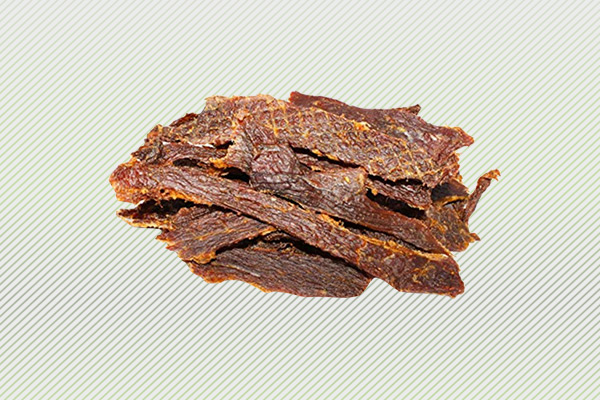 People's Choice Old Fashioned Beef Jerky
For those looking for the highest protein, lowest carb snack, it's hard to go past jerky. But a lot of jerky contains sugar or syrup and winds up not actually being that low in carbs. People's Choice jerky isn't one of them — this is old fashioned jerky with no sugar, no artificial ingredients, no nitrates, no preservatives, and no carbs, flavored simply with salt, pepper, garlic, and a little soy sauce.
Pros
This line of People's Choice jerky is all natural and contains no nitrates.
There is no sugar and there are no carbohydrates at all in this product.
This is a product from a family owned business based in Los Angeles.
Cons
This jerky is very old fashioned, meaning it's remarkably tough.
The product is Paleo friendly, but it's worth noting the beef isn't grass fed, if that's a priority.
Best Vegan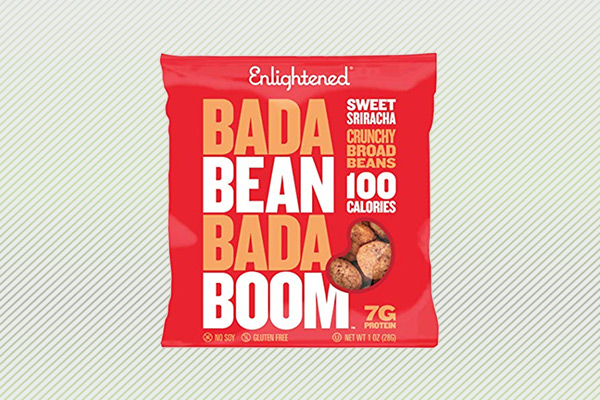 Bada Bean Bada Boom
For plant-based protein, beans deserve their reputation as the go-to. Bada Bean Bada Boom is available in several flavors and the roasted fava beans are pre packaged in 100-calorie packets, making portion control easier than ever. Each serving provides 7 grams of protein, 1 gram of sugar, and perhaps most impressive, a huge 5 grams of fiber. The one-two punch of protein and fiber is great for maintaining satiety between meals.
Pros
Each serving provides both protein and fiber, which are both great for managing hunger.
The snack comes in handy, 100-calorie packs for easy portion control.
Bada Bean Bada Boom comes in several tasty flavors: Sriracha, Sea Salt, Mesquite BBQ, Cocoa Dusted, Sweet Cinnamon, Wasabi, and Garlic and Onion.
Cons
Seven grams of protein per serving may be a tad low for some folks.
The beans are processed in a facility that contains nuts, so it might not be ideal for extremely sensitive allergies.
Now and then a packet will contain a very hard bean that might cause tooth pain.
Best Keto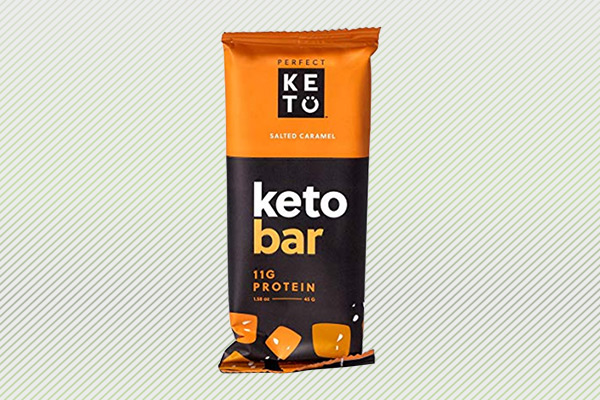 Perfect Keto Bar
A lot of "keto friendly" bars are simply high in protein without a lot of fat, but these bars deliver almost twice as many grams of fat as they do protein. Made from all natural ingredients, the bars are made with a base of almonds and are available in three different flavors.
Pros
The nutrition profile lists roughly twice the amount of fat as protein in every bar.
There are no artificial flavors or sweeteners in these bars.
Each bar delivers over 20 percent of the recommended daily intake of fiber.
Cons
Since they contain collagen, the bars aren't vegetarian friendly.
Some keto fans prefer to limit tapioca fiber, which is a prominent ingredient in the bars.
How Much Protein Should I Eat Every Day?
Recommendations vary a lot, here, because there's a difference between how much protein the body requires and how much is ideal if weight loss or muscle gain is a priority.
The FDA recommends about 50 grams of protein per day to avoid a protein deficiency. But if the goal is losing fat while preserving muscle, or gaining muscle while minimizing fat gain, it may be more prudent to follow the guidelines set by athletic organizations. The American College of Sports Medicine and the International Association of Athletic Federations, along with the American Dietetic Association and Dietitians of Canada, all suggest 1.2 to 1.7 grams of protein per kilogram of bodyweight for those looking to improve athletic performance and body composition.(1) (That's your balance of muscle and fat.)
There are plenty of self-proclaimed experts who will insist that a higher number of 2.2 grams per kilogram of bodyweight, or 1 gram per pound, is really what's needed for these goals. The truth is that while this probably won't have a negative effect, it's not absolutely necessary.(2)(3)(4)(5) It's true that there's some evidence that for bodybuilders and folks with extraordinarily high levels of muscle mass who want to lose fat as quickly as humanly possible, it may be advisable to eat 2 or 3 grams of protein per kilogram.(6)(7)
Remember, though, that applies to a tiny section of the population. For the average person, even those who work out every day, 1.2 to 1.7 grams per kilogram of bodyweight appears to be enough for fat loss and muscle gain.
BarBend Tips
The aforementioned protein guidelines are important for gaining or maintaining muscle. But those goals will only be achieved with the right amount of calories — it's worth working out your calorie needs for the fastest and most effective results.
Many people fixate on protein "quality" and believe that whey is better than egg which is better than bean, and so on. A protein's quality is unlikely to be a factor in your success so long as total protein and calorie intake are accounted for. Don't stress too much about where the protein comes from.(8)(9)
Protein bars tend to soften considerably in the heat, so store (and carry) them according to your preferences.
Diet rules weight management, but remember that exercise and sleep share the throne. Focus on all three and just about everything improves.
The Takeaway
It doesn't matter if you're vegan, keto, Paleo, or an om-nom-nomnivore, there's a protein snack out there that will make it easier to beat hunger and achieve your diet goals. Protein isn't the whole equation, but it's a very significant part of any dieter's success. Eat up and enjoy the journey.
References
1. Rodriguez NR, et al. Position of the American Dietetic Association, Dietitians of Canada, and the American College of Sports Medicine: Nutrition and athletic performance. J Am Diet Assoc. 2009 Mar;109(3):509-27.
2. Knight EL, et al. The impact of protein intake on renal function decline in women with normal renal function or mild renal insufficiency. Ann Intern Med. 2003 Mar 18;138(6):460-7.
3. Beasley JM, et al. Higher biomarker-calibrated protein intake is not associated with impaired renal function in postmenopausal women. J Nutr. 2011 Aug;141(8):1502-7.
4. Antonio J, et al. A High Protein Diet Has No Harmful Effects: A One-Year Crossover Study in Resistance-Trained Males. J Nutr Metab. 2016;2016:9104792.
5. Poortmans JR, et al. Do regular high protein diets have potential health risks on kidney function in athletes? Int J Sport Nutr Exerc Metab. 2000 Mar;10(1):28-38.
6. Helms ER, et al. Evidence-based recommendations for natural bodybuilding contest preparation: nutrition and supplementation. J Int Soc Sports Nutr. 2014 May 12;11:20.
7. Longland TM, et al. Higher compared with lower dietary protein during an energy deficit combined with intense exercise promotes greater lean mass gain and fat mass loss: a randomized trial. Am J Clin Nutr. 2016 Mar;103(3):738-46.
8. American Dietetic Association; Dietitians of Canada. Position of the American Dietetic Association and Dietitians of Canada: Vegetarian diets. J Am Diet Assoc. 2003 Jun;103(6):748-65.
9. Millward DJ. The nutritional value of plant-based diets in relation to human amino acid and protein requirements. Proc Nutr Soc. 1999 May;58(2):249-60.