Michael "Mickey" Yule is a 42-year old Para powerlifter from Edinburgh, Scotland. He made his Paralympic Games debut in 2016 and is the 2015 World Para Powerlifting (WPP) European Champion in the 80-kilogram division, representing Great Britain. Since starting his professional Para powerlifting career, Yule has competed in five different divisions (65, 72, 75, 80, and 82.5 kilograms). Of the 29 sanctioned competitions he has appeared in, he's landed on the podium 15 times, 10 of which were gold-medal finishes. Here are some of his top performances:
2020 Road to Tokyo Para Powerlifting World Cup — Gold, 72 kilograms
2019 Para Powerlifting World Cup — Bronze, 80 kilograms
2018 WPP European Open Championships — Gold, 72 kilograms
2015 WPP European Champion — Gold, 80 kilograms
2015 WPP Powerlifting Americas Open Championships — Gold, 65 kilograms
We had the opportunity to interview Yule about his training leading up to the 2020 Tokyo Paralympic Games, diet, experiences competing on the world stage, and his future goals in the sport.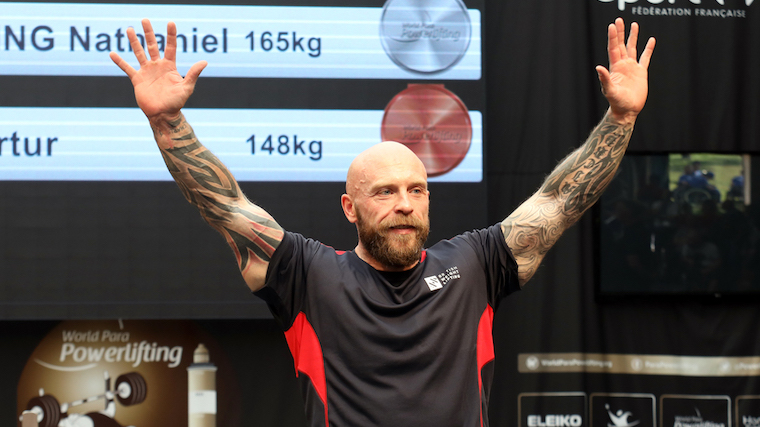 [Related: Para Powerlifter Ahmed Shafik — Army Veteran To Paralympian]
Life After the Army
Yule first entered the Army at the age of 17. Before becoming an elite Para powerlifter, Yule was a staff sergeant in the Royal Engineers (a corps of the British Army) stationed in Afghanistan. During his time deployed on combat operations, he sustained injuries from an improvised explosive device (IED) that lead to a double amputation in 2010. His military career spanned 15 years.
Yule was an Army Powerlifting Champion during his service, one of many veterans to continue in strength sports. Although he was able to continue competitive strength sports in 2012 after his recovery, he struggled to come to terms with life after the Army. His biggest challenges were "accepting [his] injuries mentally, [adapting his] life around being disabled, and coming to terms that [his] career within the Army was over."
He was motivated to continue his passion for strength sports by attending an "Athletes' Potential Day held in the build-up to the 2012 London Paralympic Games." He made his professional Para powerlifting debut that same year at the 2012 UK Invitational Powerlifting Championships in the 82.5-kilogram weight class.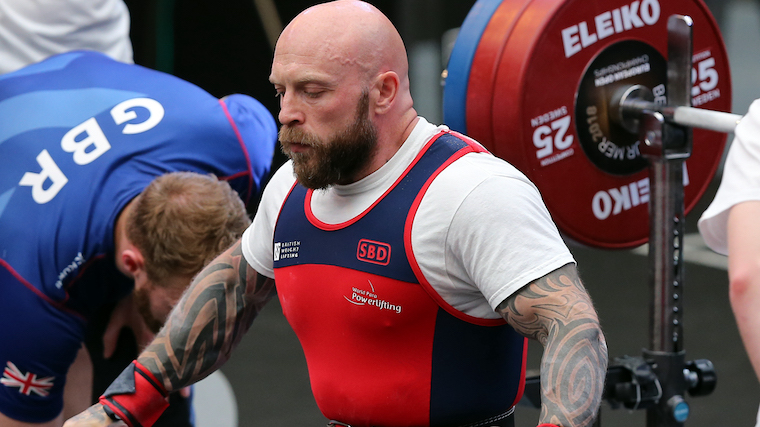 [Related: Para Powerlifter Matteo Cattini Believes In The Transformative Power of Strength Sports]
Training For the 2020 Tokyo Paralympic Games
Yule trains alongside his coach Tom Whittaker. He splits his six training days per week between Loughborough University in England and his home gym. Each session usually lasts approximately two and a half hours. However, his training for the 2020 Tokyo Paralympic Games "has been turned on its head" since its postponement due to the ongoing COVID-19 pandemic.
With the lockdown restrictions and home schooling it has been incredibly hard to keep my strength levels where I would like them.
Despite the additional obstacles, Yule has not tempered his goals within the sport. He has his current sights set on hitting a 200-kilogram (440.9-pound) bench press.
[Related: Para Powerlifter Sedric Roussel Competes to Change Society's Mindset]
The Diet of a Champion
Yule "prides himself" on being able to "suffer" through the motions required to make weight when preparing for competitions. Alongside the help of his nutritionist, Yule has never failed to hit his target weight for a contest despite fluctuating between weight classes. At his lightest, Yule competed at 65 kilograms before putting on the 17.5 kilograms (38.6 pounds) needed to compete at 82.5 kilograms. For the 2020 Tokyo Paralympic Games, he settled towards the top end of that spectrum to compete at 80 kilograms.
In order to make weight in the lighter divisions, Yule's body fat has dipped below six percent during contest prep. He manages to balance that kind of calorie deficit while maintaining enough strength to be competitive for the podium. His main meals usually revolve around fish or meat as the primary source of protein. He bolsters that with nuts and berries for snacks to "keep [him] out of the fridge."
His preparation while in quarantine was slightly different than normal as he caught COVID-19 at the end of 2020. Recovering from his illness led him and his team to make the decision not to lean too hard on a calorie deficient diet.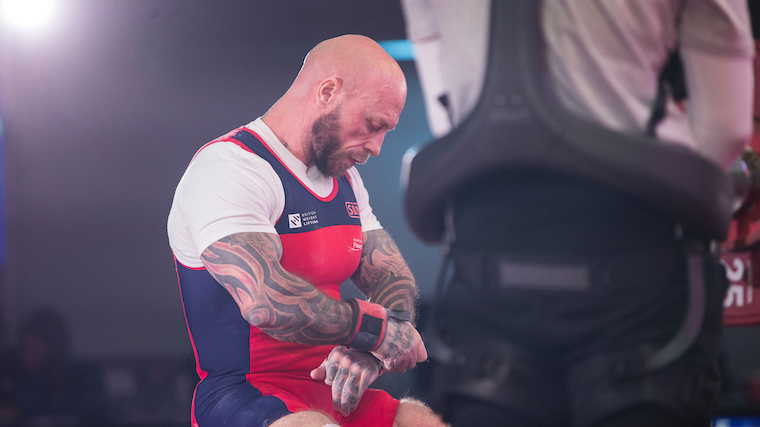 [Related: Para Powerlifter Rehab Ahmed Trains to Defy Expectations]
Greatest Achievement and Future Goals
Yule believes his greatest achievement thus far in the sport is defending the European Championship after having surgery a few months prior. Aside from the universal goal of every Paralympian to bring home gold on the world stage, Yule's vision for the future of the sport is continue to push his limits. We will see if he calls for 200 kilograms (440.9 pounds) on the barbell at the 2020 Tokyo Paralympic Games. If successful, it would surpass his current competition best lift of 190 kilograms (418.9 pounds) from the 2016 Invictus Games, where he won gold.
[Related: How Para Powerlifter Garrison Redd Trains To Be a Role Model]
Editor's Note: This article was published in collaboration with World Para Powerlifting. BarBend is an official media provider for World Para Powerlifting.
Featured image via World Para Powerlifting