Rehab Ahmed is a Para powerlifter representing Egypt with an extensive resume of competitive success. Her biggest accomplishment to date is her silver medal at the 2016 Rio Paralympic Games in the -50kg weight class. She bench pressed 104kg/229lb at that event.
Her other podium finishes since include:
Gold — 2017 World Para Powerlifting Championships in Mexico City, Mexico — 115kg/253.5lb.
Gold — 2018 African Regional Championships — 120kg/264.6lb.
Gold — 2019 10th Fazza World Para Powerlifting World Cup in Dubai, United Arab Emirates — 113kg/249lb.
Gold — 2019 World Para Powerlifting Championships in Nur-Sultan, Kazakhstan — 114kg/251lb.

Gold — Mixed Team Event with Sherif Osman and Mohamed Elelfat (her lift was 100kg/220.5lb).

Gold — 2020 Abuja World Para Powerlifting Organization (WPPO) World Cup in Abuja, Nigeria — 115kg/253.5lb.
We had the opportunity to interview the 29-year-old Ahmed about her origin in the sport, her training and diet, her future goals, and more.
[Related: Antonio Martin: Untrained 430 Pound Bench Press to Para Powerlifting Superstar]
Origin in Para Powerlifting
Ahmed did not have an athletic background prior to Para powerlifting. Her introduction to the sport came after meeting Egyptian team coach Abdel-Hakim Fares once she left university. He asked her to try Para powerlifting and she was eager to jump at the chance after developing a strong interest in the sport from watching it on television.
The first weight I lifted was 50kg. My first official event was Fazza 2013 [where I placed first].
For Ahmed, part of the draw to powerlifting was defying the expectations of others that she could become a champion Para powerlifter as a woman.
Biggest Initial Challenge
There were two major obstacles for Ahmed when she first broke into Para powerlifting. The first was the challenge posed by society as a female in the sport. The second was balancing her family life with her training regimen.
I am married with a [daughter] named Ransy. I organized between my family and my training camp to succeed.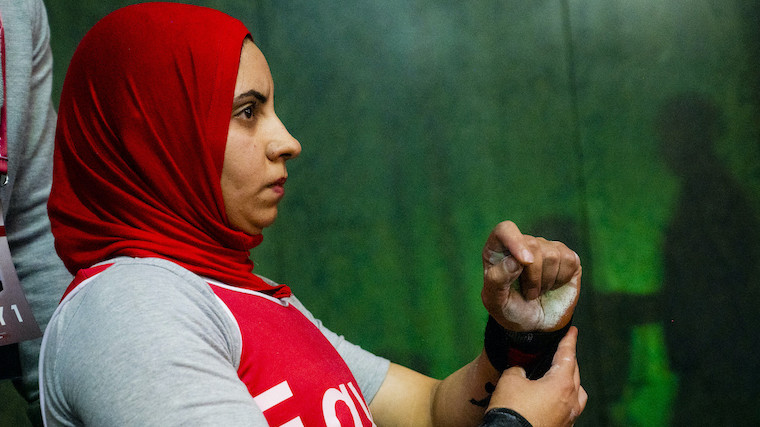 [Related: How Para Powerlifter Garrison Redd Trains To Be a Role Model]
Training
Ahmed's training consists of two sessions per day for a total of four hours. The Paralympic Games silver medalist trains five days per week with Thursdays and Fridays being designated rest days.
Her preparation for the 2020 Tokyo Paralympic Games stopped after it was announced that the event would not be held until Summer 2021 due to the Coronavirus pandemic. However, she does plan to resume training as the event gets closer.
I know this situation [is] difficult for athletes. I plan to take advantage of the extra year to become stronger to compete with the best in the world.
At the 2016 Rio Paralympic Games, Lidiia Soloviova of Ukraine won gold after besting Ahmed's 104kg/229lb lift by 3kg/6.6lb. Ahmed has since lifted heavier than that in five separate elite level events, including her competition best 120kg/264.6lb at a bodyweight of 48.6kg/103lb at the 2018 African Regional Championships.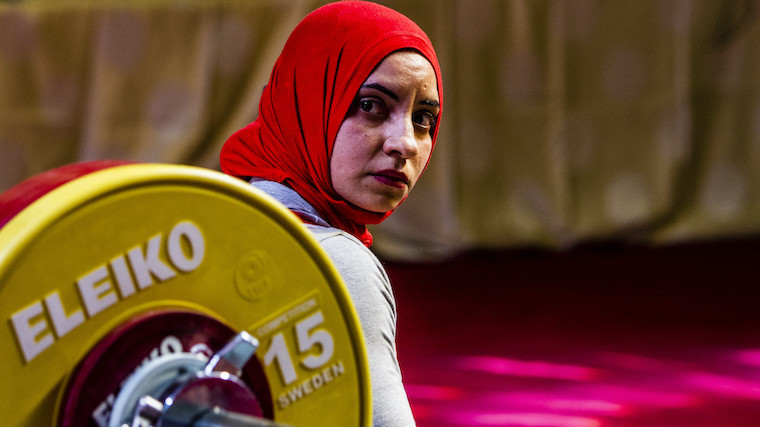 Related: Para Powerlifter Donato Telesco: My Rivals Fuel Me]
Diet
Ahmed works with a nutritionist and does keep track of her calories and macros. She consumes 2,000 calories per day with the following macro percentage breakdown:
30% protein
20% fat
50 % carbohydrates
Her diet primarily consists of lean meat, fresh fruit, beans, and bread. She is also strict about avoiding excess sugar, junk foods, and anything fried.
Future Goals
Ahmed's primary focus is to win gold at the 2020 Tokyo Paralympic Games. Her plan to do so involves another goal: lifting 130kg/286.6lb, a full 26kg/57lb over her silver medal lift in 2016 and 10kg/22lb heavier than her competition best.
Editor's Note: This article was published in collaboration with World Para Powerlifting. BarBend is an official media provider for World Para Powerlifting.
Featured image courtesy of World Para Powerlifting.