The COVID-19 pandemic has wreaked havoc on small businesses and industries — and of them, the fitness space has been hit particularly hard. Gyms across the country started to close in mid-March, forcing small gyms and CrossFit boxes to attempt to retain a sufficient number of their members. The gyms that were allowed to reopen had to figure out how to adapt to new operating standards to prevent the further spread of the virus. It's been a debilitating year for gyms.
A new survey by IBISWorld reveals that "the market size of the Gym, Health & Fitness Clubs industry in the US declined faster than the economy overall," as well as "declined faster than the Arts, Entertainment, and Recreation sector overall." The industry's revenue is expected to drop 15.6% in 2020 from 2019. For context, the Gym, Health & Fitness Clubs industry was down approximately five billion dollars in that time.
According to Bloomberg, IBISWorld's December 2020 survey found that "27% of respondents who exercised regularly said they'd canceled their gym membership during the pandemic, and another 12% planned to." For a sense of how fragile maintaining a gym membership already is, according to a survey published in 2019 by The Hustle:
63% of memberships go completely unused (Finder.com estimated them to be worth $1.8 billion in 2018).
82% of gym members go to the gym less than once per week.
22% stop using their membership after six months.
31% would not have paid for a gym membership had they known how infrequently they'd use it.
Group fitness classes are likely to change drastically after gyms emerge from lockdowns, too. This could harm member retention even more, as those who "don't participate in group exercises have a 56% higher chance of quitting and canceling their membership."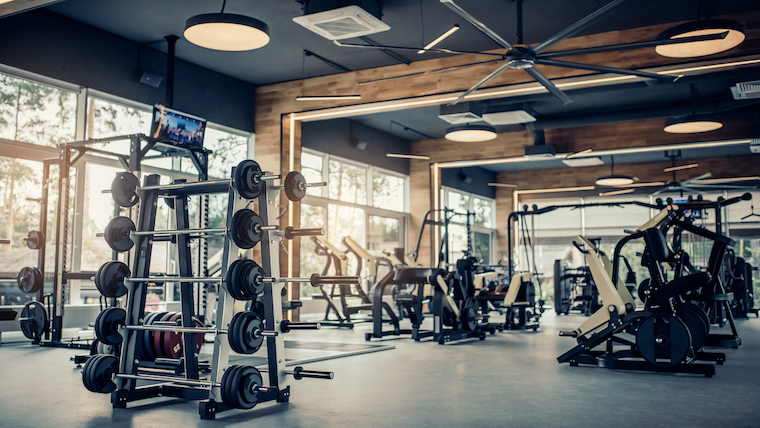 [Related: Chris Spealler: What Happens Next For CrossFit, Fitness, And Gyms?]
Some gym owners that were not allowed to reopen filed lawsuits against their states. Others such as Gold's Gym, 24-Hour Fitness filed for bankruptcy. CrossFit HQ decided to halt fees for affiliates that were closed. Additionally, some gym-goers have to cope with not being able to go to their gym.
Gyms that were able to let people in need trainers. And those trainers — who have had to adjust their sessions to include masks (which may be less effective the longer someone is in the gym) and follow social distancing guidelines — need to be compensated. Gyms also must now view their equipment through the lens of a Coronavirus-impacted world — could rowing machines or air bikes spread the virus? What would the plan be if they had to close again? How would a gym handle finding out if members tested positive for COVID-19 — both in contact tracing and keeping the doors open?
Rate of the Spread
In the U.S., the spread of COVID-19 has been relatively aggressive since the lockdowns first started in mid-March 2020. According to the World Health Organization (WHO), there have been 20,470,169 confirmed cases and 348,962 deaths in the U.S. at the time this article was written. The last time there were fewer than 100,000 confirmed cases recorded in a single week (in the U.S.) was the week of March 23, 2020 — since the week of Nov. 9, 2020, there have been over a million confirmed cases every week.
The percentage of case increase per week has not been below seven percent since the week of Oct. 26, 2020. According to Statista, the rate of transmission is only below one in nine of the 50 states as of Jan. 3, 2020. To better understand why the rate of transmission is an important metric, German chancellor Angela Merkel — who has a doctorate in physics — stated that the rate of transmission needs to be below one, otherwise infections can rapidly increase. For example, if each person who catches it spreads it to 1.1 people, according to Merkel, then the curve trends upward, and the virus spreads exponentially. Currently, the states with a transmission rate below one are Alaska, North Dakota, Wyoming, Wisconsin, Oklahoma, Arizona, Minnesota, Montana, and Oregon — Kentucky and New Mexico are at exactly one, the rest of the states are at or above 1.01.
The virality of the disease in the U.S. has consistently trended upward since the breakout happened in March 2020. Each state has been hit differently and has had to deal with containing the virus and "flattening their curves." There have not yet been any uniform guidelines from the federal government about when a state must or should lockdown versus when they are in a reasonable position to stay open, so each state has made those decisions individually using different metrics as the deciding factors.
In terms of best practices, the leading infectious disease expert in the US, Dr. Anthony Fauci, has stated to American Heart Association News as recently as Nov. 17, 2020, that "wearing of masks or cloth coverings…maintaining physical distances – at least six feet" has shown to be an effective means of slowing the spread. These would most likely be required by any gym aiming to reopen for indoor use safely. In fact, some gyms that have opened in the U.S are requiring masks to be worn and are limiting their capacity. There is also another method that has been shown to help limit the danger a gym could pose.
Contact Tracing
Enter contract tracing: the method of identifying people who have come in contact with an infected person. According to a study in the Journal of Korean Medical Science, that tested gym-goers who participated in group fitness classes for three weeks, a "COVID-19 outbreak was effectively contained with rigorous contact tracing, isolating, and testing in combination with social distancing without a lock-down." (1)
That means that the danger of spreading the virus was still present within fitness centers. Still, an effective contact tracing and quarantine program prevented that danger from spreading beyond a controllable means outside the gym. Notably, the differences are apparent — this study was tested on South Korean gym-goers, and the case ratio there compared to America is vast. South Korea has totaled just under 65,000 cases via the WHO's data at the time of this article and has barely eclipsed a thousand total deaths.
The study caught 116 confirmed cases that led to 1,687 individuals being contacted to quarantine for fear of potentially spreading the virus. That meant that those who were handling contract tracing accounted for an attack rate of 7.3%. That is quite high, but if gyms in the U.S. follow an updated sanitation plan, enforced mask-wearing and social distancing, and implemented an aggressive contact tracing system, "that could allow indoor sports centers with such a certificate to re-open more safely and more rapidly." (2)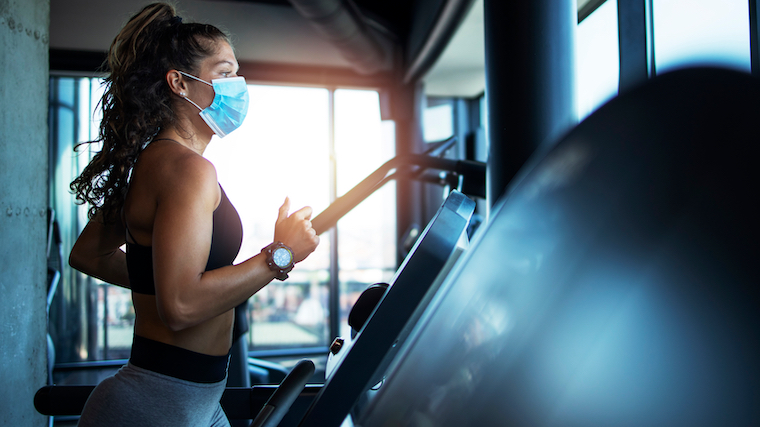 [Related: CrossFit Joins the Fight to Help Local Gyms Get Financial Aid]
As gyms across the U.S. are subject to the guidelines and restrictions imposed by their state governments based on the COVID-19 infection trends, there is unlikely to be a uniform rollout for gyms returning to normal operations. With two different Coronavirus vaccines currently in the process of being distributed — Pfizer's and Moderna's — how gyms reopen and the implemented safety measures will be paramount to staying open.
Although it's likely that gyms will still have to continue to adapt, the trajectory is better heading into 2021 as the industry is expected to gain back nearly a billion dollars in market size. The only thing that seems certain is gym-goers' and gym owners' experiences before and after the pandemic will be starkly different.
References
Bae Sanghyuk, et al. Epidemiological Characteristics of COVID-19 Outbreak at Fitness Centers in Cheonan, Korea. August 2020. Journal of Korean Medical Science.

DOI:

10.3346/jkms.2020.35.e288.
B. Blocken, et al. Can indoor sports centers be allowed to re-open during the COVID-19 pandemic based on a certificate of equivalence? Elsevier Public Health Emergency Collection. doi: 10.1016/j.buildenv.2020.107022.
Feature image via Shutterstock/4 PM Productions.