Sedric Roussel of Hungary began training as a Para powerlifter at the young age of 14. After competing in wheelchair basketball via the recommendation from his orthopedic doctor to exercise as often as possible, he found his way into the gym.
In order to get better at wheelchair basketball, Roussel wanted to develop his arms. A teammate of his, named Laszlo Farkas, recognized how quickly Roussel was able to build his biceps and triceps. Farkas turned him on to the idea of potentially training for para powerlifting and wheelchair basketball simultaneously.
The combination of Roussel's interest in para powerlifting and Farkas's network led to an introduction to Peter Farago, coach of the Hungarian Powerlifting Federation. Since then, Roussel has competed on the world stage in World Para Powerlifting (WPP) sanctioned events on seven different occasions and has landed on the podium twice.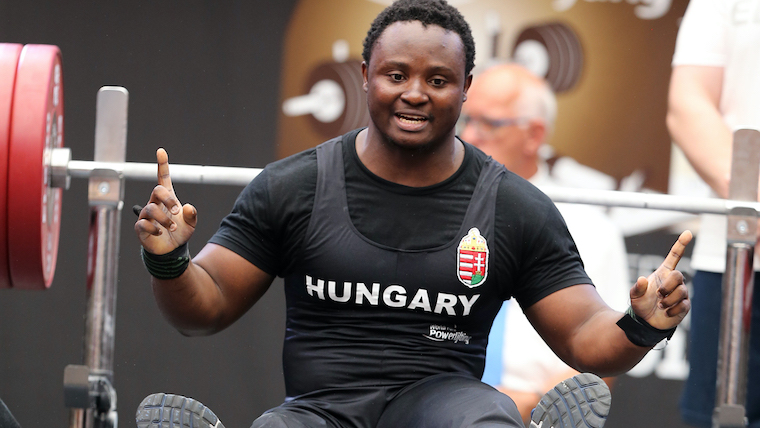 [Related: Para Powerlifter Eri Yamamoto Aspires to Represent Japan at the Paralympic Games]
Roussel competes primarily in the -88kg weight class. Here are his two best competitive finishes:
2018 European Para Powerlifting Championships — second place
2020 Para Powerlifting World Cup — third place
We had the opportunity to interview Roussel about his training, diet, thoughts on the 2020 Tokyo Paralympic Games postponement, and more. Check out our full interview below.
[Related: Antonio Martin: Untrained 430 Pound Bench Press to Para Powerlifting Superstar]
Biggest Challenges When Starting Out
For Roussel, building the strength to compete was not a major obstacle for him. The bigger challenges were fully understanding the rules of the sport and how that informs proper technique. Align his technique to match what the rules demanded in competition was his largest challenge starting out.
Although there may be many factors at play, his competitive results have had a successful trend over time. He attributes this to steady improvements to his technique while still building strength over that same time.
Training
The Hungarian's training week usually consists of four training sessions, each of which are divided into two types of exercise:
When training the bench press, Roussel's focus is wider than just that one movement. He will include exercises that specifically progress his pushing strength.
For his accessory work, Roussel puts an emphasis on exercises that will "develop and harden" his back. He will then supplement with additional movements that focus on his arms, specifically his biceps and triceps.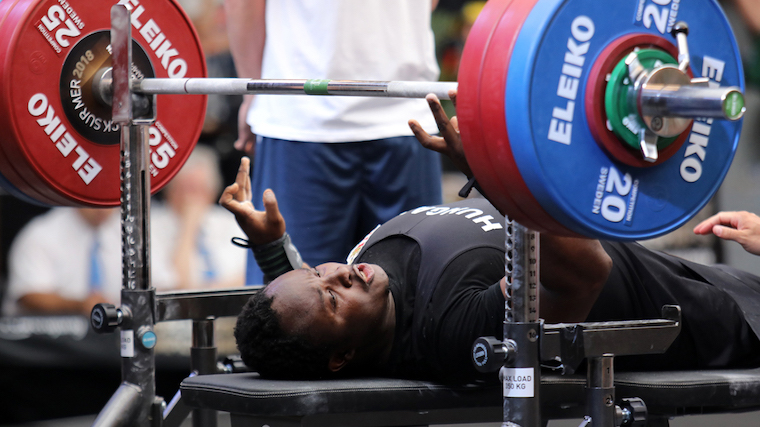 [Related: IWF and World Para Powerlifting Sign "Strengthening The World" Agreement]
Although he did not mention it specifically, Roussel seemed to be quite cognizant to not overtrain and allow for ample rest between training sessions. For each of his four training sessions per week, he will only spend about an hour and a half to two hours in the gym. The intensity of those sessions varies based on the preparation needed for a specific competition.
2020 Para Powerlifting World Cup
Roussel only competed in a single sanctioned event in 2020 — the Para Powerlifting World Cup. The event took place in Manchester, England and saw the Hungarian earn a bronze medal finish — the second podium finish of his competitive career:
"This competition allowed me to compete against the athletes of the world and especially the best in my category. On the podium, I felt very happy because this medal was the result of years of training and a lot of sacrifice."
Tokyo 2020 Paralympic Games
Roussel agreed with the Paralympic committee's decision to postpone the Tokyo 2020 Paralympic Games until 2021 when the decision was first made. Despite the difficulty and sacrifices that had to be made to postpone the global event, Roussel believed it to be "a very good decision because everyone's health is very important."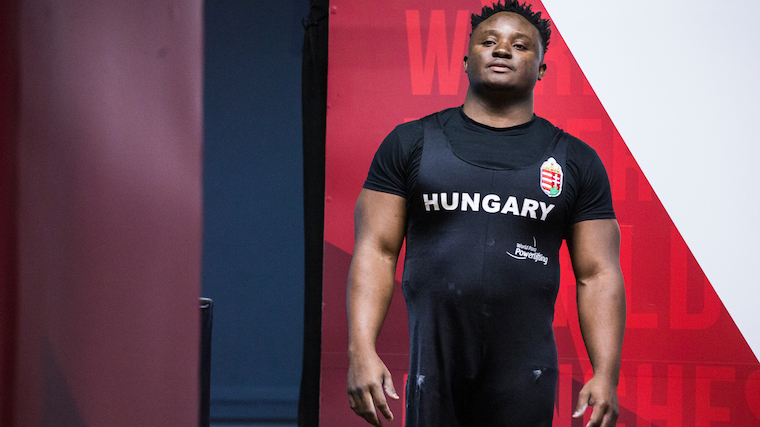 [Related: How Para Powerlifter Garrison Redd Trains To Be A Role Model]
As is the case with many athletes qualified for both the Olympic and Paralympic Games, Roussel's training had to adjust significantly. However, he seems to have embraced being allotted an additional year of training to improve even further. His competition drives him to up his game as there are some very strong competitors in his weight class:
"I have to…become stronger because in my category, there are athletes like Hany Abdelhady, who won the 2012 Paralympic Games."
Diet
Roussel's diet consists of a lot of fruit, dairy products, and meat for sufficient protein intake. In addition, he supplements his diet with whey protein, daily vitamins, and takes pre-workout on training days.
One of the most notable aspects of Roussel's diet is that he does not track macros or count calories:
I don't really count calories and macros. I manage not to gain more weight and always stay in my category.
There aren't any specific foods that Roussel actively avoids when prepping for competition, but he does stay clear of any foods that might contain anything that could conflict with the recommendations of the World Anti-Doping Agency (WADA).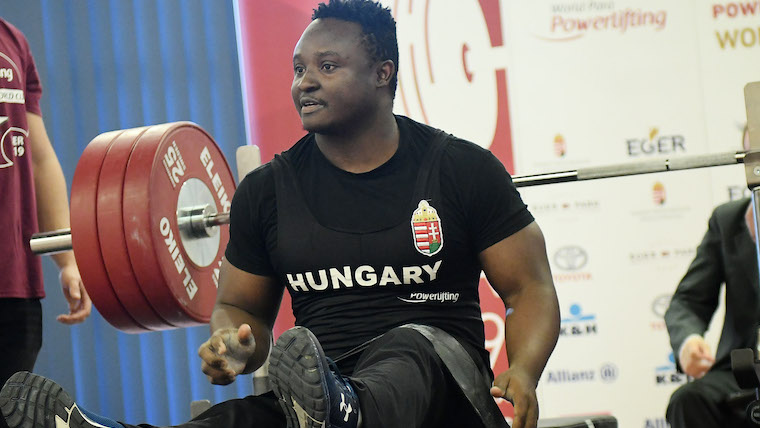 [Related: Multi-Time Paralympian Ali Jawad Talks Training And Anti-Doping Efforts In Paralympic Powerlifting]
This may include any foods that have traces of banned substances, such as clenbuterol, cobalt, and phenylethylamine — although it is unlikely that any of those substances would have a significant enough effect to be considered a doping agent solely through food consumption (barring heavy contamination).
Para Powerlifting Achievements
For Roussel, his accomplishments in the sport extend beyond the hardware he's been able to acquire in competition. His success has also shown through his influence on his community and how they view parasports:
My greatest achievement has been to change the mindsets of the society around me, because they don't judge me on my disability, but on my abilities.
He plans to improve those abilities in the coming year to challenge for a gold medal at the 2020 Tokyo Paralympic Games. It would be his first time claiming gold on the world stage. If he is successful, he would certainly compel any of society's skeptics who still pass judgment to reconsider.
Feature image courtesy of World Para Powerlifting.