A home gym is a great way to efficiently get in workouts from the comfort of one's home. However, it can be tough finding the perfect home gym to match your workout wants and needs. Body Solid is a company that designs multiple pieces of home gym equipment, and today we'll take a deep dive look into the Powerline BSG10X Home Gym.
This piece of equipment is a machine that's designed to be versatile, compact, and easy to use. For this article, we'll look into the specs and features that come with the equipment, along with checking out its versatility, price, warranty, and ease of use.
Key Features & Specs
The Powerline BSG10X Home Gym comes with a few features that make it somewhat unique in the world of versatile home gyms. This piece of equipment is a compact one-size-fits-all piece of equipment, which is usually what most think about when they hear the words "home gym". It uses a steel cable and pulley system to provide a resistance for one's training.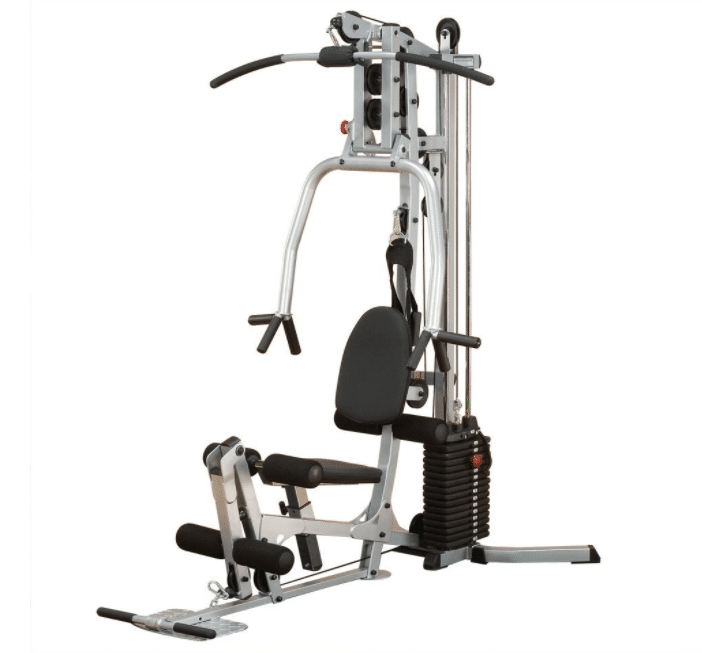 Image courtesy Amazon.com.
The first feature we'll call attention to is the 160 lb plate stack. This is a decent stack of weight for a basic compact home gym, and tops other basic models that cap out at 120 or 130 lbs. Yet, it's definitely not the most you can find for a home gym, and if you need upwards of 200+ lbs of resistance, then you may want to look elsewhere.
Another feature worth mentioning is the size of this model and the warranty. This is a smaller model compared to other tested best home gyms that offer the same amount of versatility. The length of this gym is 76″, the width is 42″, and the height 80″. If space is a concern, then this model does a fairly good job at taking up minimal space. The last feature we'll call attention to is the 10-year warranty on the frame, and the one year warranty for the parts.
Pros
Compact size and fairly versatile for body part specific training
160 lb starting weight stack
Solid 10-year warranty on the frame
Cons
Not the most resistance for the equipment style
May be somewhat pricey for some
Is the Powerline BSG10X Home Gym Versatile?
Yes, the Powerline BSG10X Home Gym is pretty versatile for what it offers. It's a pretty basic model, so you get what you pay for when it comes to versatility. You can do both full body workouts and body part specific training, so it can match a variety of workout asks.
One thing that this home gym does slightly different compared to similar models is cater equipment to one's biomechanics with varied grips. You can also add pieces of equipment like a leg press attachment that will cost extra, but at least it's an option.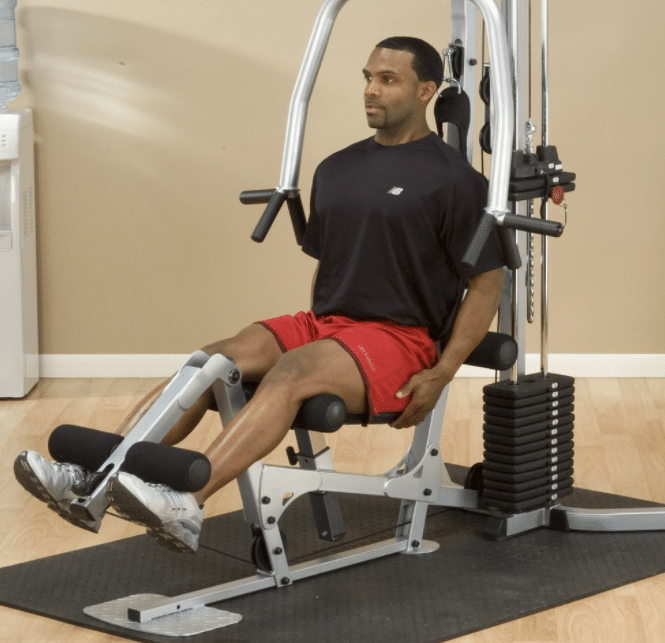 Image courtesy Amazon.com.
Below are a few examples of exercises and muscle groups you can target with the Powerline BSG10X Home Gym.
Legs: Leg extension, curl, and kickback
Chest: Seated press
Back: Lat pulldown
Arms: Bicep curls and tricep pushdown
Core: Ab crunch
As mentioned above, one of the most versatile aspects of this machine is the space it requires. It's a more compact model and has a total space requirement for a length of 76″, width of 42″, and height of 80″. If you're concerned about the size of equipment, then this could be a good match for your needs.
Powerline BSG10X Home Gym Ease of Use
Another positive that comes along with this home gym is the ease of use it encompasses. It's no secret that some home gyms can be a pain to construct and install, but this machine does a fairly good job at solving this problem. For starters, it comes roughly 90% pre-assembled in the box, so you won't have to spend a ton of time finding parts and building the machine.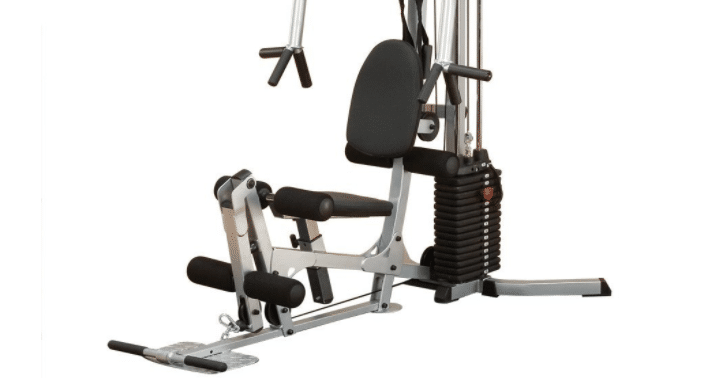 Image courtesy Amazon.com.
Body-Solid does a pretty good job at making this model easy to construct, along with avoiding the use of complicated manuals and extra parts. When all is said and done, you can most likely setup and be working out within 30-minutes time.
Powerline BSG10X Home Gym Price
The average price for this home gym comes out to about $769.00. This price seems fair for what this machine has to offer. Is it the cheapest home gym? Definitely not, but it's less than other more complex models. For the lifter needing a piece of equipment with a fair amount of resistance, versatility, and decent warranty, then the price point is reasonable. Additionally, this machine's price may be better for those who have limited space availability.
Powerline BSG10X Warranty
One positive that accompanies this machine is the warranty Body Solid offers for it. The frame itself has a 10-year warranty, and the parts one year. If you're worried about the price, then it can be comforting knowing that this machine has a fair warranty to back it up. It makes the price and longevity concern for the machine a little more reasonable. Keep in mind, this warranty only applies to the original owner of the machine.
Final Thoughts
All in all, this machine could be a good option for a few different types of lifters. I like the amount of resistance the machine starts with, along with the amount of versatility it offers. Outside of these two attributes, the warranty and size may be the biggest perks for this model. The price isn't crazy expensive, but it also isn't the cheapest model we've reviewed.
If your two biggest concerns are space and warranty, then the Powerline BSG10X Home Gym may be a good purchase for you.
Feature image courtesy Amazon.com.
Other Great Home Gym Reviews
Looking for Some Other Equipment? Read These Reviews to Build Your Best Home Gym