BodyCraft is a company that produces multiple types of home gyms, and one of their most popular home gym models is the Galena Pro. This machine aims to provide a lifter with a fairly versatile piece of equipment that's also designed to save space. Unlike other home gym models, this piece of equipment is constructed to fit in a room's corner.
If you're on the search for a versatile home gym, or have interest in the Galena Pro, then read on. In this article, we'll break down all of the key features, versatility, ease of use, price, and the warranty of this model. Hopefully the details below can help you decide if it makes sense for you to invest in this home gym model.
Looking for the latest on the best home gyms? Read Barbend's Best Home Gyms 2019 Round-up
Key Features & Specs
The BodyCraft Galena Pro Home Gym has a few features worth calling out. For starters, this piece of equipment allows someone to perform over 50 exercises, which is fairly good amount for a single piece of equipment. On top of that, you can upgrade the machine by adding on a leg press option. This attachment costs an extra amount, but it does create the opportunity for adding a full lower body component, if you choose to do so.
Image courtesy BodyCraft.com.
Click HERE to find prices on BodyCraft's Galena Home Gym.
Another feature that makes this machine slightly unique is its design. It's constructed to fit in the corner of a room, which could be a big deal for someone worried about space. In addition, this could be a positive for keeping the gym tucked out of the way in case you use the room for other activities. The weight stack is a set 200 lbs, but can be increased to 300 lbs by adding the leg press attachment. This is both a pro and con. If you want the previously mentioned leg press, then you can add another 100 lbs to the resistance, yet if you don't, you're limited to the 200 lb weight stack.
[Looking for the best home gym for you? Read here and check out our full rundown of the top equipment for your needs!]
In terms of price and warranty, this machine comes with potential positives and drawbacks. The warranty that comes with this home gym is solid, and BodyCraft offers a lifetime warranty on the frame and parts for manufacturer's errors (not normal wear and tear). This is a good deal for anyone who takes good care of the machine over their tenure with it. The price is slightly higher and starts around $1899.00, which is a decent investment.
Pros
Decently versatile
Optional leg press attachment, which can increase resistance
Unique corner fitting design
Solid lifetime warranty
Cons
Limited 200 lb resistance (if you choose to not add a leg press)
Somewhat expensive
Versatility
The BodyCraft Galena Pro Home Gym is pretty versatile, and can assist a lifter with full body workouts, or body part specific work. As mentioned above, you can perform over 50 exercises on this machine, and that's without the optional leg press attachment. The 200 lb weight stack isn't the most we've seen, but it's a decent amount of weight for most users, so that characteristic will be a pro or con and dependent on your level of fitness.
Below are a few examples of exercises and muscles you can work using the BodyCraft Galena Pro Home Gym.
Legs: Leg Extension and Hamstring Curl
Chest: Chest Press and Chest Fly
Back: Lat Pulldown, Reverse Fly, and Standing Row
Arms: Tricep Extension, Preacher Curl, Standing Curl
Shoulders: Delt Raises
Abs: Cable Crunch
The size and design of this machine also makes it a pretty versatile option. It has the corner design, and decent dimensions for the equipment it comes with. Maximal dimensions on this machine come in at 72″ for length, 58″ for width, and 82″ for height.
Ease of Use
A big consideration many have when buying a home gym is how easy it is to use and install. This machine is fairly easy to install, and is said to take less than four hours to install with one person. In addition, the instructions are pretty well laid out, so there's going to be limited wasted time and brain cells trying to navigate a confusing instruction manual.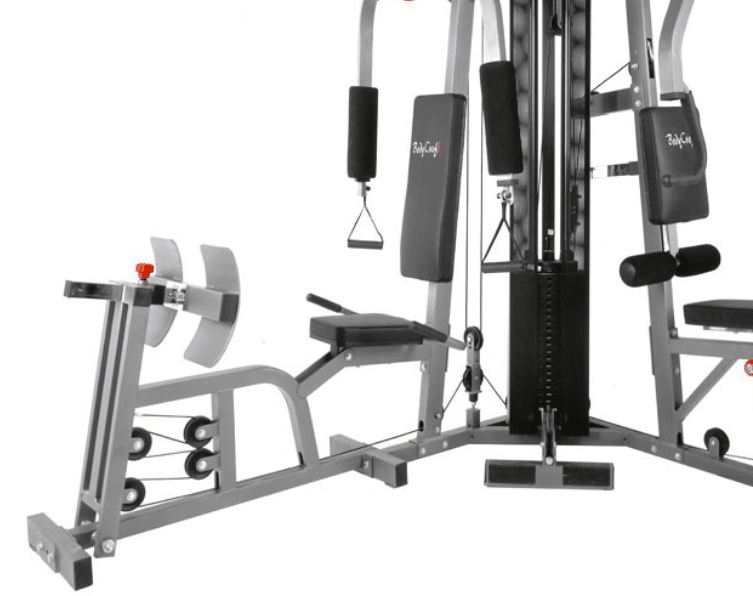 Image courtesy BodyCraft.com.
Outside of the installation, this machine is easy to learn to use and become accustomed with. Similar to other home gyms, the Galena Pro comes with a workout DVD, which provides workout ideas and basic form videos. Also, there's a poster that comes with it, so if you'd like, you can hang it up for daily reminders of workout introductions and ideas.
Price
The price of this machine is slightly on the higher end, so it's worth considering every factor that comes along with the BodyCraft Galena Pro Home Gym before buying. An average price for this machine comes out to $1,899.00, which is a sizable investment. On a positive, some online retailers offer free shipping and that can save a decent amount of money.
Warranty
An area or feature that helps make up for this machine's slightly higher price is the warranty that comes with it. Unlike other home gyms, this piece of equipment comes with a lifetime warranty on both the frame and parts. Most home gyms tend to cover the frame, and provide a limited warranty of parts, but the Galena Pro is an exception. Granted, this warranty is for manufacturer's error, and not normal wear and terror. Yet, if you take good care of the machine, then this warranty is solid.
Final Word
The BodyCraft Galena Pro Home Gym is unique in design and offers a fair amount of versatility. Will it be the best option for everyone? No, but it does offer a few key features that could fit someone's ideal home gym aspirations. The price is slightly higher, but the warranty helps lessen the blow. If you take good care of this piece of equipment, then more than likely your investment will last multiple years.
For those in need of versatility, a solid warranty option, and a design that fits in the corner of a room, then the BodyCraft Galena Pro Home Gym could be a good option.
Feature image courtesy Amazon.com.
Other Great Home Gym Reviews
Looking for Some Other Equipment? Read These Reviews to Build Your Best Home Gym