Buying a new home gym can be a daunting experience with all of the options out there. Plus, you have to consider your space availability, budget, and what machine matches your needs best. In this article, we're going to examine the popular Marcy MWM-990 Home Gym, and see how it stacks up to other models on the market.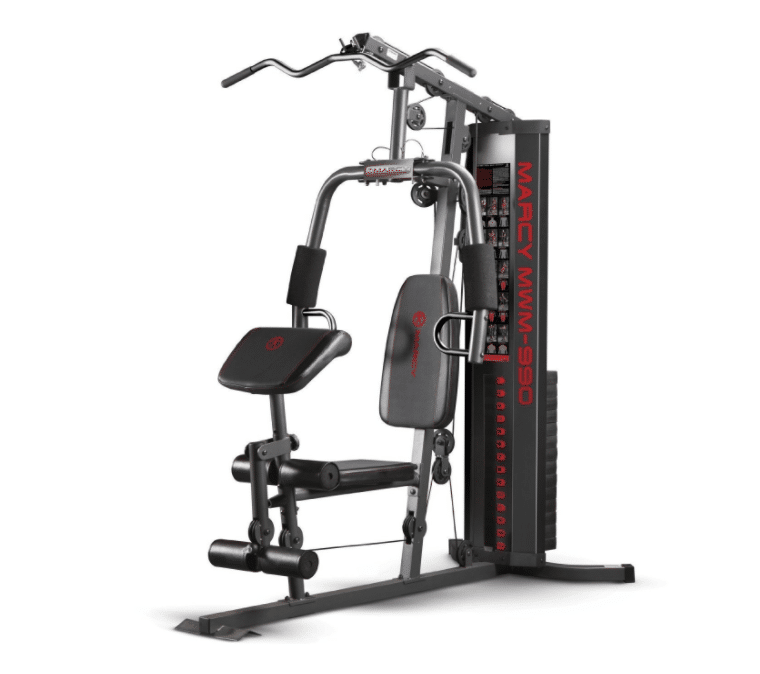 Image courtesy amazon.com.
Unlike many other suspension gyms designed for the home, the Marcy MWM-990 has a regular weight stack, along with a pulley system. It provides a variety of attachments and accessories to provide a gym-goer with multiple asks for body part specific training, or a full body workout.
[Looking for the best home gym for you? Check out our full rundown of the top equipment for your needs!]
Marcy MWM-990 Key Specs and Features
The Marcy MWM-990 is your standard weight stack machine, and is usually an image of what many think about when they think of the standard home gym. This machine allows a gym-goer to perform over 30 exercises, which is pretty good for a single weight stack machine. There's lower and upper-body attachments, so a gym-goers has the option to target multiple muscle groups.
The weight stack provides up to 150 lbs of resistance, and in some areas the pulleys can be adjusted to increase this. For example, the pulley for the push press portion can be adjusted to add another 50 lbs, so the maximal weight possible increases to 200 lbs. For a new gym-goer, or someone trying to maintain their fitness level this 200 lbs of resistance will most likely be enough. Yet, if you're a serious strength athlete, then you'll probably max out this machine pretty easily.
In terms of durability, this machine fairs pretty well and comes with a standard 2-year warranty. It has a strong steel frame that ends up weighting around 217 lbs once fully assembled, so once it's fully built the options to move it are pretty limited.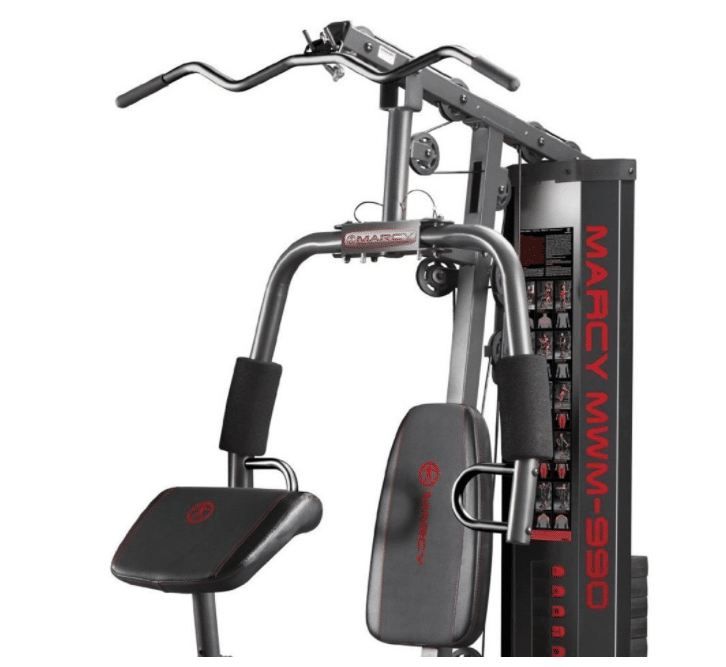 Image courtesy amazon.com.
Pros
150 lb weight stack with pulleys that provide slightly more varied resistance
Decently versatile with over 30 exercises to peform
Standard 2-year warranty, and sturdy construction
Cons
Max user weight: 300 lbs, and comfortable user height: 6"
Limited to the provided weight stack, as it's not upgradeable
Tools for assembly not included
Ease of Use
This is a pretty basic home gym that can assist a variety of gym-goers. There's a list of exercises provided with pictures and descriptions, so it's decently easy to navigate the machine. Also, the attachments are designed similar to bigger box gym's equipment, so anyone who's worked out at a commercial gym, or used them before won't have much of a learning curve.
A weathered strength athlete may not get enough resistance out of this machine due to the limited weight stack, but the new gym-goer could benefit from the resistance this machine offers. Compared to other home gyms, the Marcy MWM-990 is about middle of the road when it comes to adapting to the piece of equipment itself.
The only possible downside to this machine is the weight and height recommendations that come with it. Someone who's taller, or a little heavier, may have a tough time using it with ease. For example, someone over 6′ 1″ and 300 lbs may have trouble easily using the machine.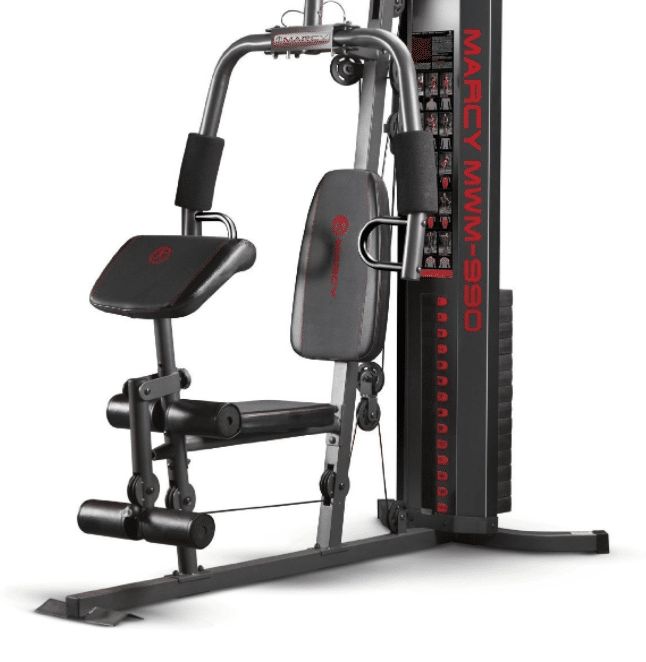 Image courtesy amazon.com.
Versatility
This is a piece of equipment that's slightly on the lower end when it comes to all-in-one home gyms, so you get what you pay for. In this respect, it's a machine that could be labeled with medium versatility. It offers over 30 exercises, which is fairly good for one piece of equipment, but it's definitely not the best in the industry. But if you're looking to achieve a full body workout, or even body part specific work, then this machine could be useful to you.
Below are a list of the some of the body parts and muscles you can target with this machine, along with movements that will provoke these training goals.
Legs: Leg Extension and Hamstring Curl
Chest: Chest Press and Chest Fly
Back: Lat Pulldown, Reverse Fly, and Standing Row
Arms: Tricep Extension, Preacher Curl, Standing Curl
Shoulders: Delt Raises
Abs: Cable Crunch
This specific model is decent when it comes to saving space, and doesn't require a ton of room. The space requirements for this piece of equipment come in at a length of 68", width of 36" and a height of 79". In terms of space, this machine could be a good option for someone with limited space, but keep in mind it's tough to move when fully built, as it weighs over 200 lbs.
Price
The price is one of the highlights of this machine and you can find one starting around $399.00. For a basic weight stack machine, I feel that this price is pretty good for what you're paying for. With over 30 exercises, and a 2-year warranty, I think the starting price for this model is pretty fair on the wallet. In addition, it's nice because a gym-goer can purchase this piece of equipment all in one shot, as opposed to financing.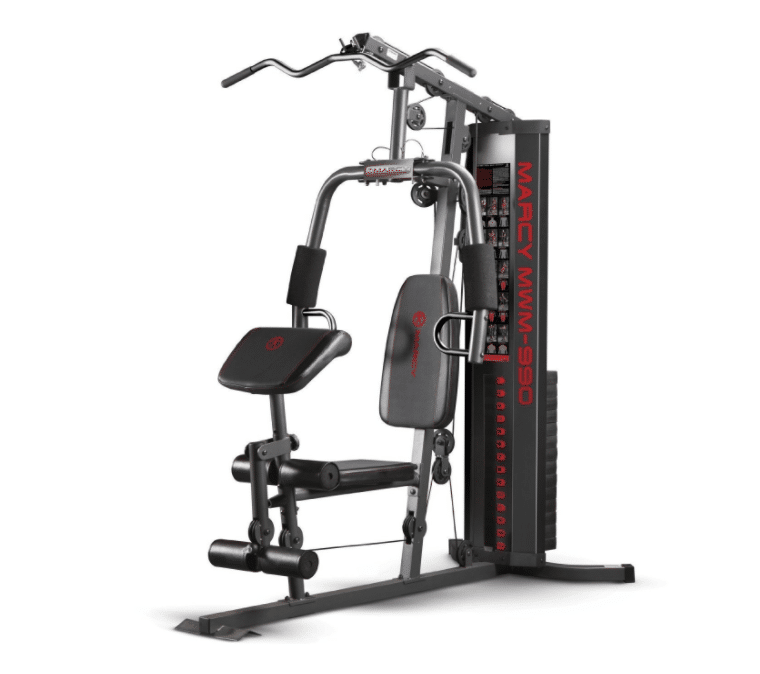 Image courtesy amazon.com.
Warranty
The warranty that comes with this machine is pretty standard: 2-years on the frame of the machine. This tends to be an industry standard when it comes to these lower priced versatile models. It's a decent warranty for the price you can expect to pay. Also, this two years can most likely be extended by proper care of the machine.
Final Word
The Marcy MWM-990 is your standard weight stack-based piece of home gym equipment. It offers most of the traits you'd want in a home gym, and can meet a variety of fitness asks. In addition, the price is pretty good for what the machine provides. A potential downfall for this piece of equipment is for the weathered strength athlete, as they may feel slightly limited by the resistance that comes with this model.
If you're in need of a decently versatile home gym that offers moderate resistance, then the Macry MWM-990 could be a good choice for you.
Feature image from amazon.com.
Other Great Home Gym Reviews
Looking for Some Other Equipment? Read These Reviews to Build Your Best Home Gym