BodyCraft is a company that creates multiple pieces of home gym equipment. They produce things like treadmills, benches, racks, full body home gym systems, and much more. What they may be possibly best known for is their versatile home gyms that utilize adjustable cable systems with weight stacks.
In this article, we'll be taking a deep dive look at the BodyCraft Xpress Pro Home Gym. This is a home gym system that BodyCraft has stated 'changed the industry' by utilizing adjustable cables. Today we'll look at the key features, versatility, ease of use, price, and warranty this machine offers.
Key Features & Specs
The BodyCraft Xpress Pro Home Gym could be considered one of the first of its kind in the world of home gyms. It has a couple unique features that make it different than other BodyCraft models and other home gyms. First, it offers an adjustable pulley system, which BodyCraft states is the first of its kind, and has since been replicated by many other home gym system. The 180 degree adjustable pulley arms allow a lifter to increase resistance. The weight stack comes in at 200 lbs, but with the double cables, a lifter can increase the maximal pressing resistance to 400 lbs.
Shop BodyCraft Xpress HERE.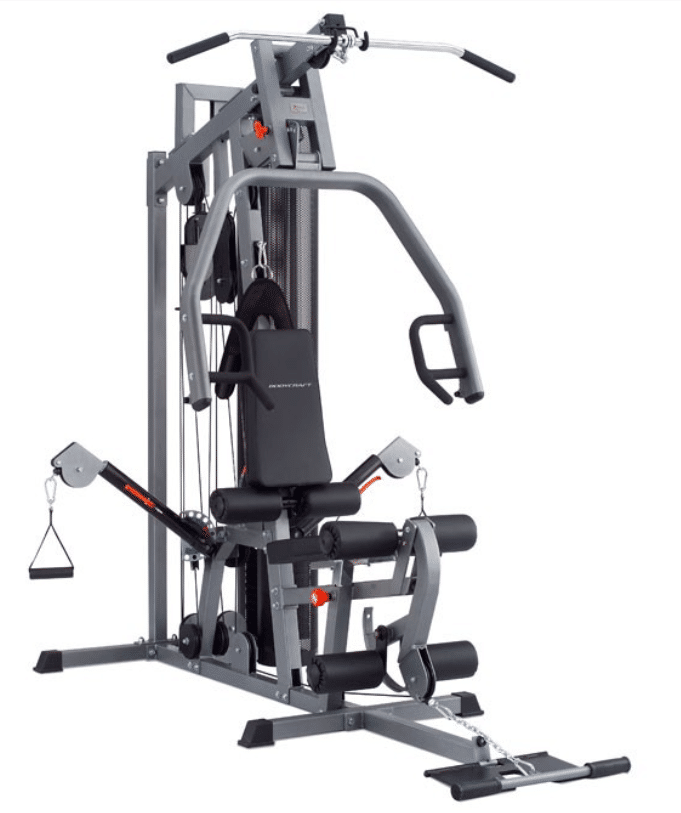 Image courtesy BodyCraft.com.
Another feature this home gym offers is versatility. It offers your standard pressing, lat pull down, and static leg stations, but with the 180 degree pulley arms your options are almost endless. We can't provide you with a direct number of exercises you can perform, but BodyCraft has suggested it's over 100+, so you can be as creative as you'd like within your limits.
The price and warranty for this machine are also features worth considering right off the bat. In terms of price, you can expect to pay around $2,599.00, which is a sizable investment. Granted, if you're buying this gym, then you're probably looking for a home gym that can match all of your needs, so the price is somewhat justifiable. Also, the warranty makes the price a tad better, as BodyCraft provides a lifetime warranty on this machine's frame and parts.
[How does the BodyCraft Xpress Pro Home Gym compare to the Galena Pro Home Gym? Check it out, here.]
Pros
Over 100+ exercises
200 lb weight stack, and double up pulleys for 400 lbs resistance on press
Lifetime warranty on frame and parts
Cons
Sizable investment
May take up to 6-8 hours to construct and build
Versatility
When it comes to versatility, this is one of the best home gyms we've taken an in-depth look at. It provides your standard home gym stations, but also offers 180 degree cable arms. These cable arms allow you to perform a variety of movements from different heights and angles, which most home gyms can't do. BodyCraft states you can perform over 100+ exercises on the Xpress Pro Home Gym, so there's no question about achieving a full body, or body part specific workout. In addition, you can pay extra for a leg press attachment, so you can train legs harder than your standard static curls and extensions.
Below are a few of the pieces of equipment the BodyCraft Xpress Pro Home Gym offers, along with muscles they can work.
Legs: Leg Extension and Hamstring Curl
Chest: Chest Press and Chest Fly
Back: Lat Pulldown, Reverse Fly, and Seated Row
Arms: Tricep Extension, Seated Curl, Standing Curl
Shoulders: Delt Raises, Shoulder Press
Abs: Cable Crunch, Trunk Rotations, Oblique Crunches
In terms of size, this home gym is pretty comparable to most models. For the amount of versatility it offers, the maximal dimensions aren't incredibly large. The dimensions for this home gym come in at: 83″ length, 57″ width, and 82.75″ height.
Ease of Use
The ease of use of this home gym machine is pretty hit or miss. In terms of movements, it's a pretty easy machine to navigate. For example, there are no complex attachments, or stations that could cause confusion. If you're brand new to working out, then there may be a couple gray areas around learning different angles and movements of the pulley system, but all-in-all it shouldn't be too difficult to learn. That's the hit that comes with the home gym's ease of use.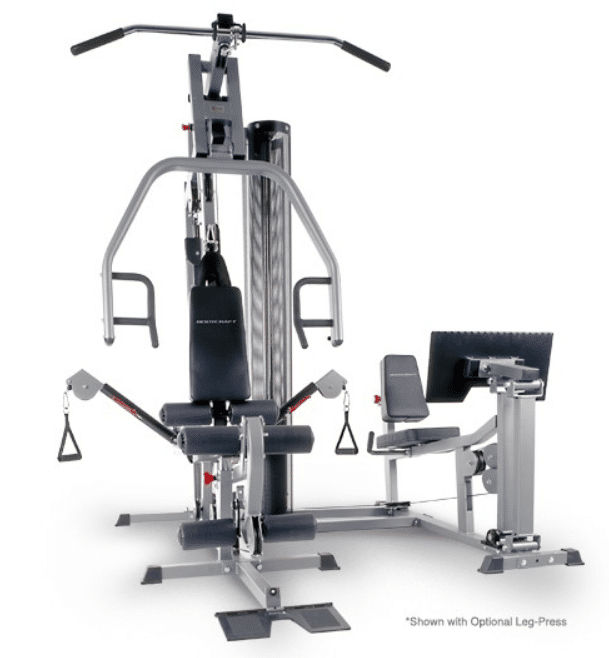 Image courtesy BodyCraft.com.
The miss is how long it takes to formally construct and install. When ordering the BodyCraft Xpress Pro Home Gym be forewarned that you'll need both patience and time. It's been said to take between 5-8 hours to build, so you may want to break building sessions into two shifts. The manual is pretty well laid out though, so that's a positive to the longer duration build time.
Price
We mentioned the price above, but you can expect to pay around $2,599.00 for this home gym. Yes, that's pretty pricey and it's a sizable investment, but it does have a few things going for it, which can create a case for the price. First, the 100+ exercise versatility it pretty solid. Second, it provides up to 400 lbs on movements like the chest press, and that's more than enough for many. Lastly, it comes with a lifetime warranty, so your money is going to last you a lifetime in this scenario.
Warranty
One of the best aspects about BodyCraft home gyms are their warranties. Most machines and companies will come with 5-7 year warranties, but the BodyCraft Xpress Pro Home Gym comes with a lifetime warranty on both parts and frames. That's a pretty good feature, especially since other companies back their frames for long duration, rarely back their parts for a lifetime.
Final Word
The BodyCraft Xpress Pro Home Gym is said to be the first of its kind, and comes with some pretty solid features. This machine has decent depth with its versatility and promises over 100+ exercise options. In addition, the 200 lb weight stack provides adequate resistance and the double pulleys give you the option to increase resistance to 400 lbs for things like the chest press. Yes, it's a slightly pricier machine, but it does come with a lifetime warranty, so an argument could be made for the higher price.
At the end of the day, this is a pretty solid machine, and if you need a home gym for a long time with multiple options, then it could be a good pick for you.
Featured image courtesy BodyCraft.com.
Other Great Home Gym Reviews
Looking for Some Other Equipment? Read These Reviews to Build Your Best Home Gym