We receive free products and receive commissions through our links. See
disclosures page
.
Rogue Fitness is one of the top sellers of workout gear in the fitness industry, and one of the major product categories they offer is home gym equipment. Many will seek out Rogue Fitness' equipment for building a home gym that's often directed towards their strength sport, equipment wants/needs, and space availability.
In this article, we'll break down one of Rogue Fitness' popular garage gym options: the Rogue W-4 Garage Gym. This product is different than others because it allows the option of customization, so we'll break down all of the specs that come along with it.
Best Garage Gym
Rogue Fitness W-4 Garage Gym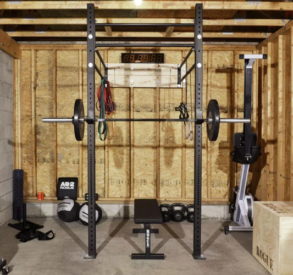 Rogue Fitness W-4 Garage Gym
This customizable home gym setup is perfect for the brand new home gym owner trying to build their ideal garage gym.
[Looking for the best home gyms for you? Read our full rundown of the top equipment for your needs!]
Key Features & Specs
The Rogue W-4 Garage Gym offers multiple options for customization. This garage gym is focused around Rogue's W-4 4′ Wall Mount, and then can have other pieces of equipment added per the user's choosing. For many users this can take the thinking out of building a custom gym, which can be useful for saving time and even money in some cases. In addition, the new user may find comfort knowing everything they're buying can work together in one way or another.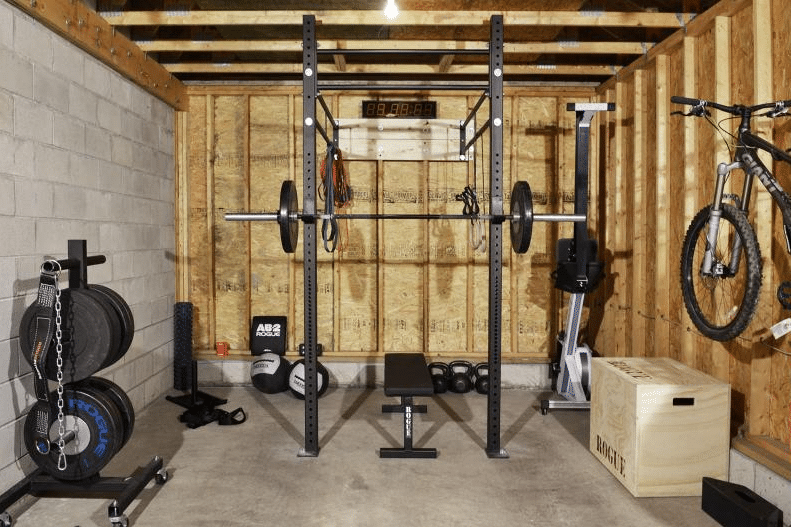 Image example of Rogue W-4 Garage Gym courtesy roguefitness.com.
Since the wall mount is the focal point of this garage gym setup, we're going to break down the wall mount specs and list the add-on equipment below. The wall mount is built with a steel frame, which allows for multiple options in terms of customization. You can order the rack with multiple different pull-up bars, and you can adjust them as high as you'd like when you build the rack. Additionally, you can pay an extra fee to order a taller rack and wall mounts, so you can save on time in the long run (if you don't already have places to mount the rack).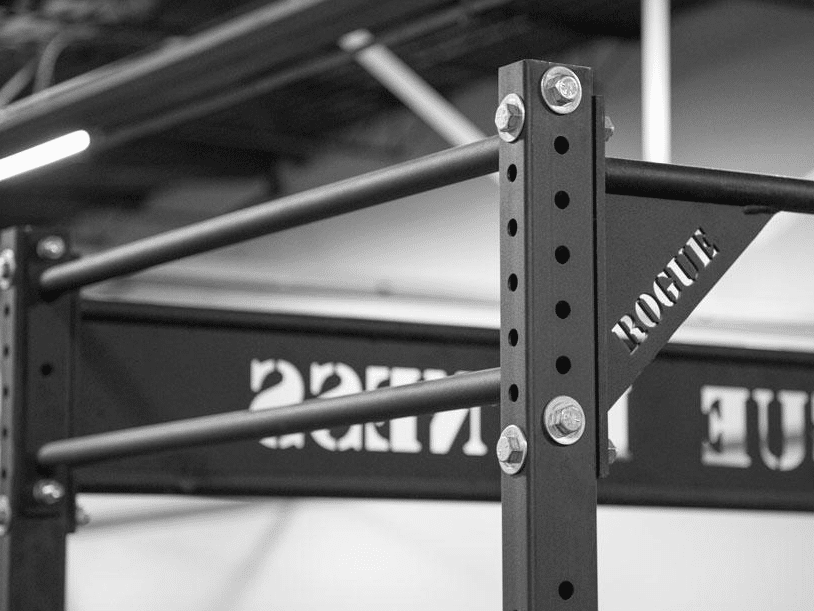 Image courtesy roguefitness.com.
We mentioned it above, but when ordering the Rogue W-4 Garage Gym you can add on other pieces of equipment at the same time. Below we'll list off some of the equipment Rogue lists on their W-4 Garage Gym product page, along with their prices.
W-4 4′ Wall Mount – $550.00
Rogue Flat Utility Bench 2.0 – $179.00
The Rogue Bar 2.0 – $255.00
Rogue Single Plate Storage – $28.25
Rogue Double Plate Storage – $44.50
Rogue Games Box – $135.00
Dip-Belt Black – $49.00
AB-2 Firm Ab Mat – $32.95
These aren't the only options you can include in the Rogue W-4 Garage Gym package, but they're the products listed on Rogue's product page. You can add plates, dumbbells, and other forms of equipment as well.
The space needed for this garage gym package will vary, but the mount itself is 4′ wide, 6′ long, and 9′ tall (these can vary if you choose the bigger rack). Keep in mind, Rogue Fitness recommends mounting this rack to your wall and into the ground, and simply attaching it to wood on the ground won't be enough to make it sufficiently stable. This could be an issue for some depending on the material that makes up their garage/home.
Versatility
It's tough to judge the versatility alone on the Rogue W-4 Garage Gym because the packages can vary so much. Unlike one-product-fits-all home gyms, this gym can be built out however a user pleases. In this respect, we do feel that this piece of equipment is on the more versatile end of options for a few reasons.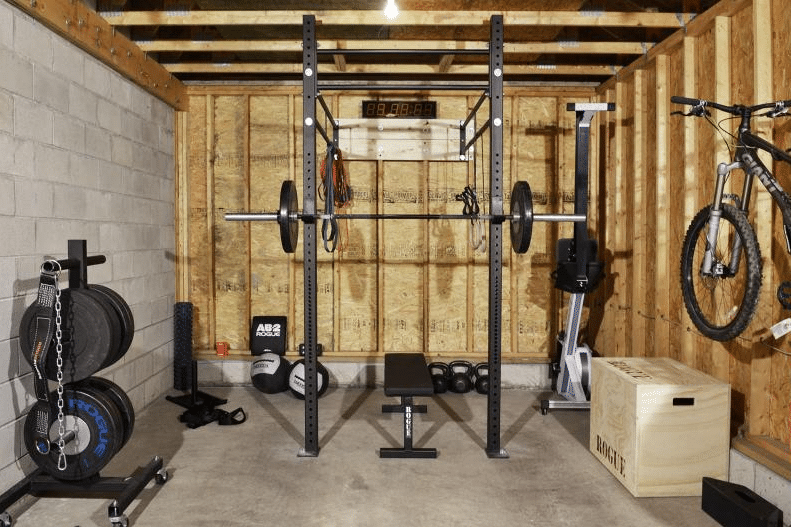 Image example of Rogue W-4 Garage Gym courtesy roguefitness.com.
Since the focal point of this package is a rack, users will probably need to use a barbell and plates to get the full use out of it. This being said, barbells, plates, and dumbbells are inherently more versatile than your more static pieces of home gym equipment, and they offer a little more variability with one's creativity with them. In addition, you can purchase boxes, sandbags, and much more from Rogue Fitness to increase the versatility of your home gym.
So is the Rogue W-4 Garage Gym versatile? Yes and no, and it all depends how you want to customize it to match your needs and wants. Something cool Rogue Fitness offers is a page on their site that shares other's garage gym setups, so if you're in need of inspiration, or what a product looks like in a real setting, then it can be a big help.
Ease of Use
The Rogue W-4 Garage Gym is relatively easy to set up, and Rogue Fitness states it should only take a few hours to build the rack and other forms of equipment (this can vary depending on the package). Unlike other pieces of home gym equipment, the user purchasing the W-4 Garage Gym package will more than likely have an idea of what they're looking for in the package. For example, if someone is a functional fitness athlete, then they'll most likely look for complimentary pieces of equipment per their sport.
This all being said, the ease of use with this equipment will always vary because packages will vary from one owner to the next. If you're a newbie or weathered gym vet, there's a ton of content to help you accomplishment your movement goals, so the ease of use will vary in this aspect (per one's skill level and learning abilities). Regardless, the equipment is easy to set up, so ease of use when constructing is pretty good, even for the complete gym newbie.
Price
It's tough to put an exact price point on the Rogue W-4 Garage Gym since the equipment packages will vary, so we'll list a few of the major pieces of equipment and analyze them. First, the W-4 4′ Wall Mount, the focal point of the package, starts at $550.00. This price is decent for a wall mount, but it definitely isn't the cheapest out there. The positive that comes with this rack and makes up for the price is the ability to customize the rig and adjust its height, which can be big for some.
Second, the Rogue Bar 2.0 has a price of $255.00, which again, is a solid price for a good barbell. This barbell will be much cheaper than your higher quality Olympic and powerlifting bars, but is slightly more expensive than your extremely basic steel barbell. The last item we'll list is the Rogue Flat Utility Bench 2.0, and this bench starts at $179.50. This is decent price for a bench and this flat bench specifically is slightly wider than other options out there, so it has that as a positive.
Warranty
A positive that comes with Rogue Fitness gym equipment, especially their branded products, is the warranty that accompanies them. The frames and welds have a lifetime warranty, which is great since many purchasers see these items as a major investment. Also, items like the Rogue Bar 2.0 come with a lifetime warranty, so it's a one-time buy for most home gym owners. I like their warranty options, and feel it makes the burden of a huge purchase (like frames and barbells) a little less daunting when they come with a lifetime warranty.
Final Word
The Rogue W-4 Garage Gym is a solid home gym owner for the user who wants to begin building out their dream garage/home gym. It comes with a solid rack with customizability, and can be a great starting point for collecting all of the equipment you desire. One of the few potential downsides is the price on some of Rogue Fitness' items, but the warranties do help make up for them.
If you're a gym newbie or weathered strength athlete, then I feel you can find a solid Rogue W-4 Garage Gym package for your dream home gym.
Feature image courtesy Roguefitness.com.
Other Great Home Gym Reviews
Looking for Some Other Equipment? Read These Reviews to Build Your Best Home Gym