We receive free products and receive commissions through our links. See
disclosures page
.
Based in New York State, Pure Protein is a supplement company that's pretty well known for their popular protein bars. I decided to review Pure Protein's Natural Whey Protein. If their protein powder is known for anything it's for being surprisingly cheap for a powder that's free from artificial flavors, sweeteners, and colors.
I wanted to know if the taste matched the price tag, but first, let's take a look at the nutrition.
Pure Protein Whey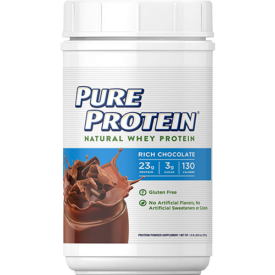 Provides 23 grams of protein and no artificial ingredients at all, Pure Protein is also instantized for easier mixing.
Pure Protein Natural Whey Protein Nutrition Info
One scoop delivers 130 calories, 23 grams of protein, 5 grams of carbs (3 grams of sugar and no fiber), 2 grams of fat and 1 gram of saturated fat.
Regarding micronutrients, there's nothing really notable. For a whey powder, it's relatively low in calcium (11 percent of your daily intake) and sodium (2 percent of your daily intake) and there's about 40mg of cholesterol, or 13 percent of your daily intake, which may be important to note if you need to limit cholesterol.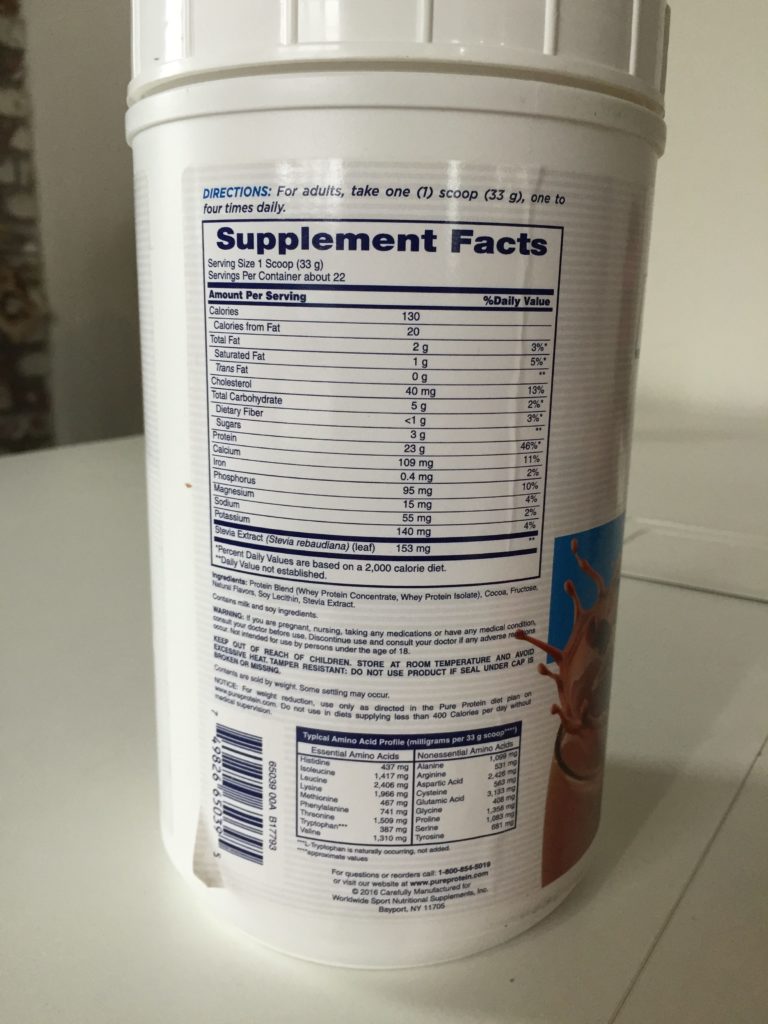 Pure Protein Natural Whey Protein Ingredients
The first ingredient is a protein blend of whey concentrate (the cheapest form of whey) and whey isolate (the lowest calorie form of whey), followed by cocoa, fructose (a natural sugar that's used as a sweetener), natural flavors, soy lecithin (for mixability) and stevia extract, a natural sweetener.
Pure Protein Natural Whey Protein Benefits and Effectiveness
Looking at the nutrition and the ingredients, one thing immediately comes to mind: this product contains lactose, and it doesn't contain lactase or any other digestive enzymes. That means if you're lactose intolerant or if you tend to have difficulty digesting protein powder, there's a chance this could upset your stomach.
Otherwise, the most problematic ingredient is soy, which some folks steer clear of. The fructose is also a pretty unusual addition that might give some people pause, but the evidence is pretty clear that it doesn't cause cancer and it's just included as a natural sweetener that's a little lower in calories than sucrose or glucose. That said, it does make it just slightly higher in sugar than artificially sweetened protein powders.
Related: best whey protein powders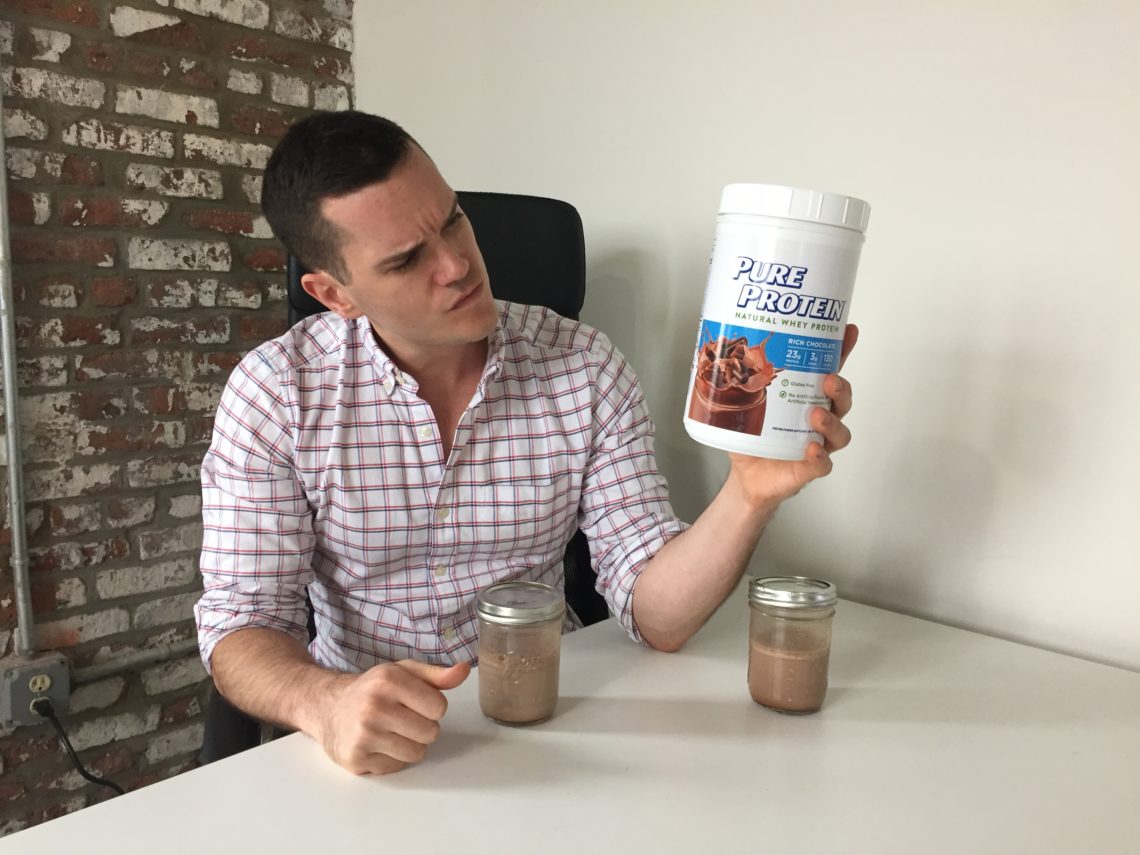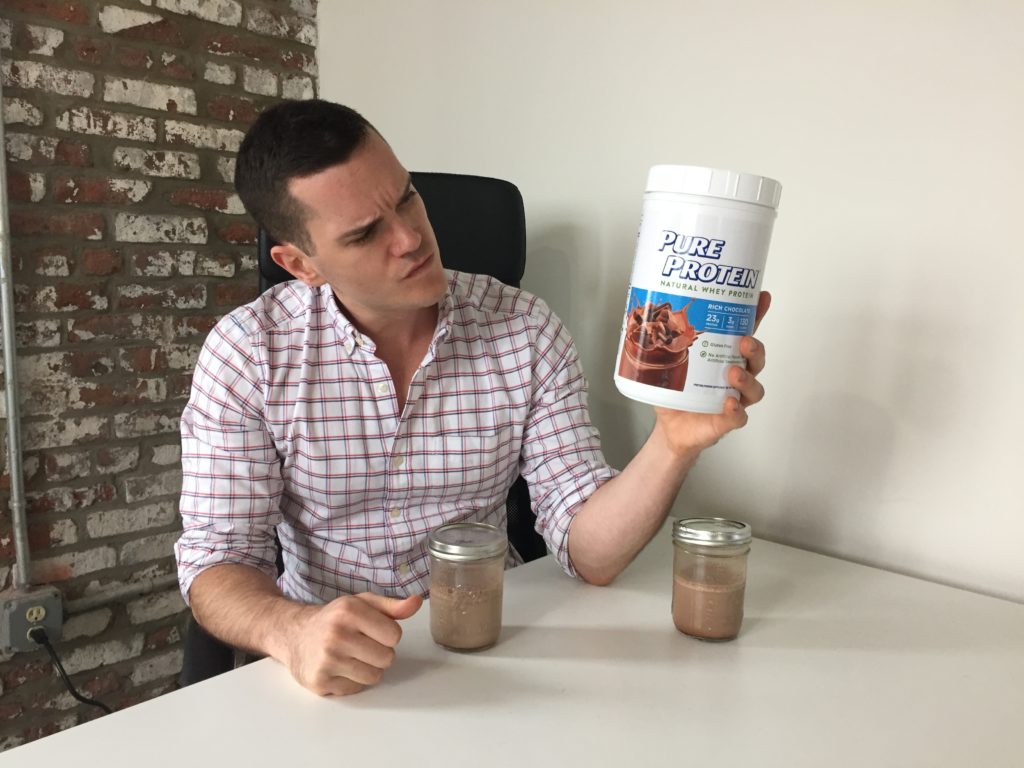 But hey, this is a solid product: it's pretty low in calories, carbs, and fat, and pretty high in protein. The macros aren't as dramatic as your zero carb zero fat whey isolates, but that's because it has no artificial ingredients and because it's largely made from the inexpensive whey concentrate. The macros aren't going to be out-of-this-world, but if what you need is a low-carb protein powder with nothing artificial in it, this is going to fit the bill — so long as you can digest lactose and you don't mind soy.
Pure Protein Natural Whey Protein Price
On Amazon Prime it's between $18 and $22 for a 1.6-pound tub, which is the largest package I can find at the time of writing. I'm not sure why there's such a big price difference, but let's say it costs $20 for 1.6 pounds, or 22 servings. That winds up at 90 cents a serving or 3.9 cents per gram of protein.
When we're talking about 2-pound tubs (and cents per gram of protein), that's very cheap, even cheaper than Optimum Nutrition and about the same as MusclePharm's Combat Whey. It makes me think it should be available in larger sizes for folks who really want to save cash, because this is a strikingly cheap product, especially since it's free from artificial flavors.
Mixability
While it's a little frothy, I found this protein mixed pretty well. That's probably because of the soy lecithin, which usually improves mixability.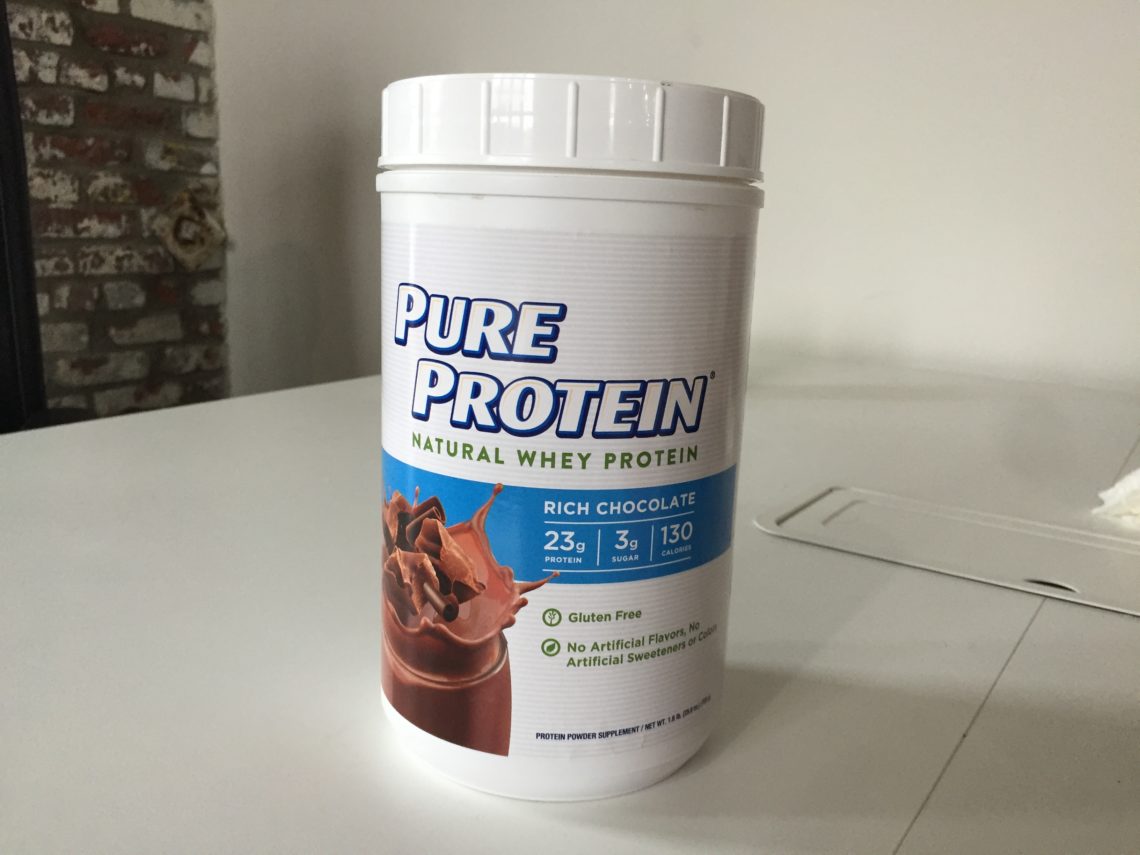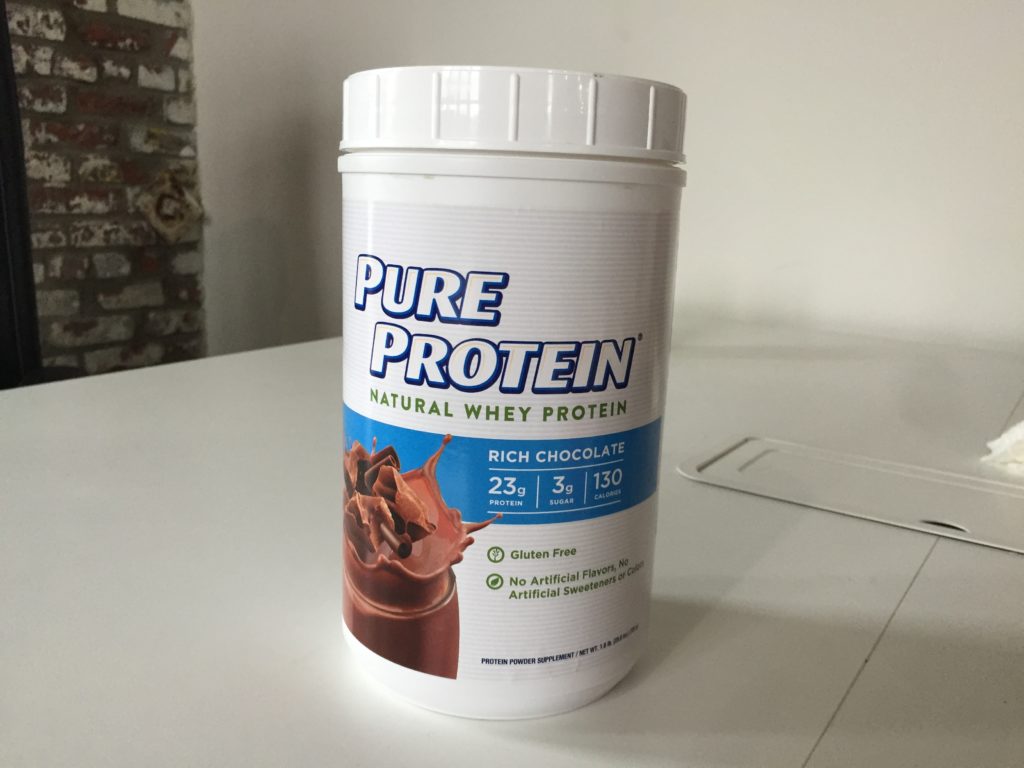 Pure Protein Natural Whey Protein Taste
I was a little disappointed in the taste. While it contains fructose and stevia, it tasted an awful lot like straight cocoa — which means it was bitter, and the bitterness really hangs around your mouth, too. The natural sweetness of milk makes it a little more palatable, but there's no sugarcoating it: it's bitter.
The Takeaway
If you're the kind of person who prioritizes all natural fitness supplements and you don't want to spend all your money to find them, you've probably been frustrated by what's available on the market. And so long as you don't have a problem with lactose or soy, you'll be delighted with Pure Protein Natural Whey. It's all natural and inexpensive, but it's true that the taste leaves a lot to be desired. If I were you and I really didn't want to fork out for pricier brands, I'd probaby buy it anyway and add a little stevia or mashed banana to sweeten it up.
[Get the best Amazon price on Pure Protein's 100% Whey here.]
Other Great Protein Powders Reviews
Related Best Protein Powders Content