Indonesia's Rahmat Erwin Abdullah is the dark horse of men's weightlifting. Since the Tokyo Olympics in 2021, Abdullah has made a name for himself as a podium contender in both the 73 and 81-kilogram divisions by lifting monstrous weights out of the less-competitive "Group B" sessions.
On Sep. 11, 2023, Abdullah did just that. He set a new senior World Record in the clean & jerk, 209 kilograms (460.7 pounds), in the 81-kilogram category at the International Weightlifting Federation's (IWF) World Weightlifting Championships (WWC).
[Check In: 2023 IWF World Weightlifting Championships Full Results]
According to Weightlifting House commentators, this is the first time in history that any weightlifter holds the Senior world records in two sequential weight categories (Abdullah holds the jerk record in the 73s with 200), both set from Group B.
While Abdullah is undeniably one of the strongest light-middleweight weightlifters in the world, his medal-winning performances from outside of the Group A aren't without controversy.
Rahmat Erwin Abdullah | 2023 World Weightlifting Championships
Abdullah is typically a 73-kilogram weightlifter, but decided not to cut weight to participate in the 73s at the 2023 WWC in Riyadh, which run from Sep. 4 to 17. Weighing just 76.67 kilograms, Abdullah set the bar quite high for the men in the Group A division before they ever took the stage.
Snatch: 145 kilograms
Clean & Jerk: 209 kilograms, World Record
Total: 354 kilograms
Notably, Abdullah's bodyweight in Riyadh highlights his performance in a historical context as well. When the famous Men's 77-kilogram category was abolished in 2018, the heaviest clean & jerk in competition in that category was 214 kilos, set by Kazakhstan's Nijat Rahimov at the 2016 Olympic Games.
Abdullah's respectable 145-kilogram snatch, though, is miles away from the legendary 177 world record set by China's Lu Xiaojun, also set in Rio. That Abdullah could have contended with the best 77s in the world at just 22 years old speaks to his potential in the sport.
A Controversial Approach
Abdullah's habitual acquisition of medals from outside the Group A session at major weightlifting competitions is surprising, but may not always be incidental. Moreover, this tactic shines a light on a potential flaw within the IWF's qualification procedures ahead of the 2024 Olympic Games in Paris, which are less than a year away.
At last year's World Championships, two out of the three 73-kilogram medalists came from Group B — including Abdullah, who won his first senior World title there. Historically, entrants are divided across different Groups based on their entry Totals, the weights they initially declare they'll lift before the competition begins.
This stratifies the competition so athletes of comparable strength are forced to compete against one another, encouraging competitive spirit and enhancing the viewing experience for spectators. By declaring a modest entry Total, Abdullah places himself among athletes not of his true caliber.
As such, he can perform under less pressure and threat from other weightlifters who might otherwise attempt to jockey or sabotage his six competitive attempts.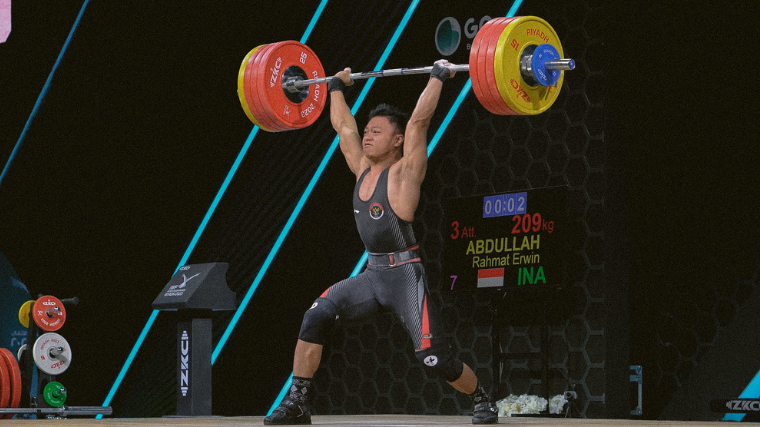 To qualify for the Paris Olympics, athletes in any given category must rank in the top 10 in the world in their class. The simplicity of this system may encourage athletes like Abdullah (though he's certainly not the only lifter to win a medal out of the Group B, or even C) to exploit the structure of weightlifting meets in their favor.
That isn't to say that Abdullah's performance in Riyadh was inherently malicious; he simply opted to not cut weight to compete in his regular category. And since Group B always competes before Group A, the Group A weightlifters also know exactly what numbers they have to beat to make it to the podium. It's unorthodox, but so far, it's working.
More Weightlifting Content
Featured Image: Sofia Martinez / International Weightlifting Federation