There are multiple ways to build a dynamic and strong core, and one the often forgotten ways to do so is with ab straps. They're the straps that hang from pull-up bars that fitness enthusiasts put their arms in and then perform leg lifts with.
If you have a home gym or want to start performing more leg lifts at your current gym, then it might be worth investing in a new pair of ab straps. Every ab strap comes with its list of pros and cons, and each product within this list will best suit various fitness levels due to maximum weight support, material used, and overall durability.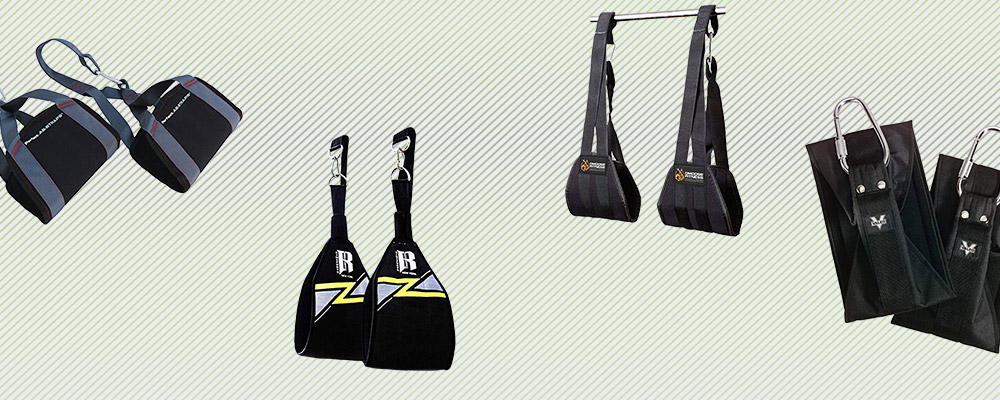 Best for Transporting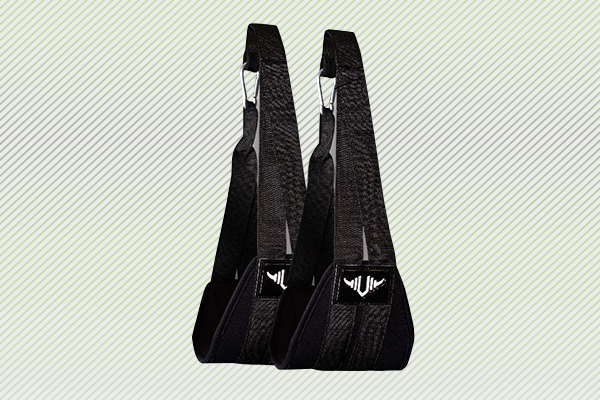 Easy to Bring In Any Bag
Pros:
Carrying case for convenience and accessibility
Durable steel buckles
Double stitching provides resistance to early breakdown
Cons:
Arm material does not have additional padding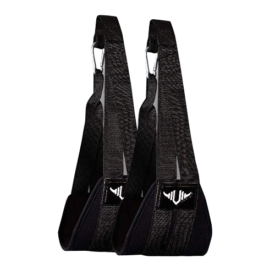 These ab straps are a solid choice for the lifter that wants to bring their straps within to the gym and need a case to carry them for accessibility.
Best Arm Pads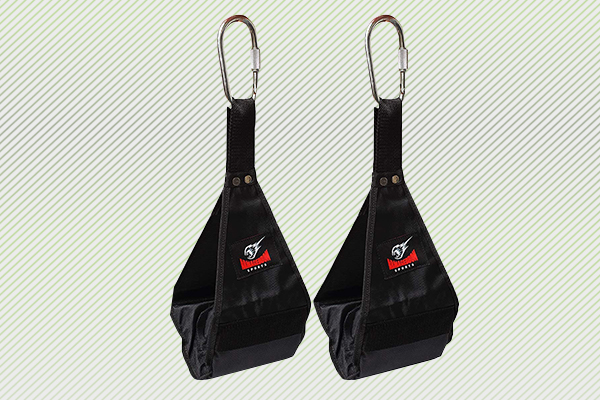 One of the Most Comfortable Options
Pros:
Padded bottom for comfort and support.
Stainless steel buckle for durability.
Durable material resists abrasion.
Cons:
Slightly more costly than other options.
Larger than other products, so traveling with these may be an issue.
Armageddon Sports Ab Straps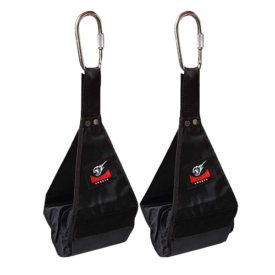 Armageddon Sports Ab Straps
These ab straps come with a densely padded bottom so they're comfortable for lifters looking to use them long durations.
Best for Longer Arms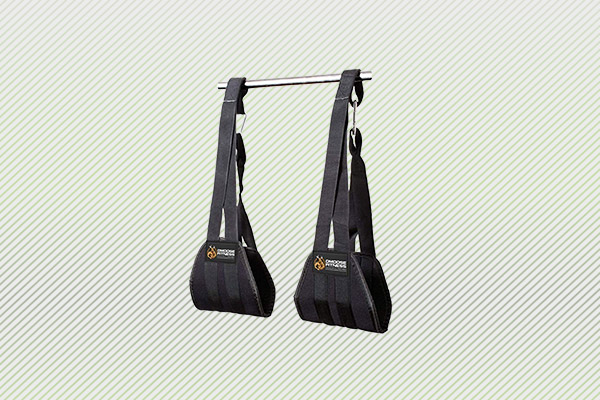 Great for Those That Need A Lot of Room
Pros
Comfortable strap to resist friction on the upper arms.
Durable construction that supports up to 400 lbs.
Longer strap to accommodate for all arm lengths.
Cons
Not the thickest metal clamps. 
DMoose Fitness Hanging Ab Straps
DMoose Fitness Hanging Ab Straps
These ab straps are a great option for any fitness level that wants to train their core with longer and durable straps.
Best for Beginners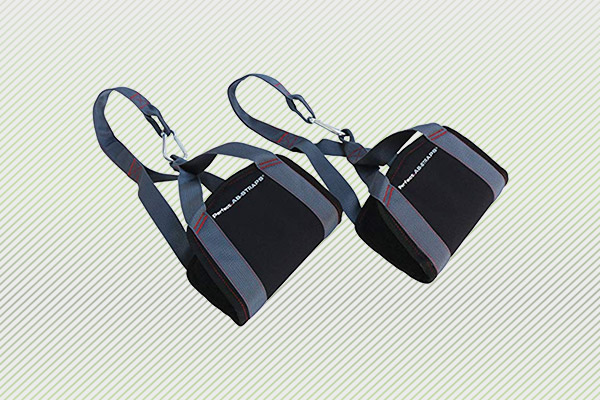 Easy to Use for Everyone
Pros
Thicker foam padding for arm support and cushion.
Durable straps with decent stitching for durability.
Stainless steel buckle for security. 
Cons
Don't have the thickest straps, so these might slide on a bar. 
Perfect Fitness Ab Straps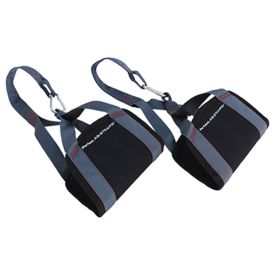 Perfect Fitness Ab Straps
These ab straps are a great option for beginners that want a thicker material to cushion their arms and create security. 
Best Versatility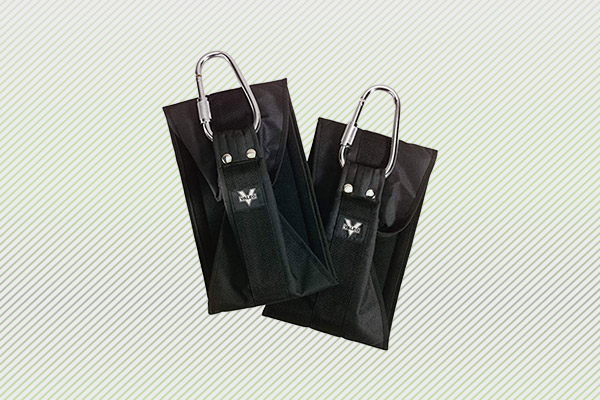 Great for All Ab Training
Pros
Durable nylon construction with secure stitching.
Supportive and versatile for multiple fitness levels and body types.
Strong steel clip promotes long-term durability. 
Cons
Not the most cost efficient item on the market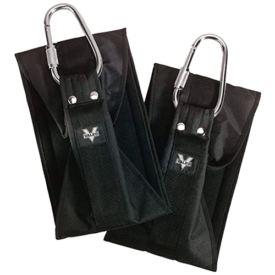 These ab straps could be considered the gold standard for ab straps and are found in multiple gyms across the globe for good reason. 
Also Consider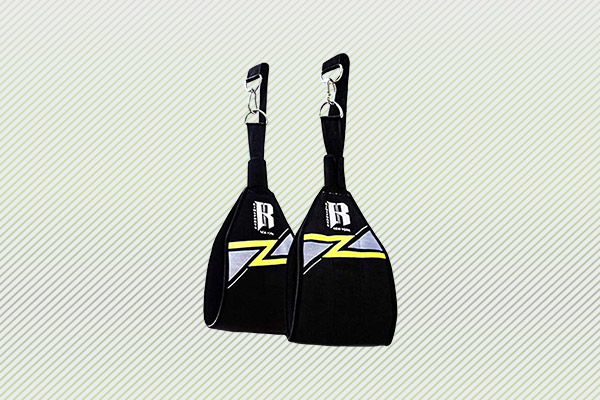 An Unconventional Construction
Pros
Cotton padding for upper arm support.
Durable construction that supports up to 300 lbs.
Supportive and comfortable for various fitness levels.
Cons
Somewhat thinner straps and steel buckles.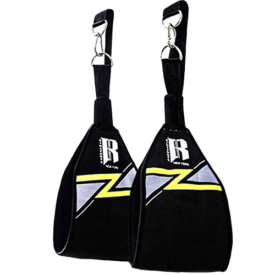 These ab straps are a great option for general fitness enthusiast that wants durability and comfort when performing hanging ab movements. 
Methodology
Ab straps are all built with the same goal in mind, but that doesn't mean they're all constructed equally. We created this based on two main criteria, which included construction and performance.
Construction
There are three main construction characteristics we considered when looking at the best ab straps on the market. First, we look at the overall material the straps are designed with. Quality straps are often designed with nylon and cotton blends that are reinforced with additional stitching to prevent early wear and tear and fraying.
Second, we consider the physical straps that are used to connect the arm holders with. Great straps will be thicker in design and have reinforced stitching to prevent breakdown from friction on the bar. Skinner straps can work fine, but they might be more prone to sliding and breaking down slightly earlier.
Lastly, we consider the buckle used to connect the straps. Since these straps are designed to hold weight, then a thicker steel buckle is often a better bet for long-term durability and use.
Performance
When it comes to performance characteristics that we consider for ab straps we're most concerned about what type of fitness enthusiast will be reaching for a certain pair. We look at how the arm holders will feel on upper arms, as this can be a big deciding factor for newer lifters that want to avoid friction or harsh materials on their arms.
Another factor we consider is how much weight each ab strap is designed to hold. Heavier lifters will want ab straps that are designed to hold upwards of 300 and 400 lbs to ensure they don't break while in use.
Wrapping Up
Ab straps are a great tool for building a strong core, especially for athletes that love performing leg lifts and variations of them. Potentially the best part about ab straps is how easily transportable they are and that they're decently cost efficient for nearly every fitness enthusiast.