Svelte is part of CalNaturale, a company based in Northern California that actually makes a lot of boxed wine, but they also produce Svelte. They come in little portable cartons of 11 fluid ounces and their marketing frames it as both "perfect as a delicious meal replacement" and as a pre- or post-workout beverage.
They're vegan, gluten-free, sweetened with stevia, certified kosher, and made from non-GMO organic soy. Another bonus is that the carton is recyclable and the manufacturer has measures in place "to reclaim and reuse water, reduce landfill waste, increase recycling efforts, reduce timber consumption, and reduce the use of sanitizing chemicals."
They're available in five flavors: Chocolate, French Vanilla, Banana Creme, Cappuccino, and Spiced Chai. We decided to try out the Chocolate flavor.
CalNaturale Svelte Organic Protein Shake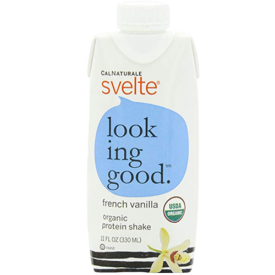 CalNaturale Svelte Organic Protein Shake
This meal replacement has an adequate macronutrient profile and is gluten free and vegan friendly.
CalNaturale Svelte Nutrition Info
One bottle is 330 milliliters (11 fluid ounces) and contains 180 calories: 11 grams of protein, 21 grams of carbohydrates (5 grams of fiber, 6 grams of sugar), and 7 grams of fat (1.5 grams of saturated fat). Being a vegan product, there's no cholesterol whatsoever.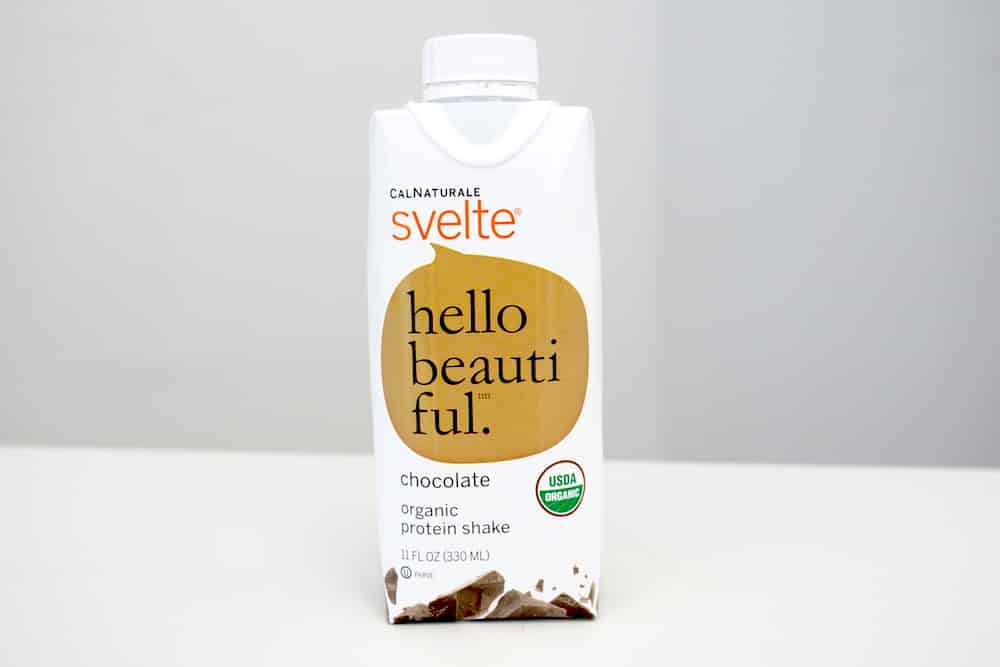 On the micronutrient front, there are ten listed with the percentage of the recommended daily intake they contain. They are:
Vitamin A (10%)
Vitamin C (0%)
Calcium (35%)
Iron (8%)
Vitamin D (30%)
Vitamin E (25%)
Riboflavin (45%)
Vitamin B12 (50%
Zinc (15%)
Sodium (6%)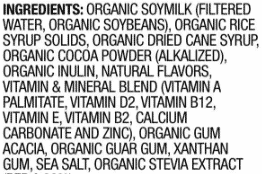 CalNaturale Svelte Ingredients
Everything is organic here. The first ingredient is soymilk, then there's rice syrup solids, dried cane syrup, cocoa, the prebiotic fiber inulin, natural flavors, and then there's just some stevia, salt, and gums (acacia, guar, and xanthan) for thickening and stabilizing.
CalNaturale Svelte Benefits & Effectiveness
At just 180 calories, this is more of a nutritious snack than a meal replacement, though if you're really trying to consume very few calories I can see it being somewhat filling for the calorie count. That's because this really is a solid source of fiber, containing 20 percent of the recommended daily intake. Another bonus is that it contains inulin, a prebiotic fiber that may have digestive benefits because it feeds the bacteria in your gastrointestinal tract.
As a vegan product, I liked that there's a pretty solid emphasis on Vitamin B12 and calcium, nutrients that can be a little tough to find on a plant-based diet when you're out and about. This is also why I would have liked to see more iron, which is just 8 percent of the RDI.
Indeed, while Svelte is branded as "perfect as a delicious meal replacement," it isn't that nutritious. The best meal replacements — ones I would consider describing as perfect — have over 20 vitamins and minerals. Svelte has 10 or more percent of the recommended daily intake of just seven micronutrients, and on a macronutrient basis I wasn't that impressed by 11 grams of protein per serving, though of course there are just 180 calories in a bottle.
So which is the best meal replacement of all? Find out in our complete guide.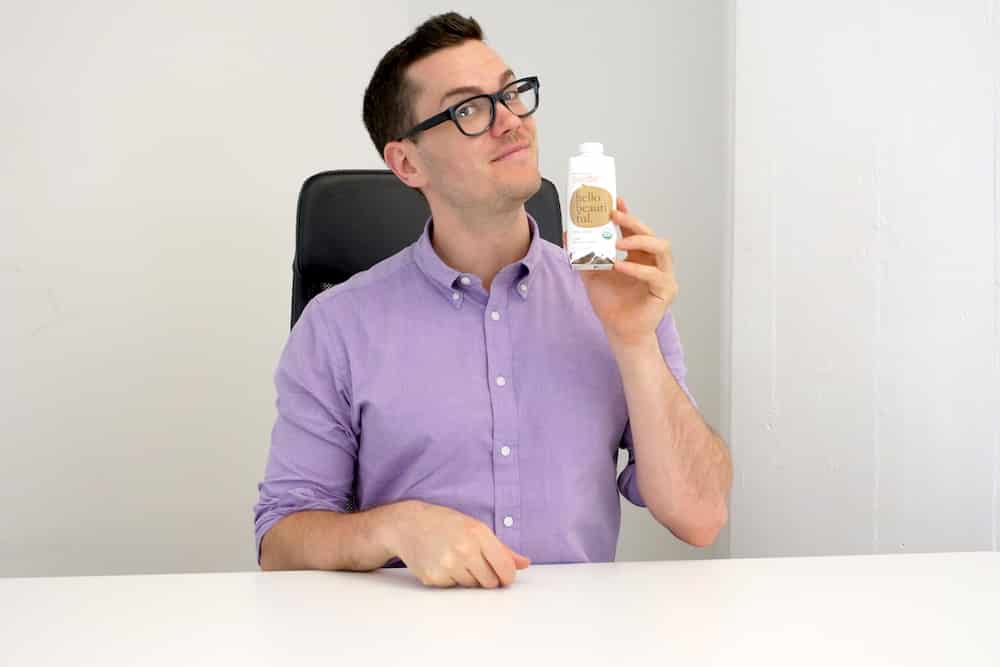 CalNaturale Svelte Price
You typically buy these little shakes in bundles of 8 or 12. The price varies a lot, but you should be able to pick up eight bottles for $15, or about $1.75 each. That's a good price for a meal replacement, but it's quite expensive for a protein shake. (It's 16 cents per gram of protein, twice what I'd consider for an organic vegan protein drink.)
CalNaturale Svelte Taste
The chocolate flavor of this soy milk-based drink tasted — naturally — just like chocolate soy milk. If that's up your alley, you'll like Svelte.
The Takeaway
I'd consider this more like a pretty nutritious protein shake than a meal replacement. It only has 11 grams of protein, but combined with the solid fiber and fat content it's a filling beverage. I'm not sure it's the perfect meal replacement; it's more right between the two categories of meal replacement and protein shake. I can see that pleasing a lot of consumers, particularly given how inexpensive it is.
Other Great Meal Replacement Reviews
Related Meal Replacement Content